I'm assuming that since you have reached this blog post, you have probably applied and registered for visiting Kartarpur Sahib via the Kartarpur Corridor. In case you haven't, I've a detailed post on the registration process and documents required to visit Kartarpur Sahib. In this blog post I'll share my experience of Kartarpur Corridor Police Verification. I was prepared for this since I knew that visiting Pakistan wasn't going to be a breeze. So here's my second blog post in the Kartarpur Sahib series sharing my experience of the Police verification process.
Police Verification for Kartarpur Corridor
Kartarpur Corridor Police Verification may not happen for everyone from what I read and saw in videos. However there are people like me who had two rounds of Police verification. (No not because of how I look) Further, the police verification process is not in your hands. You will have no idea about it. The portal is pretty bad in terms of that. There's no status update on your registration. There's only two status: First when you've successfully registered and second when your application is approved to download the ETA. It's not like passport application where you can see the status of application at each step.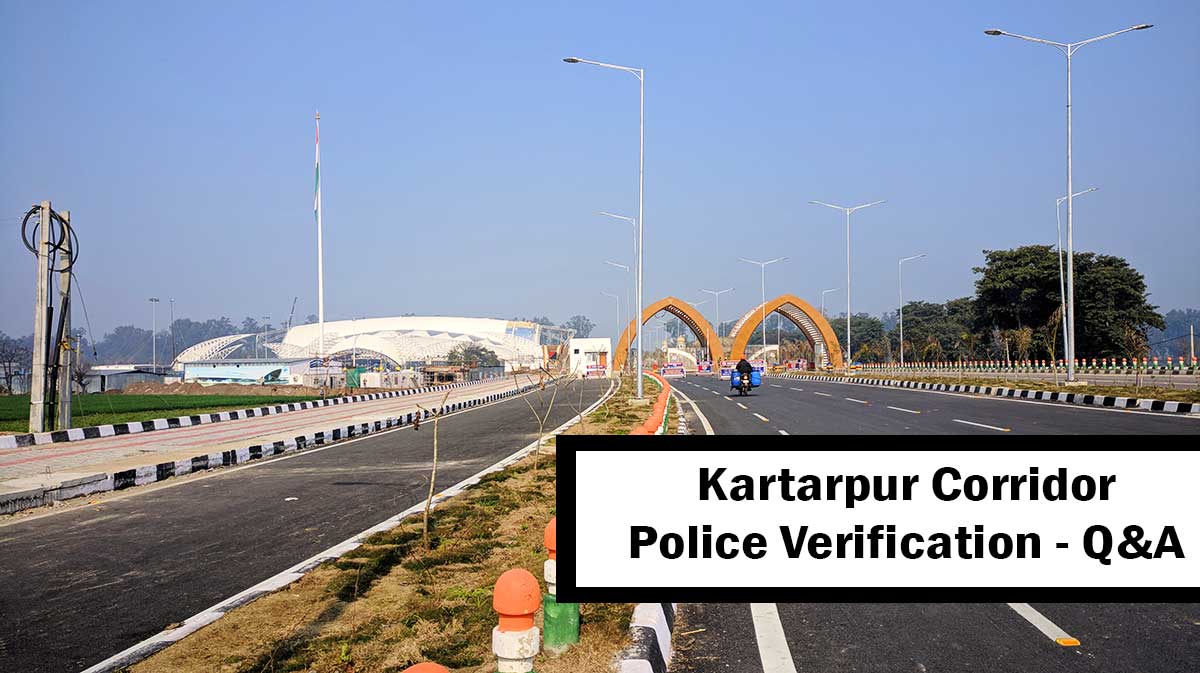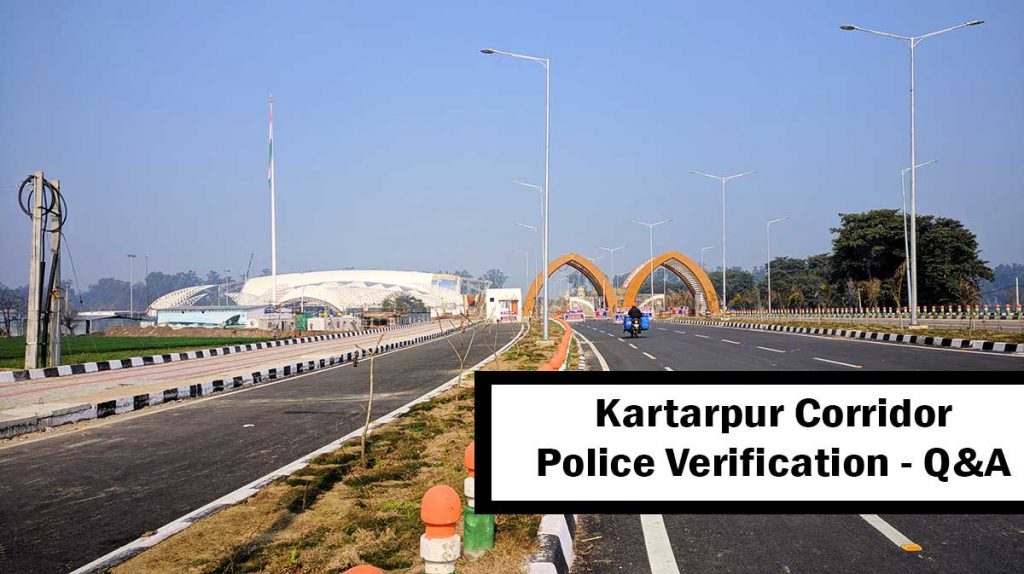 Kartarpur Corridor Police Verification – Central Intelligence
It was a busy evening at work as I was running from meeting to another, I received a call around 6pm in the evening. It was from the intelligence unit from Hyderabad. The person inquired about my visit to Kartarpur Corridor and asked a few basic questions. He then told me that he would visit my house to further verification. Since I was busy for a couple of days, I requested them to come on a specific date. He was considerate and readily accepted. Few days later, he was at my house with the diary and a copy of the registration form that I had filled.
He first checked the particulars and verified the passport. Later, he questions about how long I've been in Hyderabad, my education, my work, my family and lastly Why you want to visit Pakistan. Now there's no specific answer to this. I told that I wanted to do the darshan there. He did question me about my religion after that. Few more general queries and he noted everything I told in his diary. He then told me that there would be a second round of Kartarpur Corridor Police Verification would be done by the local police.
Kartarpur Corridor Police Verification – State Police
Like I said earlier, you won't know anything about the status of your application and Kartarpur Corridor Police verification. So it's kind of a mystery. Few weeks later, I get another call in the from Hyderabad Police inquiring about my planned Kartarpur visit . He decided to visit my home on a specific date but didn't turn up. Few days later, his boss – an Inspector -called and told me why I wasn't cooperating, to which I politely replied that it's his officer who never reverted. Frankly at this moment, I felt my application would be rejected.
Anyways the person came from the Cyberabad commissionerate in Gachibowli. He asked similar questions but much less than the first one. Also they asked me to fill a form with basic details and asked for Id and address proof. He verified the originals and took a xerox of my passport and Aadhar card and a passport photo. Also took few thumb impressions instead on signature. Few days passed and he called again to ask my caste.
List of Questions – Kartarpur Corridor Police Verification
Below is the list of questions to help you understand/prepare for the questions that may be asked for the police verification for your Kartarpur visit.
What is your name ? Parent's Name ?
What is your Date of Birth ?
What is your birth place ?
What is your education ? From where did you complete your schooling, graduation, post graduation etc.?
What is your parent's education ? What do they do ?
What is your profession ? Where do you work ?
Since when are you staying at this place ? Might ask for proofs if you staying at a rented place, especially the local police
Why you want to visit Pakistan ? Can be asked multiple times !
Do you have any relatives in Pakistan ? Do you know anyone there ?
Do you have any criminal cases against you in the past ?
What's your religion, caste ?
Kartarpur Corridor Confirmation
The whole process is a black box process, you just know about the registration success and application approval/rejection status. Even though I had two rounds of Kartarpur Corridor Police Verification done, I still had no idea about my approval to visit Kartarpur Corridor. Meanwhile I had my tickets to Amritsar already done fearing the skyrocketing of flight fares had I waited till the confirmation SMS.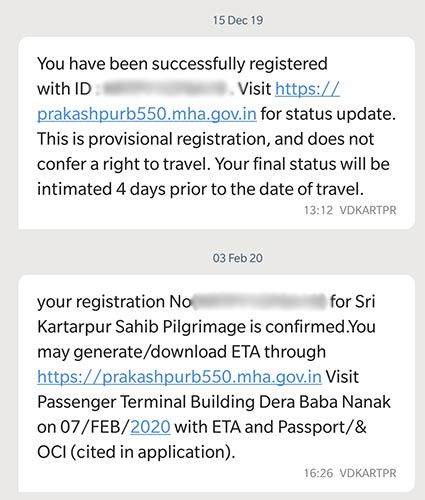 January passed and February started, on the day of 3rd February, I checked my SMS and mailbox every minute. However, you know that if you wait for something it probably doesn't happen. It happens when you aren't thinking about it all together. I was in a meeting when my phone rang and here it was, my visit to Kartarpur Corridor was approved ! I screamt Yes !! And my colleagues were like kya hua ? I was like just wait and watch 😉
So that was the moment of joy. I could imagine myself in Pakistan already ! Stay tuned for my next blog post about how to reach Kartarpur. Any queries at this point, drop in the comments below or tweet to me at @Atulmaharaj or DM on Instagram.