If India and Pakistan were two people in a relationship, then there relationship status would surely have been It's complicated. It's something that is always under the lens of global audience. I won't be doing what the media does and will keep all of this aside for this post. It was impossible to visit Kartarpur Sahib for Indians however, November 9, 2019 was a landmark day in the history of India and Pakistan relations.
Just over a year post assuming the office, Cricketer turned Prime Minister of Pakistan, Imran Khan opened the Kartarpur Corridor for Indians. It was the day when the Berlin Wall came down too and also coincided with the 555 birth anniversary of Guru Nanak Devji. I recently made a visit to Kartarpur Sahib Gurudwara in Pakistan. In a series of blog posts, I'll be sharing everything you should know to visit Kartarpur Sahib via Kartarpur Corridor.
Darbar Sahib Gurudwara, Kartarpur – The History
Of all the important places of religious importance in Sikhism, two places are are at the top. First one is Gurudwara Janam Asthan in Nankana Sahib in Pakistan and the second one is this one – Gurudwara Darbar Sahib – where Guru Nanak Devji spent his last years. It is believed that this is the site Guru Nanak Devji died in 1539. It is also the place where Guru Nanak Devji gave three principles of Kaam Karo, Naam Japo, Wand Chako meaning work hard for livelihood, remember god and share.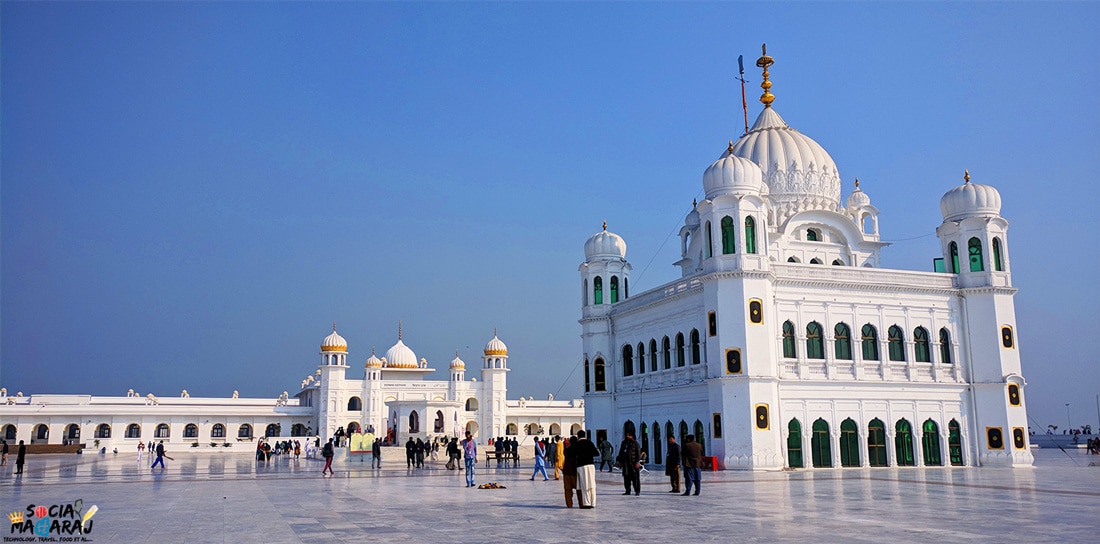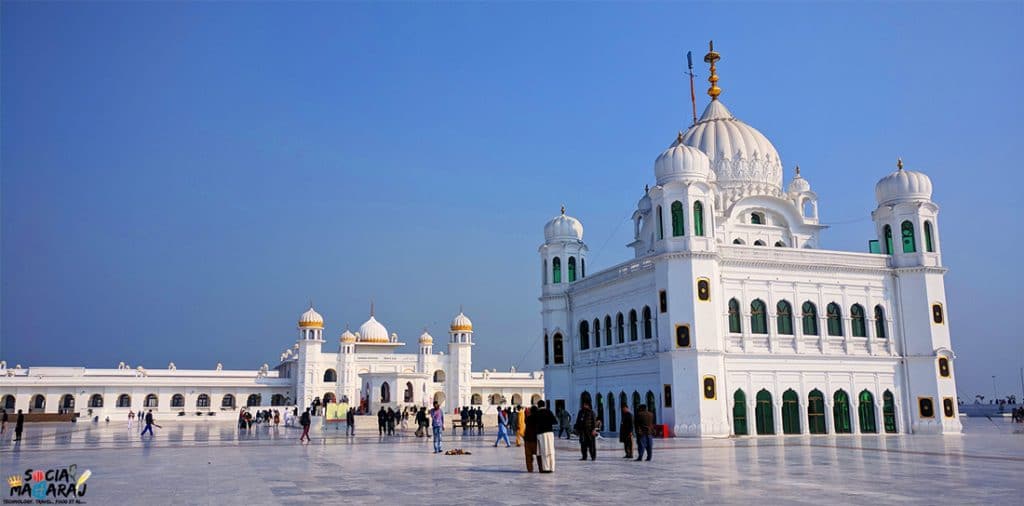 Also when he died, there was a dispute between the local Hindus and Muslims. Muslims wanted to bury him while Hindus wanted to cremate him. However, Guru Nanak Devji's body turned in flowers which were then distributed between the communities. Hazur Saheb in Nanded has a very informative light and sound show that shows depicts this.
How you can visit Kartarpur Sahib ?
Karatarpur is a small town in the Narowal district of Pakistan. The Gurudwara is situated about 5 kms from the international border. Until now, the Indian pilgrims would do the darshan through a pair of binoculars situated near the border. The Kartarpur Corridor is one of its kind between India and Pakistan. Though the process is easy and simple, there are a few documents required to visit Kartarpur Sahib in Pakistan. What are those ? Read on to find out.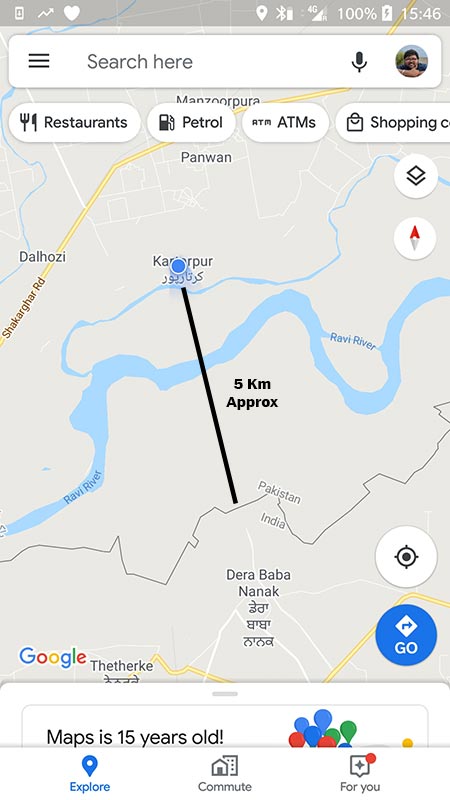 Documents Required to Visit the Kartarpur Sahib
Since you are visiting another country, there's always some paper work required. Similarly to visit Kartarpur Sahib in Pakistan, you need to have some mandatory documents in place. Further the whole process until you get a confirmation is lengthy and may be tedious because you are visiting Pakistan. Below is the list of documents required to visit Kartarpur Sahib.
Valid Passport: The first and foremost thing that you need is a valid Indian passport. Remember there will be no stamping on your passport. Your passport is the sole identity proof that is required. During your entire trip, you will not be asked for any other identity document.
If you have an Overseas Citizen of India Card, you can present that too along with the valid passport of they country where you reside in.
Photograph: During the registration process, you will be asked to upload your photograph so keep one handy. There's no rule about the type of photograph, so you can upload the one you took at the beach or in the mountains.
Electronic Travel Allowance: Electronic Travel Allowance or ETA is the most important document. You CANNOT even enter the terminal building in India without this, let alone visiting Pakistan. Do note that you will get the ETA only after your registration to Kartarpur is confirmed by Government of India. You will not get this if your registration is rejected and you won't be able to visit Kartarpur Sahib in Pakistan.
Kartarpur Sahib Registration Process
Now that you know the documents you need to visit Kartarpur Sahib, let me explain you the process to visit Kartarpur Sahib. First things first, there is a daily cap on the number of pilgrims who can visit Kartarpur Sahib. Guess it's about 5000. Also the corridor is open only to Indian citizens. Also since the process can be lengthy, it's best to apply at least a month in advance. Below is the Kartarpur Sahib application process:
Registration Process to visit Kartarpur
Visit the Kartarpur Sahib website here: https://prakashpurb550.mha.gov.in/
Click on Apply Online to initiate the application process
Choose Category: Indian Passport Holder or OCI Card Holder
Choose the Journey Date – it will show whether the slots are available for that day or not.
Part A of the application form asks your for basic details like name, passport details, gender etc.
Part B is all about the address, employment, purpose of visit, relatives in Pakistan etc.
Part C is all about any legal cases/charges against you
Part D is required if you are traveling in a group
Then you will be asked to upload the scans of your passport and your own photograph
That's it. Your have successfully registered and applied to visit Kartarpur Sahib. You will be allotted a serial number and will receive an email and a SMS about the same. Please note that this is not the confirmation of your visit to Kartarpur Sahib. Also you might have to undergo Police Verification too.
Your visit to Kartarpur will be confirmed 4 days in advance from the date of your visit. My date of visit was February 7, 2020, I received my confirmation on February 3 afternoon. So you have only 4 days to do the arrangements to reach Kartarpur. Since I was going from Hyderabad, the flights would be costly and hence I had prebooked them with the hope that my application would be approved.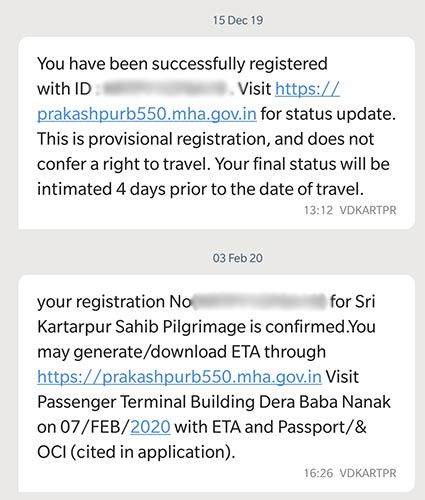 Frequently Asked Questions
Who can visit Kartarpur Sahib Gurudwara in Pakistan ?
Anyone who is an Indian (irrespective of their religion) and holds a valid passport or an Overseas Citizen of India (OCI) Card can visit Kartarpur Sahib Gurudwara.
Do we need a Visa to visit Kartarpur Sahib Gurudwara ?
NO. The Kartarpur Corridor is a Visa Free corridor and hence you don't need a Pakistani Visa to visit Kartarpur Sahib Gurudwara.
Can we visit other places in Pakistan through Kartarpur Corridor ?
NO. The Kartarpur Corridor is made exclusively to visit the Kartarpur Sahib Gurudwara in Pakistan. You cannot go anywhere else.
When can we visit Kartarpur Corridor ?
The Kartarpur Corridor is open 7 days a week. Through this corridor pilgrims can enter Pakistan from dawn to dusk. Meaning you can enter anytime after 9AM IST and must return by 5:30PM IST.
Do they Stamp anything on the Passport ?
NO. There is no stamping done on your passport by the Pakistani Immigration. They do give a receipt at immigration which is stamped and you return it when you leave Pakistan.
Is there an entry fee to visit Kartarpur Corridor ?
YES. There is an entry fee of $20 USD. You need to pay this amount when you enter Pakistan. This amount needs to be paid in CASH ONLY. However you don't need to pay anything during registration
Is there Money Exchange facility in Pakistan ?
YES. There is a Money Exchange counter before Immigration in Pakistan. However the rates are pretty bad and I'll suggest you to take the currency prior to reaching Pakistan.
Can we walk and cross India Pakistan Border ?
YES. You have to walk and cross the India Pakistan border since both the countries drive you to the zero line from where you need to walk few steps.
How do I know if my application is accepted or rejected ?
If your application to Kartarpur Sahib is accepted, you will receive a SMS and an email 4 days before the date of journey. In case your application is rejected, you will be intimated in the same way.
How much luggage can I carry to Kartarpur Sahib ?
You are allowed to carry a single bag weighing upto 7 Kgs including water bottle and dry eatable items.
Does the registration confirm visit to Kartarpur ?
NO. The registration doesn't confirm a visit to Kartarpur. Only when you receive the confirmation SMS, your visit will be confirmed.
End of the Registration for Kartarpur Sahib
So that was all you need to know about the registration process for Kartarpur Sahib. It's easy isn't it ? Since I knew that it was about visiting Pakistan it would be a lengthy process. Hence I had registered way back in December. What happens after you register for Karatarpur Sahib ? Read on my next blog post about the Post Registration process to visit Kartarpur Sahib. I hope this post was helpful for you. In case you have any queries on how to visit Kartarpur, drop them in the comments below or tweet to me at @Atulmaharaj or DM me on Instagram.