It's day 50 of lockdown and that's a half century we shouldn't be proud of. Required testing is not happening, cases are doubling faster than ever. Uggh… lot's of terrible things going on. However, on the brighter side, I've spending some time in the kitchen and trying out new things. I made the Natural Ice Cream popsicle and then the Mamidi Tandra. This time around, I tried my favorite Khurchan Upma ! When people move places, they bring with them a lot of things – language, culture and food. And one such dish is the subtle south Indian dish Upma or Khara Bath as it is called in some parts that has traveled across the world.
Upma has risen up the ranks when it comes to breakfast across the country. A dish made from semolina (Sooji/Rava) with vegetables. No we even have household in the northern part of India having Upma. Now the basic cooking style remains more or less the same. I love upma, however Upma in Hyderabad is terrible (at most places). The consistency is way off mark and it flows like water ! And off late I've fallen in love with a variety of Upma which you wouldn't have heard or tasted before – Khurchan Upma. And in this post I'll share the Khurchan Upma Recipe.
What is Khurchan Upma ?
Before we get into what is Khurchan Upma, it's vital to understand what Khurchan is. Khurchan is a Hindi word which means "scrapped leftovers". So usually when you cook anything in your pan, and leave it on for a slightly longer time, it tends to stick to the pan. When you scrape it, you have this really crunchy, chewy and flavorsome leftover which is totally next level.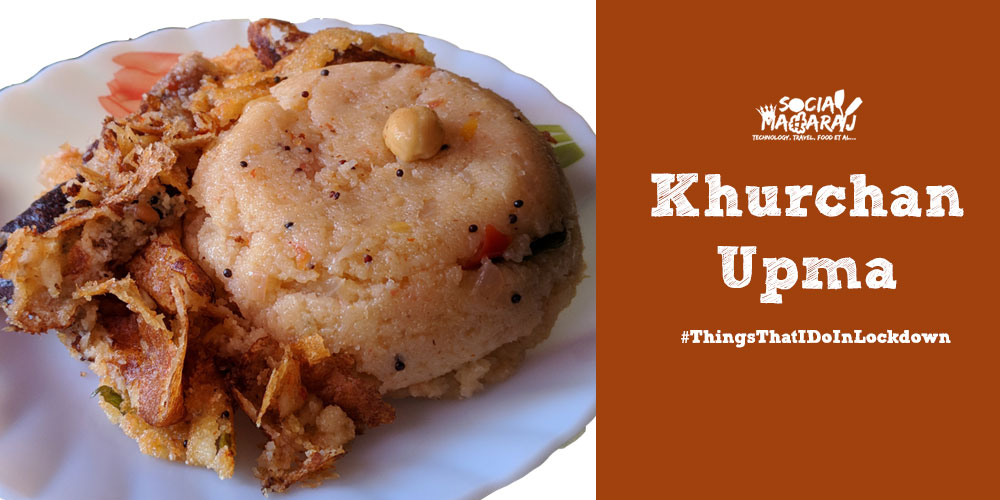 Now that you know what Khurchan is, you probably would have guessed what Khurchan Upma is. You're right, so when you are making Upma, you leave it in the pan for a tad longer to have the Upma stick to the pan for you to scrape it. And here's the Khurchan Upma recipe for you. And trust me once you have it, you'll realize why I say it is Yummm !
Khurchan Upma Recipe
There is a sea of recipes to make Upma on the internet. So what's special with Khurchan Upma recipe ? Frankly, there's no change in the ingredients at all. You can follow you own Upma recipe that you've been following for ages. Or perhaps take one from your favorite food blogger. However, for your ease, I've shared my Upma recipe here for you too. The choice is yours, which recipe you follow is your call, however the process is where the trick lies for the perfect Khurchan Upma 😉
Ingredients:
1 cup semolina (Rava/Sooji)
2 tbsp Ghee
1 tsp Chana dal
1 tsp Urad dal
1 small onion (chopped)
1 small tomato (chopped)
2 cups water
Ginger (as required)
Curry Leaves
Green Chilles (slit)
Cashew nut (optional)
Process:
Roast the Rava till golden brown and keep aside.
Take a pan and add ghee with urad dal, chana dal, curry leaves, onion, tomato, cashewnuts and green chillies.
Pour a cup of water and bring it to boil
Add the roasted Rava and stir continuously and ensure there are no lumps
Pour a spoon of ghee and leave it for a minute on low flame till you notice the Upma sticking to the pan

(Ensure that you don't burn it)

Scrape the Khurchan and serve with the Upma in the plate.
What do you think of Khurchan Upma ?
So that was my Khurchan Upma recipe that I've eating for a long time. Mom does it perfectly and it was only during this lockdown that I attempted to make it. The soft, gooey upma with the crispy khurchan is just amazing. The mouthfeel is superb. And if you have nuts in it, it's even amazing. Some people add lemon juice to it as well.
I usually have loads of Ginger added to my Upma and my mom often serves it with a fresh coconut chutney. I've see at few places where it is served with Sambhar too :/ So what do you think about Khurchan Upma Recipe ? Would you want to try it ? How do you usually eat Upma ? Mention your thoughts in the comments below or tweet to me at @Atulmaharaj or DM me on Instagram.