I've actually stopped counting the days since the lockdown has been on. I'm just glad that I'm getting time to spend on things that I wouldn't have otherwise done. Have been doing some research in the kitchen. Do check out the two recipes I've posted – Watermelon Popsicle and Mamidi Tandra. Apart from this, I've also been spending time on Twitter and seeing what all is trending on twitter. The whole YouTube vs TikTok is surely turned ugly. Nonetheless, there's a lot of negativity on Twitter considering the current scenario – COVID, cyclone, earthquakes, migrants etc etc. And that's when a few of decided to turn things around by organizing our own #VirtualFoodiesMeetup !
How did the idea on #VirtualFoodiesMeetup come up ?
One of things that we have seen during the lockdown is people trying their hands at things they wouldn't normally do. Like gardening, blogging or even cooking. Many people of my feed have turned into cooks and have been sharing so many recipes. Also, with Ramadan going on, the iftar parties have been toned down a little due to the virus. That's when few foodies and myself decided to do a #VirtualFoodiesMeetup. The idea was to have all the foodies join in for a fun session where we talked food and shared our best food photos !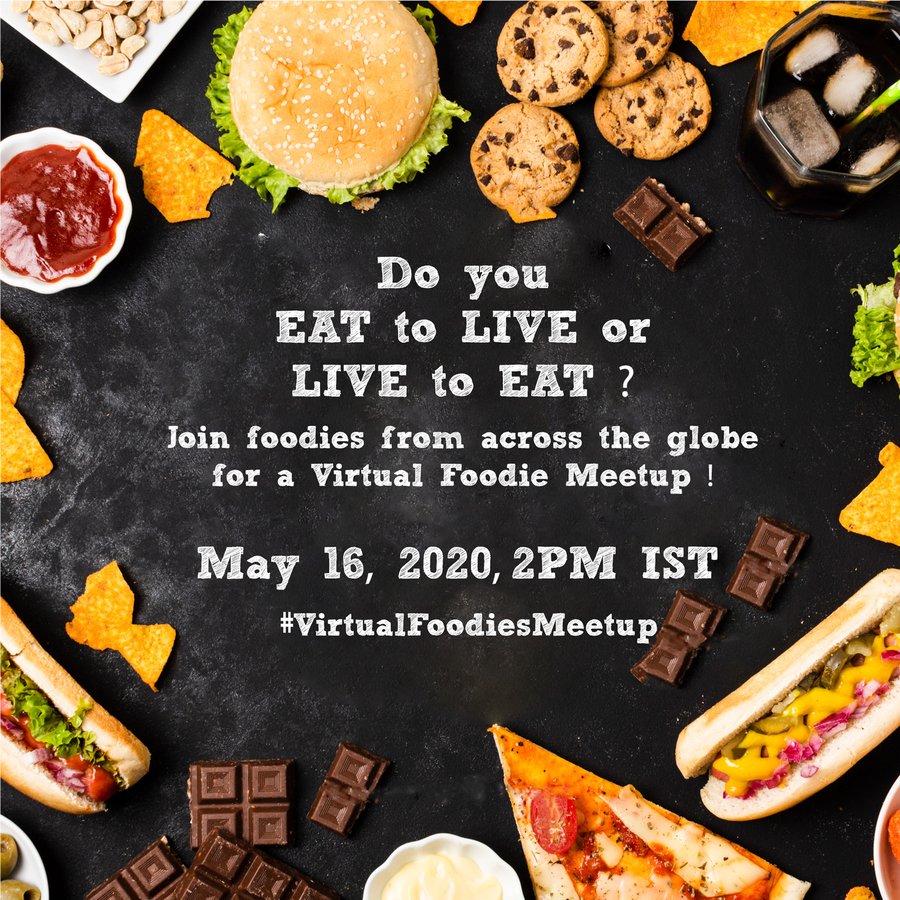 Also that was possibly the first time ever I was getting into organizing a Twitter chat rather than participating in one. It was going to be a global virtual foodies meetup where we wanted people from across the globe join in with their food. So how did it go ? You can guess it from the title of the post itself !
Trending On Twitter #VirtualFoodiesMeetup
The session was planned at 2PM IST on a Saturday afternoon (16th May) We were glad that we had a few people to help us organize and drive the Virtual Foodies Meetup.
There was barely any preparation that went into the organizing the chat. I did the graphics while most others helped with the questions. In less than 36 hours on hand, with full time jobs, we were able to be trending on Twitter ! Never expected that frankly. The session was amazing, we had people joining in from different parts of the world – UAE, Australia and of course India. Though the initial bit was just us, but slowly and steadily we snowballed and broke into the Top 20 Trending on Twitter.
What we did in the #VirtualFoodiesMeetup ?
Like I mentioned earlier, the chat was only about food. So there was a lot of food, you say it we had it. People were excited to be sharing photos of dishes they made at home to sharing best food photos from their restaurant visits. We literally flooded Twitter with delicious Best Food Photos among all the negative news that has been around. And to show you what we actually did, here are some of my choice of best Food photos in Tweets shared by the wonderful people who helped us get trending on twitter.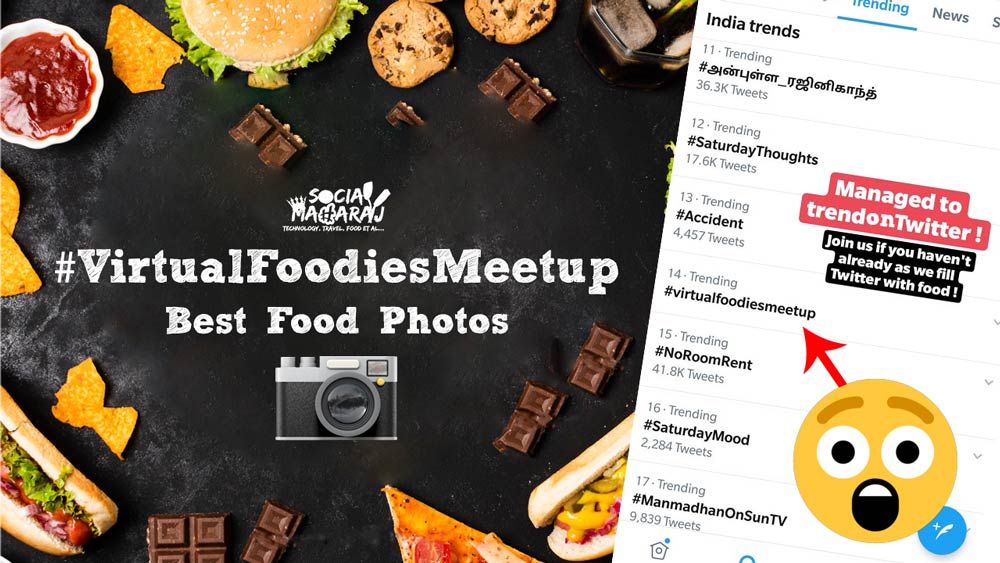 Best Food Photos from #VirtualFoodiesMeetup
Starting with some delicious Fafda Jalebi from Hyderabad. One of the few places that sell these in Hyderabad is the Mamta Sweet House at PG Road, Secunderabad.
And…Most of the Gujjus will have Fafda Jalebi breakfast on Sunday…!!! My uncle had this for about 30 years every Sunday…!! #virtualfoodiesmeetup pic.twitter.com/o1iWS96Tho

— Nilesh Mahajani (@Hyd_Nawab) May 16, 2020
How can we talk about Hyderabad and not mention Irani Chai ! Here's one of the many Irani Chai photos we received during the #VirtualFoodiesMeetup. Want one ? Do head to Nimrah Cafe near Charminar for best biscuits and Irani Chai.
#IraniChai with #Osmania Biscuits #Hyderabad Runs On It! #VirtualFoodiesMeetup pic.twitter.com/4eGzFiEMwZ

— Hi Hyderabad (@HiHyderabad) May 16, 2020
We then moved into food, and below are some of the Best Food photos that foodies shared in our #VirtualFoodiesMeetup. I guess I don't need to give a caption to all the food photos below. Scroll on and start drooling 😉 (You'll know why we were trending on Twitter! )
Its a #VirtualFoodiesMeetup so I thought to give my day a healthy start ..

Black gram sprout with some cucumber, tomato, chilli + chaatmasala, a lil red chili with a dash of lemon.#Chatakedaar#Breakfast pic.twitter.com/CAyUVcD66U

— Hyderabad Foodie (@HyderabadFoodie) May 16, 2020
Upma is All time Favourite Home food.. 😋😋

Whatever the base..Sooji or Semolina or Flakes..Upma makes the day..

But I couldn't forget Sarkara Pongali & Pulohora ..made by Ammamma..😋

They breathe life into me..😄#జయహోఉప్మా#virtualfoodiesmeetup pic.twitter.com/NfXycvm0Pa

— Krishna Teja N.CH. (@Kri_Te_Acharya) May 16, 2020
Here comes my lunch for today …Stuffed brinjal and with seasonal.speacial Andhra Avakaya,mango with curd rice pic.twitter.com/Wg7HSsShqZ

— Kalyani Sharma (@KalyaniMuktevi) May 16, 2020
#virtualfoodiesmeetup aloo tikki bird nest pic.twitter.com/SvkMfLXc9B

— faiz syed (@faizsyed528) May 16, 2020
Joining from Land of Nizams, #Hyderabad. I see Irani chai and Osmania biscuits and Biryani have already made it to this list. Here comes the Haleem 😍 Something which the entire city is missing this #Ramadan. #VirtualFoodiesMeetup pic.twitter.com/VSkbjMXMYL

— AmmaR Kanchwala (@IamAmmarr) May 16, 2020
#virtualfoodiesmeetup 😁

Pakodas are good, but vadas are too good too!! pic.twitter.com/RfFDmxCbht

— Arvind – STAY HOME 🏡 (@arvindia4u) May 16, 2020
Some oriental flavour.. thai curry n rice #virtualfoodiesmeetup @HyderabadFoodie @TheFoodAdmirer pic.twitter.com/m5U1pxXbai

— Nitesh (@drnitesht) May 16, 2020
Joining in from #Gurugram (Delhi-NCR). Presenting one of the most popular dishes here -Spicy Chole & fluffy Kulchas. #VirtualFoodiesMeetup pic.twitter.com/o5CZ6uBGi6

— The Food Admirer (@TheFoodAdmirer) May 16, 2020
Took the effort to plate up my lunch today coz it's the #VirtualFoodiesMeetup yayyyy! Nothing like homemade food and this killer weather to set the mood for the weekend 😁
What are you having now?@Andrew007Uk @Atulmaharaj @HyderabadFoodie @HiHyderabad @KalyaniMuktevi #Hyderabad pic.twitter.com/7yn0kqZo2k

— Namrata Sadhvani (@NamrataSadhvani) May 16, 2020
#virtualfoodiesmeetup
Once again pic.twitter.com/SZBk2r0444

— Padma Meenakshi (@pmeenakshi98) May 16, 2020
Thaaal full of home made pizza isn't it mouth watering😋 #virtualfoodiesmeetup pic.twitter.com/LXVCfbKBuv

— Hasan.kw (@Iamhasankw) May 16, 2020
Today's breakfast !! Samosa #foodies #foodielife #Ahmedabad #MyAmdavadShot #foodlover #homeMade #virtualfoodiesmeetup #jorrfood #hungrito pic.twitter.com/tQ7qCsOmIZ

— Dharak Shah (@dharakshah28) May 18, 2020
That list will go on and on ! But one thing that I'm surely looking forward to eat once the #Lockdown is over is this 👇🏼

Pizza at Pizza Den in #Secunderabad and their Chunmun pudding !#virtualfoodiesmeetup pic.twitter.com/GmsTlSgMH0

— Atulmaharaj (@Atulmaharaj) May 16, 2020
#VirtualFoodiesMeetup
👋from Hyderabad
[#Biryani from one of my fav restaurants in the city – Zaiqa-e-Hyderabad] https://t.co/iVMYVejz73 pic.twitter.com/bkZQQyDofy

— Pallab De (@indyan) May 16, 2020
How about steamed fish, South East Asian style.#virtualfoodiesmeetup pic.twitter.com/CHPMaLEjIh

— Dr Andrew Fleming (@Andrew007Uk) May 16, 2020
Hi Shivani here from Hyderabad. My food blog handle is @TangySorbet . I am originally from North-Chandigarh & Delhi. Weekends mean our staples that make everyone happy such as Channe Chawal! Been having more TV meals in lockdown, so convenient plating!😊 #VirtualFoodiesMeetUp pic.twitter.com/H6sLK75Xhy

— Shivani Mohan (@Chevane) May 16, 2020
Shahi paneer with full of gravy 😋#VirtualFoodiesMeetup #LockdownCravinngs #QuarantineCooking #ShahiPaneer #paneer #recipes pic.twitter.com/JVkqfgBKah

— shriparna biswas (@shriparna26) May 16, 2020
And there wasn't just food, there were a lot of desserts too. Here are some of the best food photos of desserts that were trending on twitter too during our #VirutalFoodiesMeetup Twitter chat.
Baked vermicelli pudding for today's #virtualfoodiesmeetup pic.twitter.com/6Uy16d4idZ

— Sunitha Simon (@sunitha_simon) May 16, 2020
#VirtualFoodiesMeetUp in any part of India u go mostly u will find jalebi & kachori as a #snacks it's a lip smacking street #food which v enjoy outside with our family & friends. Nd also in any occasion these dishes become part of celebration 😋. pic.twitter.com/5u09YTejSC

— Rida Khan 🇮🇳 (@mohd_ridakhan) May 16, 2020
The comes the bad am milk #virtualfoodiesmeetup pic.twitter.com/Ai6qX0ZD78

— Irfan (@irfanhyd) May 16, 2020
The #VirtualFoodiesMeetup Twitter chat lasted for approximately 2.5 hours. We had close to 2000 conversations and over 1000 engagements as people joined in from various places in the world. In that short span of time, at one point we were trending on Twitter at 12th spot and thanks to that we managed to have a reach of close to 1.72M.
What's next for #VirtualFoodiesMeetup ?
After the immense success of our first inaugural Twitter chat, we are actually thinking of making it a regular affair. We got a lot of feedback on the #VirtualFoodiesMeetup and we will work on them to come back in a more structured manner.The idea was well received and I personally loved the delicious food that filled my timeline ! So if you love food and what to share your best food photos, go ahead and post in with the #VirtualFoodiesMeetup tagging me and show the world the delicious food you've got. Do share your thoughts on this post and the whole chat we did in the comments below or tweet to me at @Atulmaharaj or DM me on Instagram.