A couple of years ago when I used to stay in a PG here in Hyderabad, food was a major concern for many. (Not me) I was one of the few who just loved the food at the PG. Even though I loved the taste, always craved for the desi ghar ka khaana taste. I initially made something in my electric kettle. But soon the folks from Preethi Kitchen Appliances sent me an Instant Pot. And boy I love cooking with Instant Pot.
While most of my friends were dining out almost daily, I would relish the Bendakaye (Okra), Vangkai(Brinjal), Sambhar, Rasam and Rice every single day ! But every Sunday meant cooking with instant pot. Used get some fresh veggies from the market and have a delicious self cooked meal for dinner. Good old days…
Nonetheless, with the lockdown in place due to COVID, I've been using it much more. And I'm so glad that I have an instant pot, makes life so much more simpler. So this post is going to be just about how and why I love cooking with Instant Pot.
Why I love cooking with instant pot ?
It's been 2 years since I've been using my Instant Pot (electric pressure cooker as it is called here) and I simply love cooking with Instant Pot. First time when I saw the package, I was amazed how big the box was and had seconds thoughts of using it.
I mean I already use a microwave sometimes, but why use an Instant Pot ? However, below are the reasons why I absolutely love cooking with Instant Pot.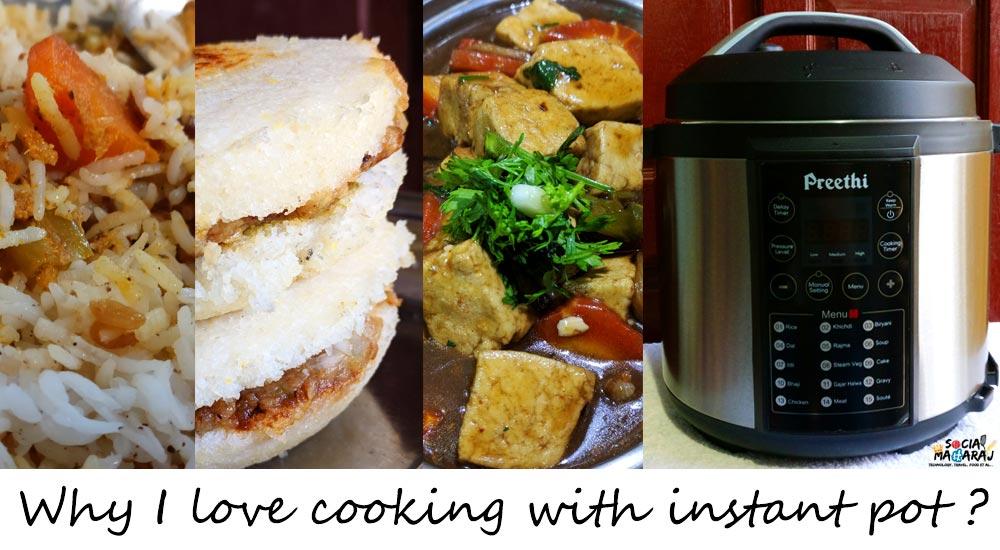 Easy to setup and use
Plug and Play is one term we often using in our field. And it's mostly to do with dongles, USB devices etc. But cooking with instant pot means plug and play of a different level all together.
In fact not only an instant pot, but any electric kitchen appliance for that matter, it's so easy to setup and use. Simply plug in and start using. And cooking with my instant pot is a breeze with the touch buttons in place and a small display. All I have to do is, put in the items, plug and cook ! It's that simple.
Has Preset menu items
Most of the instant pots available in the market come with a set of preset menus. Similar to what we see in a microwave oven. But cooking with instant pot became much simpler thanks to these preset menu items.
Now if I want to make Biryani, all I have to is put in the rice and the spices, close the lid and choose Biryani from the preset menu. That's it. The countdown times starts and within no time, there's a perfect Biryani ready to eat.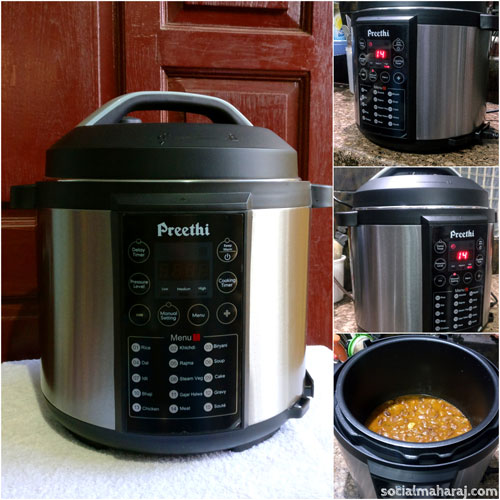 Cooking is fast and safe
We all love speed, you will agree with me on this. Faster phones, faster internet, faster cars so why should our ways of cooking be slow ? One of the advantages of cooking with instant pot is the speed it provides. Cooking anything on a gas stove would take much more time when compared to an instant pot.
Especially with pressure cooking, these instant pots are fast. Not only speed, instant pot have this auto turn off mechanism once your dish is ready. So whenever I'm making biryani, I know it won't burn and would stay hot till I want it.
Can cook my favorite dishes
There are a bunch of recipes that you can make in an instant pot. Some of my goto dishes are Rajma, Chole, Biryani, Paneer Curry and Khichdi. These are the most common dishes I make in my instant pot. And with the lockdown I've spent some time in the kitchen cooking some rather different items that I would normally do.
I made Mamidi Tandra, Watermelon popsicle and even tried the Banana bread instant pot recipe. Just like the Dalgona coffe, banana bread was trending and how could I not try it. And I was surprised to see how well my instant pot could make it. What's that one thing you love cooking with instant pot ?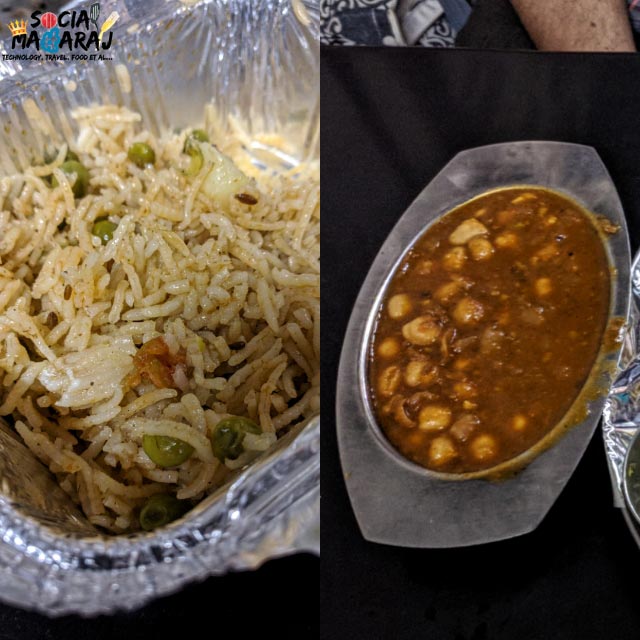 Variety of ways to cook
If you think that cooking with instant pot is all about pressure cooking dishes. You're so wrong ! That was exactly what I thought when I saw it first. However, as I spent more time with it, learnt that there are a variety of ways to cook in an instant pot.
You can saute stuff in it for instance. Yes, just toss in your favorite veggies, add some masala and you're good to go ! Not only saute, you can even stem cook dishes. For instance it's great to make idli, dhokla and even bake a cake ! I've infact baked white dhoklas quite a few times and also a cake just last week.
Cooking with Instant pot is bliss
Not only these 4 but there are a lot of other reasons why I love cooking with instant pot. It's so easy to clean. Not many enjoy (read want to) doing the dishes, but with instant pot, it's just that one container that you need to wash and you're done. And if the pot is dirty, a wet cloth is all you need to clean it.
No wonder why I wrote a post earlier about how this is one of the most important kitchen appliances for hostelers and bachelors. What is your favorite food ? Do you think an instant pot can make it ? Have you tried it ? Mention your thoughts in the comments below or tweet to me at @Atulmaharaj or DM me on Instagram.