The India China border tensions have been mounting day by day. Everyday we see new satellite images showing a lot of movement in the area. While our government said nobody crossed the LAC and came to India, the #BoycottChina movement took the internet by storm.People started breaking TV sets and Chinese toys and even buying non Chinese smartphones.
Amidst all these, the Indian government decided to ban 59 Chinese apps last night. Most of these are utility apps, however some are extremely popular social media apps. I know people have given everything to build their audience with their digital content.One law and woof ! The apps are banned. Hence, I (and a lot of people) agree that it's high time you invest to secure your digital content.
Listen to this blog post
What does the ban mean for content creators ?
One of the most popular apps that is banned is TikTok. And you have been living, under the rock if you don't know the entire YouTube vs TikTok controversy that broke the internet few months ago. That's when #BanTikTok trended not for a day but for few weeks. Not only TikTok, but apps like Helo, Shein and UC Browser are also banned.
With these apps being banned, all the digital content creators who built their digital life around these apps are on the verge of losing everything they've done. Millions of followers and thousands of likes are all gone. Without the platform, they have no record of what all they've posted, their collaborations et al. Though this is just the notification, the government will be sending a separate notification to ISPs to block these services at the earliest. Just like the government did with adult websites some time back. But we Indians have the jugaad of using a VPN to access these. But a normal user may not do that.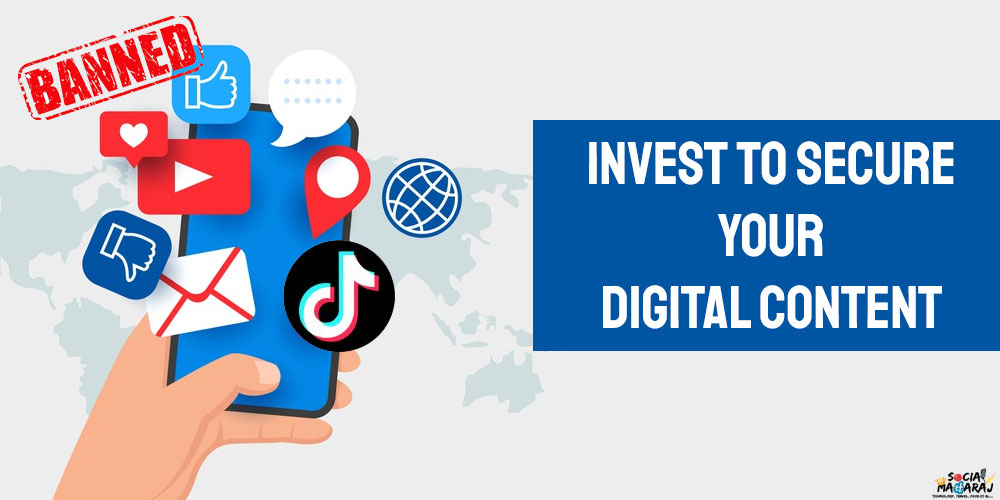 Why Secure your Digital Content
Banning of apps like TikTok and Helo have clearly sent out a warning message for many. Though most platforms say that you own the digital content, you don't own the platform. Always remember, you just have your profile and you are submitting content to their platform. What they do with the platform is something you cannot control. There are a lot of things that can happen to the platforms and you'll be the one on the losing side. Let's see a few scenarios when such things can/may happen.
Our government can ban Apps/services like in this scenario
The services may become paid in future
Other governments mmay decide to ban from these apps from India
Investors/Founders can decide to shutdown the company
These are a few scenarios that may lead to shutting down of such platforms and you being the loser eventually. If we talk about blogging, even the free blog services provided by Blogger or WordPress are not secure. They might end sometime too. I was having a discussion today and I mentioned this analogy. It's like you are living in a rented house. And you do the interiors and stuff just like your dream house. However, you don't own the house. The house can go and so would everything. That's why people invest in buying their dream house.
How to secure your Digital Content
Having your own website or blog is the only solution to ensure you not only own your digital content, but even the website/blog. There are only two ways in which you may lose your website/blog.
You don't continue to pay for the services towards maintaining it
The internet shuts down some day (extremely rare chances of that happening)
I also understand the fact that for many people who are on these platforms, investing in owning a website/blog is a big deal. And that's one major reason, people are quite active on Instagram, Facebook, Twitter, YouTube etc. because these apps are free to use.
Starting your own Blog or website does cost money, but I consider it just like the premium I pay for an insurance plan. In any unforeseen circumstances, something happens to me, my health insurance plan will take care. Similarly with my own blog, I know that even if all these social media platforms shut down, I'll have the blog with me. People, Brands will know the work that I've done in the past. Here's linking to an article by Dr Amrita Basu on the same – why owning your space is important.
Hence, I suggest all the content creators to eventually make a switch to your own blog or website. Like I mentioned earlier, not everyone can simply start out by buying a website/hosting. However, do make the switch at the earliest.
Today it is Tiktok, tomorrow it can be Instagram, Twitter, Facebook or YouTube ! The intention of this blog post is to to hurt anyone's sentiments but to make them aware of the consequences that may happen. What are your thoughts on this ? I'd love to know your side of the story as well. Do mention it in the comments down below or tweet to me at @Atulmaharaj or DM me on Instagram.