"Bhai, ye sab bakwaas kaam hai, momo stall shuru karte hain here, bahut chalega" (Brother, this all is nonsense, let us stary a momo stall here, it'll be a hit)
If you are working in a corporate setup, you know this is one of the discussion points that take place during the chai, sutta (smoke) breaks. There are a lot of people who dream to start something of their own and get out of their routine jobs. While there are a few who succeed, there are many for whom it remains a dream.
In this post, I'm going to talk about a group of friends who dreamt of something of their own and achieved it in style by starting the Teal Room Cafe. And like always, this is going to be my Teal Room Cafe Review.
The idea of Teal Room Cafe
Four friends, Sharmila, Himaja, Akhila, and Subbu have spent a lot of time in the US. Being the foodies they are, they enjoyed exploring the states for food, especially the burgers and quesadillas, Texan Burger to be precise. They were swooning over the burgers and thought to get that flavor back home in India. After a lot of brainstorming, meetings, and raising a lot of eyebrows, the team launched the Teal Room Cafe in Hyderabad.
I was intrigued by the name Teal Room so I asked them why this name. So the color Teal is associated with calmness and peace. It combines the power of Blue and green to provide calmness & renewed energy. And that's why I decided to title this review post Calm amidst Chaos. You'll find out more in the next section.
The calm ambiance at Teal Room Cafe
The Teal Room Cafe is located in Madhapur which is a bustling place at any point of time in the day. The Neeru's junction is one of the most crowded places in the area and the roads leading to the junction have a lot of bottlenecks causing traffic jams.
Right next to the junction in a small lane is the Teal Room Cafe. Behind a busy street, once inside the Cafe, you'll absolutely not realize that you are sitting between two of the busiest streets in Hyderabad. The calming power of teal-colored walls is surely there. The ambiance is chic and I've been told that all of it is hand done by artists which I feel is commendable.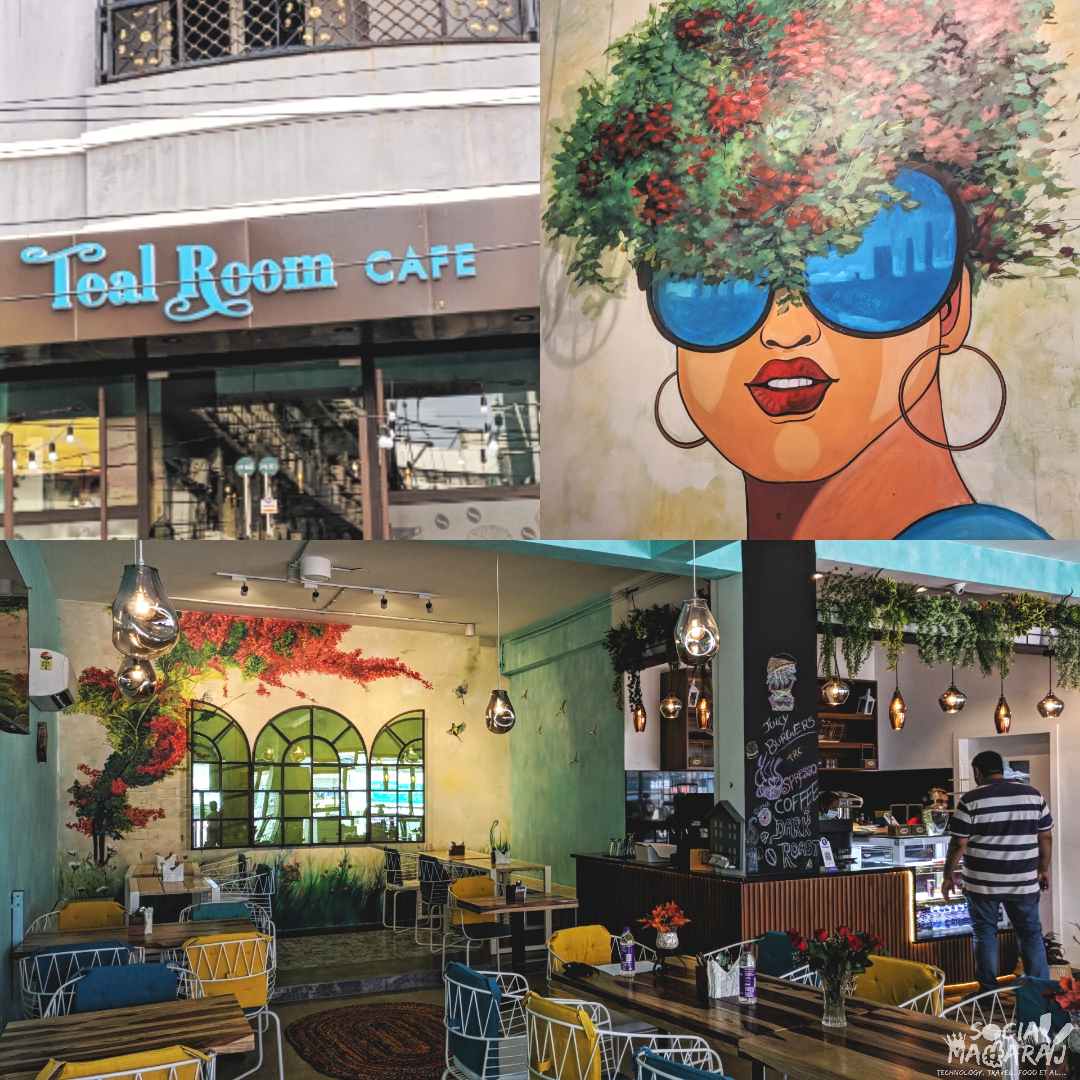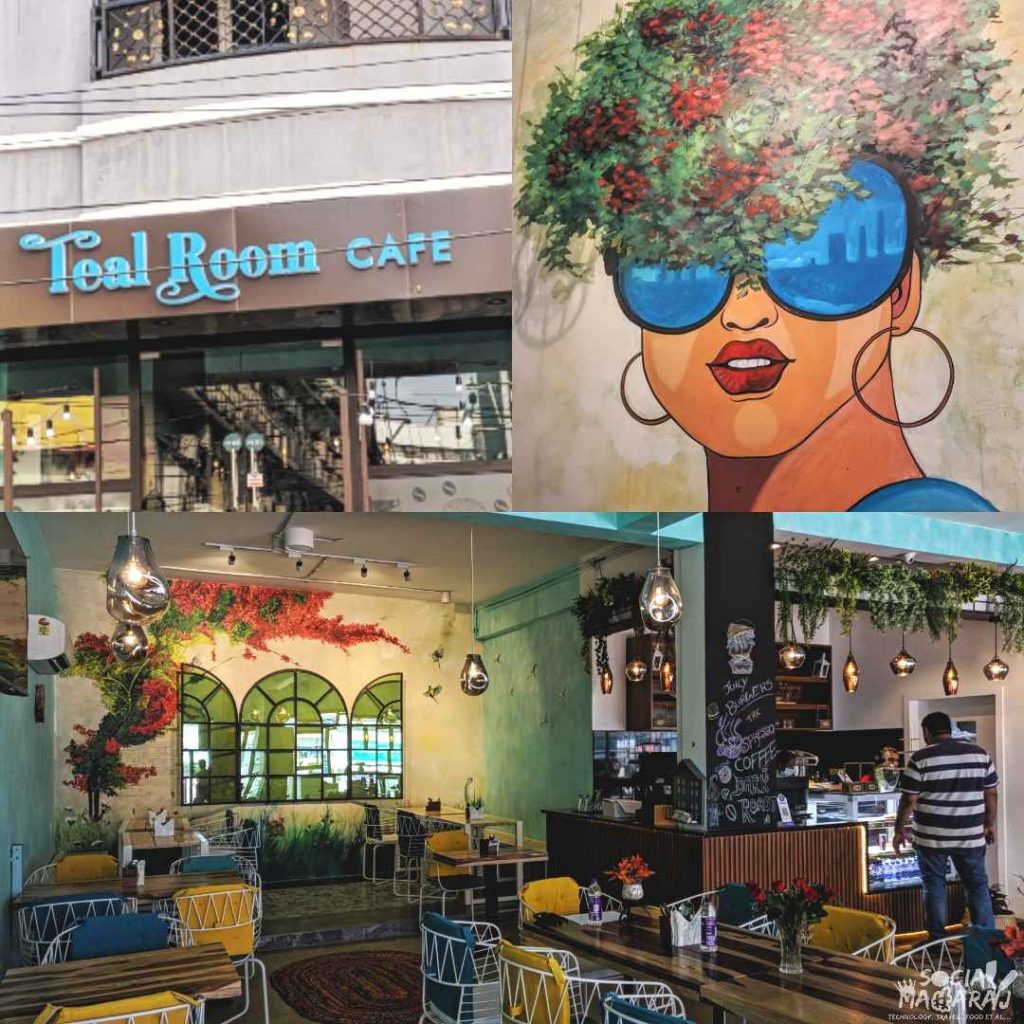 Though the place is not huge, it has an outdoor seating area where smoking is allowed. There are a lot of instaworthy spots in the cafe which are surely going to raise some eyebrows if you post them. Also, please follow Atulmaharaj on Instagram too 😉 Overall, loved the ambiance, it's a great place to spend time with your family and friends.
Gratifying Food & Drinks
We were invited for a pre-launch session at Teal Room Cafe and had a set menu. There were a variety of drinks, starters, mains including pizzas and burgers. The best part is they serve Vegan food as well.
We started with their special Watermelon Mojito and Fruit Sangria both of which were done perfectly. They used fresh fruits and other good quality ingredients. Even on the sweetness front, they weren't quite sweet. Refreshing for the hot afternoons. Even their cold coffee is at the point!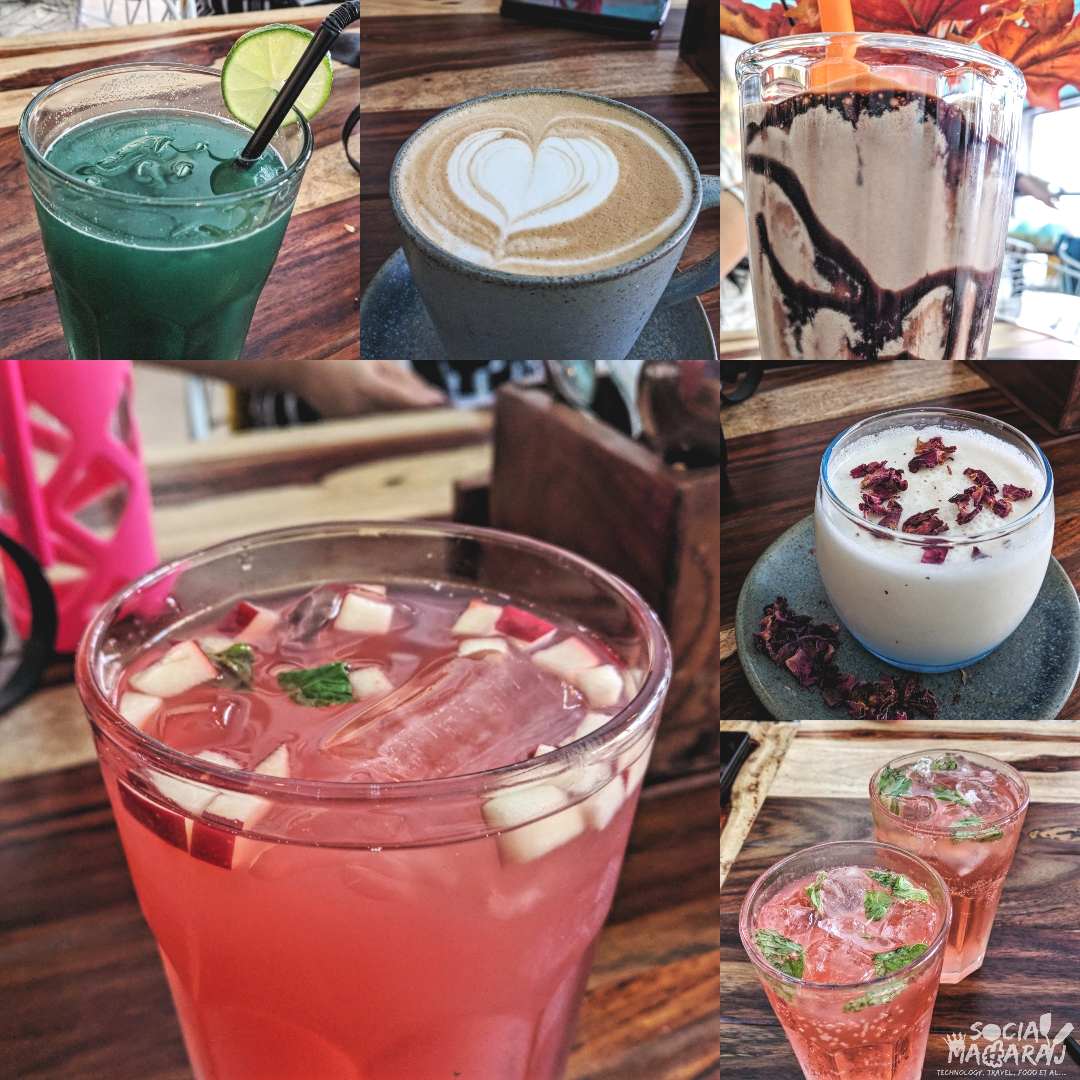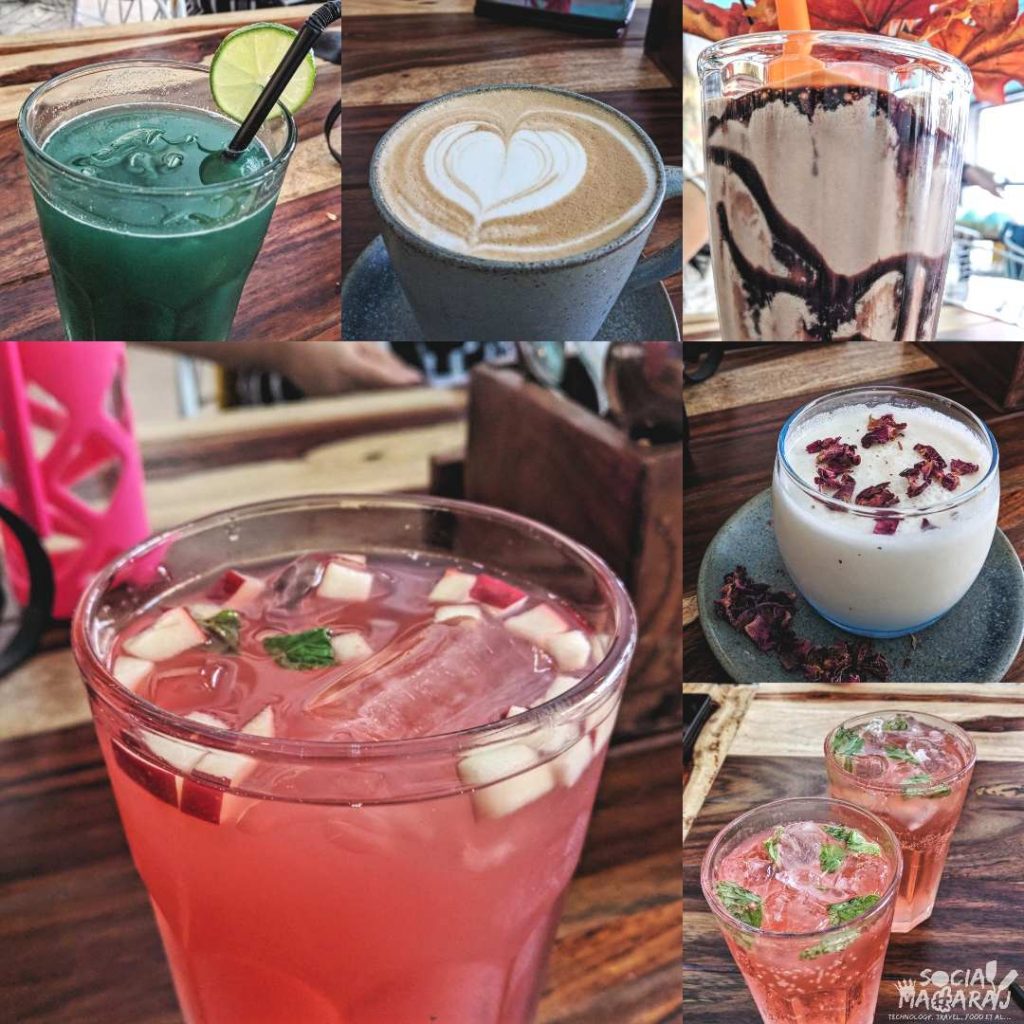 We then moved on to the Watermelon Feta Cheese salad which I've been having a lot for the last few weeks – Read Prost Brewpub Review. This was nicely done too. this was followed by Veg Nachos Grande. It was good to know that they made their Nacho chips in the house and weren't the ready-made ones. There was also Thai Satay Paneer which was served nicely and the accompanying sauce was unique. The Paneer, however, I felt, could have been punchier.
Talking about the highlights of my gratifying food and drinks at Teal Room Cafe, it has to be the Pizza, Phyllo Cups & the juicy burger.
The thin crust pizza was perfectly done and had the right amount of cheese, pizza sauce, and veggies. The quality of ingredients used was quite evident as the freshly baked pizza was full of flavors.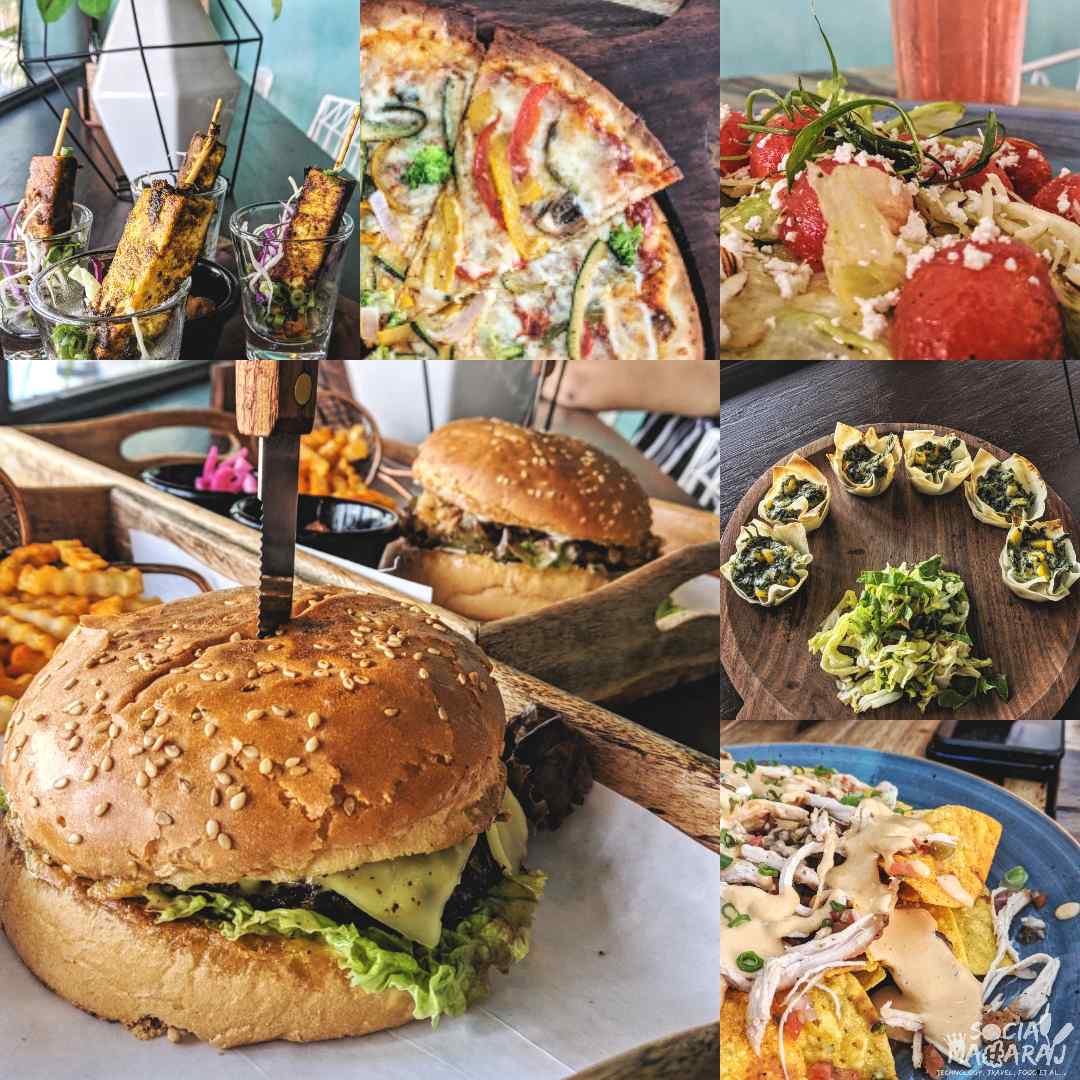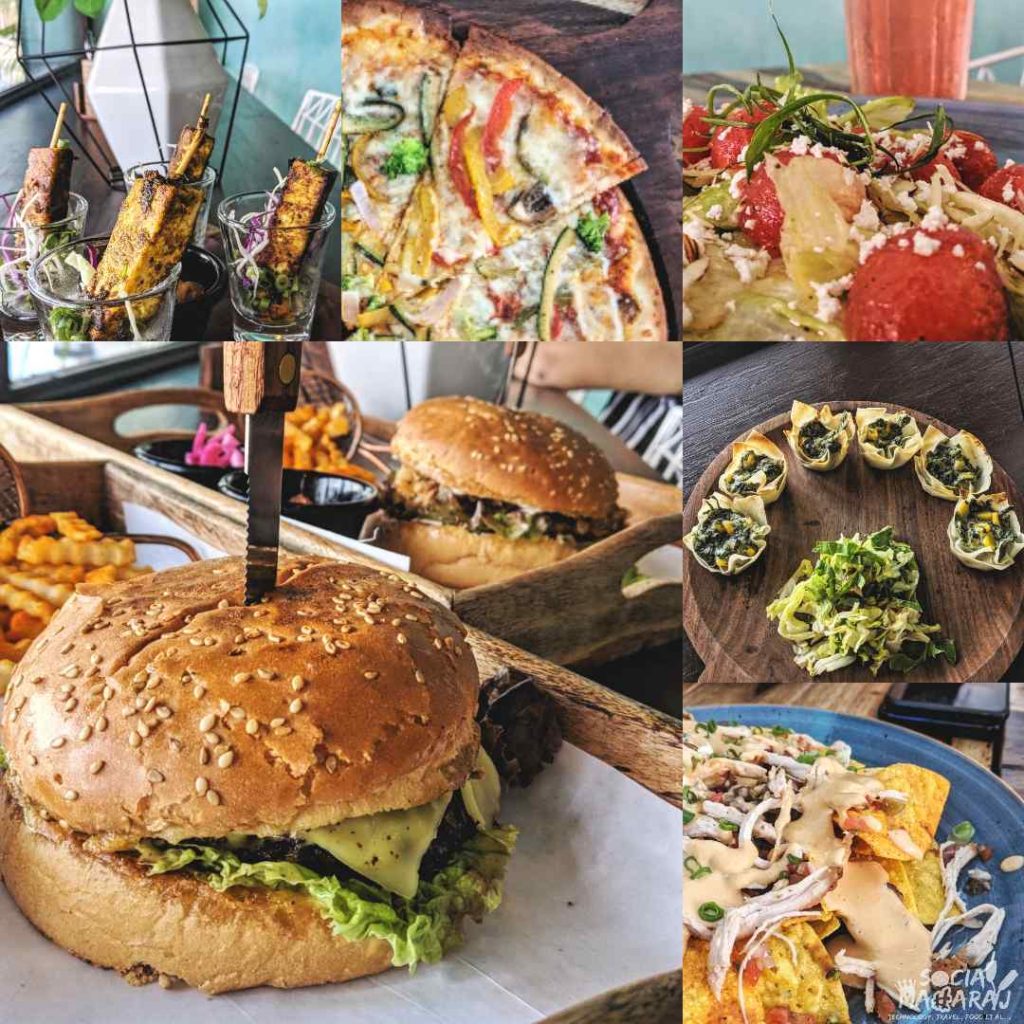 I had Phyllo Cups or Filo Cups for the first time and loved them. These are thin sheets (like Lasagna sheets) made into a cup shape and have some savory in them. In this case, it was Spinach, Corn & Cheese. It's a baked dish and my god I fell in love with this. The crunchy base and the cheesy filling were just perfect. I highly recommend you try this here at Teal Room Cafe.
Last but not the least, the Juicy Burger. The burgers are humungous and quite filling. They are served with fries and a couple of sauces to go with. The patty used is one of the fattest patties I've seen so far in any Burger. The patty has quinoa as one of the major ingredients along with their secret spices. This is another dish I strongly recommend you to try here.
Final Thoughts: Give Teal Room Cafe a try!
I was here for lunch on an extremely sunny day. The place is nicely done and gives a sense of calmness amidst the chaos. It's great to see dreams turning into reality and in such great style. My next visit would definitely have the burger, filo cups, and Pizza on my order along with their drinks.
The staff is attentive to our concerns and can make things according to our taste. The menu might not have a huge variety, but all the items are just perfect. We also had the Buddha bowl and desserts which were fine, but I wanted to focus more on their specials.
Overall, I liked the place. Folks from Madhapur and surrounding areas can drop by. It's a great place to work from as well. That's about it from this Teal Room Cafe Review. Stay tuned for more delicious updates. Let me know your thoughts in the comments below, Tweet to me at @Atulmaharaj, DM me on Instagram or Get In Touch.