If you're friends with a person working in the IT industry, I'm sure you know about a secret desire they have. A desire to open an eatery. Be it a momo stall, tea stall, food truck, or even a restaurant, we techies have always felt that the roadside chaiwala makes way more money than us. However, food should not be only about making money.
And I'm glad there still are eateries and initiatives that believe in this. A few days ago, I was at Novotel Hyderabad Airport to attend a specially curated culinary experience – Rediscover the lost recipes of Hyderabad.
A food festival to celebrate Hyderabadi cuisine prepared by women of Luqma. Maharaj was invited to get a first-hand experience of the event & how could I not write about it?
Luqma by Safa India – Food For Cause
The F&B industry is getting back to its feet and clocking pre-covid footfalls, and that's a very good sign. There are a lot of new eateries that have opened up across the country. Unfortunately, in the era of reels, many of them focus on how Instagrammable their place is. Food takes a back seat 🙁
On one hand, you have corporates running eateries while on the other, you have initiatives like Luqma that are not only serving delicious food but also empowering women from marginal communities.
Luqma is run by women from marginalized communities in Hyderabad. Backed by Safa Society, Luqma empowers women by providing them training in culinary skills, packaging, and hygiene, to give them the means to make their livelihood in the F&B sector. Started in 2020, this initiative has benefited more than 60 women to date.
A couple of things that I liked about Luqma is that they run a cloud kitchen in Hyderabad. The menu is authentic Hyderabadi food that you can order them 24 hours in advance through their website. Apart from this Luqma also does charity events. They are associated with a lot of other organizations and NGOs. So if you want to donate food, you can get in touch with them and they prepare & serve food to the needy on behalf of you.
Rediscover The Lost Recipes of Hyderabad – What To Expect
Rediscover the lost recipes of Hyderabad is an event to rediscover the lost recipes of Hyderabad. In collaboration with Novotel Hyderabad Airport, Luqma has set up shop at the Food Exchange restaurant. The festival starts on September 23rd and goes until October 2nd. During the 10-day long festival, you'll get to relish some authentic Hyderabadi dishes along with the regular buffet items.
There will be a rotating menu, so you'll probably get something different from what I write here. Some of the dishes that are on offer include Haleem, Mutton Boti, Lukhmi, Patthar ka Gosht, and of course Biryani. Vegetarians will not be disappointed as there's plenty on offer. You can relish dishes like Baghaar-e-Baigan, Miloni Tarkari, Ambade ka Paneer, Chaugra, Gunchao Kheema, Tahari, and much more.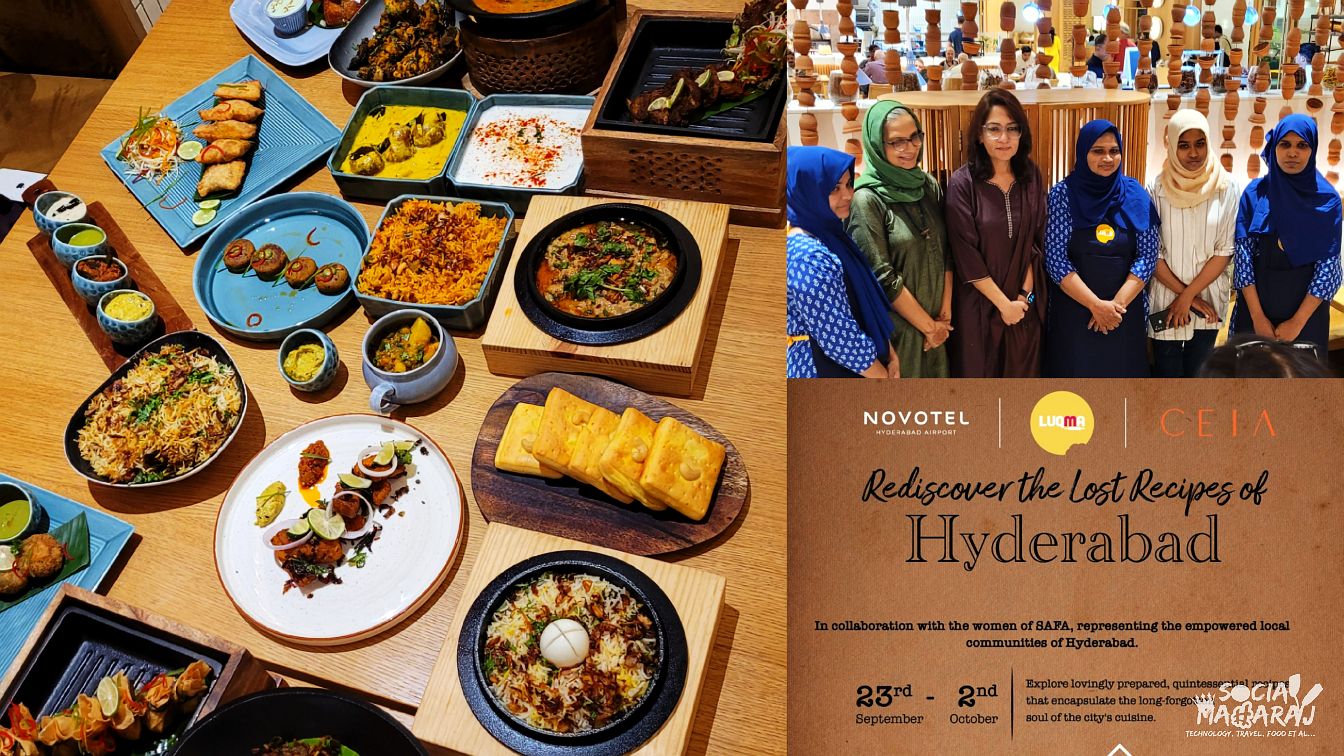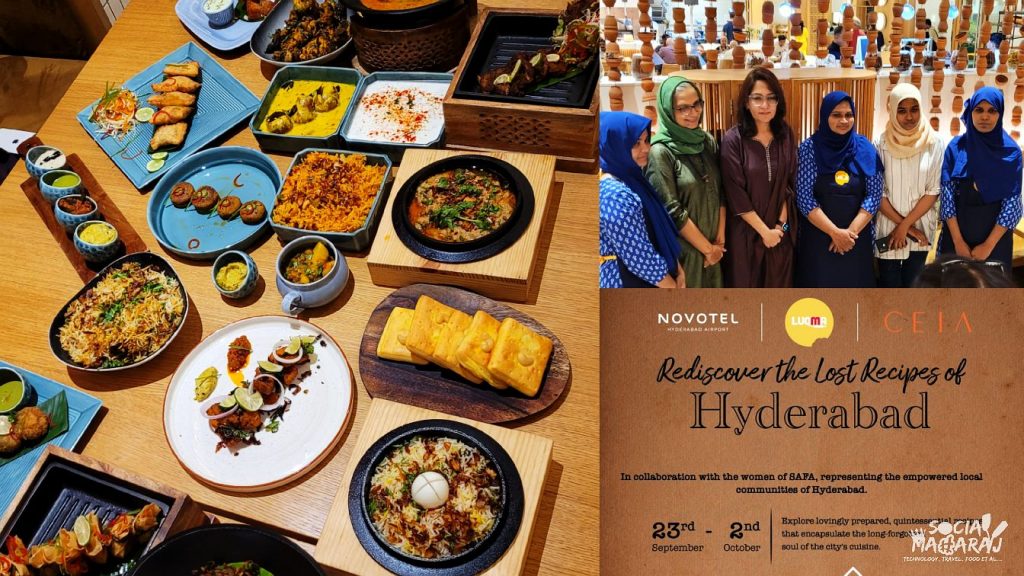 The best part of the food festival is that a few women are in the kitchen. Unlike them providing the recipes and chefs preparing them, these women are in the kitchen preparing these dishes. So if you are there to experience this, meet & greet them, it'll make their day! Available only for dinner, this is priced at Rs 2250++.
Having talked about the event, let's get into my experience of rediscovering the lost recipes of Hyderabad with team Luqma.
My Experience of Relishing Hyderabadi Dishes
I always thought that Hyderabadi cuisine is only meat, while most of it is, there are a handful of dishes that vegetarians can (and must) relish. The glimpse of the menu that I got the other day was enough to tell me ki "Miyan Hyderabad mein vegetarian khaane mein bhi dum(power) rehta"
We started our meal with the classic Sharbat-e-Mohabbat. A quintessential summer cooler that you can find in the lanes of Purani Dilli near Jama Masjid and Charminar in Hyderabad. I even had it during my Ramzan Food Walk. A drink made from Roohafza and cut watermelon pieces, this is refreshing and a must-try. The one we had was perfect, albeit on a sweeter side for me.
We were then served Veg Lukhmi, Hara Bhara Kebab, and Potli Samosa for starters. Lukhmi has been my favorite ever since I came to the city. A meat dish with mutton, the vegetarian counterpart has veggies. Sometimes only onions or corn. This was was pretty good too. The Potli Samosa was presented in a unique way. The thin crust, was crisp and the crunchy veggies made it delicious. These were accompanied by a variety of chutneys, Gongura, Tomato, Till (Seasam) & Mint along with Square naan. My favorite chutney was Gongura and Till.
It was then time was the mains, and we had a plate of roti placed on our table as the mains made their way. The first to be served was Baghaar-e-Baigan, followed by Miloni Tarkari, Dahi ki Kadhi, and Gobhi Fry. Kadhi gave me the Punjab kadhi flavor with huge onion pakodas. And Gobhi fry was like Aloo Gobhi but without Aloo. Both of them were flavourful nonetheless.
The star however was the Baghaar-e-Baigan, a traditional Hyderabadi dish that one cannot miss. The brinjal was cooked to perfection in a tangy, coarse gravy that was just yummy. Had multiple servings of this with steamed rice. There was also the classic Hyderabadi Khatti dal that I had with steamed rice. As the name suggests, this was tangy and packed a punch. We also had Vegetable Tahari which was loaded with veggies mixed with spices and long-grained rice.
For desserts we had Double ka Meetha and Gil-e-firdaus. Double ka Meetha was as sweet and gooey as it could be, Hyderabadis just love Double ka Meetha. On the contrary, Gil-e-Firdaus (Lauki Kheer) had subtle sweetness but was flavourful. The combination was a perfect way to end the meal.
An Event Full Of Love, Care & Flavours
I visit a lot of restaurants and food festivals, but this one was different from all of them. There was a greater cause attached apart from just showcasing Hyderabadi Food. Speaking to the women at the event, I could sense the happiness they have from learning these skills. The food prepared is flavourful and sure to tingle your tastebuds. Whether you're a pakka Hyderabadi or not, you'll love the spread that is on offer during the Rediscover the lost recipes of Hyderabad food festival.
If you are in or around the airport any time before the 2nd of October, drop by at Novotel Hyderabad Airport – which also has a revamped look – to relish authentic Hyderabadi flavors and support a good cause. Contact Novotel Hyderabad airport for reservations +91 8886064430.
What are the Hyderabadi dishes that you tasted and love? I'll go first, Baghaar-e-Baigan! Let me know your thoughts in the comments below, tweet me at @Atulmaharaj, DM on Instagram, or Get In Touch.