Having spent a chunk of my childhood at a New Era High School, Panchgani in Maharashtra, my taste buds are always on the lookout for Maharashtrian flavors. From the quintessential vada pav and Missal Pav to dishes like Varan Bhat, Bharli Vangi & soo kadi to name a few are my favorites.
Over the past few years, I've been on the lookout for an authentic Maharashtrian restaurant in Hyderabad. A few weeks ago, I stumbled upon Myboli Maharashtrian Kitchen in Kondapur. Though it's been quite some time since the restaurant opened, I went in as a paying customer and this will be my Myboli review.
Maharashtrian Food In Hyderabad
Over the last few years, there have been many Maharashtrian restaurants opening up in Hyderabad. Some fancy lack authentic flavors, and others with the bare minimum setup but good flavors. On one side you have the most loved Vada Pav stalls Chachaji Vada Pav at PG Road in Secunderabad. Apparently, my last few visits have been bad as the lady who runs it has become quite arrogant. Been over a year since I visited the stall.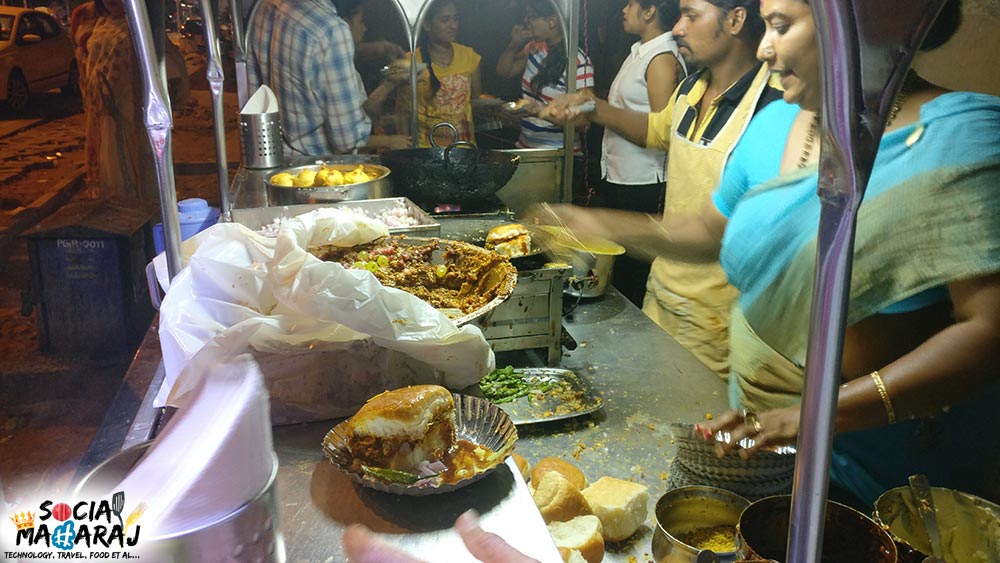 Then there's Marathi Katta, which has a basic setup and good food (except Vada Pav). There is also Bambai Tapri which has a little fancy touch serving affordable, Maharashtrian food. I liked their Missal Pav, not the Vada Pav & stuff.
Myboli has been on my list for quite some time but never had time to visit due to the distance. A few weeks back I finally got a chance and took my mother along.
Myboli Maharashtrian Kitchen – Review
Located in the heart of Kondapur, Myboli is located right opposite the Sarath City mall. It did take me a while to find it though. It's located on the 1st floor. While the building houses many other restaurants and businesses, the moment I got out of the lift, it felt like I was in an abandoned building. For once I even thought about whether the restaurant is open or not.
Small & Simple Ambience
I walked a little and found the entrance to the restaurant. A wooden door welcomed me with a refreshing fragrance. There are a lot of wooden idols at the entrance that leads you into the restaurant. The restaurant itself though isn't very big. The setup is decent enough for a good family meal. The lighting might seem a little dark to a few people. Apart from that, a decent place.
Authentic Maharashtrian Food?
The menu at Myboli is quite limited but still good when compared to other Maharashtrian restaurants in the city. I went in for lunch and had my fingers crossed when I asked for Missal Pav (that as per the menu is available only for breakfast) and luckily it was available. Apart from that, I ordered Bharli Vangi with Bhakri, along with a serving of Pithale. My mom wanted to try Poori bhaji, so had a plate of that as well.
Missal Pav was good and close to Maharashtrian flavors. It used Matki (Green moong dal) instead of Mutter (white peas). The farsan however wasn't the Kolhapuri one, instead, it was similar to what I tried in Pune. It just had besan sev, gathiya, and no cornflakes and other sweet/tangy stuff. Overall, the preparation was good and I liked it.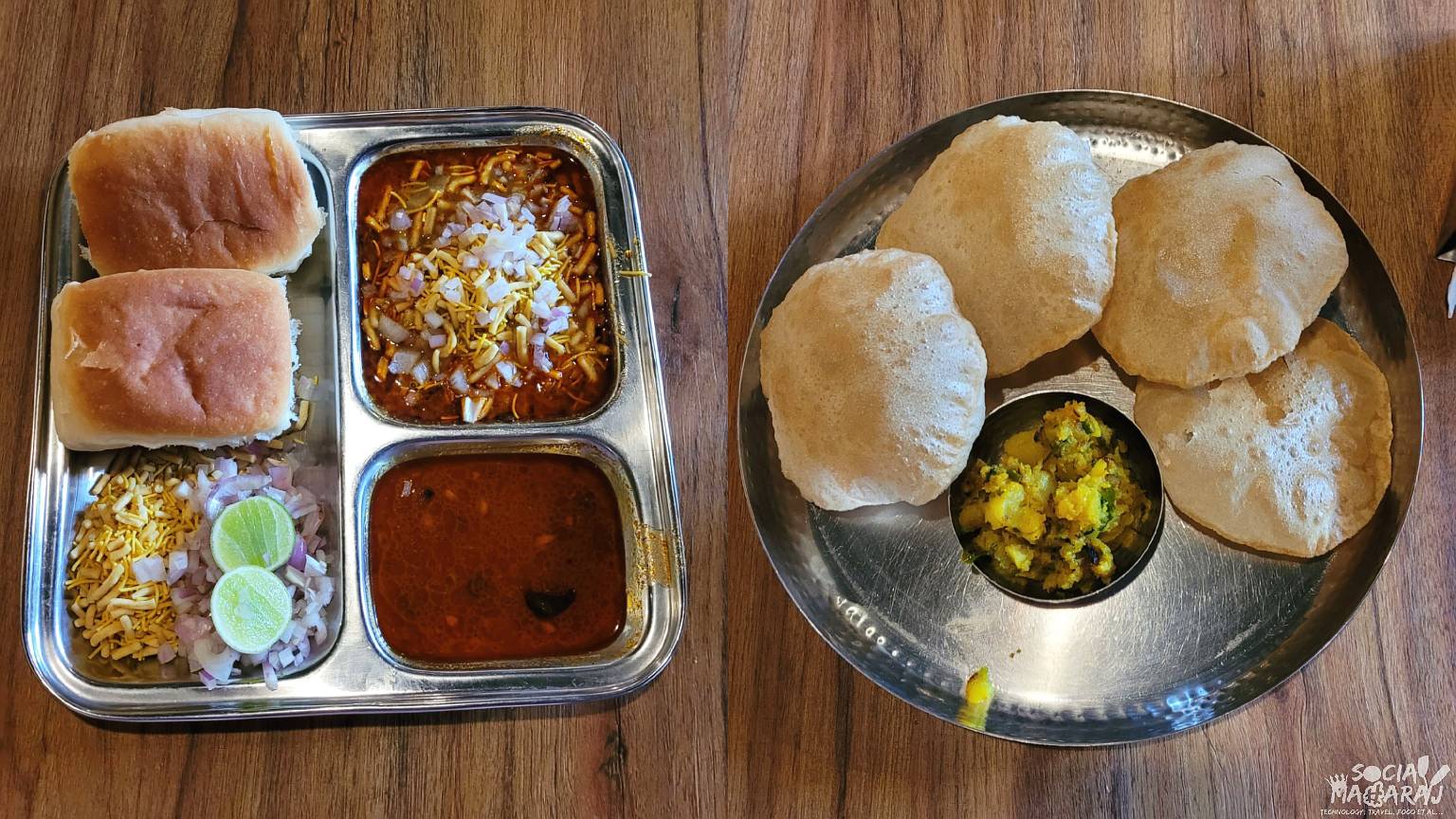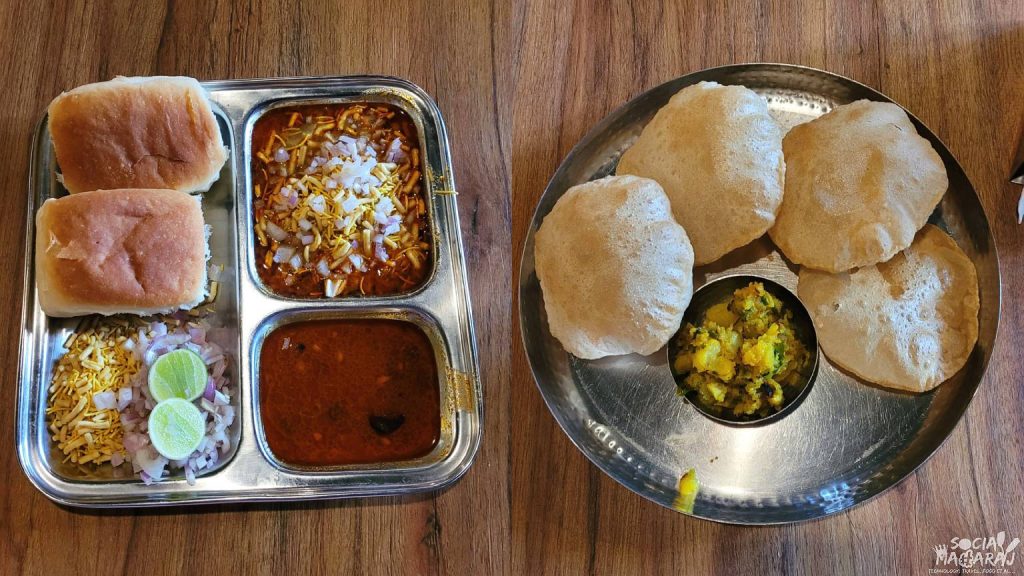 The Bharli Vangi was decent and packed with good flavors. It was tangy and spicy at the same time. The sesame seeds along with peanuts were evident. Pithale on the other side was spicy and had green chilies. Nowhere close to what I had at Aaswad in Dadar, Mumbai.
I expected the Pithale to be toned down on chilly so that my mom could relish it. However, it turned out to be the opposite. Not that it was bad, just that it was spicy & based on my experience of having it earlier, it shouldn't be spicy.
Bhakri went really well with both of these curries. And since we had a plate of Poori Bhaji also, a bhakri each for us was enough. Talking about Poori, the plate had 4 puffed pooris along with a generous serving of dry potato bhaji. It was flavourful and filling, a meal in itself. We also had a couple of glasses of buttermilk which was good.
Visit Myboli for Maharashtrian Food in Hyderabad
Myboli Maharashtrian kitchen is a proper dine-in restaurant where you can enjoy some good food with your family. The menu has Maharashtrian items, both veg, and non-veg. Based on the things that I tried, the taste is quite close to authentic. However, it's a little spicier, maybe that's a change dome to suit the local palate.
On the pricing front, it's just like any other good restaurant. For a meal for two with the items listed above, I paid around ₹1000 which I felt was ok, though couldn't have been a little lesser.
Nonetheless, I had a good dining experience at Myboli and would plan to revisit to try the other dishes. If you're looking for a Maharashtrian affair, visit Myboli and you'll not be disappointed.
Know of any other food that I should try here? Or any other Maharashtrian restaurant in Hyderabad? Drop them in the comments below, tweet to me at @Atulmaharaj, DM on @Instagram or Get In Touch.