People migrate from one city to another in search of work and better life. While some choose to leave their families behind and venture out, others tend to move around with their families. I belong to the latter category. My dad took us to all the places he hopped for work.
So I've stayed at a lot of places including Goa! And during that time I also spent most of my schooling days in a boarding school at New Era High School, Panchgani. That's where my taste for Maharashtrian Food developed. So when I heard about Marathi Katta – a Maharashtrian Restaurant in Hyderabad, I couldn't resist but pay a visit. Also, Marathi Katta is a pure vegetarian restaurant in Hyderabad.
Further, before you comment, let me tell you that this was the last restaurant I visited before the second wave of COVID kicked in. It's been over 3 weeks that I'm at home.
Marathi Katta – Maharashtrian Food in Hyderabad
Marathi Katta is one of the restaurants that has been on my list for quite a long time. Being a fan of Maharashtrian Food, I was always on the lookout for good, authentic Maharashtrian restaurants in Hyderabad. One of the recommendations that I got the most was Marathi Katta.
Located in Badichowdi, Koti, Marathi Katta is a bare minimum, no-nonsense eatery. Located in the alleys of Koti, it can be a tad difficult to locate Marathi Katta. It's right in the middle of a busy street surrounded by lots of shops. One of the prominent ones is Rambharose Sweet Mart. Parking can be a big issue here as there's no dedicated parking spot around the restaurant.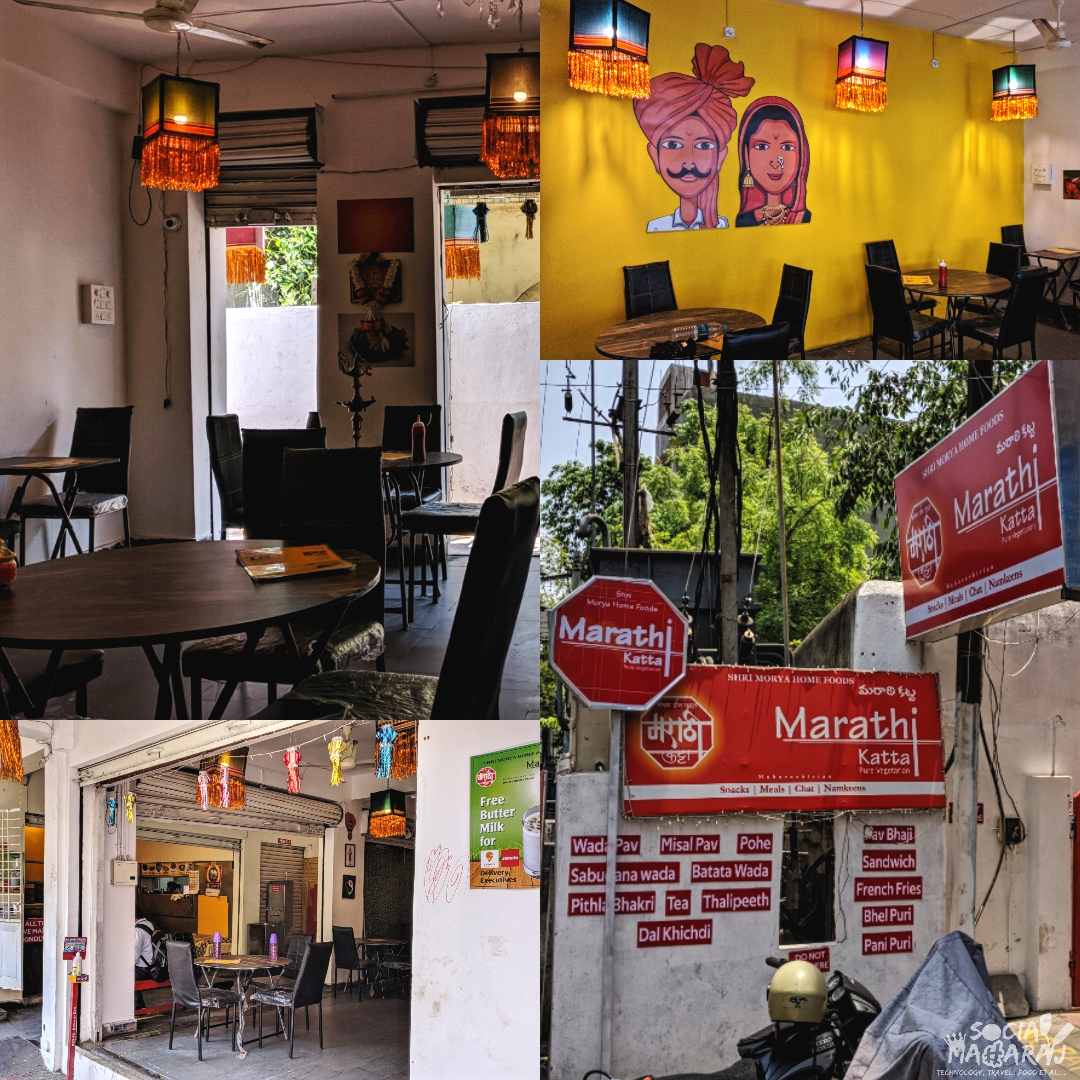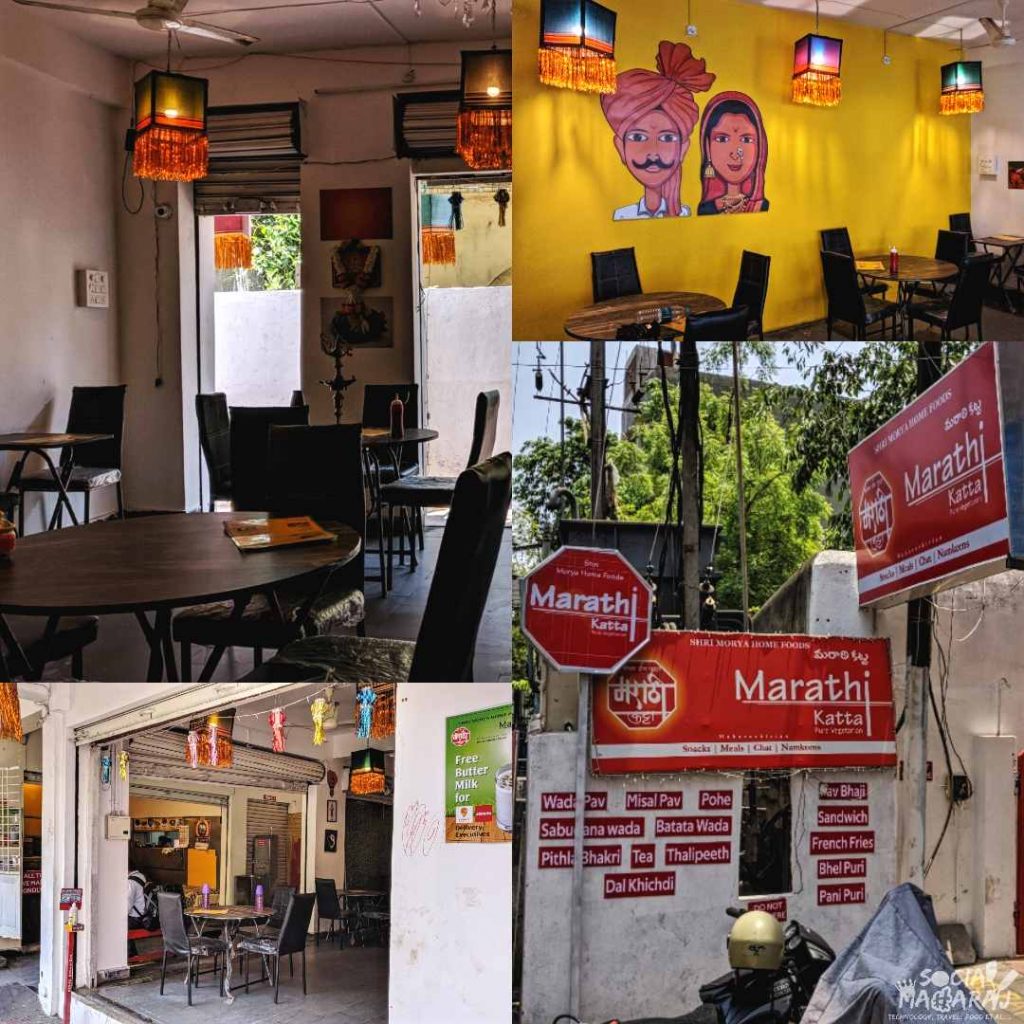 A couple of shops turned into a restaurant. One of the areas is the kitchen while the other is the seating area. With about 5-6 tables, it cannot be more basic than this. Some portraits and paintings across the walls give you a Marathi feeling. So don't expect anything fancy here. Further one thing that I noticed is that they were offering a glass of buttermilk to Swiggy and Zomato delivery boys for FREE. A good initiative!
Marathi Katta Review – Worth the hype?
Like I mentioned before, Marathi Katta is a name synonymous with Marathi Food in Hyderabad. It's one of the most recommended Maharashtrian Restaurants in Hyderabad. So I went here to try all that they had to offer.
The menu here is quite simple but has some of the iconic Maharashtrian dishes. So without wasting much time, I ordered a Vada Pav, Missal Pav, Sabudana Wada, Masala Vangi Bhakri, Khichdi Kadhi, Buttermilk, and Kokum Soda. The service isn't that fast so I'd suggest you order all that you want in one go.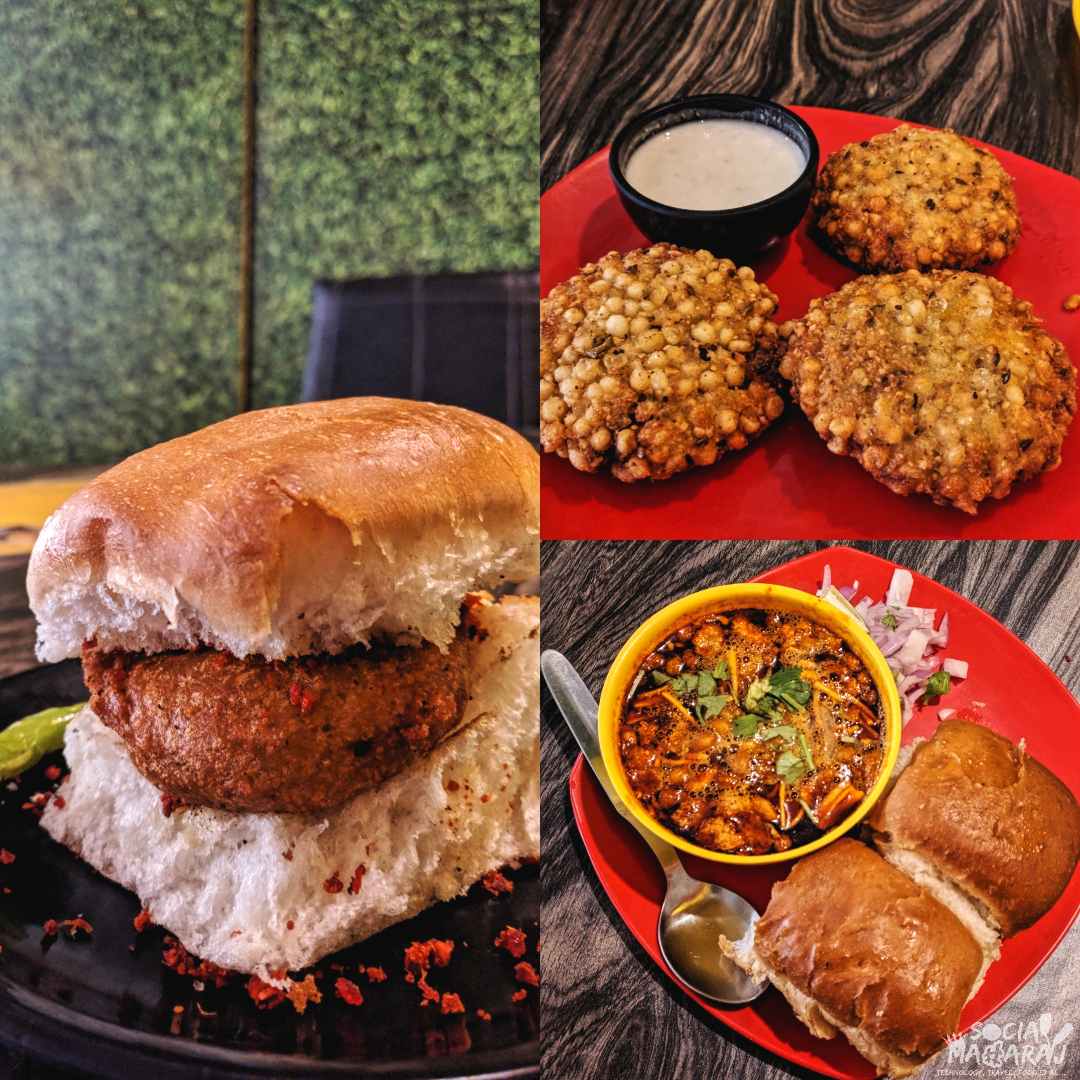 Vada Pav is THE iconic Maharashtrian Food and you expect a Maharashtrian Restaurant in Hyderabad to get it right. They used a regular pav instead of the ladi pav and the whole experience was ruined. While the wada was good, the red chilly powder was fiery, Vada Pav as a whole wasn't the authentic one. Priced at Rs 20, which is just half of what Chachaji gives, I won't go here for Vada Pav for sure. Even Mumbai Masalaa had a better Vada Pav than this.
Missal Pav on the other hand was nice. Spicy and masaledaar. Though there was some distinct flavor in the Missal (maybe the oil or the soaked dal) which didn't go down well with me. I'd try to visit again and have Missal Pav again at Marathi Katta.
While the starters were kind of a miss at Marathi Katta, the Vangi Bhakri was bang on. The jowar roti was just perfect and the accompanying Vangi (Brinjal Curry) was full of flavor. Reminded me of the Vangi curry that I used to eat in Pune. Full marks for this. Also, the thecha served with this was finger-licking good.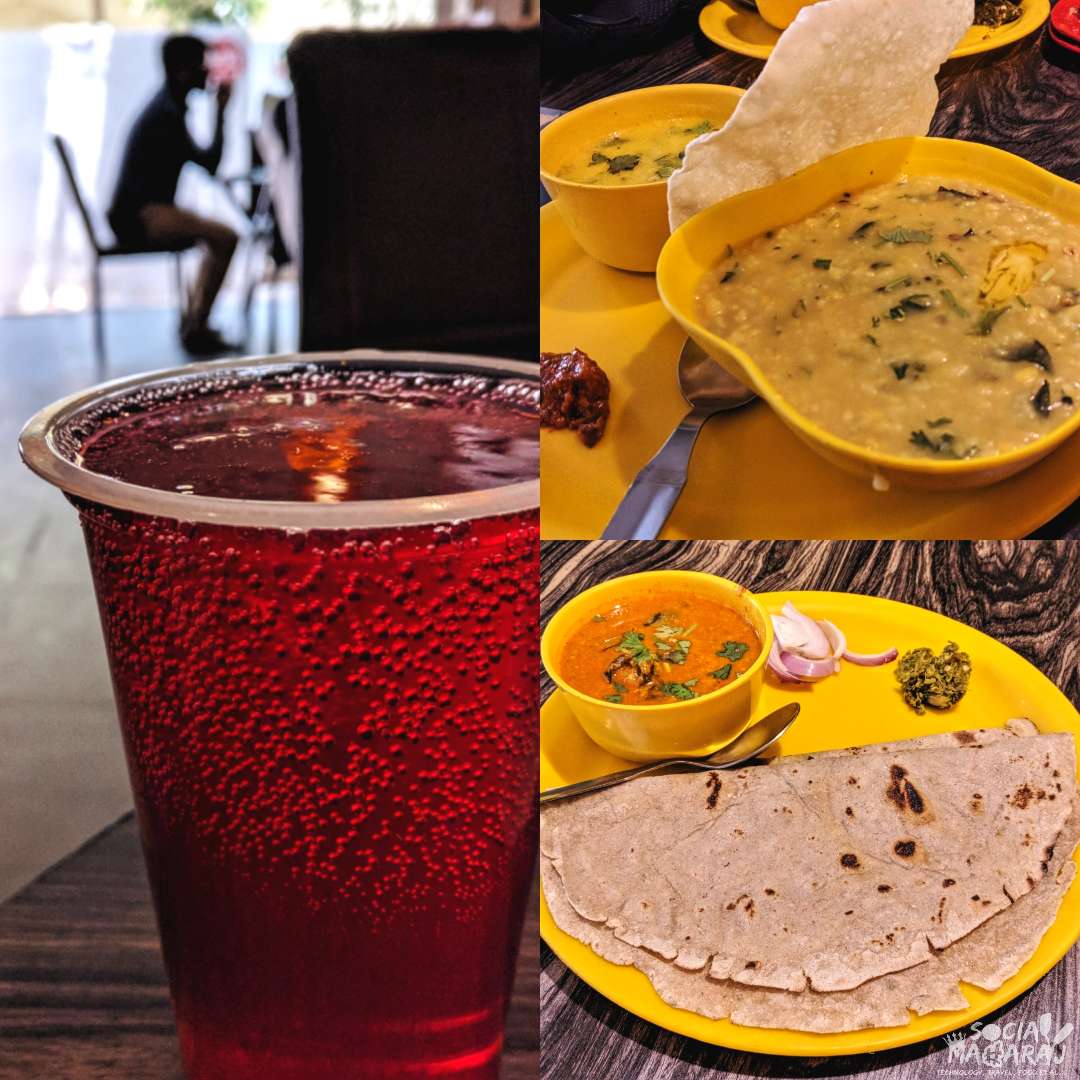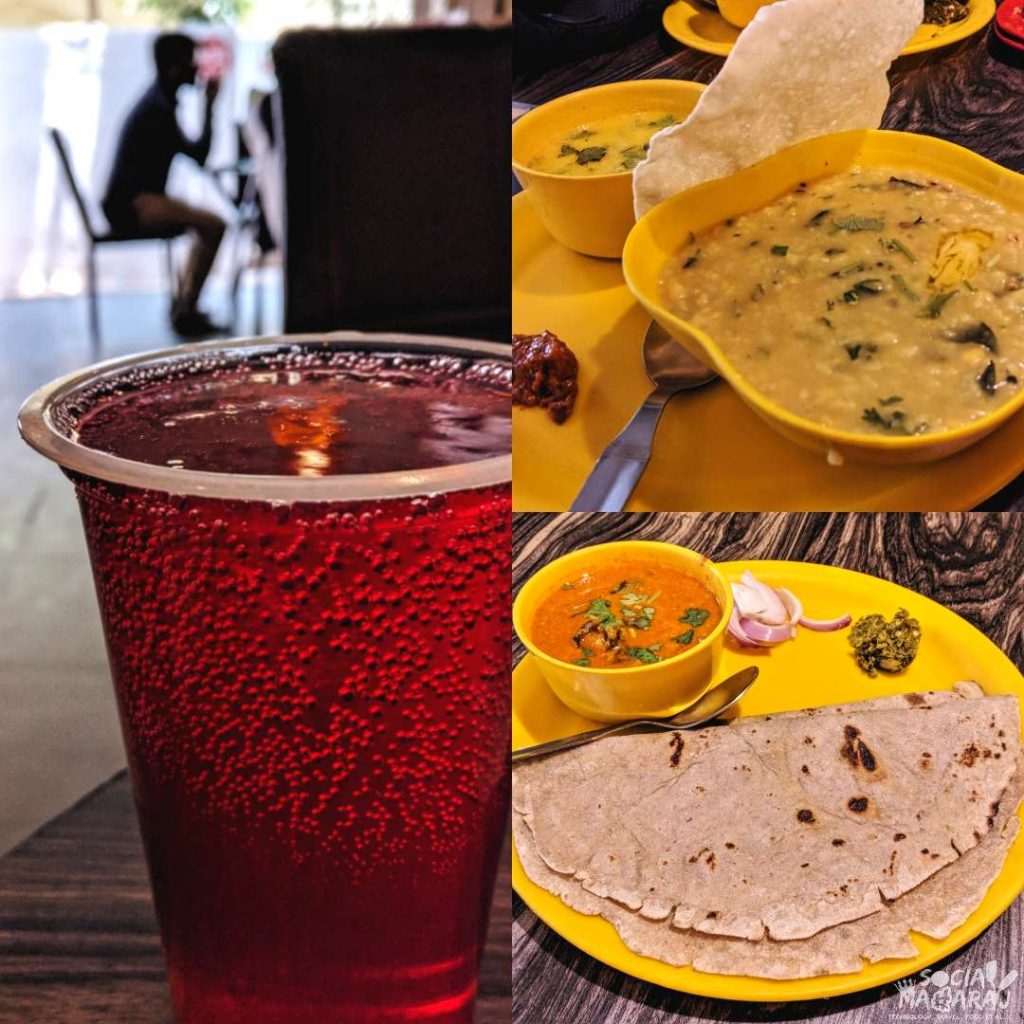 Khichdi Kadhi took the most time to arrive. It was a pretty simple and homely preparation. While I expected a dry khichdi with Kadhi, this was the regular moong dal khichdi that many of us prepare at home. Kadhi surely could have been much better.
Lastly, the Kokum Soda was one of the best I've had in Hyderabad. It was flavorsome and the Kokum tickled my tastebuds as I gulped a sip of this in the hot summer afternoon. I highly recommend having this here. Buttermilk was quite average.
Final Verdict: Marathi Katta can be better
Being a fan of Maharashtrian food, I was always on the lookout for a Maharashtrian restaurant in Hyderabad. I had high expectations from Marathi Katta which I feel was a tad too much. Ladi Pav is a fundamental requirement for an authentic Vada Pav. And that being the first dish I tasted, my hopes came down crashing. Missal Pav and Bhakkri Vangi are pretty good and quite close to the original flavors. While I wasn't able to taste the thali, I'd surely want to try it sometime and update my Marathi Katta review.
Overall, it's an average place with few hits and misses with the Maharashtrian Food in Hyderabad. Though the menu has a lot of Maharashtrian food on it, I couldn't try it. For Rs 500 for everything that I mentioned, I'd say it is definitely a pocket-friendly place. If you too are on the lookout for a Maharashtrian Restaurant in Hyderabad, try Marathi Katta and let me know your thoughts.
What's your favorite Marathi food? Comment down below, Tweet to me at @Atulmaharaj, DM me on Instagram or Get In Touch.