All of you who've been following me on Instagram know that I was in Bengaluru last week to attend the DevOpsDays India conference. It was my first tech conference ever and it was an amazing experience. For the unaware, apart from writing about food and travel, I work as a Developer Advocate – know more about what I do as a Developer Advocate. And as a part of my job, I was supposed to represent my company at DevOpsDays India.
Since it was my first Tech conference, I did quite a few things and had my first-time experience. Hence I thought to pen down my thoughts that would help anyone attending their first tech conference. These are tips that will help you not only prepare for your tech conference as an attendee but also help you be at your best at a tech conference.
If you're following my work profile @TheTechMaharaj on Twitter or Atulpriya Sharma on LinkedIn, you already would have gotten some idea of what this blog post will be about.
Not wasting any time, let's get straight into 5 Things You Must Do when attending your first tech conference.
5 Things You Must Do At Your First Tech Conference
1. Be an early bird
You may not be waking up at 5 am every day, but that's fine. But when it comes to tech conferences, it helps to be an early bird. (No conference starts at 5 AM!) What I'm trying to say is that make sure you have everything in place well before the conference. From getting the early bird passes for the event to tell the world that you're visiting the conference, make sure you start early.
Namaskara #Bengaluru 🙏🏼

I'm attending @DevOpsDaysIN on 18-19th Nov. Visit @infracloudio booth & let's catch up.

We can talk about #DevOps, Cloud Native, Blogging, CTR Idli, MTR's Dose & much more!

Drop a 👋🏼 if you're coming.

Exciting swags & gifts up for grabs🎁 #DevOpsDaysIN pic.twitter.com/Tmi7FCaOF3

— Atulmaharaj 🥑 (@TheTechMaharaj) November 14, 2022
That'll help not only save some money for the passes, but you'll also have had the buzz around you visiting the conference and in the process making a lot of connections even before you reach the venue of your first tech conference.
2. Know the schedule
Most tech conferences have a very detailed schedule for the event. From the keynote to tech sessions and workshops, the schedule is out often months in advance. So keep a track of the schedule and choose the sessions that are relevant to you. Mark them in your calendars and make sure to attend them.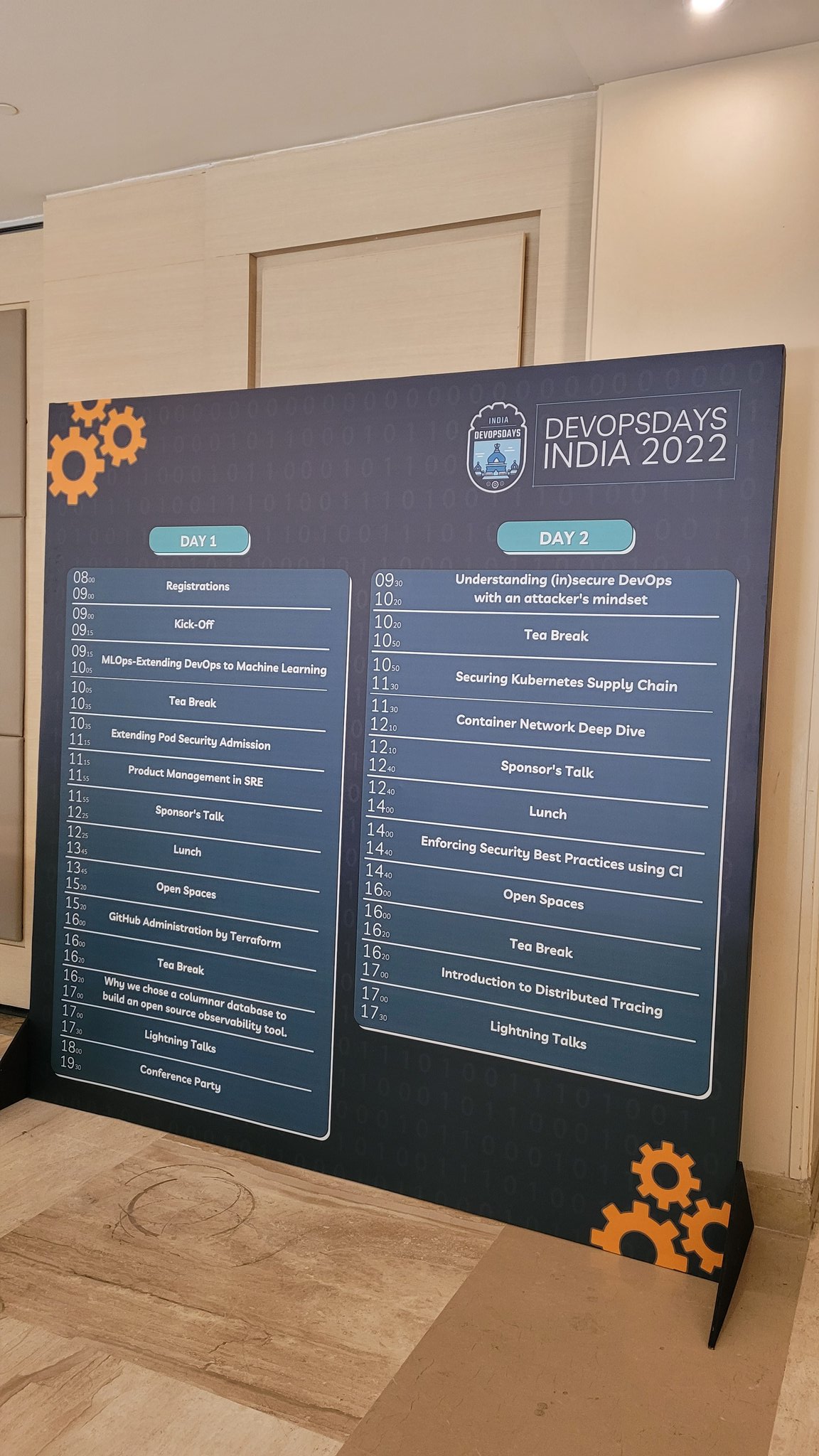 If the speaker of your session is active on social media, make sure you connect with them and follow them for more updates on the space they work in. Lastly, don't miss the keynote. That's one of the most important and helpful talks at a tech conference.
3. Join Discussion Groups
Many conferences also have time for group discussions. At DevOpsDays India these were called open spaces. Here, people are free to share topics that they would want to discuss. It can be from a 10-20 people group where they discuss the topic. In fact, we did one around developer relations at DevOpsDays. Learned quite a lot from other community folks.
Happy faces sum up the exciting open spaces we had around #DevRel at @DevOpsDaysIN

Getting to know the #community & learning from each other is the best part. #DevOpsDaysIN@rohitnotifies @aravindputrevu @UdayTKumar @bhavya_58 @_nancychauhan @Sudhanshu_456 @pavangudiwada_ pic.twitter.com/QN7XWsgqPX

— Atulmaharaj 🥑 (@TheTechMaharaj) November 19, 2022
These sessions are a great way to learn about a particular thing. Also, understand a broader perspective of the topic whilst getting to know other experts in the field.
4. Lightening Talks
So what if you submitted a talk but weren't selected, you still have a chance to talk at the conference. Most tech conferences have on-the-spot lightning talk sessions. You can simply submit the topic you want to talk about. If selected, you get around 5-10 minutes to talk about the topic on the stage in front of the audience. It's a great way to start your journey as a speaker. Think of this as an open mic.
I also gave a talk on Developer Relations in 5mins, which was essentially a summary of my blog post What I do as a developer advocate. It was well received and in fact, I got to meet a lot of people after the talk. One girl also made notes of my session!
Hahaha, true. I dint get anything to write on so used the Ruffpad to do this during your lightening talk on DevRel 😅😅 pic.twitter.com/RKrEOnHTjd

— Saigita Guruju (@issaigita) November 20, 2022
5. Network, Network, Network!
As they say, Network = Networth, make sure to meet and connect with as many people as you can. Such tech conferences are flocked by students, managers, and even founders of various companies. If you're a student, you can meet your hiring manager here, if you're a founder, you can find a prospective candidate as well as a client.
#DevOpsDaysIN Day 1 Photo Dump.

Met some amazing folks & had insightful discussions.

Also met some amazing #devrel #community folks @ghumare64 @JoshuaPoddoku @lavkushbiyani1

Day 2 here we come 🏎️

PS: If we didn't meet yesterday, let's catch up 👋🏼@DevOpsDaysIN @infracloudio pic.twitter.com/SaJfDThTpE

— Atulmaharaj 🥑 (@TheTechMaharaj) November 19, 2022
There's ample time for you to meet and greet people. Many companies have their booths set up. So you can go to their booth, talk to the people there and learn more about the company, things they do, etc. Even during lunch breaks and tea breaks, meet people. Conferences are a great way to meet people and network. Connect with them on Twitter, and LinkedIn, and stay in touch!
Bonus Tip: Collect Swags
One of the reasons a lot of young people, and students visit tech conferences is because of the swag. Most booths at tech conferences, give away a lot of swags. From T-shirts to bottles, diaries, and pen drive to LCD pads. You can collect a lot of swags. Most of them would ask you to register for an event or perform some activity to get swag.
Sometimes you might also have a raffle where you can participate and stand a chance to win something big. At DevOpsDays India we gave away an Xbox to one of the people who tried a game at our booth. So keep your eyes and ears open and look for opportunities to take some swag. PS: If you're attending a conference from another city, make sure your luggage has some free space to take the swags back home!
Attend Conferences & Propel Your Career
I've attended a lot of conferences around blogging, digital marketing, and food in general. DevOpsDays India was my first tech conference. And frankly, I had no idea what to expect. But it turned out to be an amazing event. Not only I was a part of the discussion group, but I also got a chance to deliver a lightning talk about my work and developer relations in general.
I'm quite active on Twitter and often look for events to attend. Follow me at @TheTechMaharaj to stay in touch and meet. If you feel I've missed out on anything, please feel free to mention it in the comments below, tweet to me, or Get In Touch.