This might be new to many while something already known to a few. But this is something I just discovered right now. I didn't know that a blog post can be made directly from the Microsoft Word application .The version that I'm using is 2010. Well I'm writing this post from the application itself! So here is a step-by-step guide to write a blog post directly from Microsoft Word.

Open the MS Word Application (2010 in this case).
Head to File->Save and Send->Publish as a Blog Post.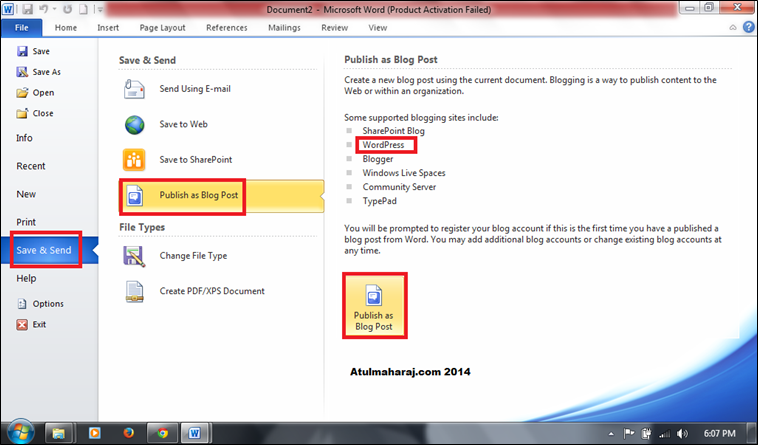 The screenshot above shows the screen. As you can see, the application supports SharePoint, WordPress, Blogger, Windows Live Spaces, Community Server and TypePad. Select Publish as a blog post.
Once that is done, the layout will be updated in the background while you are asked to register a blog account.

Select Register Account. On the next prompt you will be asked to select a blog provider. Choose a blog provider. (WordPress in this case)

It will then ask you to enter your blog url along with the username and password. Strange that it didn't use any authentication kindof thing from wordpress. Otherwise, usually one would have been redirected to WordPress site and asked to authorize the app. Or maybe, Microsoft is pre-authorized ?? 😛

Once that is done, you will prompted for successful registration.

After that, you can enter the Blog Post Title and start writing and hit Publish once done and see the new blog post on your blog !
The whole process is simple and easy. Doesn't take much time. Also the formatting bit is easy as most of us are well aware of using the MS Word application. Also the auto spell check is something very useful! Plus all the picture resizing, bordering, shadow etc. are great to create an amazing blog post. If you are unable to Insert Category, then select Manage Accounts, and choose your blog as a default blog. Didn't find an option to add tags though. Once that is done you will be able to see the categories.
I hope this will help you and guess many of you learned something new today!