Exams are an integral part of a students' life and start right from the time we start schooling. Initially we are toyed with questions like "A for.., B for.." and by the time we reach graduation, we are bombarded with "Alpha, Gamma, Beta.."
Most of us have our main(final) exams once a year for a yearly based system and twice for a semester based system(my system). Apart from these there are the 'Minor', 'practice' test which take place n-number of times in a calendar year. The final exams usually last 3 hours with the most preferred timings being 0900 hrs to 1200 hrs or 1400 hrs to 1700 hrs. Most of the students take a lot of tension before and during the exam. What if I forget things ?  What if a question comes which I haven't prepared ? are few of the common queries. But for me the biggest tension is How to spend the 3 hrs in the examination hall ? 
Well, till now – approximately 14 years of my education – 99% of the times I've come out of the exam hall after 2-2.5 hrs. But for this, you need to be thoroughly prepared before giving the exam. So here's what I usually do:
Come to the hall 30 mins in advance, switch on the fans, ACs etc. Check the seat numbers and hope that some nice people are around 😉
As I'm always 'well-prepared', I don't take much time to think, simply seeing the question is enough and the answer is ready 😛
By the end of the first hour, I'm usually at the half way mark. At this point of time, I take a small 'distraction-break' (not more than a minute or so)
During the 'distraction-break',

I call out names to the guy sitting in front of me.
Take a good view of the class( hoping that someone looks at me, so that I can wave at them generously) 😛
Maybe go for a stroll to the loo and wave at people in other classes while wishing the faculties on the way.
Count the number to marks expected 😛
Count the number of pages filled and the target to number of pages to be achieved (useful in subjects where a lot has to be written)
Remember of a funny incident and laugh making others think you are stupid 😛
Think of what will India do when it wins the toss and what would be the team composition 😉 😛

Post-break, again the writing session begins and by the time its 2 hours, I would nearly completed the exam. Will take 5-10 min to check if everything is fine or not and get out of the hall ASAP.
But then again, as there are lots of hurdles in life, there are a lot of hurdles in the examination hall too. From not have a calculator to solve a complex equation to almost wetting yourself with your own sweat 😛
One of the most common and irritating things that I've faced n number of times are the invigilators. Everyone's aware that one can leave the exam hall after 2 hrs, but this 'Singham Type' faculty will say – "Yeh meri class hai aur main yahan ka Singham" and will not allow you to go before the end of exam. Wonder why each faculty has his/her own rule ?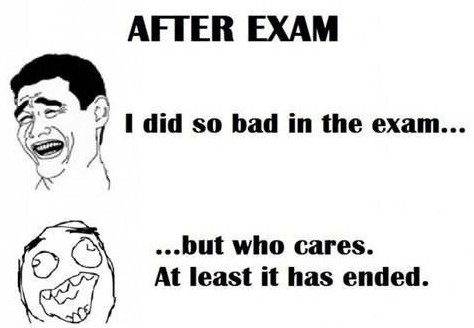 Anyways, for me exam time is fun time. And during the exam is even nicer. Well, I have only two exams left 'technically' before I graduate. Finally exams will come to an end 😛
Wishing all the students All the best for their exams ! Bon Courage !