With the skyrocketing prices of flights in India and the uncertainty of getting train tickets on short notice, I always prefer road trips. Maybe because I love road trips 😉 I've driven more than 17,000 km since I bought my Tata Punch in August 2022. There were numerous road trips from Hyderabad that I undertook. Being a mountain lover, I prefer driving to the mountains to beaches. In fact, if you're following me on Instagram, you know that I recently drove from Hyderabad to Chikamagaluru.
Having driven so much on my own and traveled extensively by road, I feel I'm in a good position to write about how to plan a road trip in India. Barring the eastern part, I've traveled to most of the places by road. In fact, my longest bus journey was 40 hours from Delhi to Bangalore. In this post, I'll share some tips on how to plan a road trip in India. Whether you're living in India or traveling to India, this blog post will help you plan your road trip.
Note: You might wonder, there are numerous blog posts and articles that talk about planning a road trip, why should you read this? Well, because I can vouch that many other articles are written for the sake of it and not executed like mine. These tips are based on the road trips that I've taken personally and the pro tips will tell you why this blog post is all you need to plan your road trip in India!
Plan Your Road Trip In India
One of the best things about India is its diversity. Whether culture or biodiversity, everything changes in a short span of time. And one of the best ways to experience that change closely is by planning a road trip. You can experience how flat landscapes change from hills and mountains to green farmlands. Not to forget the change in food and language too.
If you're an absolute beginner, you must read my blog post on how to plan your first road trip. It's the best resource to help you plan your first road trip. Let me share some insightful tips to help you plan your first road trip in India.
1. Choose A Destination
The first and foremost thing that you need to do is choose a destination to plan your road trip in India. India is a vast country and has everything for everyone. If you love beaches, you must explore the beautiful coastline of Kerala, Karnataka, and Goa. While there are beaches on the east as well, the beaches on the west are cleaner and better in my experience. If you're fond of mountains, you can explore the western ghats that are home to some of the rare flora and fauna.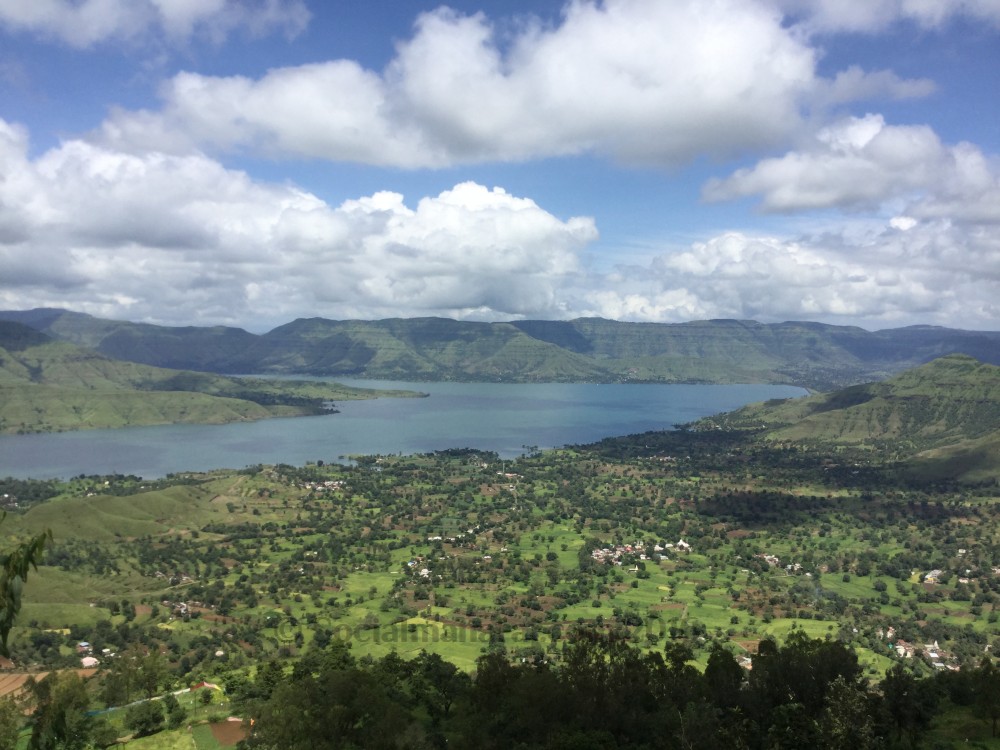 Also, the Himalayas, head to places in Himachal Pradesh, Arunachal Pradesh, Jammu & Kashmir to experience the youngest mountains in the world. Want to experience dessert? Head to Rajasthan to experience the sun and sand along with mighty forts and good food.
You see there's so much to explore! Hence choosing a destination is extremely critical. Open up a map and based on your interest and itinerary, choose a destination that you'd like to visit. However, is the weather right to visit the destination you want to?
2. Choose The Right Time
India being a diverse country has diverse weather situations as well. One part of the country would be reeling with severe heat while some areas would be flooding. Every place is different in different seasons. For instance, you might not enjoy the western ghats during March-April, but the same place comes to life during monsoons which are extreme in the region.
Choosing your destination and planning a road trip at the right time is critical. Refer to weather forecasts to get a broad idea of how the weather would be when you plan your trip. In rare situations, you might have to change your destination as well! Planning a road trip in India depends a lot on the weather as well.
Hence, choosing a destination and the right time is extremely important.
3. Plan Your Route
Having decided on the destination and the time, the next step is to plan your route. Roads in India are majorly good, especially when you drive on major national highways. There are expressways as well, but if you're riding a two-wheeler, you might not be allowed on expressways. Most of these roads are also tolled, which means you need to pay a toll tax to ply on these roads. At a very high level, the toll amount would be 1-1.5 Rs per km.
Planning a road trip in India has become easier with Google Maps. Just put in the destination and source and let it find the best route for you. Study the route well, know where you'd be driving through, the major cities, and towns that'd come on the way, the highways that you'd use, etc. You need to have a mental map of the route.
Hack 1: Switch to satellite view on Google Maps to see the type of roads on your route. Most of the major highways in India are 4-lane which is the best. If your route has state highways and other inner roads, you'll get an idea through the satellite map.
Hack 2: Having driven so much, I'd suggest picking a route where you spend most of your journey on a national highway even though the distance is longer and the duration a little higher. One of the major reasons is that the highways have everything you might need during an emergency and also the road conditions are pretty good.
Hack 3: If you're traveling to places where the network can be an issue, make sure to download offline maps for the region. That way even if there's no network, navigation would work.
4. Check Your Vehicle
Now that your destination is decided and also the route, it's time to get your car or bike checked. Before embarking on a road trip, it's extremely important to check your vehicle. Brakes, tires, engine oils, lights, and horns are some common things that you must check. If you're in a car, make sure the coolant levels, brake oil, and wiper fluid are topped up. If your service is due, make sure to service your car before your trip. Having everything checked gives you peace of mind for your trip.
Also, ensure to have adequate fuel before you start your trip. Based on your route and destination, plan your fuel stops based on the average of your vehicle. If you're traveling to areas where you might face fuel shortage, carry cans of fuel with you.
Hack: Fuel prices in India vary from city to city, hence to save on fuel, check the current fuel prices in the states that you'll drive through and plan your fuel strategy. For instance, I pay Rs 110/L for petrol in Telangana, but it's around Rs 102/L in Karnataka. So I top up only enough to cross into Karnataka where I fill up the tank.
5. Pack Well, But Light
When traveling by car, people usually pack more since it's their car. But I'd suggest otherwise. Pack just enough. Based on the destination and weather, pack your clothes. These are going to take the most space. Next comes your medicines and emergency supplies. Ensure to pack your regular medications, OTCs, ORS solutions, digestive pills, motion sickness pills, etc. Also if you wear glasses like me, make sure you have an extra pair.
Next comes food and snacks. Pack something that you'd munch on during your road trip – chips, biscuits, beverages, etc. Have some tissues, wet wipes, and a garbage bag/can too. Also, pack some extra cleaning clothes for your car and a spray bottle to clean the windshield.
Hack: Purchase some mineral water bottles in bulk for the road trip. While they are available easily, the prices differ and so do the brand. I usually purchase in bulk which cost me up to Rs 8 cheaper per bottle. And a wholesale pack for 12-15 bottles is enough for a family of 3.
6. Research Accommodation
India is a huge country and hence the distances between cities can be too much. So much so that you might have to break your road trip into multiple days depending on the distance. For instance, if you plan your road trip in India and travel from Srinagar to Kanyakumari, you'll make multiple stops along the way. While I've suddenly fallen in love with night driving on major highways, I avoid it. I start early say like 5-6 AM and then drive until 9-10 PM with multiple stops during the journey.
However, if the journey takes more than that, I usually take a night halt at a hotel on the highway. While getting a room without a prior booking is easy, I prefer the other way. I'll book my accommodation online even before I start my road trip. I'll open the route map and search for hotels near the highway so that I don't have to take a detour. Most decent places at the moment cost anywhere between Rs 1000-Rs 2500 a night. My suggestion is to plan your halts and accommodations.
7. Inform Your Friends/Relative
Before starting your road trip, make sure that you inform your friends and relatives about the same. It'll help if there's an emergency. If you're doing a solo trip, I'd suggest sharing your live location with a few people so they know where you are. Whenever I go on a solo trip, I share my live location with my parents so they know where I am. I keep updating them often as well. If you know someone at the destination you're visiting, make sure to keep them updated as well.
8. Have Some Extra Space For Souvenirs
Every place in India is famous for something. While you capture memories in your cameras and smartphones, there will be a few things that you'd want to purchase. For instance, you might want to buy some amazing coffee from Coorg or sarees from Varanasi. But where you'd store them? Make sure to have some extra space in your car/bike so that you can bring back some things either for yourself or your near and dear ones. This might sound like an average tip, but trust me, you're going to thank me later for this!
So, What's Your Next Destination?
Planning a road trip in India can be an exhilarating and unforgettable experience. As I reflect on my own journey, I've come to appreciate the importance of thorough preparation and flexibility. By following these tips, I was able to embark on an adventure filled with stunning landscapes, diverse cultures, and treasured memories.
From choosing the right time and planning the route to ensuring vehicle readiness and packing essential items, each step played a crucial role in making my road trip enjoyable and hassle-free. Researching accommodations and familiarizing myself with traffic rules allowed me to navigate through unfamiliar terrain with confidence.
So, whether you're captivated by the snow-capped peaks of the Himalayas, the tranquil backwaters of Kerala, or the vibrant streets of Rajasthan, remember to soak in the rich tapestry of India's diverse landscapes and cultures. Embrace the journey, take time to connect with locals, sample regional delicacies, and create memories that will last a lifetime.
As you plan your own road trip in India, I hope these tips based on my personal experience serve as a helpful guide. So, fasten your seatbelt, tune into your favorite road trip playlist, and embark on a remarkable adventure through the enchanting roads of India. Happy travels!
Let me know your thoughts on this blog post in the comments below, tweet to me at @Atulmaharaj, DM on Instagram, or Get In Touch.