5 years ago buying a car was a distant dream. It wasn't more about the money back then, but the need. I didn't feel the need to have one, plus the rented place I stayed at had no parking. However, when I moved to my current location, buying a car was inevitable. Distance to travel increased and so did the cab fares. Plus I also got covered parking, so it made sense to get one.
That's when after putting good thought into buying my first car, I decided to bring home my Tata Punch, my first car.
I always enjoyed driving. Not only it makes me feel liberated but the whole machinery makes me go wow! I mean the way the accelerator, and clutch work with gears is just something that excites me. The revs, pistons, crankshaft, I mean I watch engine rehaul videos, so you know how much I like the machine.
Within a few weeks of purchasing my Tata Punch, I clocked 1500 kms and that's when I wrote my first review of Tata Punch.
While the original plan was to write a review at 5000kms, and 7500kms as well, that didn't happen. But 10,000 km in under 6 months is a milestone that needs to be documented.
In this post, I'll share my long-term ownership review of Tata Punch after driving it for 10,000 km. This would be helpful for anyone planning to get one, or anyone having one and wanting to know about the long term ownership review.
Tata Punch Long term 10,000km Ownership Review
While I have talked about a few things in my previous review post, this one would be a more detailed list of things I like and dislike about the Punch. For the unaware, I've done significantly long road trips in my Tata Punch. Hyderabad to Lucknow & return being the longest (~3000kms), Hyderabad to Pune & return (~1000kms) and many others in the range is 500-800kms. Read more about all my road trips.
City rides for me happen 1-2 times a week and that too I travel via the ORR, so I'd consider it has highway drives. In such situations, a city drive is maybe 30% of the entire trip.
So my tata punch long-term ownership review would be the basis of my experience driving for long distances and mostly highways. Lastly, the car has been driven only by me and hence I feel, I'm the right person to talk about it.
Let me start with the things that I like about the Punch. But before that, check out my reel on Instagram below 🙂
Things I Like About My Punch
Ride Quality & Handling
One of the best things I like about my Tata Punch is the sublime ride quality. The steering is feather-light at lower speeds making it super easy to drive in traffic, make quick turns, etc. Furthermore, the turning radius is smaller making it easier to take u-turns. At higher speeds, the steering becomes rock solid giving you confidence and better control. At speeds of 80-90kmph, the ride quality is just brilliant.
Even the suspension of the Punch is nicely tuned and it can glide over potholes with minimal disturbance in the cabin. Also, the higher ground clearance than any other hatchback in the segment gives greater confidence that nothing will hit the bottom of the car. A little bit of off-roading or driving on roads, the Punch handles it really well.
Cabin Space & Comfort
I had experienced other cars like Tiago, Magnite, and Wagon R, but the cabin space the Punch provides in the segment is second to none. The high seating and the SUV stance make it much more appealing. For me visibility of the bonnet was important, and Punch gives exactly that.
From a driver's perspective, there's a lot of space in the cabin and doesn't feel cramped even for a heavy built person like me. The console, steering, gear, hand brake, and everything else are within reach.
Talking about the seats, these are one of the most comfortable seats I've sat on. The seats are shaped in a way that provides good back support. The under-thigh support is decent and hence long drives aren't tiring. While this might be a small thing, the presence of a dead pedal makes it so much more relaxing especially when driving on highways.
Apart from the day I bought the car, I've never sat behind. However, my parents (both 60+) accompanied me on my Lucknow road trip and they're just in awe of the seat and comfort. Firstly the height of the car and the 90 degrees door makes it convenient to get in and out of the car. Plus the seat is inclined to an angle that made it comfortable for them. So I'll give full marks to seating and comfort.
Good Mileage
Mileage is a tricky topic to talk about. It depends largely on the driving style, roads, driving modes, and a lot more other factors. And hence this varies greatly. I mostly drive in the eco mode since I'm on the highways. However, I do switch to city mode when I'm crossing crowded areas, leaving the highways, etc.
The average mileage that I've seen is 21-23 kmpl. This is basis the MID as well as calculated based on the last refuel and distance traveled. Most of my long trips have yielded a mileage of 22-23 (~1000+ km) and that's extremely satisfying. My regular Hyderabad outing which is about 120 km (includes 100kms of highway) yields about 24-25kmpl. The max I've done is 26.9 on ORR for a distance of 60kms.
I'm not a speed enthusiast, so seldom I've clocked over 100. My average speed is between 70-80 and I just like to cruise at these speeds. You'll not find me accelerating hard, ambitiously overtaking, or cutting lanes. Nope, that's not me.
Infotainment & Air Conditioner
Lastly, the infotainment system and the AC along with the features/addons that I purchased are good. Right from the reverse camera to the steering-mounted control, everything is practical and works well. The Harman sound system is just amazing. Not so much when you're listening to the radio but use an app like Spotify, and at volume level 9 itself you can feel the thump. The audio is too good and the equalizer works well to fine-tune it.
Since I drive long distances, I do take calls and hence that was a necessity. The call quality is great as well. I've always heard from the other person that it doesn't feel like I'm calling from inside the car. So that's a plus point too.
Coming to the next best thing and it's the air conditioner. Taking long trips and avoiding night drives means driving during peak afternoons. And you know how hot it can get. The AC in my Tata Punch is quick and powerful. Turn it on to full speed and lowest temp settings and you'll have a chilled cabin in under 5 mins. There have been times that I had to turn it off because it got way too cool.
(again a small thing that you might not relate to but I find it super helpful) The hot air blower is quite a handy feature. I often feel cold on my feet. Especially when I'm starting early, my feet are cold and that makes me uncomfortable. Turning on the blower and directing it to my feet is just so so good! It makes me comfortable and ensures I don't get cramps in my toes/feet.
These are the major things that I absolutely love about my Tata Punch. But no review is complete without looking at the other side of the coin.
Things I Dislike About My Punch
Below are the things I feel could have been better to make Tata Punch an overall good package. And when I say that I no way mean that I regret buying it. In fact, I helped two more colleagues to get a Tata Punch and they're quite happy with it too.
Lacks Punch in 5th Gear
The Tata Punch is a small and punchy car, but it surely lacks a punch at higher speeds and revs. At lower speeds with RPMs around 2000-2200, the car has the punch. Drive it in city mode you'll not find anything. However, clock over 80-90 kmph in 5th gear and you'll surely feel the missing power (and a 6th gear too). Overtaking at 5th gear isn't great, and I had to downshift to 4th multiple times for that extra power.
No doubt it's a heavy car (probably the heaviest amongst all the competitors) but the engine could have been better.
Further, this isn't a punchy car for during pick up as well. Not a car that you start and this just accelerates and flies. No. It takes its sweet time to get to speed. (No wonder it takes almost 18 secs from 0-100) The automatic variant is even worse at least until the second gear. There's evident lag during gear shifts which cannot go unnoticed.
Maybe a turbo would have surely helped the case but would have surely jacked up the price too. If you're a conservative, comfort driver like me, you'll not have major issues with this. However, if you want your car to behave like a race car, and quickly overtake at higher speeds, Punch might not be the right choice. Again, don't go by this review, do a test drive and experience it for yourself!
Average Brakes
While the Punch gives great confidence while driving at higher speeds due to the steering, suspension, and visibility, the brakes disappoint. It isn't a car that'd come to a standstill immediately. It's a heavy car, so the momentum plays its part and hence the bakes could have been better. It feels soft at times and the braking distance is quite large.
There have been a lot of instances on highways when I was at 80-90kmph and suddenly a cow comes in and I had to apply the brakes. While the car did slow down and stop, for a few seconds I was sure of hitting them.
I don't know if it's with Punch or Tata in general. I've seen a lot of auto reviewers talking about poor brakes on Tata. So I guess they need to work on this. A good set of brakes with a shorter braking distance will only improve the ride quality and add safety.
Noisy Engine & Cabin
A characteristic issue with a 3-cylinder engine is the noise and vibrations. Due to the design, nature, and firing pattern, 3-cylinder engines are known to be powerhouses but with a lot of noise.
The punch does have some damping under the hood, but that does not prevent the noise to creep in. Hit the 4-5th gear, and you can hear the revving engine inside the cabin. Even the pickups are noisy at times. If you have AC on with music, this reduces greatly but it's evident.
While they've managed to keep the vibrations on the lower side, the cabin does get noisy. I don't know if modifying it and getting more damping sheets would help. I don't plan to do it, but I've seen many people do it.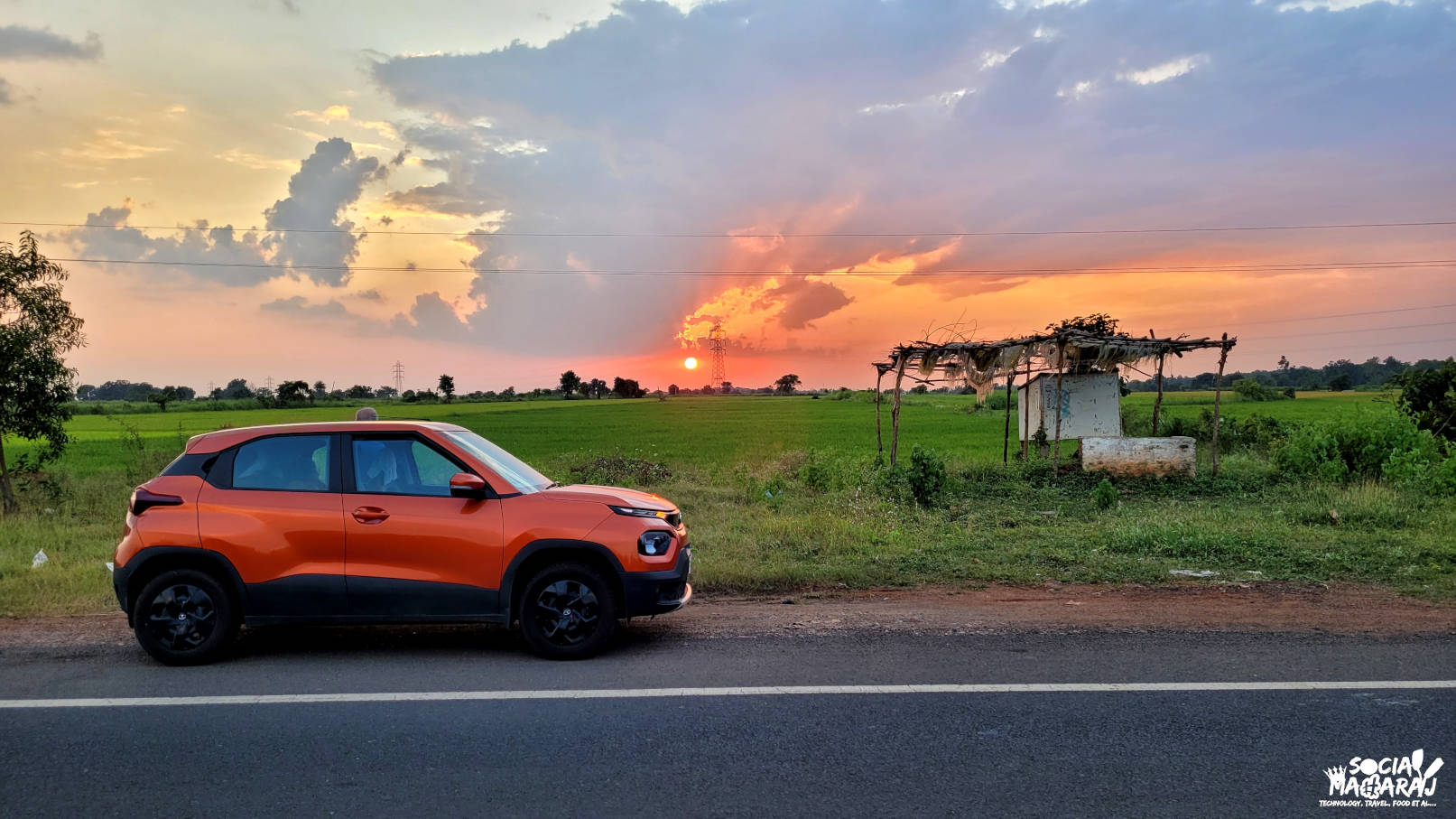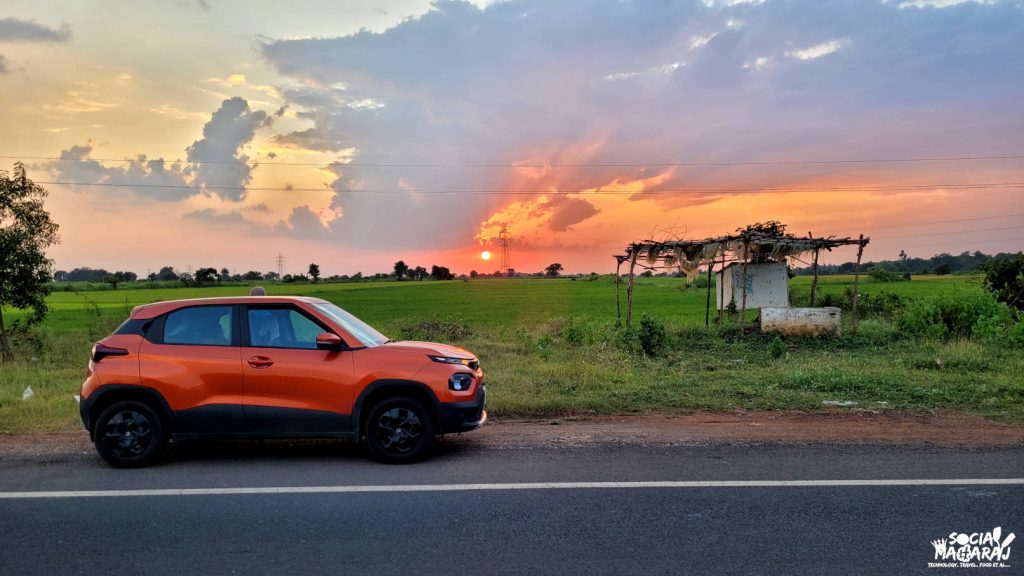 Poor Fit, Finish, Paint Job
Lastly, what I absolutely dislike about the Punch is the poor fit and finish. The panel gaps are huge which accumulates a lot of dust. Door panels are always full of dust and so are the boot and the bonnet. After every long drive, I wash my car, and that's when I see that dust has settled in these gaps.
The overall finish too isn't great. Poorly cut, aligned metal sheets and fiber components just degrade the look and feel of the car. A lot of places had this white waxy thing that is applied and it doesn't go at all.
Even the paint job isn't one of the greatest. Only after I bought mine and it was parked under the sun I noticed minor ghost lines on the bonnet. I feel this is something Tata needs to improve for sure.
To Another 10,000 km!
That was my short/long detailed ownership review of Tata Punch after 10,000 km. I have driven quite a bit and hitting 10k in under 6 months is surely uncommon. As I mentioned, I mostly go on long road trips and the drive is mostly on the highways. I absolutely love the ride handling and comfort it gives. The Punch gives confidence at high speeds and controlling is simply great. The seating comfort is nice and I didn't have issues doing long road trips.
But as they say, every coin has two sides and Punch too has its cons. The engine being the prominent one. If you're a spirited driver who demands 150% power from your car, Punch might not be the right choice. The average braking does affect your confidence a wee bit. Lastly, the poor fit and finish are a dampener.
Nonetheless, it's surely a wonderful family car. Whether you want to drive it in the city or on highways, you'll have a wonderful time. Please feel free to reach out to me for any inputs, help of suggestions. I've already helped a couple of my friends choose their first car! You can also leave your thoughts in the comments below, tweet to me at @Atulmaharaj, DM me on Instagram, or Get In Touch.