Driving a car was always something that I looked forward to. From getting the car out from the parking lot to home to driving Nexon in Idukki, I was always game for it. It was just that I was nervous about driving in cities and had a lot of apprehensions – What if the car stalled in the middle of the road? What if I hit other cars? What if I had to stop uphill and hit the car behind me? Such questions are always in my mind. And the best way to get rid of them is to actually go on a drive. It's as simple as that.
So ever since I got my Tata Punch, I've been out of Hyderabad almost every weekend. I've taken numerous road trips as mentioned below:
While the predominant reason was to enjoy the drive, the intention was also to gauge whether I had the stamina to drive for long hours. Hence, if you carefully observe, each of the above road trips is in increasing order of round trip distance. Starting with Nagarjunasagar which was around 250kms to Pune which was around 1300+kms.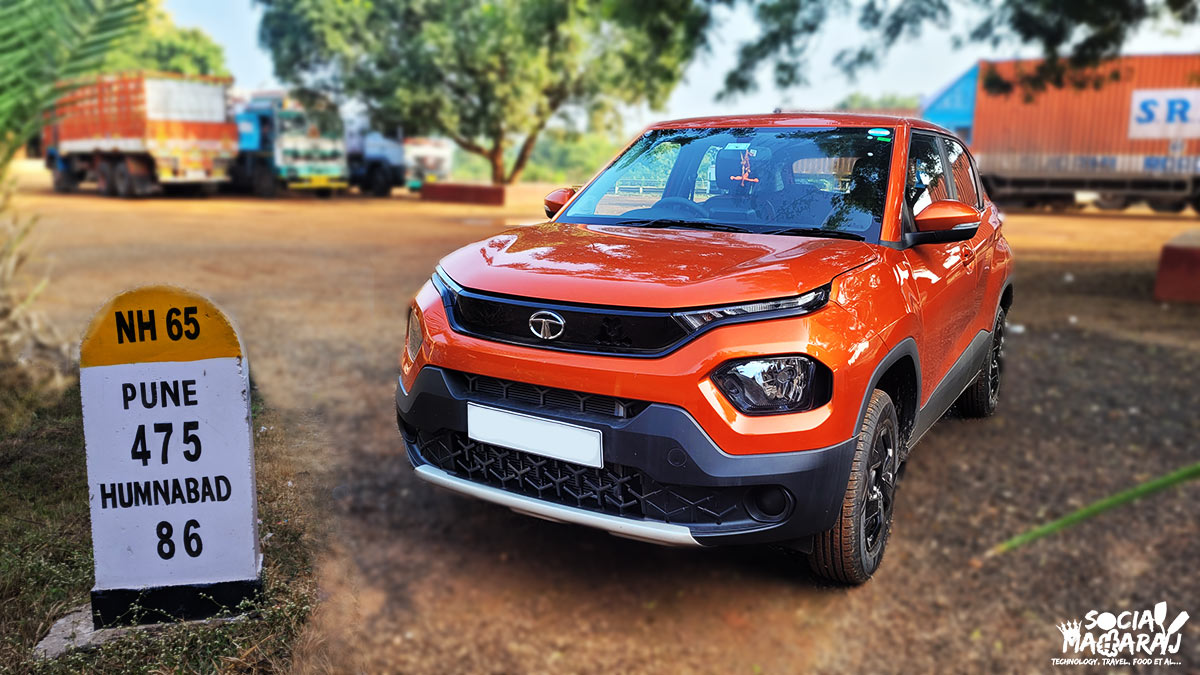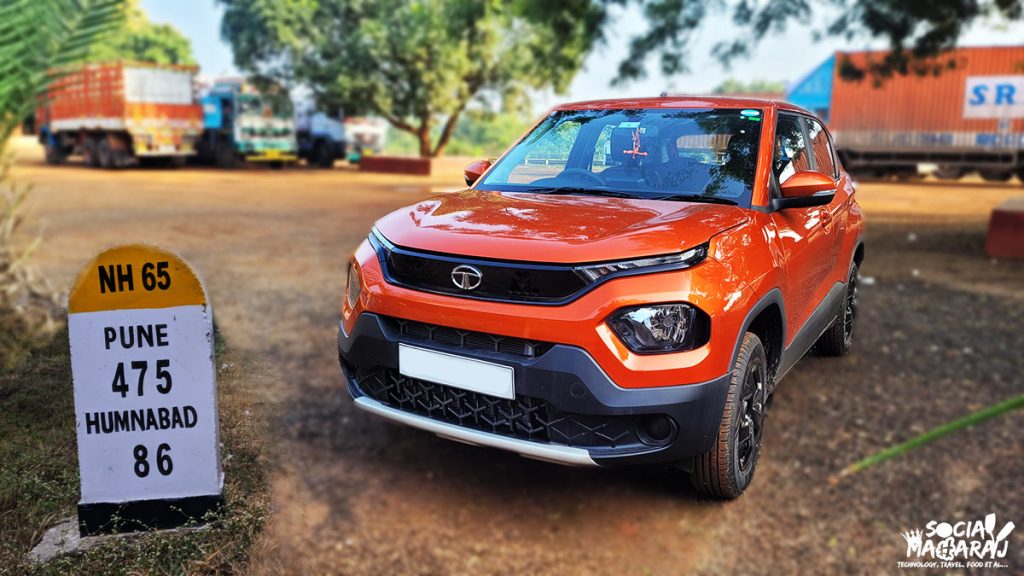 Having driven so much already, I wanted to take my Tata Punch to a farther destination. And that's when the idea of the Hyderabad to Lucknow road trip hit. If you've been following me on Instagram, you already know about this trip. If you don't, then this post is for you.
If you're also planning to drive from Hyderabad to Lucknow by car, this blog post will serve as the complete road trip guide. You'll find everything from planning to the route, road conditions, Hyderabad to Lucknow toll and also food stops. Without much ado, let's get into the blog post.
Planning A Hyderabad to Lucknow Road Trip
Someone who enjoys driving seldom worries about distance and time. And after doing so many long trips, Hyderabad to Lucknow road trip by car was one that I was eager to embark on. The plan was to drive during the Diwali holidays. Drive on the weekend, stay there for a week and come back the following weekend. However, the entire plan was preponed for the Dussehra holidays and here I am, writing this post from Lucknow after doing the much-awaited Hyderabad to Lucknow road trip.
I'd strongly suggest not to make this your first ever road trip if you're driving. That's one of the things that I've also mentioned in my Tips to plan your first road trip post. You need to check your driving stamina as well as the car before embarking on such a long road trip. Further, since this is going to be an extremely long journey, I'd suggest taking someone along with you, driving solo would be extremely monotonous. I had my parents with me on this epic road trip. So we had songs from the 80s, and 90s being played all along the way!
Hyderabad to Lucknow – Best Route
Hyderabad to Lucknow is quite a long-distance route. You'll be crossing 4 states while travelling to Lucknow. In terms of kilometres, the distance from Hyderabad to Lucknow is roughly around 1400kms one way. Coming to the next important question, what is the best route from Hyderabad to Lucknow? If you'll Google this, you'll be presented with three alternate routes:
Option 1
Hyderabad -> Medchal -> Kamareddy -> Adilabad -> Hingaghat -> Nagpur -> Seoni -> Jabalpur -> Katni -> Maihar -> Nagod -> Attara -> Fatehpur -> Lalganj -> Bachhrawan -> Mohanlanganj -> Lucknow:
This is the shortest route in terms of distance. It's about 1350kms one way and more often than not, Google will show this as the preferred route. It starts with NH-44 from Hyderabad to Nagpur, followed by NH-30 until Maihar and then on the state highway. I studied this route on Google maps to understand the type of road (single lane, four lane etc.) And post that I decided to reject this route because the stretch from Maihar to Lucknow was a single-lane road. Considering the numerous village en route, I was worried about the village traffic that would lead to a longer time on the road.
Option 2
Hyderabad -> Medchal -> Kamareddy -> Adilabad -> Hingaghat -> Nagpur -> Seoni -> Jabalpur -> Katni -> Amarpatan -> Rewa -> Mangawan -> Chakghat -> Prayagraj -> Rae Bareli -> Lucknow:
This is a slightly longer route with a total distance of 1400+ km. You start with NH-44 from Hyderabad to Nagpur and then take the bypass from Nagpur to Jabalpur with NH-30. From Jabalpur to Lucknow, follow NH-30. I also studied this route and learnt that most of the route is a 4-lane highway, which meant though the distance is slightly more, I'd take lesser time as I could maintain steady speeds. This route also has some ghat roads around Jabalpur so you need to be wary of that as well. The only problem was from Prayagraj to Lucknow which is a single-lane road. This was the route that I chose to drive from Hyderabad to Lucknow.
Option 3
Hyderabad -> Medchal -> Kamareddy -> Adilabad -> Hingaghat -> Nagpur -> Seoni -> Bamhodi -> Narsinghpur -> Deori -> Sagar -> Lalitput -> Babina -> Jhansi -> Orai -> Kanpur -> Lucknow
This is the longest route in terms of distance and is almost 1500kms. If your geography is good, you'll immediately figure out why are we diverting from the route. If you want the best road throughout your Hyderabad to Lucknow road trip, this is the one. For the most part of the trip, you'll be travelling on NH-44 until Jhansi and taking NH-27 from there till Lucknow. As per my research, this entire route is a 4-lane highway without any single-lane road. Hence, even if you travel a larger distance, the time taken would be almost the same since your average speed would be higher.
Further, I was clear to not drive at night and hence had to take a halt. Before starting, we thought we'll take a night halt in Seoni, but when we were on the road, we decided to stretch a little and halt in Jabalpur on day 1. I covered a distance of close to 820 km on day 1 and about 600 km on day 2. whenever you're going on such long trips, make sure that you try to cover the maximum distance on day 1. Because with each passing day, the tiredness kicks in and your energy levels decrease making it tough to drive.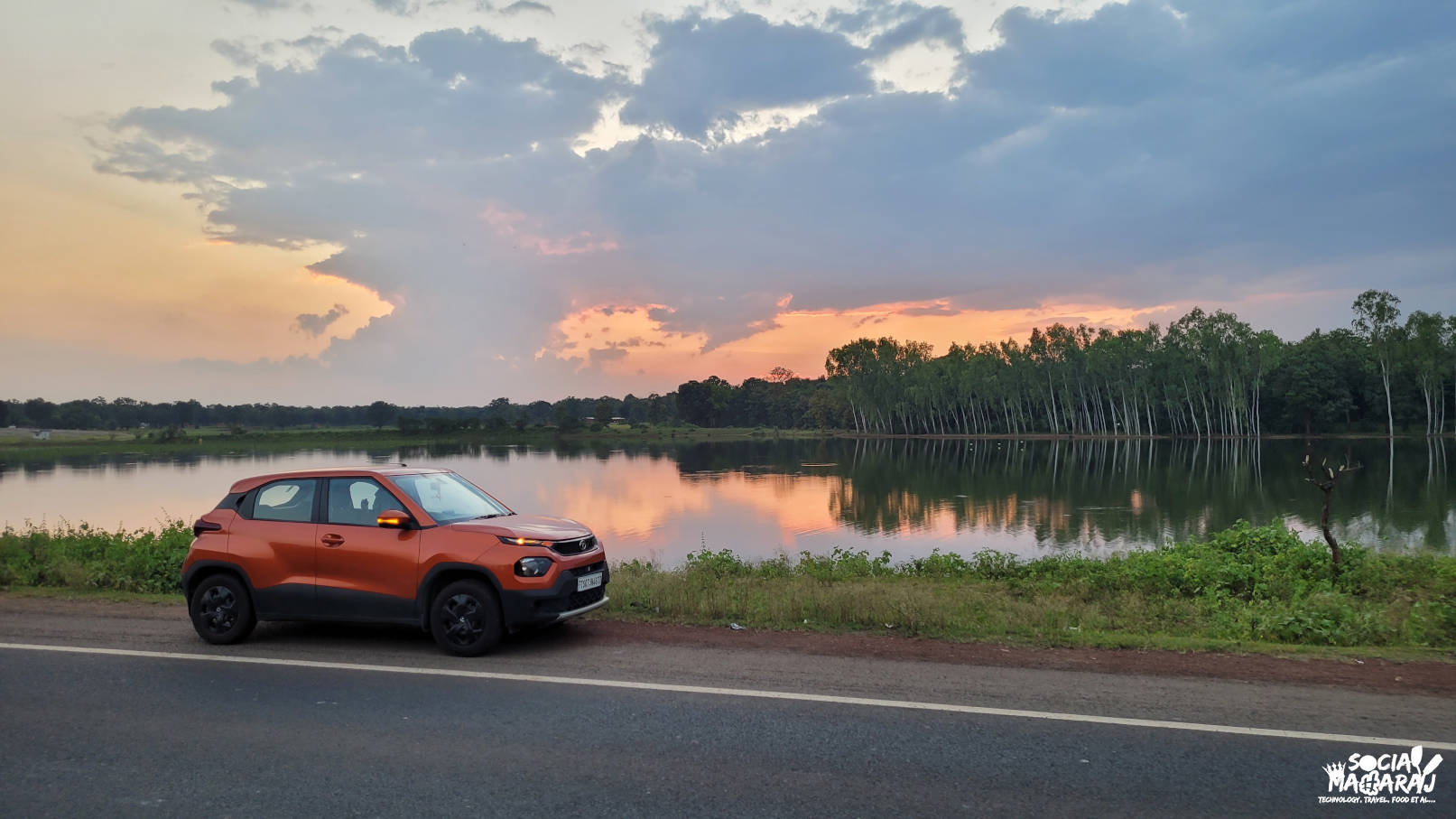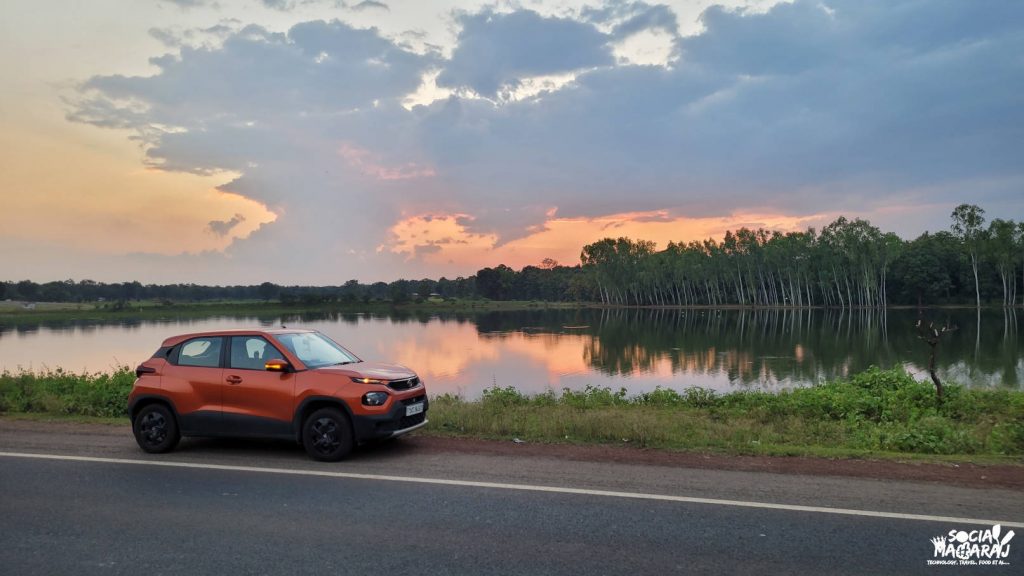 While I took route 2 to drive from Hyderabad to Lucknow, I'm wondering whether to try route 3 for my return trip which is this weekend. I'll anyways update the decision and route here. But if you're travelling for the first time, I'd suggest choosing either route 2 via Allahabad or route 3 via Jhansi purely because of the road conditions. That was about the route options that you have from Hyderabad to Lucknow.
Road conditions from Hyderabad to Lucknow
As mentioned above, I chose option 2 and it being one of the longer routes, I'll divide the road conditions based on the different sections of the trip. Further, I started on Saturday morning at 5:15 AM and reached Jabalpur at 8:30 PM on day 1. Started from Jabalpur at 6 AM and reached Lucknow at 7:30 PM.
Excellent Roads In Telangana
To start with roads in Telangana are just superb. The best in the entire road trip if I can say. Starting from the magnificent Nehru ORR to NH-44 until Adilabad. The entire stretch is a 4-lane road which is in excellent condition.
Pathetic Roads In Maharashtra Until Nagpur
As soon as you enter Maharashtra, the road condition worsens. Though it's a four-lane road, it's full of potholes. There is gravel and patchwork all along the route until a few kilometres before Nagpur. And the worst thing is there was a toll of Rs 100 around this place and I was fuming with the pathetic condition of the road.
Excellent Roads From Nagpur to Jabalpur
Starting from the Nagpur bypass to taking NH-30 towards Jabalpur, the road is excellent. You drive through Pench Tiger reserve and the drive is beautiful. There's also a small ghat section along the route that you need to be wary of. Also, you'll start noticing cows on and off the roads.
Excellent Roads But With Cows Till Prayagraj
The next stretch is a 4-lane concrete road from Jabalpur to Katni. The road condition is pretty good, but there are cow meetings along the route. You need to constantly keep an eye on the road as you'll suddenly spot a group of cows sitting in the middle of the road. This is common in Madhya Pradesh and you need to be cautious. The stretch from Katni to Mangawan is okay with occasional diversions and single-lane roads.
Single-lane Road From Prayagraj To Lucknow
This road will take you through Prayagraj city so depending on what time you reach, you'll encounter traffic. Once you're out of Prayagraj, you'll be on the Prayagraj Lucknow road via Rae Bareilly. This is a 200 km stretch which is single lane and tolled. It passes through villages and city traffic too. Lastly, you'll find cows jumping across the median and appearing on the road, again be cautious.
Hyderabad to Lucknow Toll Charges
When your salary is taxed, how can your travel be left out? Most of the highways in India have been built in a PPP model where a contractor makes the roads and sets up toll plazas to collect a fee. For every toll road in India, you pay anywhere between 1 to 1.5 Re per km. This isn't a rule but a rough estimate. So if you're travelling to 1400 km, you'll pay anywhere around 1400 – 2100 Rs as toll.
Wondering what are the toll charges from Hyderabad to Lucknow? Here's the breakup of the toll charges.
| | |
| --- | --- |
| Toll Plaza | Toll Charges |
| Medchal – ORR Exit 06 | Rs 130 |
| Manoharabad | Rs 95 |
| Bhiknoor | Rs 85 |
| Indalwai | Rs 80 |
| Gamjal | Rs 55 |
| Rolmamda | Rs 100 |
| Pippalwada | Rs 90 |
| Kelapur | Rs 100 |
| Daroada | Rs 100 |
| Borkhedi | Rs 145 |
| Kamptee Kanhan Bypass | Rs 150 |
| Khawasa | Rs 100 |
| Madai | Rs 100 |
| Bahoripar | Rs 145 |
| Mohtara | Rs 115 |
| Kherwasani | Rs 110 |
| Odaki | Rs 105 |
| Choratha | Rs 30 |
| Jognihai | Rs 80 |
| Harro, near Ganne | Rs 85 |
| Jhiriya | Rs 80 |
| Andiyari | Rs 80 |
| Itora Buzurg | Rs 20 |
| Dakhina Shekpur | Rs 105 |
| Total Toll Paid | Rs 2265 |
Hyderabad to Lucknow Toll Charges
Thus, based on my Fastag report, I paid a total of Rs 2265 as toll charges from Hyderabad to Lucknow. This is for route 2. If you choose any other route, this value might change.
Minimal Food Options On The Way To Lucknow
Apart from roads, the next important thing is the availability of food and drinks all along the way. While I was fasting for Navratri during this road trip, I stocked up on fruit juices and milkshakes for myself. We also carried a lot of water bottles so that we didn't have to buy them during the trip.
In terms of food stops, there are a handful of options in Telangana. From small tiffin shops to bigger food stops. Many of them are lunch/dinner specific, but not for breakfast. We stopped at Sri Aadhya Grand for breakfast. It's quite a popular place and the food is good too. Recommended.
From then on till Nagpur, I was surprised to not find many eateries. There were quite a few dhabas, but most of them weren't in good shape. I mean, I couldn't go in with my family. So that was a tough stretch, I'd suggest getting something packed for this stretch as you might not find food for your liking.
Similar is the story from Jabalpur until Lucknow if I can say so. There are smaller food joints along the highway but nothing comparable to places you'd find on say Pune-Bangalore highway. Most of these places have bare minimum amenities with not-so-good washrooms. Fortunately, I stopped at a decent place for lunch before Pench – B.P Dhabha, breakfast after Katni – Jaislwal Dhaba, the next day and then on drove all the way to Lucknow with a pit stop at Chaurasia Food near Utretiya, Rae Bareily.
Overall, I'd say the condition of the food joints on the route is average. If you're travelling with family, chances are high that most of them will not match your criteria.
My Road Trip Experience
This was the longest road trip I have ever done driving. My longest road trip still remains the Delhi to Bangalore one where I travelled in a bus. It was an amazing experience indeed. Driving on the roads in Telangana was amazing and the Adilabad stretch is just so beautiful. Only if it was raining, the stretch would have been heavenly. The Nagpur stretch was the most stressful one as there were sudden potholes that were enough to damage the car. Glad that Tata Punch has a good ground clearance due to which I didn't hit the ground. But I lost a wheel cover in the process 🙁
The cow menace in the MP/UP stretch was also surprising. I was like where are the owners of these cows and why aren't they looking after them? I'm sure the moment any one of them is hit, the owners would rush and demand compensation. I strongly feel that NHAI must look into this to ensure the safety of everyone. The last 100kms towards Jabalpur was pitch dark without any establishments along the route. Even when I entered Jabalpur I could see light poles but none of them was working :/
Lastly, most part of the road is used by trucks. Not many private cars ply the route, especially after Nagpur. So you'll more often than not be surrounded by trucks. There is this frequent city traffic near villages that is unavoidable.
I'd be wrong in saying that the road trip wasn't tiring. Though the drive was effortless, the attention required led to fatigue. The Punch performed well all along the trip. I switched between Economy and City mode as required. There were three adults in the car along with 2 luggage bags and food bags.
There were times on the highway, I had to shift down to 4th (even 3rd at times) while overtaking. There were ghat sections which the Punch managed to cross without any hiccups in the city mode. But at 80-90kmph, the car cruises perfectly and effortlessly. Yes, the engine noise is evident at this speed. Nonetheless, you won't be tired of driving for sure.
Total Road Trip Cost
I'm sure you must be wondering how much I spent during my Hyderabad to Lucknow road trip. The major expense on any road trip is fuel and toll. I won't include food here because that is subjective. Talking about fuel, I did a full tank a day before the trip for Rs 2400 (Rs 109/L). The next I did a full tank after crossing Nagpur for Rs 2700 (Rs 106/L) and finally did another full tank before Prayagraj for Rs 3000 (Rs 97/L).
In total, Punch gave an average of 21.5 km/L for 1418kms. I spent about Rs 8000 on fuel (still have another 400kms to go) and another 2265 for the toll, so all in all, it was around Rs 12000 for one way. Considering the flight prices currently, for a family of 3, my entire road trip cost is way cheaper than the flight ticket.
Conclusion
Anyone who loves driving would always be looking for options to go on a drive. This drive from Hyderabad to Lucknow is one of a kind. The roads are good for the most part of it. Though the stretch is devoid of food establishments, the landscapes are just beautiful. Irrespective of the car you have, you'll have a good time.
This was a wonderful experience for me and is just a stepping stone for another long road trip. Where do you think I should/would go next? Let me know. Further, if you have any queries regarding this trip and route, please feel free to ask in the comments below, tweet me at @Atulmaharaj, DM on Instagram or Get In Touch.