"Are you back home?" that's the question most of my colleagues and friends are asking. And that's because of the amazing road trip that I have been on. In my last blog post, I spoke about my first solo drive from Hyderabad to Lucknow. A journey that was about 1400 km spread across 4 states. In this blog post, I'll talk about my return journey from Lucknow to Hyderabad by car.
You might wonder why to write all these things again. Well, this time I took a different route. So was this route better than the older one? Read on to find out.
Lucknow to Hyderabad – A New Route
In my previous blog post, I mentioned that there were three routes that one can take to reach Lucknow from Hyderabad. The shortest one is from Hyderabad to Lucknow via Nagpur, Mahiar, Nagod, and onwards to Lucknow. The reason, I didn't choose this route was because most of it was single-lane.
The other route that I took was via Jabalpur and Allahabad. While the roads were good for the most part of it, the last 200-odd km was on a single-lane road from Allahabad to Lucknow. This is where we spent the most time. Hence I decided to avoid this route while going back from Lucknow to Hyderabad by car.
Eventually, I took the route via Orai, Jhansi, Sagar, Seoni, Nagpur, and Hyderabad. This is the longest route in terms of distance, about 200 km more than the shortest one. So why did I choose this route? Well from Google Maps, I learned that the entire route is a 4-lane road. NH-44 (Srinagar to Kanyakumari) and NH-27 (Porbandar to Silchar) were the two highways that we would travel on. Also, a few people I met in Lucknow also suggested taking this route.
So was this route from Lucknow to Hyderabad better than the earlier one I took? Read on to find out.
Road conditions from Lucknow to Hyderabad
As mentioned above we were driving majorly on two of the longest national highways in India. NH-44 and NH-27, both are 4-lane roads. And for 90% of the journey, the roads were fantastic. One of the best I've traveled on. Right from Lucknow to Kanpur, Orai, and Jhansi, the roads are just amazing.
There is the odd problem of cows being on the road so you always need to keep your eye on the road. Especially if you're driving in the evening, you'll notice a sack on the road, but that's actually a cow. We were fact, stuck for more than 30mins because of cows on the highway. This is a serious safety issue that the authorities need to look into. Especially since we are paying tolls, we don't expect such menace on the roads.
The NH-44 stretch from Nagpur to Adilabad is messed up as mentioned in the last blog post. In fact, it's about an 80-100km stretch where you simply cannot cross more than 50kmph due to the bad, patched roads. I'm glad that I have Tata Punch which has higher ground clearance, any other sedan/hatchback would have surely hit the potholes.
Nonetheless, if distance and time aren't important to you, this is the recommended route from Hyderabad to Lucknow. The roads are fantastic which makes it less stressful and fun to drive. Not only you, but your car will also thank you for taking this route. If I'm ever driving to Lucknow again, I'm sure taking this route.
Lucknow to Hyderabad Toll Charges
Since this was the longest route from Lucknow to Hyderabad, it's understood that the toll also would be much higher. Here's the breakup of toll charges from Lucknow to Hyderabad
| | |
| --- | --- |
| Toll Plaza Name | Toll Charge |
| Nawabganj | Rs 90 |
| Barajore | Rs 165 |
| Chamari | Rs 100 |
| Ait | Rs 115 |
| Babina | Rs 100 |
| Vighakhet | Rs 80 |
| Malthone | Rs 115 |
| Chitora | Rs 135 |
| Titarpani | Rs 105 |
| Bakori | Rs 135 |
| Madai | Rs 100 |
| Khawasa | Rs 100 |
| Mansar | Rs 150 |
| Nagpur Bypass | Rs 145 |
| Daroda | Rs 100 |
| Kelapur | Rs 100 |
| Pippalwada | Rs 90 |
| Rolmamda | Rs 100 |
| Gamjal | Rs 55 |
| Indalwai | Rs 80 |
| Bhiknoor | Rs 85 |
| Manoharabad | Rs 95 |
| Medchal ORR | Rs 110 |
| Total Toll Charges | Rs 2450 |
Lucknow to Hyderabad Toll Charges
Thus, based on my fastag report, I paid a total of Rs 2450 as toll charges from Lucknow to Hyderabad. This is the maximum toll that you'll pay while driving from Lucknow to Hyderabad.
Food Options On The Way
Starting from Lucknow, there are multiple dhabas on the route until Kanpur. In fact, the famous Pradhanji Sweet House is a perfect place to have a quick breakfast. While we didn't stop here, this is a recommended place. We stopped at a place called Senger Sahab Ka Umran Dhaba, which comes after crossing Kanpur. It's a decent place with a good washroom. We stopped here for breakfast and had Aloo Pakoda and Mix Veg Paratha. The pakodas were okay but the parathas were delicious.
Continuing towards Jhansi, you'll find a lot of dhabas on the way. Not many where you'd want to visit with your family. Further, many of them are frequented by truck drivers and don't have proper washroom facilities as well. Once you enter Madhya Pradesh, you'll start seeing these small NHAI mini nest outlets immediately after the toll plaza. It's a concept started by NHAI. These are small eateries where you can get packed food and drink items. Some are clean, some aren't and others aren't functional.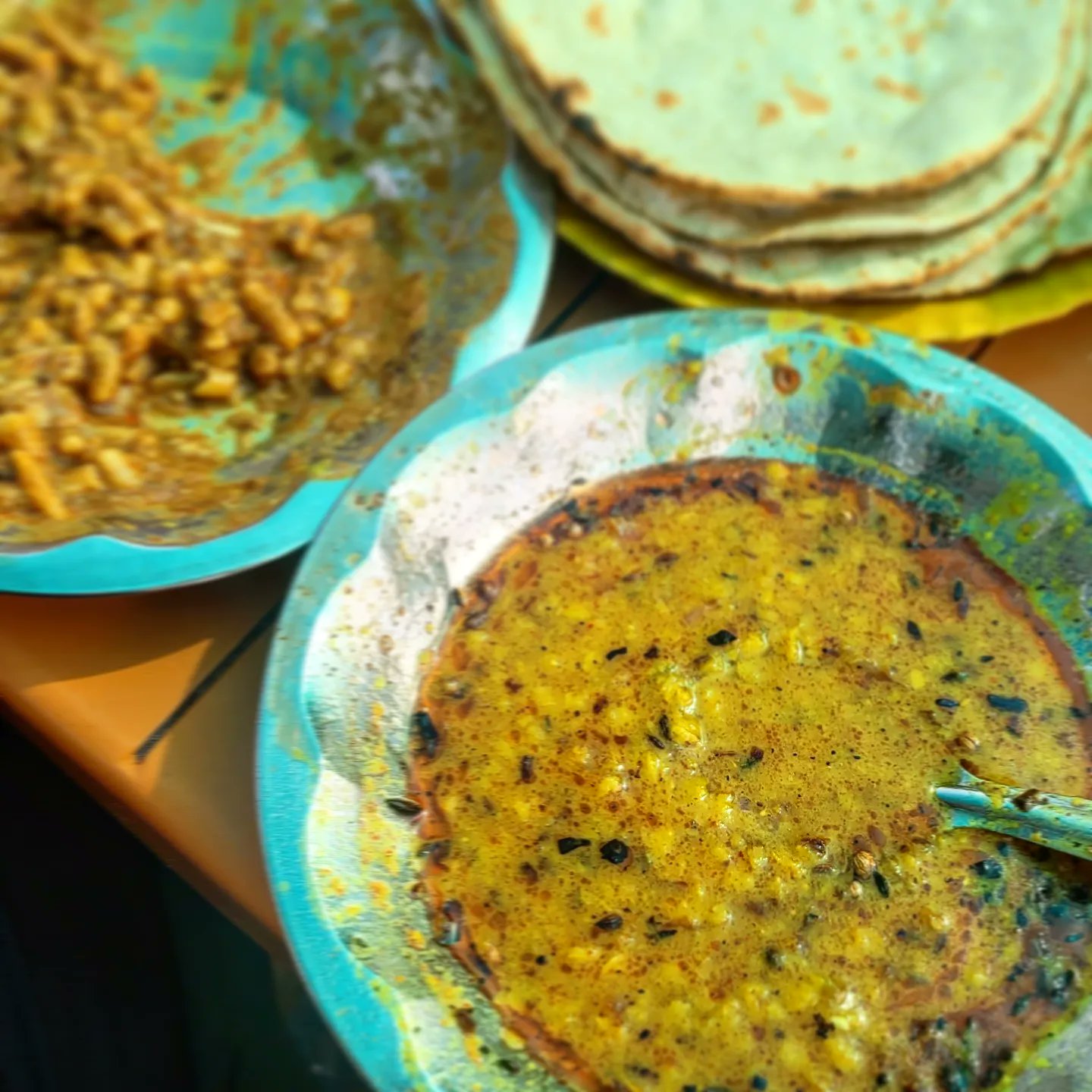 For lunch, we stopped at Pradhan Bhojanalay on Lalitpur road, Jhansi. The dhaba is decent and clean from the outside. The washroom isn't worth using. The food however was surprisingly delicious. For a meal for three, I paid Rs 250 for a plate of sev tamatar, dal tadka, jeera rice, tandoori rotis and curd. That's insanely cheap. Recommended place.
You'll also find these Midway-Treat run by MP tourism. These are restaurants at strategic locations with clean washrooms and property. The one where we stopped near Sagar had a garden as well. The food is decent, and not too costly, but the service was extremely slow.
Overall the route to Seoni from Lucknow is good and you'll have plenty of food joints. Unlike the earlier route via Allahabad, you have quite a few places that you can dine at. From then on till Hyderabad, there's nothing special, and it's mentioned in the previous blog post.
My Road Trip Experience
We left Lucknow at 5:12 in the morning and were able to reach Kanpur in no time. Thanks to the amazing roads. While I was waiting to see some bad patches, I zoomed to Orai and had already clocked 250+ km. Surprised by the roads, you'll fall in love with this entire stretch from Kanpur to Jhansi. Also, keep your eyes open as you'll see some historical monuments on the highway itself.
Since this was a new route and not the one I'd often travel on, I decided to take a quick detour to Orcha. I visited the Orcha Palace and a few other places in the vicinity before getting back on NH-44 and driving toward Hyderabad. I spent about 2 hours extra from leaving the highway to getting back on it. Since I was following Google Maps for the entire duration, it took me from a village road from Orcha to the highway. I was just hoping that it didn't mess up, and it didn't.
Since this was the longest route, I had to drive a few extra hours in the night to compensate for the Orcha detour. The goal was to have a night halt at Seoni which would be about 830kms from Lucknow and about 650 km from Hyderabad. The idea was to travel less on the second day and reach home in time so that all of us get proper sleep before joining work back.
We stayed at Sai Residency in Seoni which is about 3kms from NH-44. It's a decent property with good staff. Luckily the kitchen was open till 11 and we got food as we reached Seoni by 10:30 PM only. The room we took was a double occupancy room with an extra bed that cost Rs 1800.
We started from Seoni at 6:30 in the morning. At this point, we were already aware of the route and it wasn't new. One thing to note though is that there are no petrol pumps on the left side until you cross the Pench Tiger Reserve. There are many on the opposite side, but none on this side. Hence plan your fuel stop accordingly.
We stopped at a petrol pump after crossing Nagpur to have chai and snacks before starting our final leg to Hyderabad. Since we knew that we were entering a patch that didn't have many restaurants, we were prepared. We kept eating all along the way until we crossed into Telangana.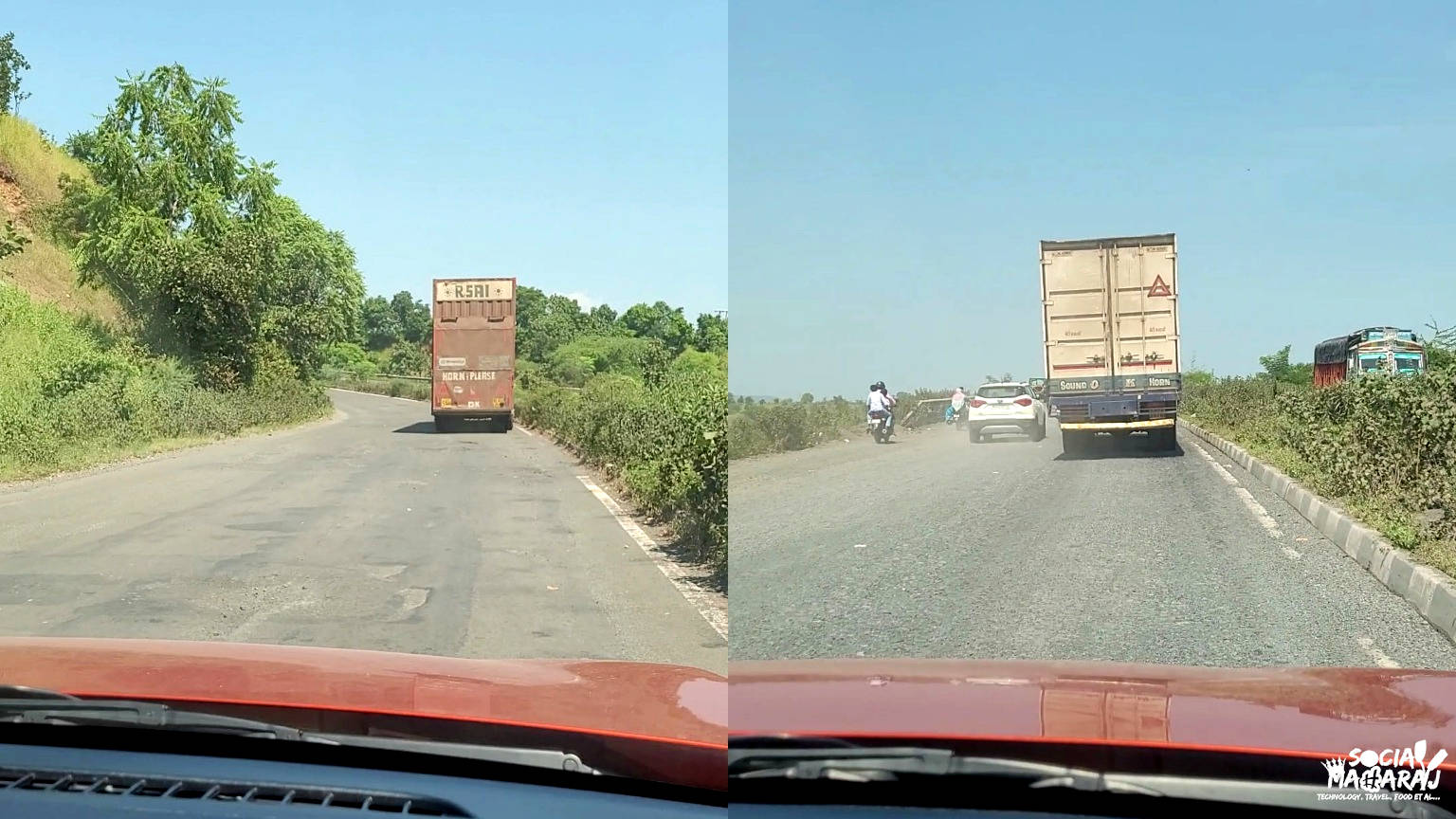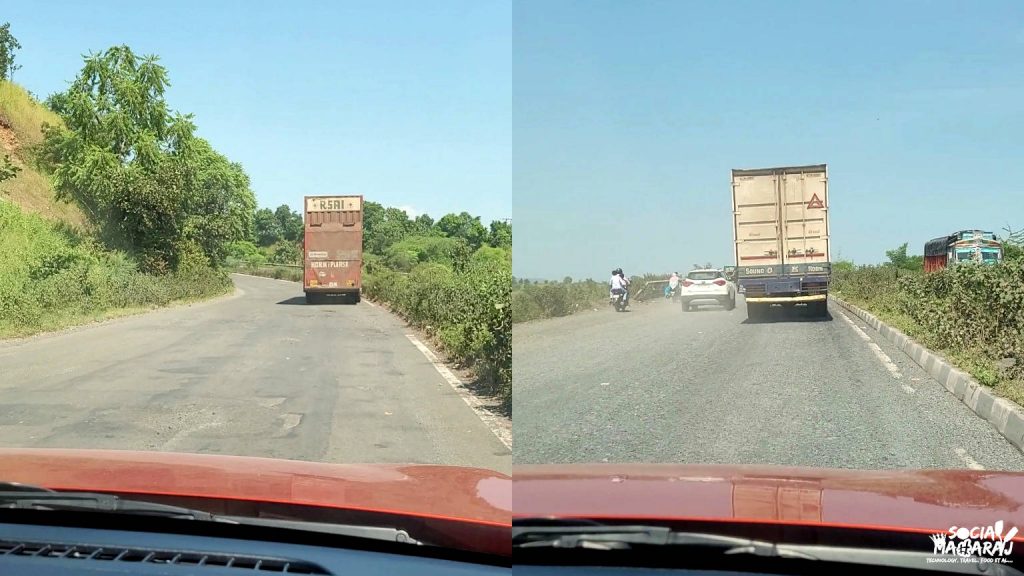 Just after entering Telangana, we stopped at Adithya Mess for a late lunch. We had Paneer Butter Masala, Dal Tadka, Tandoori Roti, Jeera Rice and curd. Surprisingly the food was delicious. Though it cost us Rs 600, the food was good for a dhaba in Telangana standard.
We reached Medchal at around 6 in the evening and got stuck in a traffic jam. Since it was the end of the Dussehra holidays, everyone was coming back to Hyderabad and the roads were choked. We had a sigh of relief when we were on the ORR stretch. We finally reached home at 7:30 PM.
I also discovered the trip report feature in Tata Punch. In the DriveNxt report, you get a detailed trip report which shows details like top speed, gear utilization, safety parameters, and much more. As per that, we covered a distance of 1518kms in 25 hours with an average of 22.8 kmpl which is superb!
Total Road Trip Cost – Hyderabad Lucknow Hyderabad
For the first leg of the trip, I spent close to Rs 12,000 in the first leg. During the return trip, I refueled twice for a full tank, once before the Uttar Pradesh border and the other one in Madhya Pradesh, the total was around Rs 5000. The stay and the food cost another Rs 2500 and the toll was Rs 2450. This comes up to 10,000 again. So that brings the total cost of the road trip from Hyderabad to Lucknow and back to around Rs 21,000. This split between a family of three comes to Rs 7000 per head. The flight ticket at the time of the trip was Rs 18,000 per head return.
Conclusion – An Amazing Trip
Any praise for this route is less. One of the finest roads I've traveled/driven on. Keeping the cow menace and the patchy roads in Nagpur aside, the roads are simply superb for over 1000kms. The landscapes are beautiful and you'll also come across historical places on the highway. Lots of river bridges on the way and lush green fields.
I'm now tempted to do NH-44 end to end – from Kanyakumari to Srinagar. With my remote work, this is highly possible. Let's see if that happens or not. If it happens, you'll come to know via Twitter or Instagram.
That brings me to the end of the complete road trip guide from Hyderabad to Lucknow and back. If you're planning to drive from Hyderabad to Lucknow by car or Lucknow to Hyderabad by car, this post will surely be helpful. Let me know your thoughts about this post in the comments below. You can also tweet me at @Atulmaharaj, DM me on Instagram, or Get In Touch for more.