"Hindustan ka dil dekha…" was probably the best-ever advertising campaign for a state tourism department. It was way back in 2007 when this campaign was released for Madhya Pradesh tourism and it took all of us by storm. The lyrics, those caricatures and the idols in the ad were just spot on. And why not, for a state that has got so much to explore, such an advert was required. The only place I remember visiting in Madhya Pradesh as a kid was Panchmarhi (not to be confused with Panchgani in Maharashtra).
Apart from all the magnificent places it has, the place that I wanted to visit was Orchha Fort. I had seen and read so much about it that I wanted to visit the place. So a few weeks back when I was on my Lucknow to Hyderabad road trip, I took a detour from Jhansi to reach Orchha.
Many of you would argue that a quick tour of Orchha Fort in under 45 minutes isn't justified. Well, I won't deny that it was extremely tight. Since I had to cover a distance of more than 1000 km over one and a half days, I couldn't afford to spend more time than this. I'll try my best to plan a visit to Orchha again and spend the time it deserves, but this blog post, it's going to be about my quick tour of Orchha Fort.
Location of Orchha Fort & How To Reach
Orchha fort is located in Orchha town in Madhya Pradesh. The town itself is on the banks of the Betwa river where this abandoned fort complex stands tall. Orchha in fact was one of the many erstwhile states back in the day. In terms of location, Orchha is located about 15kms from Jhansi, Uttar Pradesh and that's the closest city.
You can reach Orchha either by road from Jhansi or Khajuraho. The roads are fantastic from Jhansi except for the last few kilometres which is a single-lane road until the Orchha fort. The nearest airport to Orchha is Khajuraho which is close to 180 kms. Though many airlines have flight services to Khajuraho, the frequency is on the lower side.
If I were to suggest the best way to reach Orchha fort, I'd suggest reaching Jhansi by road/rail or air. From there hire a cab to Orchha and spend at least a day exploring the palace and the temple around.
History of Orchha Fort
If you google Orchha fort, you'll probably come across the Orchha fort complex. The Orchha fort was started by King Rudra Pratap Singh of the Bundela Rajput clan in the early 16th century and was completed by others who followed him. As per the history books, Orchha was chosen as the capital of the Bundela region as it was a better place to fortify against the growing Mughal pressure. The complex houses multiple other historic monuments including the Raja Mahal, Sheesh Mahal, Jahangir Mahal and a temple along with gardens and pavilions. While the fort was built after the founding of Orchha state, the palaces and temples were built by successive maharajas of the state.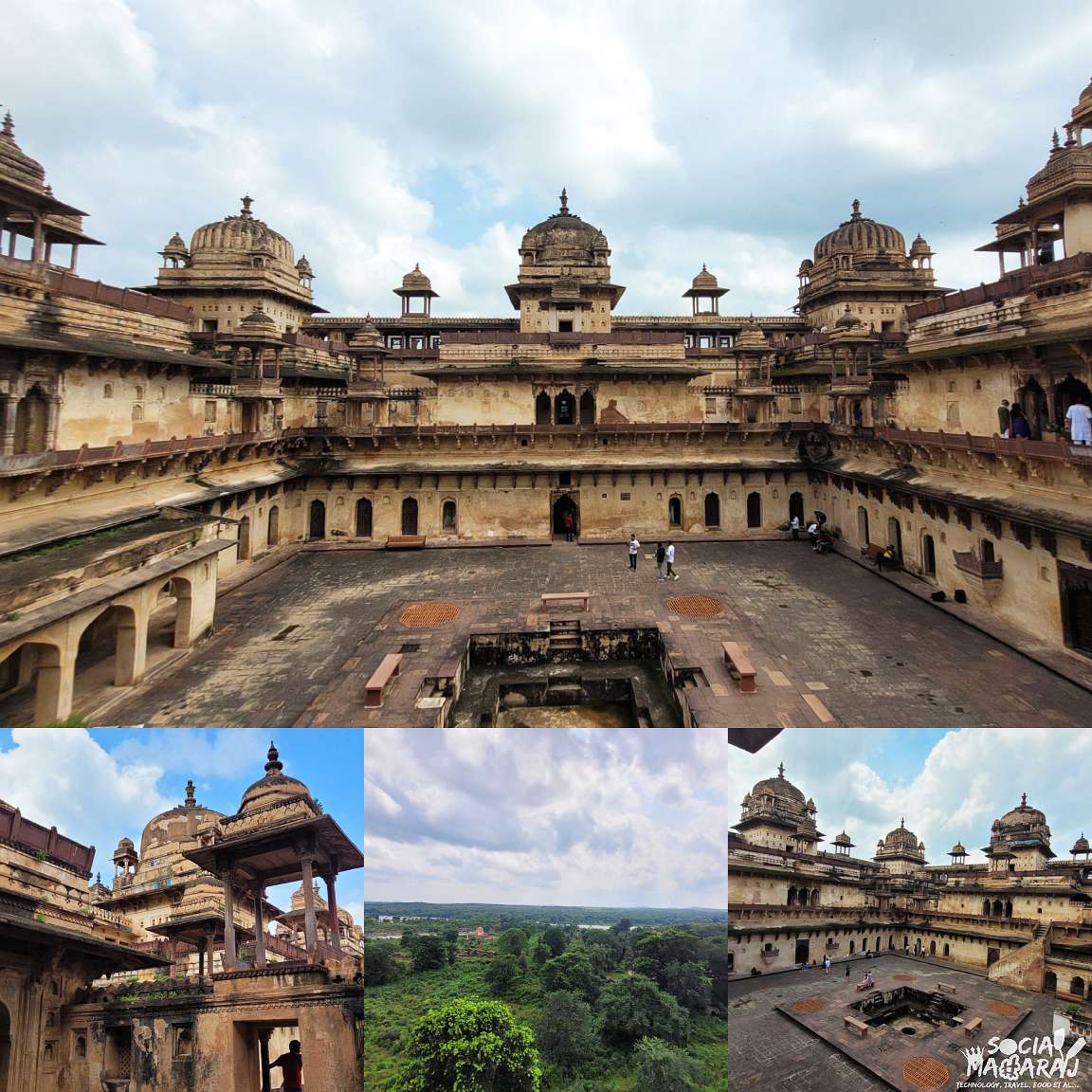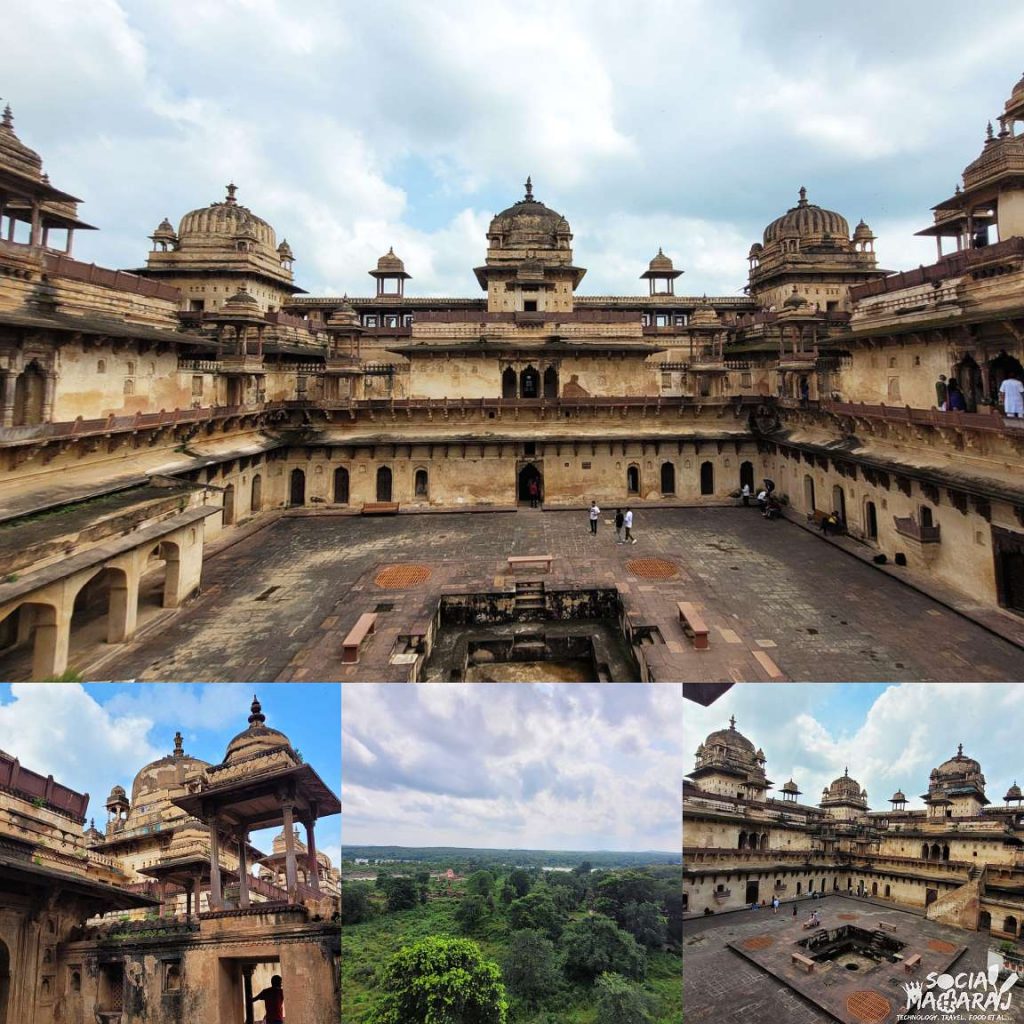 The Raja Mahal was built as the residence of kings and queens. A part of the temple was later converted to a temple for lord Ram. In fact, this is the only temple where Lord Ram is worshipped as a king. The Sheesh mahal sits right in the middle of the Raja Mahal and the Jehangir Mahal. Today it's converted into a hotel with luxury rooms and a restaurant.
Jahangir Mahal is a palace that was built exclusively for Mughal Emperor Jehangir who was a guest only for a day! It is believed that the emperor was close to Mughal prince Salim and was tasked to assassinate Akbar's closest counsellor Abu'Fazal. The emperor had to flee after Akbar's army attacked Orchha, but when Salim rose to the Mughal throne as Jehangir, he bought the emperor back to the throne. And to honour that, the Jahangir Mahal was built. Quite a fascinating story.
45 min Quick Tour Of Orchha
As you drive towards Orchha, you'll observe the landscape change a little. Some ups and downs with the roads and also an increase in the greenery. As you reach closer to the fort, you'll pass through numerous gates before reaching the final destination. The first thing that catches your attention is the Raja Ram Mandir with its characteristic Shikhara and right opposite to it you have the Orchha Fort complex that houses the Raja Mahal and Jahangir Mahal.
There's a car parking where you can park your car for Rs 50. There are a few eateries around selling chat items. There's also a post office along with small sweet shops and restaurants. Since I was short on time, I only visited the Fort complex and not the temple.
Orchha Fort Complex Ticket Prices
You need to walk quite a bit to reach the entrance of the Palace complex depending on where you've parked your car. You'll cross a bridge that takes you to the fort complex. It looks like a part of the river that has come in, but since that is stagnant, it stinks.
Upon entering the fort complex. you'd see a huge arch on the left overlooking the Jahangir palace. You go straight and take a ticket. Compared to the other monuments that I've visited, entry to this one costs Rs 50 which I feel is a little on the higher side. For photography (DSLR and camera) you need to pay Rs 200 extra. Mobile cameras are allowed free of cost. You can also get a pre-wedding shoot done for Rs 5000.
If you take a guide or opt for an audio guide, you need to pay extra. But I took neither of them so I paid only Rs 50 and headed to the palace. It was too crowded when I was here, around 12 in the afternoon. There's also a walking tour that takes place every day in the morning I was told, but I don't remember the charges for it. There's also a light and sound show that takes place every evening. You can enquire about that during your visit as well.
Raja Mahal
On my way back I quickly took a stroll in the Raja Mahal. Your ticket is checked here as well upon entrance. You enter the palace passing through an open area after which you enter a few chambers. While you may not see anything exciting in front of you, there's everything above you.
The ceilings in these chambers are so intricate and intact. These have paintings that depict stories of the past with religious themes decorated with animals and people. The layout of the Raja Mahal is such that as sunlight passes through the palace, the temperatures are regulated and the mood of the palace changes.
I did a quick walk around here, so not much to see except the beautiful paintings. Go there taking some time in hand and experience Orchha, not like me.
Jahangir Mahal
You cross this grand arch and come across a small garden. As to take a left from the garden you have the option to take a right and visit the Raja Mahal or take a left and visit the Jahangir Palace. I opted to visit the latter one first. There's a flight of stairs that you take to reach this open area. I was surprised to see some tourists parking their cars here as well, I wonder if there's some special permission to get your car here.
There's the Sheesh Mahal hotel on one side. It looks fancy from the outside for sure. You take another flight of stairs to enter the Jahangir Palace, this is where your ticket is checked. There's also a defunct souvenir shop here. You walk through this narrow, dark alley that opens into the courtyard of this majestic Jahangir Palace.
This building has adopted traditional Mughal architecture along with the Rajput style which is quite evident. The arches and the domes resembled those of the Mughal era while the paintings and artwork highlighted the Rajput culture. Their courtyard had multiple rooms on all sides of the complex. It's a two-storeyed structure with steep stairs leading you to the top. You'll note a lot of use of Prussian blue colour that was found from a natural source of colour back in the day. I could quickly compare it to the bright blue colours I saw at Ashtoor Tombs in Bidar.
The windows had intricate designs to leave you speechless. On one side of the fort you have the city while on the other you can see the gushing Betwa river. The river was in full force when I visited, I could hear the water gushing. The palace also gives a good view of the Raja Ram temple. Overall, this I feel is the highlight of the Orchha fort complex. The whole courtyard with magnificent domes and balconies is a sight to behold.
Is a quick tour of Orchha Fort worth it?
As soon as I entered the fort complex, I was stopped by a person who I thought was the ticket checker. Instead, he was a guide. I enquired with him the fastest I could cover the entire place and he told me 45 mins. I told him thanks and went on. So my quick tour of Orchha fort was 45 minutes long but is it worth it? I'd suggest no. Take your time and experience the place. The more time you spend there, the more you'll like it.
Though it's not like the mighty forts of Rajasthan or the one like Mysore palace with intricate gold work, this is one of the beautifully designed forts that you'll love to spend time at. However, if you are short on time, I think a quick tour is good enough. A quick walk around the place gives you a good idea. Either way, what I would recommend is to watch the Betwa river from the palace, it's a sight to behold.
All in all that's all I had to share about my quick tour of Orchha fort. I'll try my best to plan a trip again and spend more time here visiting the other nearby places as well. That's about it for this blog post. Let me know what you think about it in the comments below, tweet to me at @Atulmaharaj, DM on Instagram or Get In Touch.