Back in the day when we had our first car – a Maruti 800 DX, 5 Speed, I remember we went on a road trip almost every weekend. My dad was enthusiastic and so were all of us. We explored places like Modhera Sun Temple, Pavagadh Temple, Mt. Abu, Udaipur, and Barmer to name a few.
And ever since I bought my first car – Tata Punch, I can see the exact same enthusiasm in the family (at least I'm excited) Recently I took my first solo Hyderabad to Pune road trip. It was my longest, solo drive in a car ever. For someone who enjoys driving and has got a new car, you can imagine the excitement!
In this blog post, I'll talk about my experience of driving solo from Hyderabad to Pune, the route from Hyderabad to Pune, the food stops, toll charges, the duration, and everything that you'd need to plan your Hyderabad to Pune road trip. So without much a do, let's get started!
Preparing Myself & The Punch
While this was my first ever solo car drive for this long distance, I have done a few short rides on Activa in the past. I've driven from Hyderabad to Bidar, Kochi to Munnar to name a few. So I know a few things about road trips and the preparations required.
But since this was my first solo trip in the car, it required a lot of preparation. You can read my blog post on how to prepare for a road trip to see what is required. In my case, it was mostly getting the car serviced. Luckily the first service was due a few days before the trip so that was taken care of by the service station.
I took many short trips before this one to gauge my driving skills and stamina. Hyderabad to Nagarjuna Sagar (200+ km) and Hyderabad to Ramappa Temple (500+ km) were single-day road trips I took before doing the Hyderabad to Pune road trip. That way not only was I able to figure out my stamina and fitness, but also understand more about the car, and driving in general.
Mentally I didn't need much because the sheer excitement of driving for so long helped. Further, since I was also planning to visit my boarding school in Panchgani, I was even more excited. So, mentally I was in a good shape.
Hyderabad to Pune Route
The route from Hyderabad to Pune is pretty straightforward. Though they are cities in two different states, you virtually don't realize how close they are. The distance from Hyderabad to Pune is close to 600km (depending on your destination in Pune, this may vary). The time actually depends on how you drive. If you're a Michael Schumacher, you can do it in around 7-8 hours. But if you're Atulmaharaj, you'll take 2 hours with breaks 😉
About the route from Hyderabad to Pune, you'll start from Hyderabad, take the ORR (if required), and get on the Mumbai highway. Drive via Sangareddy, Zaheerabad, Humnabad, and Basavkalyan (a small Karnataka patch in the middle) Follow the same road passing Omerga, Naldurg and take the Solapur bypass to get on the Pune Solapur highway. You'll pass by Sawaleshwar, Mohol, Tembhurni, Indapur, and Bhadalwadi, before entering Pune.
Hyderabad To Pune Road Conditions
Since this was my first road trip I was worried about the road condition. Further, I had never traveled from Hyderabad to Pune via road earlier. It had only been via train or flight. Based on my research on the internet and inputs from some friends, I was told the roads are good. Were they good?
The road conditions from Hyderabad to Pune are pretty good. The stretch from Sangareddy to Basavakalyan is very good. There was some construction going on the last time I went to Bidar, but it wasn't the case this time around. It's a toll road and this stretch is pretty good.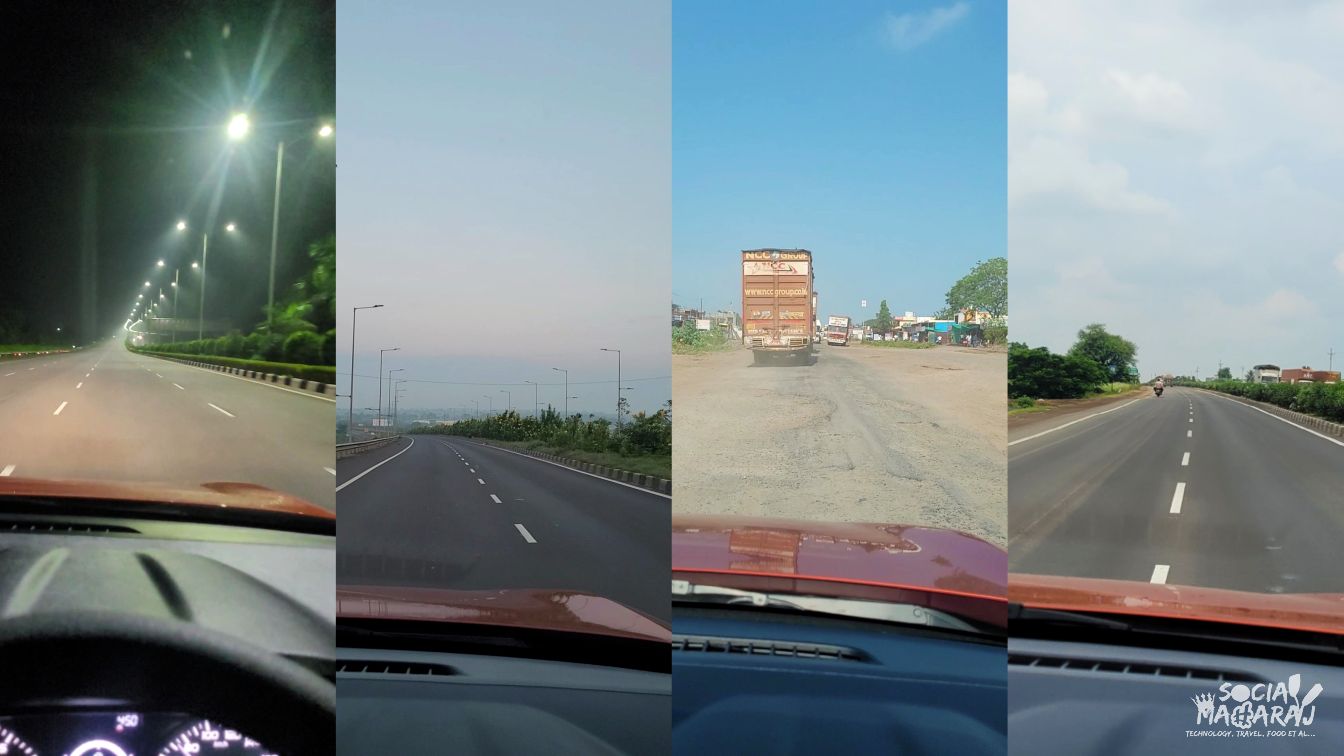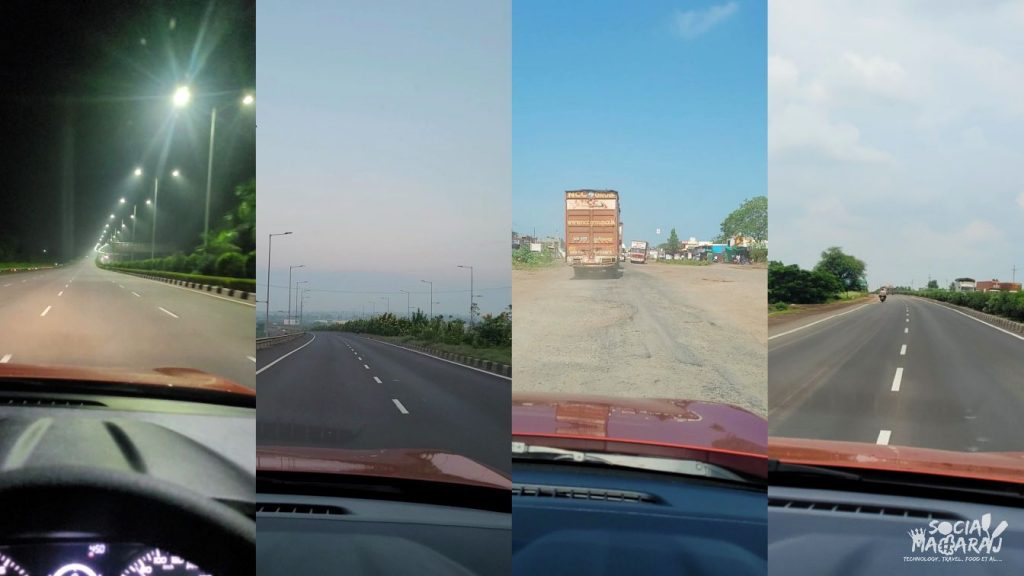 However, there's a small patch of bad roads (no roads) near Omerga. The roads literally don't exist and there are many potholes. Bumpy rides for sure. Also the stretch from Omerga to Solapur, you'll find a lot of diversions due to ongoing construction. The bad patch near Omerga has been in that state for quite a few years now based on my research.
The last stretch from Indapur towards Pune is again pretty good. The roads the landscape, are pretty good. Like most of the route, this is a four-lane road and you can maintain good speeds without any trouble. Overall, I'd say 90% of the road is pretty good from Hyderabad to Pune.
Hyderabad to Pune Toll Charges
Since this was my first road trip in a car, I had to pay the toll. In case you're unaware, two-wheelers are exempted from paying tolls in India. There are 9 toll booths including Hyderabad's ORR in the entire stretch. Including the ORR toll, I paid Rs 945 as a toll from Hyderabad to Pune. If you're also taking the same route, you'll be paying almost the same amount, unless the rates are changed.
Below is the list of all toll plazas between Hyderabad and Pune along with the toll for a car:
| | |
| --- | --- |
| Toll Plaza Name | Toll Charges |
| Patancheru | Rs. 140 |
| Kamkole | Rs. 105 |
| Mangalgi | Rs. 105 |
| Talmod | Rs. 60 |
| Phulwadi | Rs. 55 |
| Sawaleshwar | Rs. 70 |
| Varwade | Rs. 70 |
| Sardewadi | Rs. 85 |
| Patas | Rs. 85 |
| Total | Rs. 945 |
Hyderabad to Pune Toll Charges
Hyderabad To Pune Food Stop
I think this is the thing that most of you would be looking forward to – the food stops between Hyderabad and Pune. There are quite a few places where you can definitely take a break and eat. However, not all of them are fancy places with AC and stuff. You'll find a lot of eateries that are hidden behind trucks, especially after you enter Maharashtra.
There are a few places that you can stop at in your Hyderabad to Pune road trip. I stopped at all the following places either for food or just a break.
I took breaks after driving almost 200km at a stretch. So there were technically only two breaks I took in each leg of the journey.
My Experience Of Driving Solo From Hyderabad to Pune
It was my team meeting in Pune and I got a perfect excuse to drive solo from Hyderabad to Pune for the first time. I was nervous, won't deny that, but at the same time, I was looking forward to this trip. The luggage was ready and the car was serviced and cleaned recently.
I started at 04:45 from my house and took the ORR and exited at Patancheru. There was some traffic due to Ganesh Chaturthi and people taking Ganesh idols on vehicles. However post Zaheerabd the traffic reduced. The sun was beating hard but the roads were just perfect. The Omerga and Naldurg stretch was bad, it was a test of my driving skills. With trucks on both sides, single lane road that too on an incline. I eventually wiggled out of that jam 😉
Had good lunch at Deshpande and drove all the way non-stop from there to Pune. The roads are good as I said. As you near Pune, you'll experience a lot of traffic. I entered the municipality around 14:30 hrs but reached my destination in Baner by 16:30 only. Lots of traffic, and diversions in the city. So technically from door-to-door, I took just over 12 hours.
The type of driver I am, I love to drive slow and enjoy the ride. For most parts of the journey, I was cruising between 80-90kmph. There were only 3-4 instances when I touched 100kmph. Talking about the mileage I was pretty impressed. For most parts of the highway, I drove in the Eco mode and switched to the City mode as and when needed.
The mileage was 23.5 km/L when I entered Pune. That with AC on for the entire journey. It did become 22.3 by the time I reached my destination. I had fueled up for Rs 3000 and got about 29 lt. Didn't have to refuel on the way again until I reached Pune.
Overall, it was a wonderful trip. Driving calmly, enjoying the landscape, and falling in love with my car. So was my Hyderabad to Pune road trip preparation for something bigger? Well, I do have something planned, let's see if that happens or not. To be the first one to know, follow me on Instagram at @Atulmaharaj, and on Twitter @Atulmaharaj. For any assistance, suggestions, or queries for Hyderabad to Pune road trip, leave your comments below or Get in touch.