I've always mentioned that places like Bombay, Pune, and Bangalore are blessed when it comes to places to explore nearby. From hill stations to beaches and heritage places, there are quite a few places close to the cities I mentioned. Talking about Hyderabad, there aren't many.
I did a few road trips from Hyderabad since I got my Tata Punch. In the last few months, while I did these road trips, I'll say not all of them are perfect for a one-day outing. Some of these trips are suited for weekend getaways and more.
In this blog post, I'll talk about road trips from Hyderabad that you can do. Unlike other posts that you see on the internet, I've taken all the road trips mentioned in this post. All the road trips are categorized as 1-Day road trips from Hyderabad, Weekend road trips from Hyderabad, and longer road trips from Hyderabad. Further, most of these trips have dedicated blog posts too with more details. So do give them a read as well!
Note: I'll have this post updated in the future as and when I do more such trips. So it will definitely increase from 5 😉 Added a few more road trips from Hyderabad, last updated – Feb 2023, May 2023, August 2023, September 2023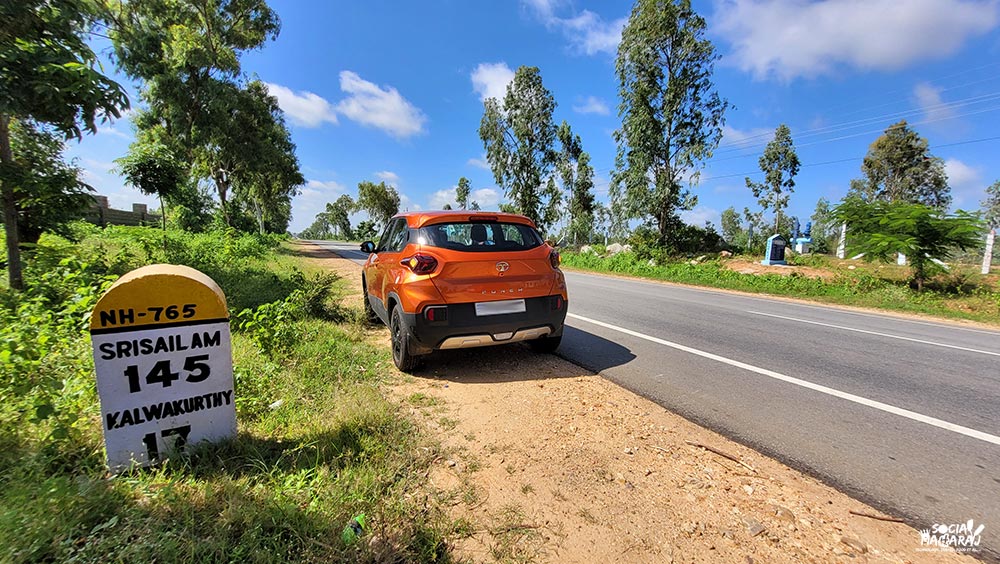 Road Trips From Hyderabad
1-Day Road Trips From Hyderabad
Anantagiri
I won't be wrong in saying that what Nandi Hills is to Bangalore, Anantagiri is to Hyderabad. Located on the way to Vikarabad, Anantagiri is a small hill station surrounded by forests. It's about 90 km from Hyderabad and takes about 2 hours to reach if you want to enjoy the drive. The roads leading to Ananthagiri are quite scenic and I'd suggest leaving early, packing your chai, and stopping off the highway to enjoy the chai amidst the green fields.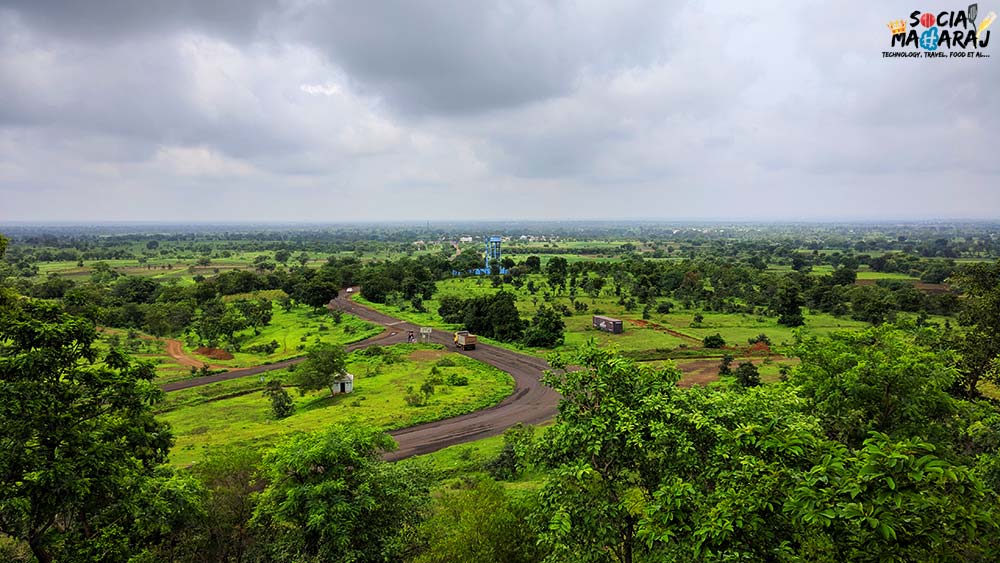 It's best to visit during monsoons as the places come to life with greenery all around. Since it's within a forest range, you can also spot animals and birds. There are a couple of temples and scenic viewpoints that are worth your time. There are also small empty patches of land where you can enjoy a game of cricket or football. Perfect for a one-day road trip from Hyderabad. Read more about the Anantagiri road trip.
Bidar
If you love history, art, and architecture, then Bidar is a place you must visit. Located in the state of Karnataka, Bidar is about 120 km from Hyderabad. The roads are good for most of the route except for a rough patch towards the end. There are plenty of food stops along the way perfect for breakfast and lunch.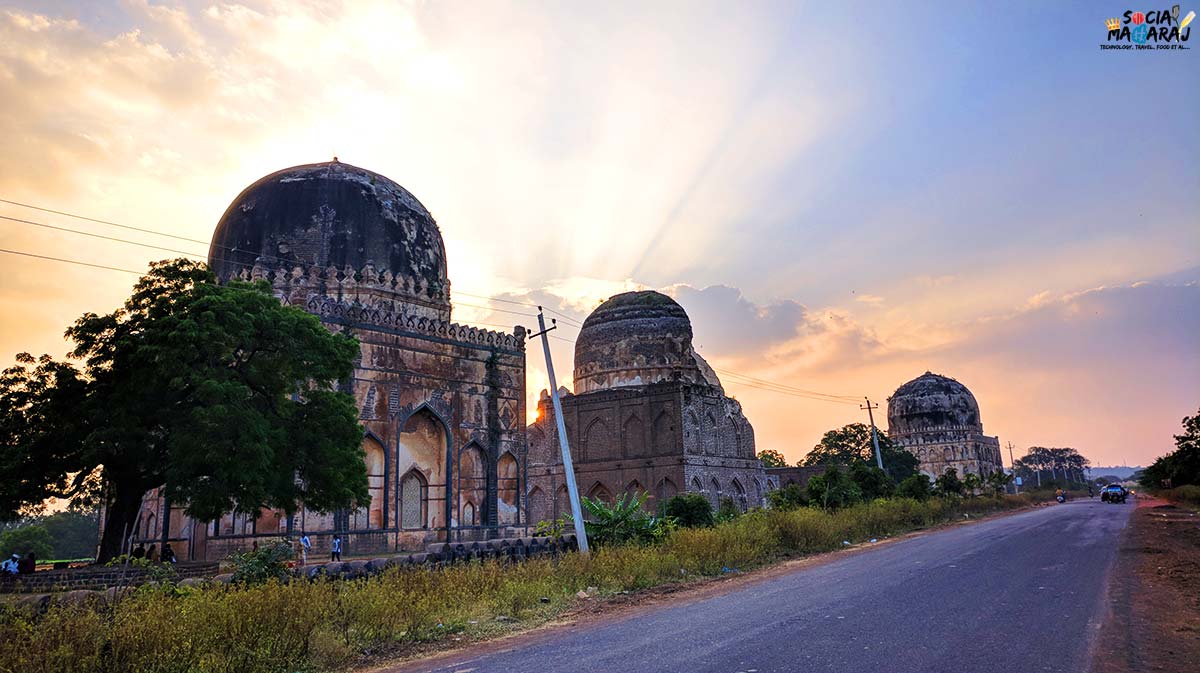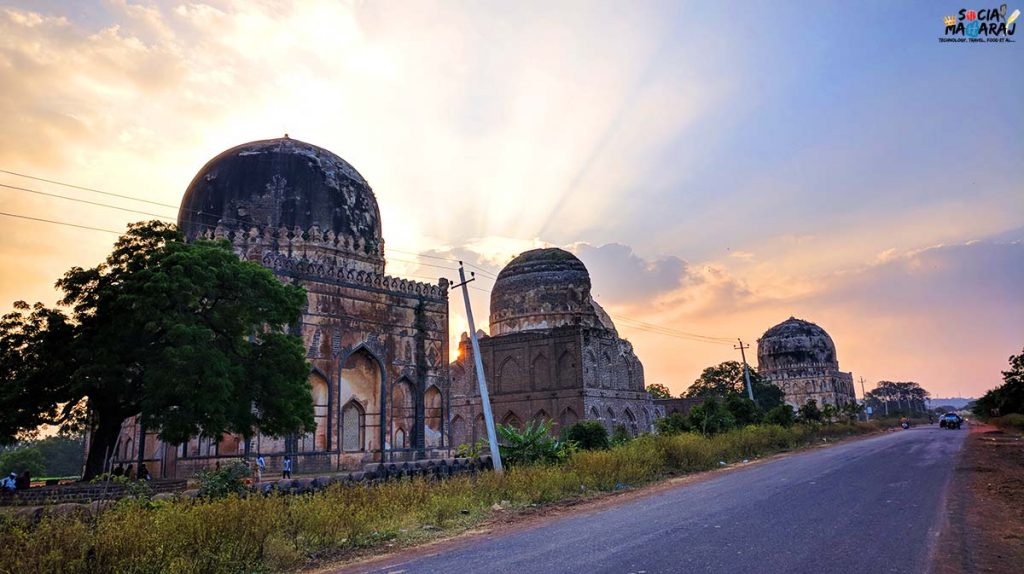 Bidar is famous for the Jhira Nanak Gurudwara which holds significance in Sikhism. Bidar fort, Bahami tombs, and madrasah are fine examples of amazing architecture. The small town has a lot of tombs around the place which is in a neglected state. There's also a temple that you can add to your itinerary. Lastly, don't miss out on visiting the Taj Mahal clone on the route. Read more about the Bidar road trip from Hyderabad.
Nagarjuna Sagar Dam
One of the most popular road trips from Hyderabad is Nagarjuna Sagar Dam. It's a biker's getaway. Located about 140 km, Nagarjuna Sagar is flocked by a lot of people. The roads are single-lane, but fortunately, it's good throughout. Not many food stops on the way, but a lot of food carts where you can relish some good idlis.
When you read, you will witness an architectural marvel in the dam. One of the largest dams in the country, the dam is picturesque. I suggest keeping an eye on Twitter, and local newsgroups to know when the gates are open. When I went there, the gates weren't open. I'm sure it would be a sight to behold when the gates are open with the water gushing out. You can also add another 30kms and visit Ettipotala waterfalls too. Read more about my Nagarjuna Sagar Road trip from Hyderabad.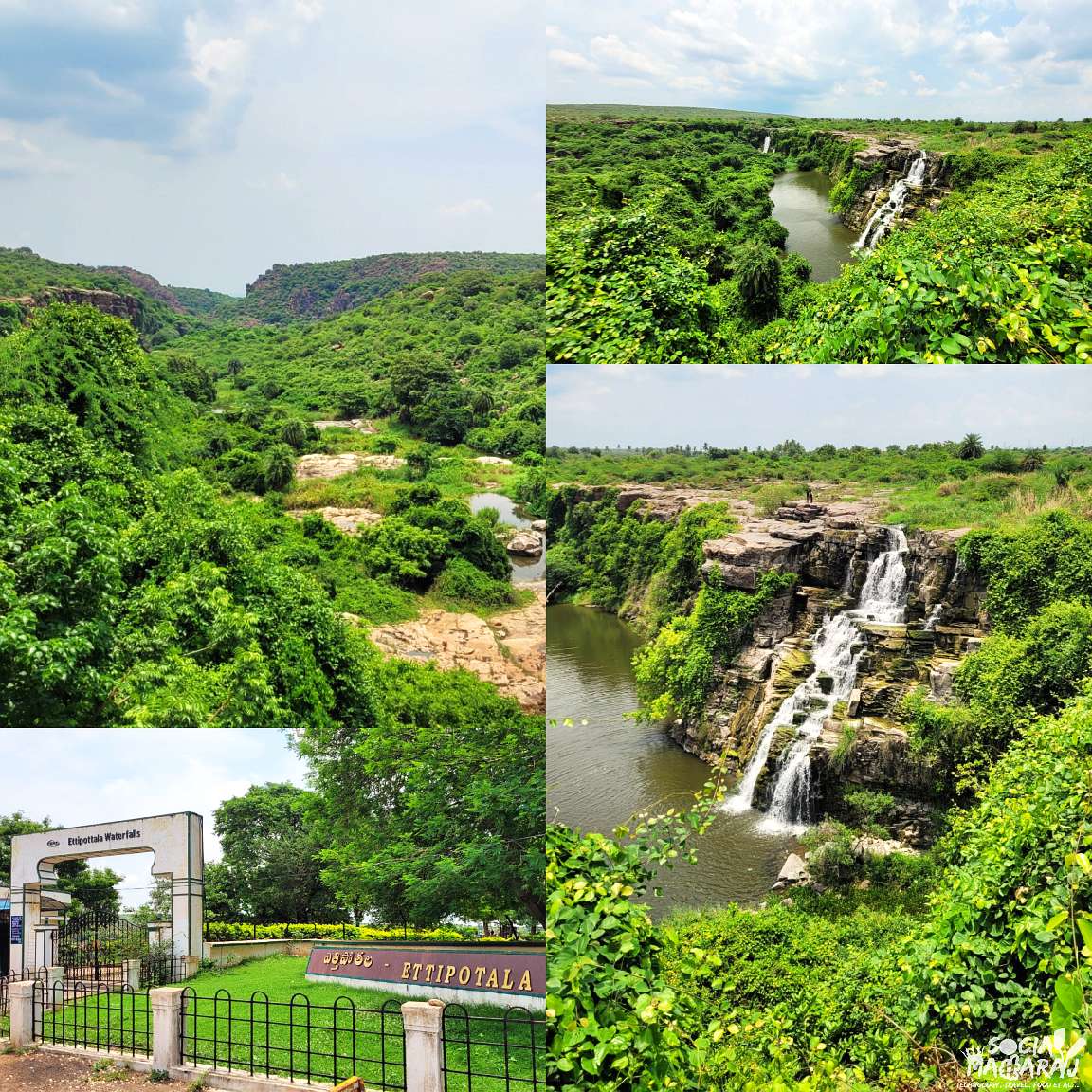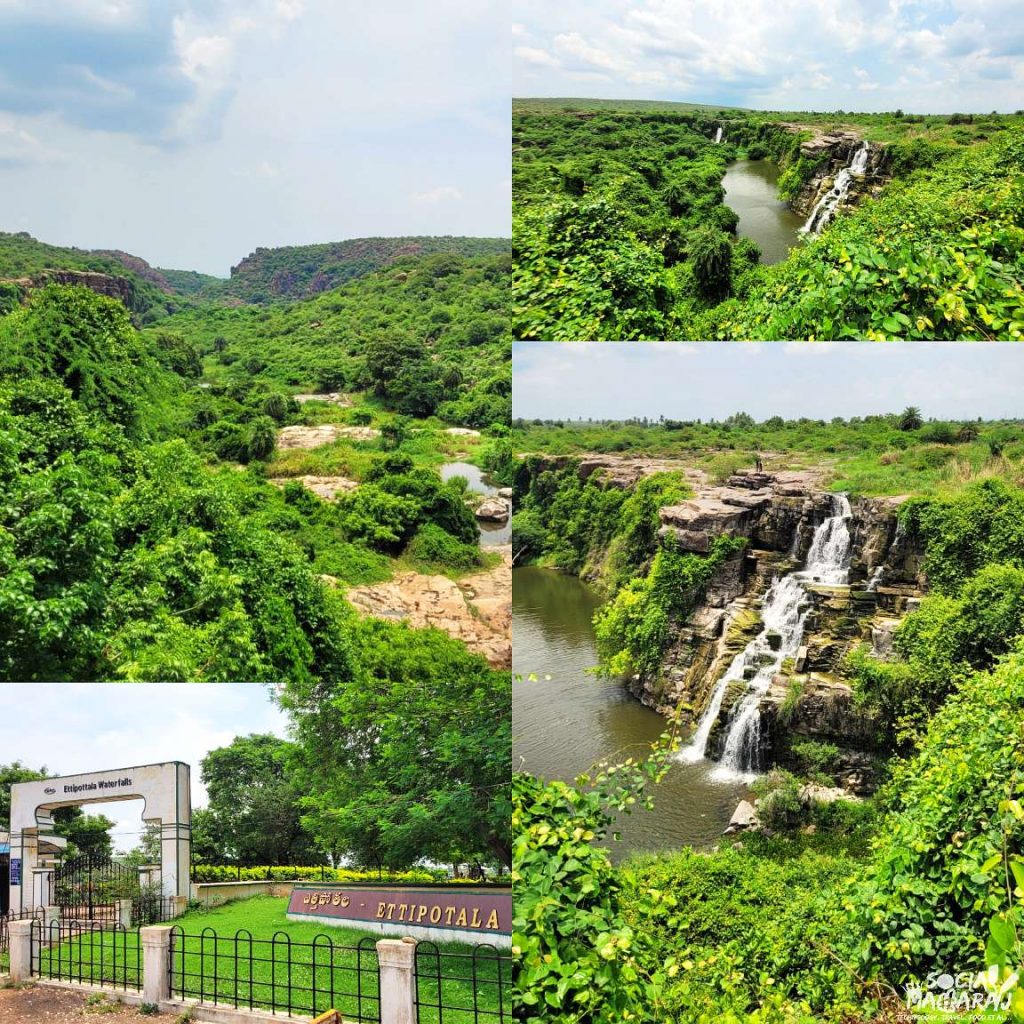 Ranganayaka Reservoir, Siddipet
While travelling within Telangana, I discovered Ranganayaka Reservoir, one of the numerous large water bodies and dams spread across the state. Situated on the outskirts of Siddipet, the reservoir is about 120 km from Hyderabad and can be reached within 2-2.5 hours if you take a leisurely drive.
The reservoir is located in the village of Chinnakodur, and it's massive in size, providing enough water for over 1.1 lakh acres of farmland in the area. Interestingly, it's a crucial component of the Kaleshwaram project, which is the world's largest lift irrigation project, initiated by the Telangana government
For the most part, the route to Ranganayaka Reservoir is quite smooth. To get there from Hyderabad, you will need to take State Highway 1, also known as the Hyderabad Mancherial Highway, towards Siddipet. If you are driving via the Outer Ring Road (ORR), you will need to take ORR exit 7. The highway is four-lane all the way to Siddipet, except for a few kilometres where the road is still under construction.
Read more about my Hyderabad to Ranganayaka Reservoir Road Trip.
Medak, Pocharam Wildlife Sanctuary
It has been a part of various kingdoms such as Kakatiya, Bahami, and Golconda. The Medak fort holds tales from its glorious past and is a must-visit. Apart from the fort, the Medak Church is another attraction. The distance between Hyderabad and Medak ranges from 120 km, depending on your starting point in Hyderabad. In my case, it is 130 km, which makes it an ideal one-day road trip destination from Hyderabad.
In Medak, you can visit the beautiful Medak Church which is amongst the largest in Asia. You can also spend time exploring the Medak Fort. About 15 km from Medak is the Pocharam Wildlife Sanctuary. If you have your own car, you can take it inside the sanctuary by paying a nominal fee of Rs 100 per head. You can easily spot bison and deer during your safari.
Read more about by Hyderabad to Medak road trip.
Weekend Road Trips From Hyderabad
All the places I mentioned above are good for a one-day road trip. You can extend them for multiple days, but it's easy and comfortable to do them in a day. The places here are perfect for a weekend getaway from Hyderabad. Though you can do them in a day, it'll be too hectic.
Srisailam Dam
The first place that you must visit is Srisailam. The temple town is located about 200 km from Hyderabad. The roads are again single-lane and good. You'll also pass through the tiger reserve where the roads pass through dense forests. Also, you'll encounter ghat roads closer to Srisailam.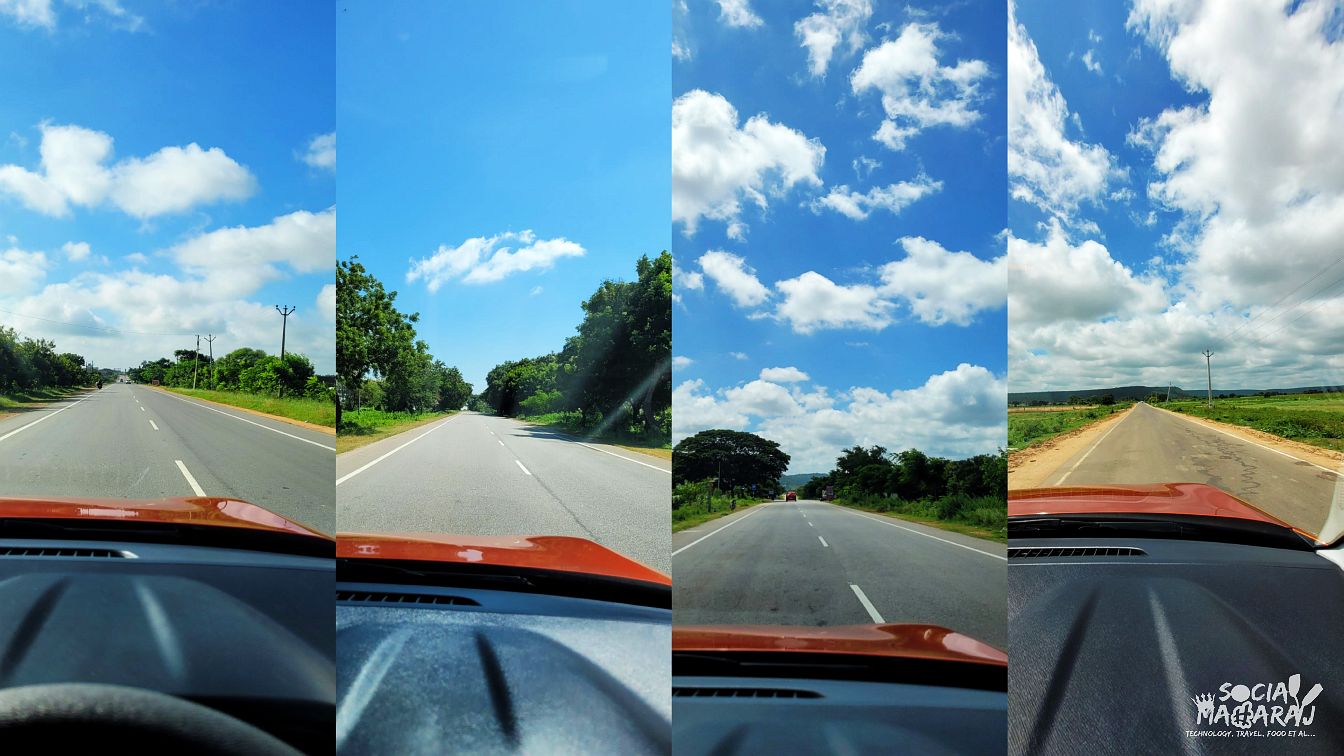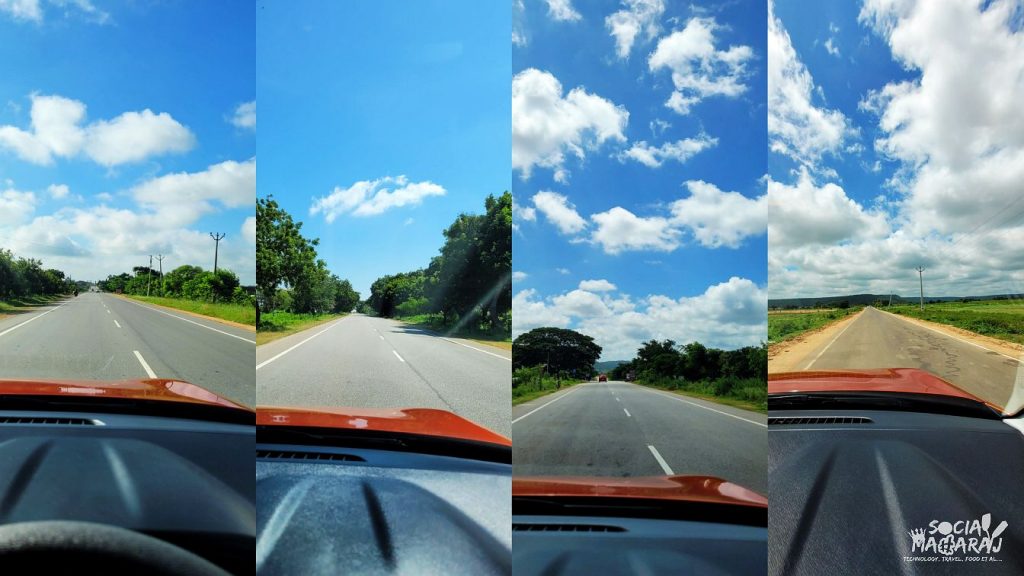 There are two major attractions in Sri Sailam. The temple and the dam. While I didn't visit the temple, the dam was in its full glory when I was there. All the gates were open and the sight of water gushing out was beautiful. Reminded me of those waterfall videos I had seen where it feels like it's raining.
What fortune, went on a road trip to Srisailam Dam from #Hyderabad today and got to see this – 6 gates open 😍

Didn't expect this, but it was surreal to see it. Close up in next tweet 👇🏼@HiHyderabad @tstdcofficial@incredibleindia #RoadTrip #Travel #Socialmaharaj pic.twitter.com/4rK4OIFwiW

— Atulmaharaj (@Atulmaharaj) September 18, 2022
I had to keep the vipers on all the full-time. If you're here on a weekend, you'll encounter a lot of traffic. Plenty of places to stay and eat. Read more about my Srisailam Dam road trip.
Ramappa Temple
If you love long drives and architecture, the newly designated UNESCO World Heritage site Ramappa Temple is worth a visit. Located about 80 km from Warangal, and about 220 km from Hyderabad, Ramappa is a perfect weekend getaway.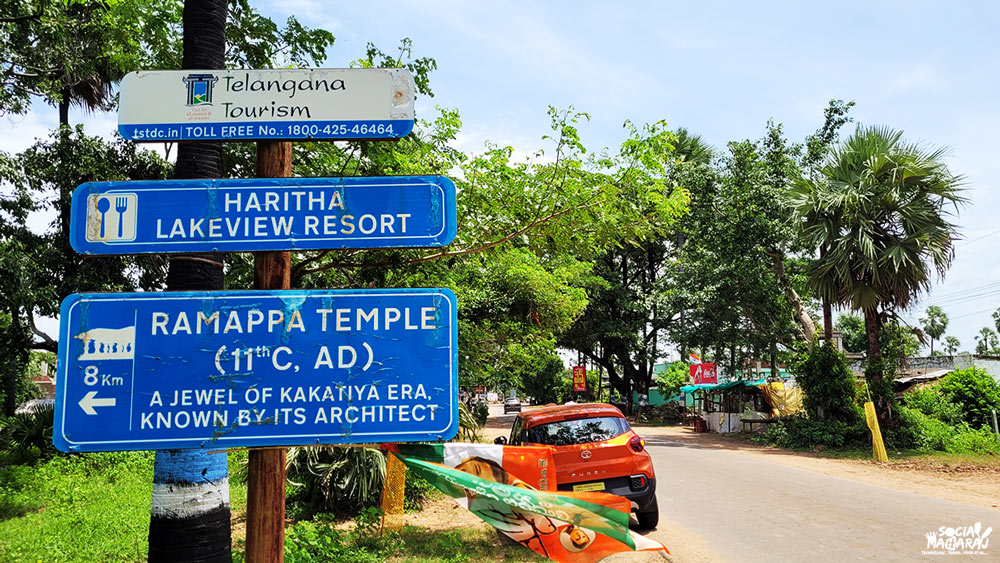 The roads are sublime all along the way until Warangal. It's a four-lane tolled highway and you can simply enjoy the scenic drive. As you take the Warangal bypass, the roads become single lanes and aren't that well maintained.
As you read closer to Ramappa, you'll see a lot of paddy fields and large water bodies with mountains doting the skyline. There are two places of interest here, Ramappa Temple and Ramappa Lake. The temple is an architectural marvel and no wonder a UNESCO world heritage site. The carvings, especially from the black stone still shine like metal even after 800 years.
2 km from there is the Ramappa lake which is no less than a sea. You can go boating and capture some bird sightings as well. There's a Haritha resort where you can spend the night. Read more about my Ramappa Temple Road trip.
Hazur Sahib Gurudwara, Nanded
Nanded is a town in the state of Maharashtra that is an important place in Sikhism. The famous Hazur Sahib Gurudwara in Nanded is one of the 5 takhts in Sikhism. It was here Guru Gobind Ji declared that the holy book of Guru Granth Sahib would be worshipped. Though in the state of Maharashtra, Nanded is a Punjabi town due to the huge influx of pilgrims.
Nanded is about 280 km from Hyderabad and the roads are just perfect. There are multiple route options, but NH 161 is the shortest and the best one. It's a good 5-6 hour road trip from Hyderabad. If you leave early in the day around 8-9 AM, you can easily reach there by lunchtime. Visit the Gurudwara, explore the town, spend the night at the magical place, and start your return journey at leisure the next day.
Read more about my Hyderabad to Nanded Road Trip.
Gandikota – Grand Canyon of India
Gandikota, also known as the Grand Canyon of India, is located about 400km from Hyderabad and is in the state of Andhra Pradesh. There might be multiple routes to reach Gandikota, however, the recommended one is via NH 44 (Yes, my favourite NH44). I've done multiple road trips from Hyderabad on NH 44 (Hampi, Chikmagalur, Lucknow to name a few) and am quite well-versed with the highway.
It's a popular destination for adventure junkies and camping in Gandikota is one of the popular activities. The Hyderabad to Gandikota road trip is a perfect weekend getaway from Hyderabad. Close to 6-8 hour drive depending on how fast/slow you drive. The roads are largely good with ample eateries and fuel stops. The scenery also is pretty good in the latter half making it a good trip overall.
Read my detailed Hyderabad to Gandikota road trip blog post for more.
Longer Road Trips From Hyderabad
All the road trips in this section are to far destinations that can take a day or two as well. Most of these road trips from Hyderabad are over 400 km and can take at least 6-8 hours one way if not more. If you enjoy driving, you should take a road trip from Hyderabad from this list too.
PS: Driving solo can be boring. So make sure you have company and a good playlist!
Bijapur, Aihole, Pattadakal
A recent trip I took was to drive from Hyderabad to Bijapur. It's about 400 km one way and takes about 6-8 hours. You take the route towards Pune and take a detour at Humnabad towards Gulbarga. Bijapur is famous for Gol Gumbaz and Ibrahim Roza apart from having a lot of other places of interest.
You can also extend the trip to Aihole and Pattadakal which are UNESCO World Heritage Sites for their temples. These beautiful temples are from the 7th to 8th century and are some of the most beautiful temples you would have visited. Read more about my Hyderabad to Bijapur road trip.
Hampi
If you're into architecture and Indian history, then the UNESCO World Heritage town of Hampi is a must on your list. Located at about 370 km from Hyderabad, Hampi is a great getaway from Hyderabad. The erstwhile capital of the Vijayanagara Empire, Hampi has some of the finest temples and other structures that will leave you in awe.
When in Hampi, you must visit the amazing Stone Chariot at Vithala temple along with the mesmerizing Lotus Mahal, Elephant's stable, and others. Ideally, your trip to Hampi should take at least 3 days to enjoy completely.
The road trip from Hyderabad to Hampi is quite an interesting one as you pass through different terrains. As soon as you enter Karnataka, you'll pass through Maanvi, the land of paddy as it is called. The roads are two lanes as well, so you cannot drive fast. However, the roads are in mint condition for the large part of the trip. We started at about 6 in the morning and were at our hotel in Hampi around 2 PM with a couple of stops in between.
Read more about my Hyderabad to Hampi Road Trip.
Pune & Panchgani
If you love driving, another good road trip would be to drive to Pune. It's about 600 km from Hyderabad and the road is pretty nice for the entire stretch. You'll take the route from Sangareddy towards Zaheerabad, and eventually to Solapur and Pune. There are ample places to eat on the way so that shouldn't be a worry.
You can extend the road trip to Pachgani and Mahabaleshwar as well. It would be a 100 km detour if you drive to Pune first. Otherwise, you can take a detour from Indapur and directly touch the Pune – Kolhapur highway before the Mahabaleshwar exit.
The entire drive is amazing and you can read more about it in my Hyderabad to Pune road trip blog post.
Chikamagalur
If you can drive about 700 km from Hyderabad and love hills, Chikamagalur can be an ideal destination. Home to some of the finest coffee in India, Chikmagalur is a must-visit for all Coffee aficionados. It is also home to the highest peak in Karnataka, Mulayangiri Peak, and is a great destination for trekkers. The roads are pretty much good for most parts of the journey except for some rough patches.
The best time to visit would be during monsoons when the place comes to life and also driving would be fun. We took almost 14 hours from Hyderabad to Chikamagalur, which is on the higher side I guess. You can also visit the nearby towns of Belur and Halebidu to experience the 11th-century Hoysala temples. Read in detail about my Hyderabad to Chikamagalur Road Trip.
Bastar, Jagdalpur
Not a destination that might be on a lot of people's bucket lists, but I drove to Bastar from Hyderabad in August 2023. Bastar is about 550 km from Hyderabad and can take a day easily. It is one of the best road trips I've taken from Hyderabad. Though the roads aren't 4-lane, or 6-lane, the condition is pretty good. More than that, the landscape is something you'll fall in love it.
In Bastar, you can explore some of the finest waterfalls, Kanger Valley National Park and enjoy the greenery of the place. More than that, Bastar is a culturally very rich place. With a lot of Tribal population, there's so much to see and experience. Dussehra is a 75-day long festival that's unique and must experience. Perfect weather would be during monsoons or around monsoons. Read my detailed blog post on the Hyderabad to Jagdalpur road trip.
Lucknow
Driving from Hyderabad to Lucknow isn't for the faint-hearted. I undertook this, my longest road trip last year in October. It's about 1500 km one way and takes about 26 hours in total. It's advisable to have two drivers and split the driving across at 2 days at least.
You'll pass through places like Adilabad, Nagpur, Jabalpur, Rewa, Satna, and Allahabad before reaching Lucknow. There are multiple routes and you can read about them in Hyderabad to Lucknow road trip blog post.
It's one amazing journey where you pass through Pench National Park, the hills of Jabalpur, the mighty Narmada, and also Sangam in Allahabad. On return, I took another route, this time via Jhansi. It was longer than the previous one but with much better roads.
What's your favorite road trip from Hyderabad?
As I said, I've made this list based on the road trips I've taken from Hyderabad. I'm sure there are a lot of other places which can be driven to. If you've taken some and feel that I must take a road trip there, please do mention them in the comments.
I'll try to keep this post updated as and when I take a road trip. Let me know what do you think about this definite road trip from the Hyderabad guide. Let me know your thoughts in the comments below, tweet to me at @Atulmaharaj, DM on Instagram, or Get In Touch.