By now you already how much I relish travelling. Be it a weekday or a weekend, if there's a slightest chance of a trip, I take it. The last few weekends have been the same as well. I was in Pune a few weeks ago for GopherCon 2023, the following weekend I went on a road trip to Gandikota and as I write this, I'm cruising at 36,000 onboard my Vistara Flight from Bengaluru where I was attending the Google Search Central meet-up.
From the title you already know what I'll talk about. This post will be regarding everything you need to know about the Hyderabad to Gandikota road trip. It's a perfect weekend road trip from Hyderabad. In case you don't know, I have an extensive blog post on road trips from Hyderabad. So if you're looking to embark on a road trip from Hyderabad, you should read this.
Hyderabad to Gandikota Road Trip
Gandikota, also known as the Grand Canyon of India, is located about 400km from Hyderabad and is in the state of Andhra Pradesh. There might be multiple routes to reach Gandikota, however, the recommended one is via NH 44 (Yes, my favourite NH44). I've done multiple road trips from Hyderabad on NH 44 (Hampi, Chikmagalur, Lucknow to name a few) and am quite well-versed with the highway.
PS: We did take a detour to Belam caves on the way since we had lots of time to spare.
Route: Hyderabad-> Shadnagar -> Jadcherla -> Kurnool -> (Take the Rayalaseema Expressway) Panyam -> Owk -> Belam -> Jammalamadugu -> Gandikota.
Depending on where you're coming from in Hyderabad, you can take the ORR Exit 16 (Airport exit) and join NH44 which goes to Bengaluru. Drive through on the entire stretch until Kurnool and then get off NH 44 to get on the Rayalaseema expressway (NH40). After driving for about 50km, you need to take a detour towards Owk, before reaching Jammalamadugu and Gandikota.
During our return, we came via Ahobilam and the route that Google suggested wasn't a great one. Most parts of it were largely under construction and loaded with gravel. Plus it passed through a lot of small villages that slowed us down. We were literally praying for the national highway. We finally got the highway around Panyam, the detour we took to drive towards Owk during the first leg.
Further, this was a road trip with a dear friend of mine. We were in a fix as to whose car we should take Maharaj's Punch or her Citroen C3. We eventually decided to take hers because she hadn't done such a long road trip in the Citroen C3.
Hyderabad To Gandikota Road Conditions
We left Hyderabad around 7 after a few rounds of miscommunications. I had parked my car at the airport since we were out only for a night. So the plan was I park my car here and she would pick me up and from there we drive to Gandikota.
If you're a frequent road tripper, you know that NH 44 is in good shape. As I've mentioned earlier as well, roads in Telangana are sublime. And to prove it, the NH 44 stretch from Hyderabad to Kurnool is sublime too. Except for a lot of local vehicular traffic, the roads are pretty good. There has been some widening/repair work going on for a short stretch after Jadcherla, apart from that it's good.
The road from Kurnool to the Rayalaseema expressway is pretty good too. The landscapes are full of rocky mountains that are complimented well by blue skies depending on when you're going. There is a detour that you need to take to drive towards Owk. From here on the road is divided into two lanes with some traffic as this road passes through many villages. We stopped at Belam Caves for exploration and lunch. More on this in a future blog post.
The road condition on this stretch is also fine except for a few speed breakers that one cannot see unless you jump over them. Happened to us multiple times, so yeah now we know. The last stretch is one of the scenic patches of the entire road trip. You have a rocky terrain, blue skies, windmills in the distance and straight roads. We did stop multiple times to click pictures before reaching our Gandikota Camping Site. PS: The view from the camping site is breathtaking!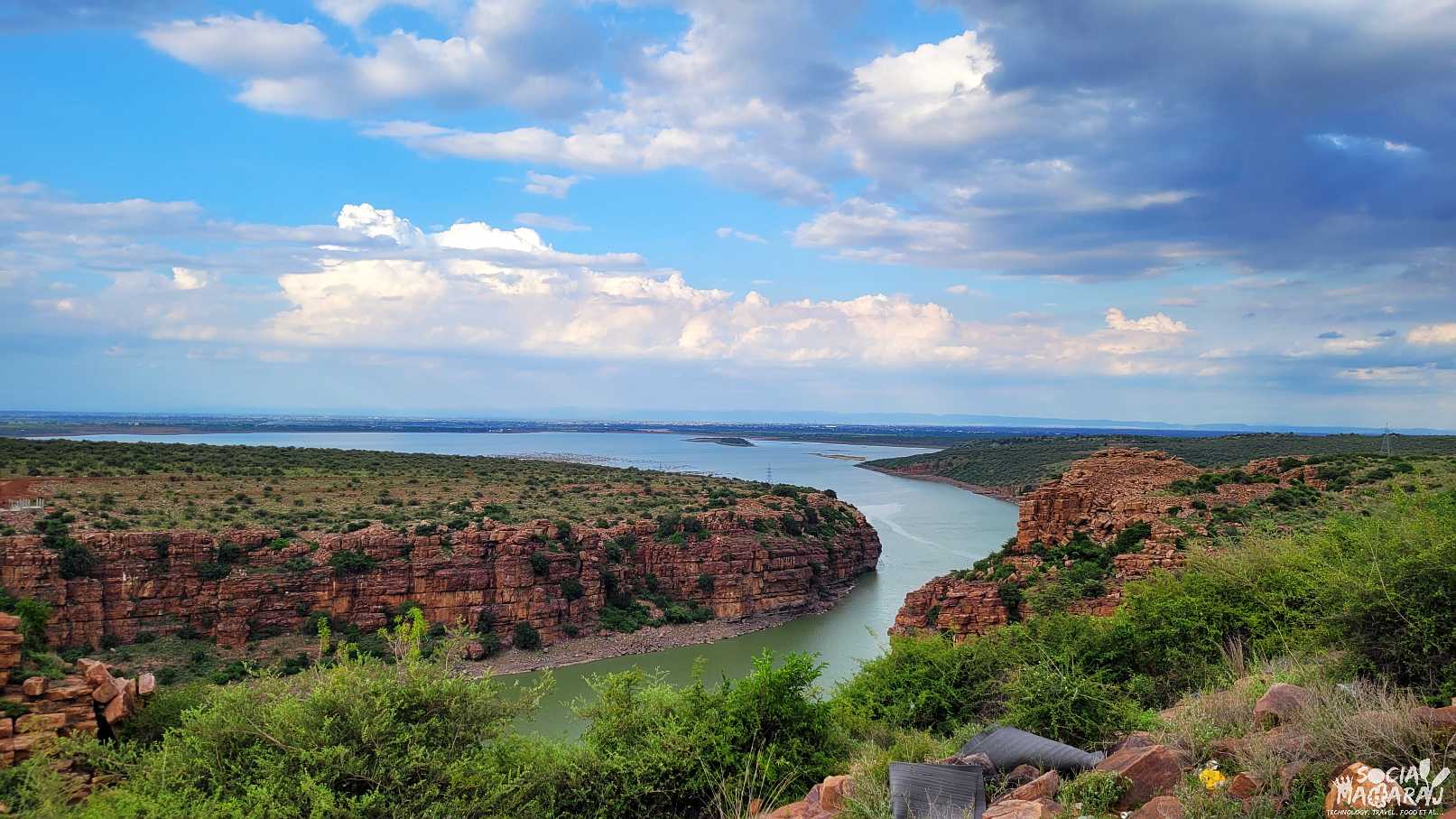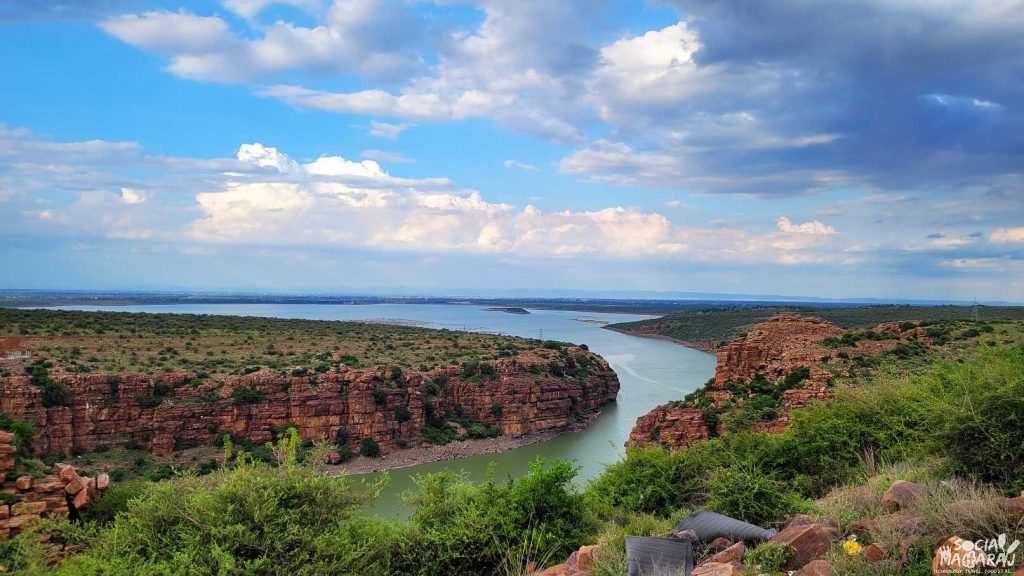 Overall, the road condition is nice, thanks to the NH 44 stretch. There are a few hiccups on the way, but that's fine and not a deal breaker I suppose.
Place To Eat Towards Gandikota
NH-44 is full of dhabas and eateries, one of the very few highways in the country with such amenities. Though there are patches near Nagpur where there's absolutely nothing, apart from that it's largely good. I usually plan my stops even before I leave home, but this time around it was quite random. Below are a few places to eat during your Hyderabad to Gandikota road trip.
Sandarshini's Udupi Veg Hotel: The NH 44 stretch is so good that you can drive on and on. However, a break is needed. Our first stop was at Sandarshini Udupi Veg a hotel in Chilkamarri (I had a friend in New Era Panchgani whose last name was Chilkamarri, now I know where he belonged to!) right after you cross Shadnagar. A decent setup that is spacious and relatively clean. We had Idli and Sambhar for breakfast and it tasted good. Even the washrooms are good enough making it a nice place to stop when you're driving with your family.
We also stopped on the way to buy some Uggani Baji and bananas near Panyam crossroads that we had at a farm on the way. There were a few shops when we took a diversion towards Owk leaving the highway. Lip-smacking food!
Haritha Restaurant, Belam Caves: Our next stop was at Haritha Restaurant in Belam Caves. That's the only place here though. After an exhaustive exploration of the cave, our bodies demanded food. Luckily Haritha had some. We ordered a plate of Jeera Rice and Curd Rice along with a few cold drinks. The food was good enough, much better than Haritha at Ethipotala Falls. The washrooms however are non-existent.
Sri Priyadarshini: If you remember, I stopped here for dinner during my Hyderabad to Chikmagalur road trip as well. So this has become a regular stop for me. Good food, and a relatively clean place with clean washrooms as well. It's also attached to a petrol pump.
Gandikota – Weekend Road Trip From Hyderabad
At the time of publishing this, we're already in the middle of a long weekend and Maharaj is at home. A rarity, but again there are other upcoming travel plans which made sense for me to sit at home.
However, why should you sit at home? The Hyderabad to Gandikota road trip is a perfect weekend getaway from Hyderabad. Close to 6-8 hour drive depending on how fast/slow you drive. The roads are largely good with ample eateries and fuel stops. The scenery also is pretty good in the latter half making it a good trip overall.
Also, if you travel frequently on this stretch, do let me know if there are some other good food stops I should try.
That's about it for this blog post, let me know your thoughts in the comments below. You can also reach out to me on Twitter at @Atulmaharaj, DM on Instagram or Get In Touch.