Chutneys is one of the oldest South Indian restaurants along with the Taj Mahal that has served generations. However, the love of South Indian food has led to an influx of many South Indian eateries of late. Ishta, Antera, Ragi, Anna Native and Itlu are some of the popular new eateries. The newest entrant to this scene is Ouvra.
One of the cuisines that has been booming in Hyderabad is South Indian. Surprising! Localities love their 'tiffins' and eating a South Indian meal outside is a a popular culture. Visit any of the South Indian eateries during lunch or dinner (especially on a weekend) and you'll know how much people love their Idlis, Dosas et al.
In this post, I'm going to share my experience of dining at Ouvra – The Telugu Kitchen. I wasn't here for the launch or an invite, but along with a friend and as a paying customer on the second day of its opening. Without much ado, let's get straight into my review of Ouvra.
Ouvra – Telugu Restaurant Review
Colorful & Decorated Ambiance
Most of the eateries in Hyderabad are coming up/located in the Banjara Hills/Jubilee Hills and Film Nagar areas. There are a few of them coming up in areas like Kompally, and Kokapet as well. Ouvra is located on the 100ft road in Madhapur, on the same road as The Grand Trunk Road, Taaza Kitchen towards PS Cheese Cafe. While there were eateries serving breakfast and tiffins in the area, Ouvra aims to bring authentic Telugu flavours beyond tiffins to our tables.
The restaurant opens right on the main road, and I was glad there was valet parking. Upon entering you're greeted with a large waiting area with decorated walls and nicely done decor. Upon entering the restaurant, you cannot miss the colourful murals depicting rural life in Telangana. There's also a distinct wall with brass utensils that add to the overall vibe of the place. There's ample seating here from large tables to quaint corners for couples. The place is quite similar to Itlu, but larger compared to it. Overall, I liked the setup.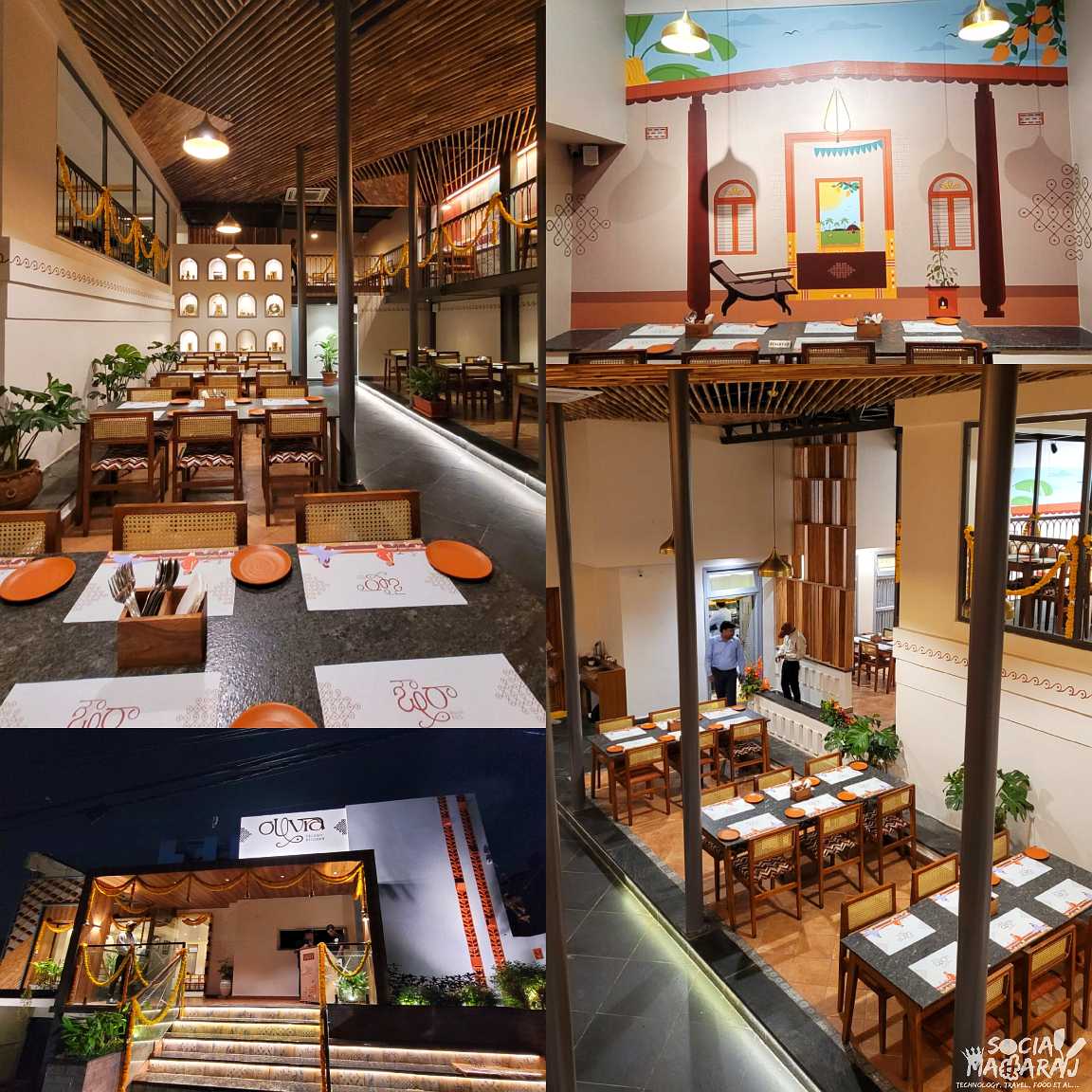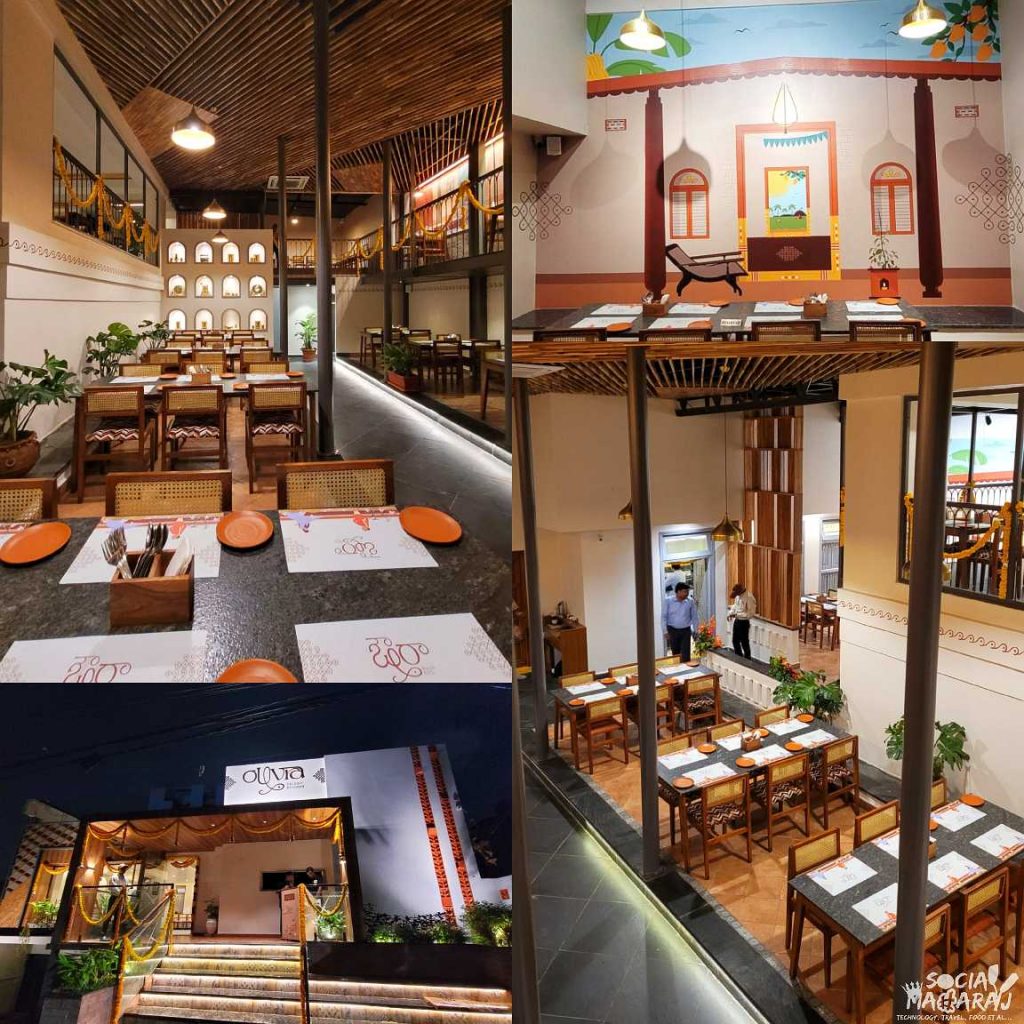 Raising a Toast Telugu Food
Ouvra is all about raising a Toast to Telugu food. Their expansive menu has dishes ranging from Rayalaseema regions to Godavari offering a variety of Telugu dishes. Since this wasn't a tasting session or invite, we didn't have everything on the menu. Further, I'd like to mention that the menu is quite similar to what you may see at other similar restaurants.
As it was only two of us, we had a rather simple order. A couple of drinks including Rose Milk, Badam Milk. Starters included Puttagodugu (Mushroom) Veppudu, Konaseema Paneer Roast, Gutthi Vankaya Koora, Muddapappy Avakkai Anam, and Ragi Sangati along with Bird's nest for dessert.
The drinks we started were refreshing and Rose Milk is quite a popular beverage in the region. Talking about the starters, Puttagodugu Vepudu was nicely done. It was crisp and the Mushrooms were nicely coated with the masalas. Konaseema Paneer was nice, but it could have been a little more crispy and flavourful.
Coming to the mains, we had Ragi Sangati along with Gutthi Vankaya Koora. This was pretty nicely done. The Gutthi Vankaya was nice and flavourful and the generous dose of ghee on Ragi Sangati just elevated the flavours. Muddapappu Avakkai Annam is a Rice and Dal preparation with Mango Pickle (Avakkai). It's a local preparation and a loved dish. This was once nice, but I felt the Avakkai flavour overpowered everything.
Lastly, for desserts, we had the Bird's Nest and Parvannam. Parvannam was a welcome dish that was complimentary. It was basically a variety of Kheer made with jaggery. It was nice, not too sweet, perfect for my liking. Bird's Nest was okay, it's a dish that's getting popular at a lot of places in Hyderabad. It had Rasmalai and Feni topped with Badam Milk.
When are you visiting – Ouvra?
Ouvra offers a refreshing ambience with a touch of Telangana's cultural elements. While the menu might seem familiar to regular visitors of other Telugu/Andhra cuisine restaurants in Hyderabad, the dishes we savoured, such as the Mushroom Vepudu and Ragi Sangati, left a delightful impression.
With a bill of around Rs 2000 for a meal for two, Ouvra's pricing falls within a reasonable range. If you find yourself in the area and craving authentic Telugu flavours, Ouvra can be a good choice to satiate your tastebuds.
That's about it for this blog post, let me know your thoughts in the comments below. You can also tweet to me at @Atulmaharaj, DM on Instagram or Get In Touch.