It's a well-known fact that the food and language in India change every 100kms. The more you travel, the more you'll discover the food. Every city has its trademark dish. Not only that, but each city has its own characteristic breakfast as well. From Pyaaz Kachori in Jaipur, Dose in Bengaluru to Irani Chai in Hyderabad. People are attached to their breakfast and hence when they move places, they miss their breakfast.
So for all the Bengalurians in Hyderabad, Taaza Kitchen serves delicious Bengaluru Style Breakfast in Hyderabad. This place has been on my list for quite some time and I finally visited it last weekend. So this is going to be my honest Taaza Kitchen Review.
Taaza Thindi's Hyderabadi Cousin Taaza Kitchen
Bengaluru is known for its crisp dose and filter coffee. While I was staying, the popular eateries included MTR, Brahmins, Vidyarthi Bhavan and Adiga's to name a few. However, in the last few years, the place to take Bengaluru by storm is Taaza Thindi. Taaza Thindi which translates to Fresh Food in English, got immense love from Bengalurians. Long queues at the eatery coupled with a lot of praise ensured it quickly became one of the most loved eateries in the city.
That's when they decided to open a branch here in Hyderabad by the name Taaza Kitchen. Taaza Thindi's Hyderabadi Cousin, Taaza Kitchen got the same love from Hyderabadis. With the exact same look, feel and menu, Taaza Kitchen has become quite a well-known breakfast place in Hyderabad.
The outlet in Hyderabad is located off the 100ft Road in Madhapur and has no other branches as claimed by them. After having the Rayalaseema style Karam Dosa at Panchkattu, it was time for me to relish the flavours from Bengaluru at Taaza Kitchen.
Simple & Minimal Ambience
Finding Taaza Kitchen isn't tough, it's located off the 100ft road in Madhapur. For easy reference, it's diagonally opposite The Grand Trunk Road. The place isn't quite large but has quite a spacious parking right across the road. The restaurant opens at 7 am in the morning and within a few minutes, the crowd builds up.
Taaza Kitchen brings the typical 'stand-and-eat' concept from Bengaluru to Hyderabad. Iconic stainless steel tables with natural shade where you can relish your food. They do have a few seating spaces across the place too.
The ordering system too reminded me of Bengaluru. You place an order and pay the amount at one counter. There's a counter to get your food, another counter only for parcels and another one only for coffee. All the counters have transparent glass panels, so you can actually see what's going on inside.
Overall, the place is extremely clean and well maintained. It does get crowded during peak hours. However, people come in, eat and move out quickly. If you plan to visit any day, I'd suggest being there by 6:45 in the morning, and you'd be done by maximum by 8 am. If you're working, you can easily get back to work too!
Delicious Vegetarian Breakfast – Taaza Kitchen Review
As I mentioned earlier, the concept is to focus on quality and not quantity. Taaza Kitchen doesn't boast of a menu that runs into pages. Rather it focuses only on a handful of items. The items on the menu include Idli, Vada, Dose, Khara Bath, Kesari Bath, Filter Coffee & Grape Juice.
In fact, you can eat every item at Taaza Kitchen for under Rs 500! And we did exactly that. Our order included a plate of idli vada, masala dose, chow chow bath, filter coffee & grape juice. All of it cost just around Rs 200.
The service I'll say is fast, however, that also depends on the time you visit and the rush. I guess we waited for about 10 mins before we got our food. We took a table that was large enough to place everything and click photos. And without wasting any time, we dug into our food. Lastly, all the items are served on a small yet characteristic circular plate.
The idli is soft and served with a coconut chutney that has a watery consistency. In fact, they serve a portion on solid chutney and pour a generous amount of this watery one. The chutney is extremely rich and fresh. Together makes a perfect combination.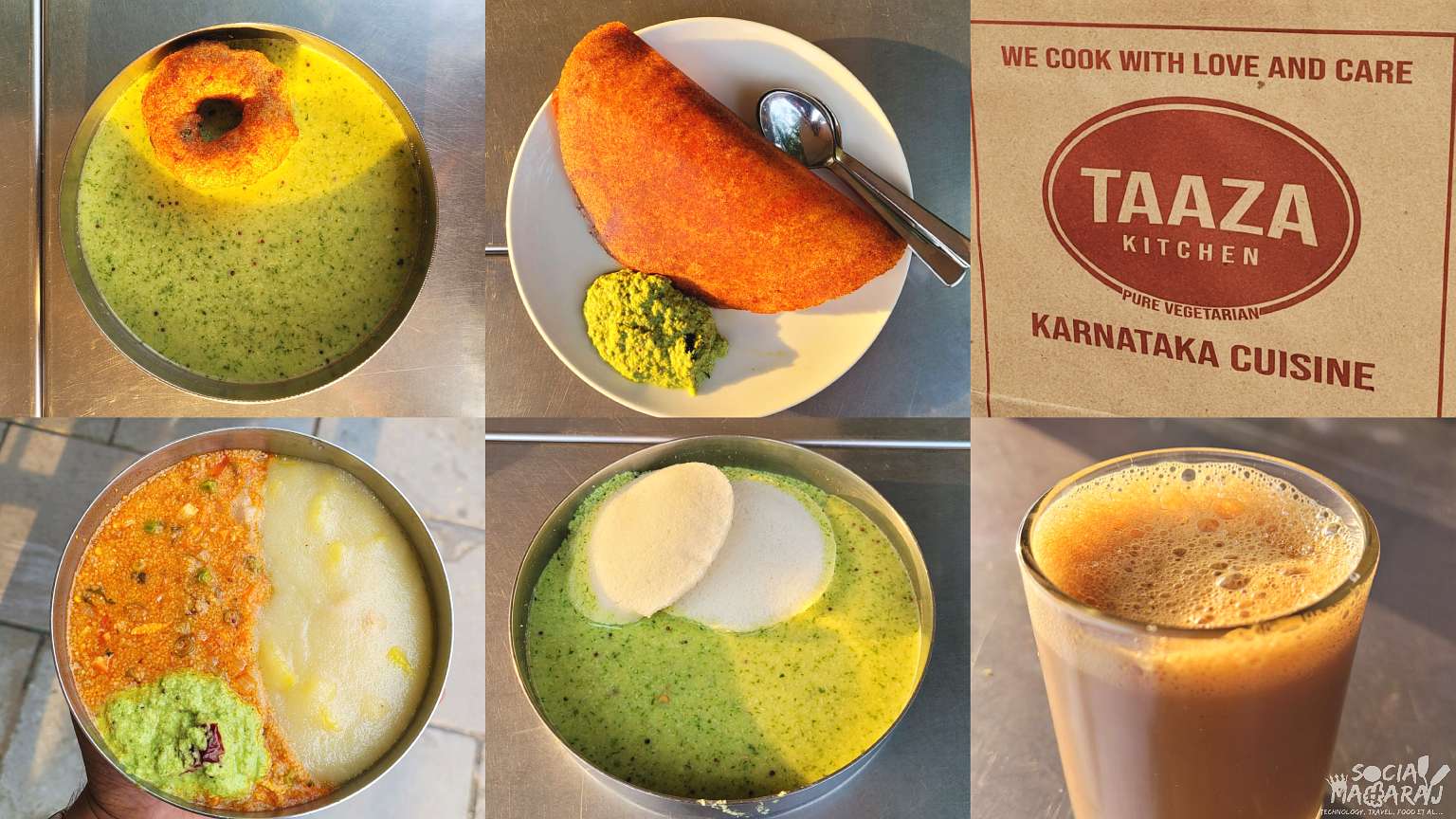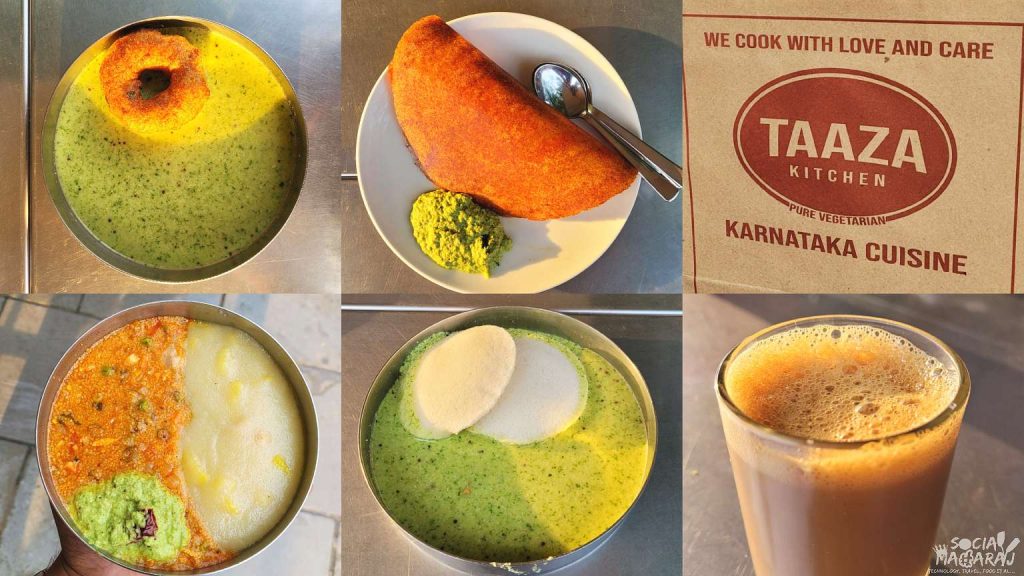 The crispy masala Dose literally took me back to Basvangudi. The dose is a classic Bengaluru style dose – crisp on the outside and soft on the inside. The ghee laden dose is smooth and delicious. The palya served is good but it's just the dose and the chutney that create the magic.
We also tried the iconic Chow Chow Bath. For the unware, Chow Chow bath is a dish with a portion of Khara Bath and Kesari Bath. Khara Bath is a masala upma sort of dish and Kesari bath is halwa. So the dish is a mixture of spice and sweetness. I used to relish these in Bengaluru and this one didn't disappoint at all. The Khara bath was on the spicier side for me, but the Kesari just complimented it well.
Talking about the beverages, we tried the classic Filter Coffee and Pulpy Grape Juice. The filter coffee was made in the typical Bengaluru style. Strong decoction with milk poured over. The Pulpy Grape Juice was good, but quite on the sweeter side. I'd recommend stirring it well and eating/drinking it as the pulp usually settles down. Further, I noticed that this isn't made when your order. Rather it's already premade and kept in the refrigerator and served.
Overall, I'd say the food is pretty good. Depending on your appetite and interest, you can order a plate of everything as we did, or a plate of idli vada, dose and a filter coffee should be perfect to start your day.
Must-Visit Taaza Kitchen
The only reason I visited Taaza Kitchen after this long was the distance from where I stay. (Also, not many of my friends are ready to wake up that early for breakfast!) So last week, I finally went there for breakfast, thanks to my friend from Delhi who was in town. I'm so glad that it happened. This is surely one of the most affordable breakfasts in the city.
The pure vegetarian spread is lip-smacking and worth every penny. If you are from Bengaluru, you must try this. If you aren't you should try it too. The ambience is pretty good, away from the rather noisy surroundings. Early mornings breakfast is a must here.
That's about it for my review of Taaza Kitchen Hyderabad. Let me know what you think about the place in the comments below, tweet to me at @Atulmaharaj, DM on Instagram or Get In Touch.