One of the best parts having a 5 day week office is that if there's a holiday on Thursday or Friday, we usually get a long weekend. Such long weekends are a much-needed break, It was during the start of this month that I got a long weekend and I decided to visit Bengaluru. It had been almost 4 years since I last visited Bengaluru so the trip was long due. On my trip, I stayed at this wonderful place – Eco Haya, Serviced Apartments which is off Bannerghatta Road. I preferred restaurants for lunch and dinner. And one such restaurant that I visited for lunch along with my friends is Deja Vu Resto Bar. The restaurant cum bar is located at the top floor of the Gopalan Mall in BTM Layout (opposite to Shopper's Stop, Bannerghatta Road)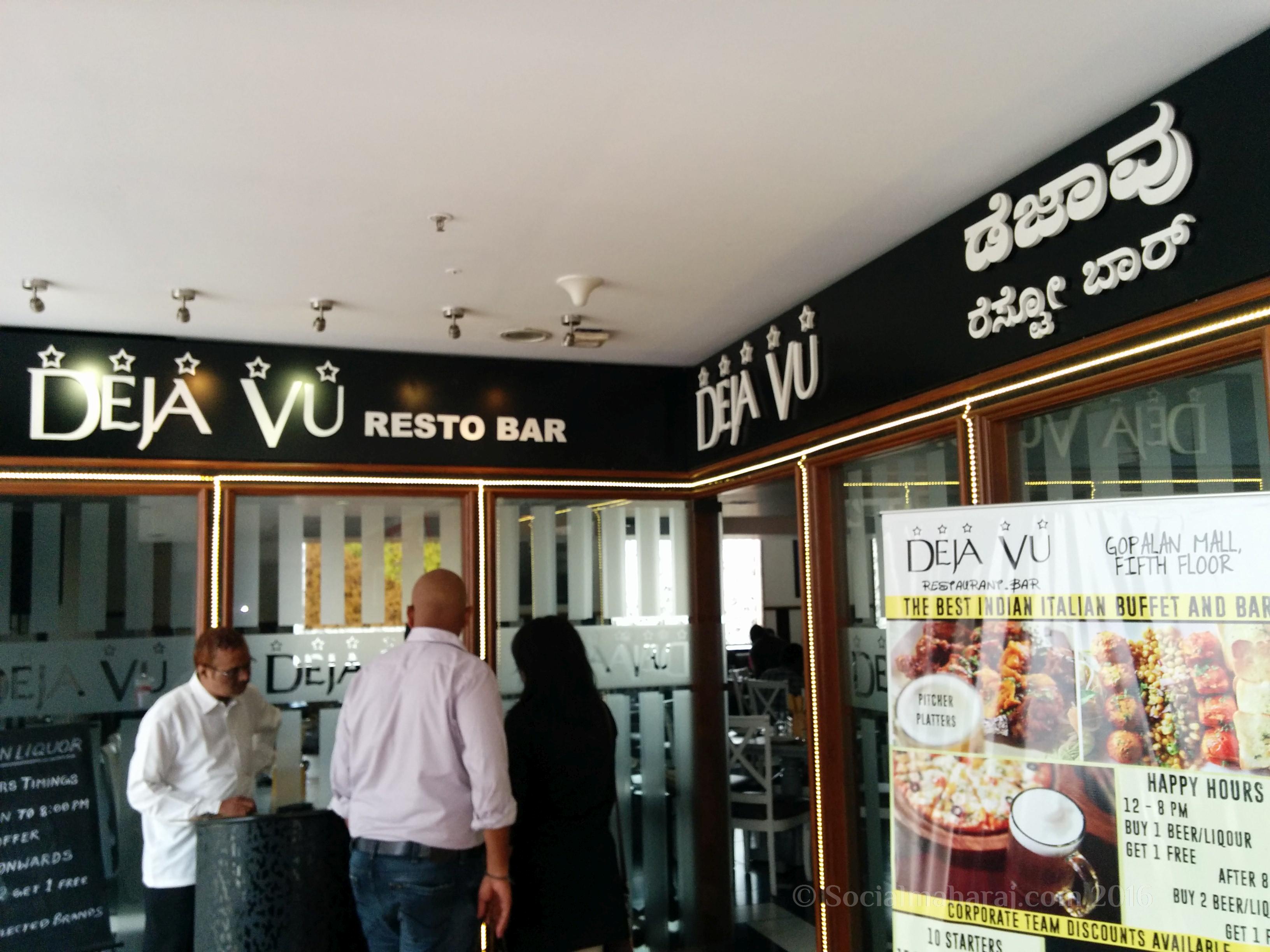 Deja Vu serves buffet lunches and dinners and is the perfect place for corporate lunches, team lunches or even a casual lunch/dinner with family. The restaurant has good interiors, thanks to the amazing paintings that bring the place to life. The restaurant is spacious, so even if you are a large group, I don't think seating will pose a problem if prior reservation is done. For us lunch was a formality as meeting each other was more important, we started with the buffet and here's how it all started.
Deja Vu Resto Bar has 4-5 variety of starters, on that particular day there was Garlic Bred, Chilly Potato preparation, Paneer Tikka, Crispy Corn – a lot of people like this apparently. I must say that all the starters were good and tasted perfect. The Paneer was fresh and cooked to perfection with a balanced taste. The service was a quite slow as I had to call for the Paneer more than 5 times before it made it to my plate.
Moving on to the main course. There were a variety of dishes for both vegetarians and non-vegetarians. For vegetarians there was a Paneer preparation, a Bhindi dish, a kofta curry and dal. For non-vegetarian there was a chicken curry and chicken biryani to name a few. The vegetarian items were good on taste, so no complaints on that front. Tandoori Rotis, Naans and Phulkas were served at the table by this time the service seemed to be spot on. All in all no complaints from the main course
Deja Vu does have a live counter that makes some Italian dishes based on what you want. I really love the concept of live counters at buffet restaurants. Apart from this there was a special chat counter that served pain Puri, dahi Puri and other chat items. Since our meal was over, we decided to try something sweet. The desserts section was pretty bad. There was hardly anything apart from ice cream, few pastries, Gulaab jamun and halwa. There was a kiwi item but that contained egg, so virtually there were the 'regular' dessert dishes for the vegetarians.
Final Burrp…
All in all, Deja Vu Resto Bar is a great place for a get together. The restaurant has a very good ambiance thus making your entire dining experience pleasurable. The food is good, be it starters or main course, but the only thing that might let you down is the slow service and the desserts. I felt the desserts were not upto the mark, Nevertheless, Deja Vu scores for being a perfect buffet restaurant without burning a hole in your pocket – a must visit place !
Already had a tête-à-tête with Deja Vu Resto Bar ? Share us your experience in the comments below.