We all are aware that Paytm had been offered a banking license some time back. In fact there was a fierce battle on between Airtel and Paytm as to who would start the operations first. We all know who started it first (Airtel for those who don't know) So these platforms have been provided banking license to provide banking services. These banks are now providing services including a Savings Bank account, a cheque book, demand draft (these services incur extra charges) Paytm had opened its banking services some time back in Noida, now Paytm Bank is open for all. With this in place, if you are a Paytm customer you can open a Savings Account in Paytm Bank So here Steps on How to open Savings Paytm Bank Savings Account.
How to create Paytm Savings Bank Account
Must have things before you begin
Before you open Paytm bank account, you first need to ensure that the Paytm app on your mobile is updated to the latest version. The current version 6.0 (on Android) supports banking facility. Also the next thing you need to keep in mind is that your Paytm account should be a Verified Account – your KYC should have been completed. If you don't have any of the above things in place, you won't be able to open a Paytm Savings bank Account.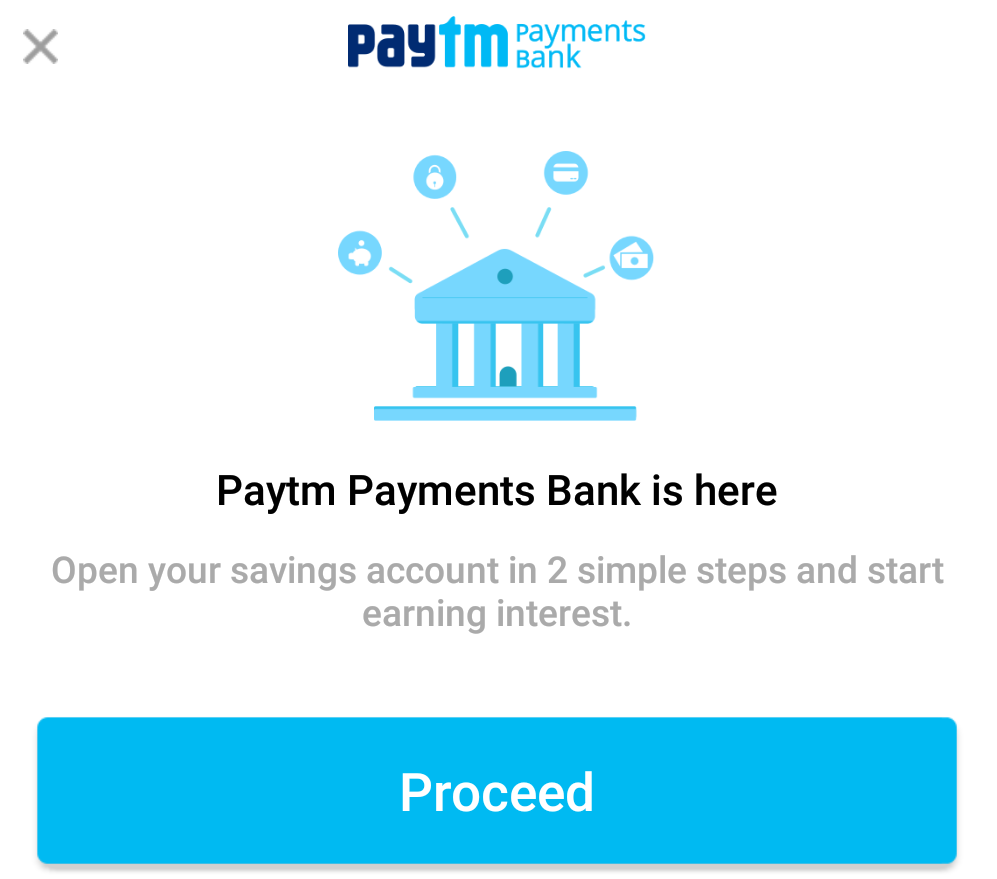 Steps to Open Paytm Bank Account
Update your Paytm app to the latest version
Once updated, you will be greeted by a popup notifying about the Paytm Bank
Click on Proceed, the entire time taken to opening a Paytm savings bank account is less than 2 minutes
On the next screen, read the terms and conditions and click on proceed
Paytm also provides you an option to add a nominee, so provide the details of the same
Submit and voila ! Your Paytm Savings Account is now open.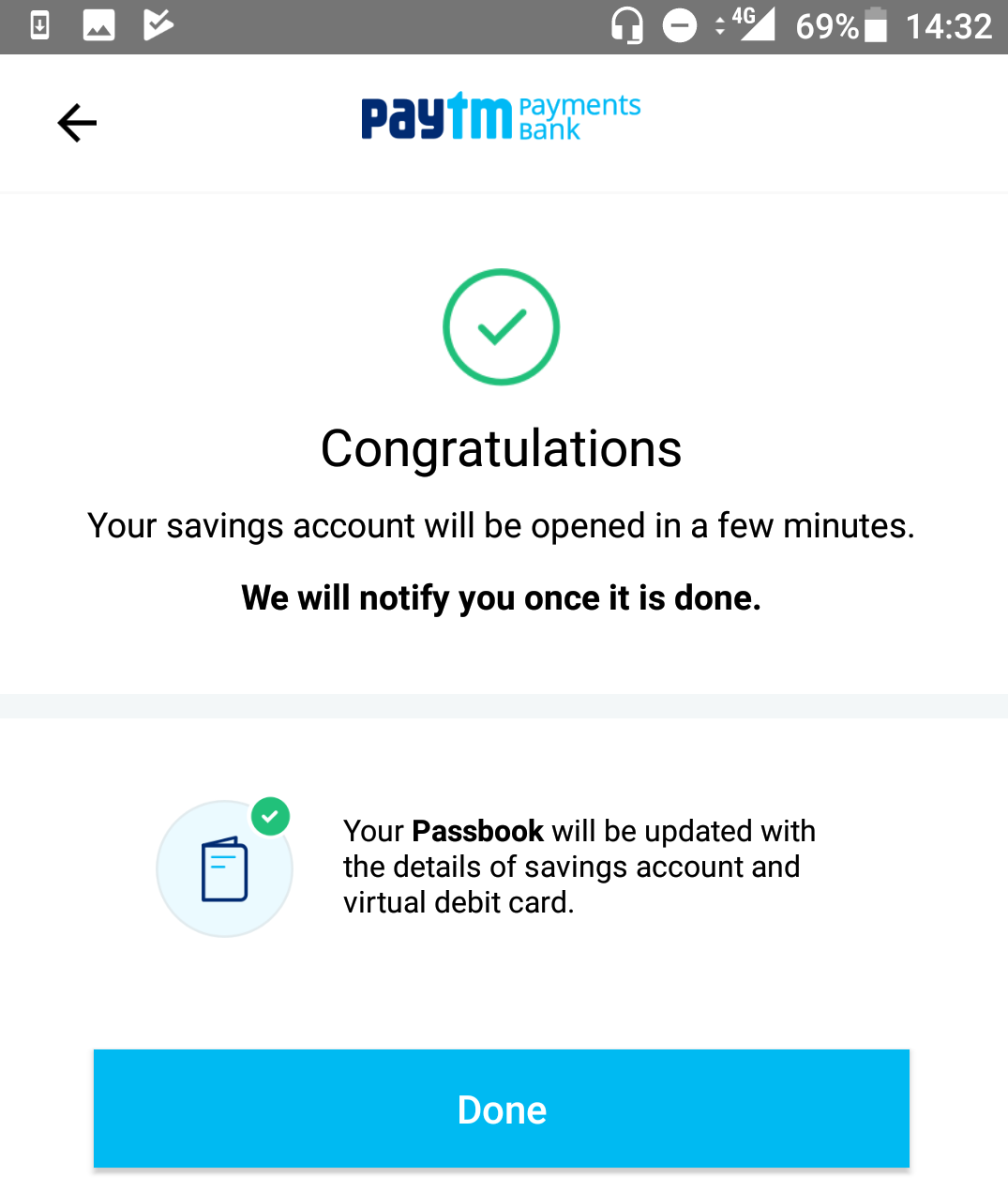 Post completing these steps, you'll receive a SMS from Paytm confirming the same. It will send a short SMS to update the status of your bank account. The steps to open a Paytm Savings Bank Account is very simple and doesn't take much time IF you have all the prerequisites in place. Also, another thing to note is that, your Paytm Wallet is separate from your Paytm Savings Account. If you were wondering that your wallet money will go to the bank then you are wrong. Savings account and wallet are separate. Also as of now you can only deposit money to your Paytm Bank savings account using NEFT and other services. You cannot 'load' your savings account like you load money into your wallet.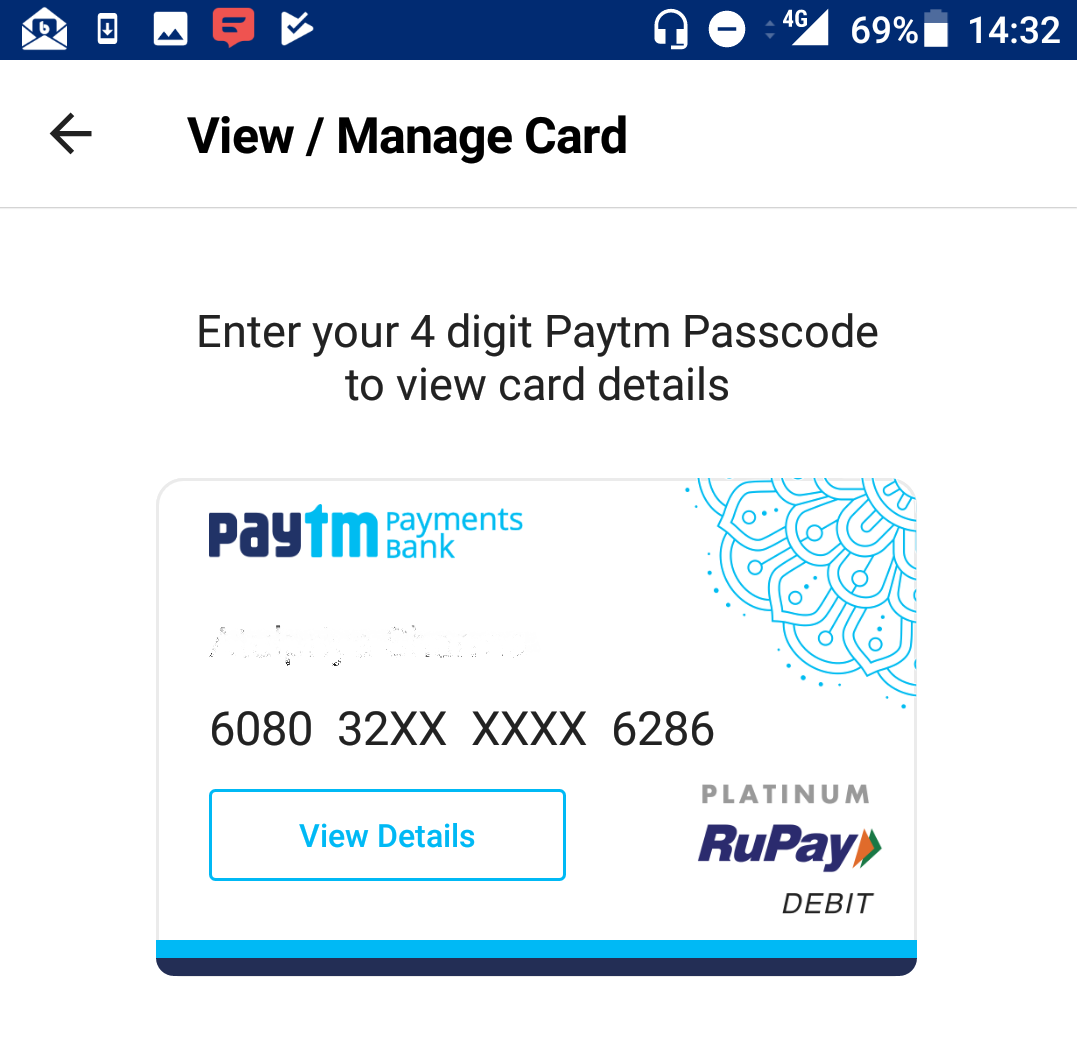 Benefits of Paytm Bank Savings Account
Paytm Savings Bank account provides a host of services. Apart from being able to open an account in minutes, Paytm Savings Bank Account provides the following benefits to its customers.
This is a zero balance account and you aren't forced to maintain any balance
Provides 4% interest rate (Airtel provides 7.5%)
Provides services like Cheque Book and Demand Draft (additional fee)
Facility of a Fixed Deposit (will be opened only if your wallet+savings account balance exceeds 1,00,000 Rs)
Provides a free RuPay card that you can use to make purchases
Cashbacks on deposits
Considering that Paytm was going to merge its wallet business into the bank, I was expecting the wallet and bank account to merge, but that didn't happen. So these were the steps to open Paytm Savings bank account. These steps are easy to follow and shouldn't take much time if you are a verified Paytm customer. With all the banking facilities in place, Paytm surely is foraying into the banking sector big time. Paytm already has such a large user base and they'll surely be trying to put this to use. With such a large user base, Paytm can expect to reach a large number of customers in a short time. Nice to see so many services around ensure we are moving faster towards becoming a cashless economy.
I hope this post about opening your Paytm bank account was easy to understand. The steps mentioned are easy to comprehend. If you have any issues, suggestions on the post please mention in the comments below. If you think, I've missed out on anything, do drop your feedback below or connect with me on Twitter at @atulmaharaj