Ola and Uber have engulfed the Indian intra-city commutation landscape. They had not only made the lives of the consumers easy but improved the driver's life too. They came in with huge discounts and free rides to attract consumers. Even the drivers were paid handsome incentives. Change my name if you didn't feel like becoming a cab driver after reading articles about them making lacs every month !
Come 2017, Hyderabad roads are overflowing with cabs. Free rides have disappeared and discounts have hit rock bottom. Peak Pricing kicked in making the lives of commuters tough. I remember Uber quoting about 1080 Rs for a distance of 24kms from my workplace ! Drivers too felt the heat as survival became tough. Courtesy: tumbling incentives. Many drivers I spoke to too complained that it isn't easy to be a cabbie now with stiff targets and meagre payout. So how to solve this problem. How can the consumers and the cab drivers be happy at the same time ?
Vihik Cabs – For the drivers, by the customers
The answer to the above question lies in Vihik Cabs. Brain child of Chaitanya Dudu and team, Vihik Cabs is our homegrown answer to Ola and Uber. Going by their tag line "For the Drivers, by the customers" Vihik Cabs have come up with a unique bidding system that helps you as well as the driver to decide the rate while booking a cab. The crux here is to be fair to the drivers and the consumers at the same time. The service boasts of a Facebook Chat-Bot that will allow you book a cab even when you don't have your phone around. With close to 1000 drivers already on the platform, we try to find out, Is Vihik Cabs our answer to Ola and Uber ?
The app that is available on Android and Apple, allows the users to negotiate with the cab driver directly to arrive at the final price. Let's say you want to travel from Gachibowli to Secunderabad. You simply key in the destination and the price you wish to pay. The request is shared with the drivers within 5kms from your location. If any driver agrees to your price, you're ready to vroom ! The payment mode is flexible and allows the customer to pay in cash or using PayTM. It allows the drivers to change the price on the fly, unlike Ola and Uber where the price per km is decided by the company and not the drivers. Also as a rider you can negotiate the prices with the cabbies. Hence Vihik is a win-win situation for cab drivers as well as the customers.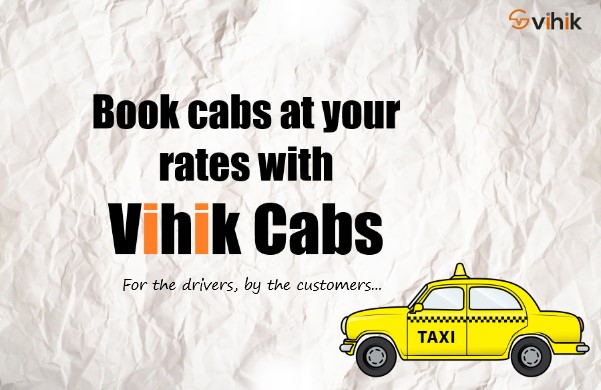 Why you should book cabs on Vihik Cabs ?
There are a lot of features that stood out for me which aren't available with other cab aggregators. And that's why I feel you should be giving Vihik Cabs a try. Below are 6 reasons why Vihik Cabs is going to transform the way we commute:
No Peak / Surge Pricing: There are no peak or surge pricing on Vihik Cabs. Yes. You only pay what you want to.
Driver and Rider both have a say: Unlike other cab aggregators, Vihik Cabs allows both the riders and drivers to negotiate and come up with a favourable price from the trip.
Trip Scheduler: There are times when you want to schedule a cab for a future date. Well Vihik Cabs gives you this option too.
Driver's Buddy: The app doesn't force a driver to choose a ride. They have the liberty to choose a ride too.
Choose your driver: With Vihik cabs, you decide whom you want to ride with. Found a driver with whom you travelled last time ? Well you can go with him too !
Instant Payouts for Drivers: What you earn  goes in your wallet immediately. With instant payouts, Vihik Cabs have answered the drivers call too.
Vihik Chatbot – book cabs using Facebook Messenger
With everyone hooked to the internet and social media, people want more and more services to be available on social media. Just like you can transfer money using hashtags, Vihik Cabs allows you to book cabs via Facebook Messenger. Vihik Cabs, riding on the wave of Artificial Intelligence, have come up with Vihik Chat-bot. This Facebook Messenger based chat-bot allows you to book cabs instantly. What more, if you don't have battery on your phone, you can still book the cab without downloading the app. This is a great feature especially for folks with not-that-high-end smart phone that can have hundreds of apps installed. Many a times, you travel from your drop location via public transport. This chat bot even provides you real-time information on buses and other modes so that you can book your cab accordingly. Watch the video below to understand how Vihik Chat-bot will help you in booking a cab.
Logon to Messenger and search for Chat Bot. The Chat bot will help you to register on Vihik Cabs if you are not already. Once registered, you can simply enter your query and the intelligent chat bot will book the cab for you. It's a nice way to book cabs without missing out on a single post on Facebook ! Every other cab company provides customer support over Messenger, but Vihik Cabs is probably the only company that allows you to book cabs over Messenger. Another reason why Vihik Cabs is the Ola, Uber killer.
Refer 3 friends and get movie tickets
It's nice to see someone thinking about the other side of the story. Giving huge discounts to consumers and taking away everything from the driver isn't the right thing. Going with the same ideology, Vihik Cabs is helping the drivers have their say in the cab booking process. With benefits like no peak pricing and choosing your driver, you should give this a try. For a driver, the payout is immediate with a relatively less commission taken by the company. Also the company will have autos onboard the platform along with foraying into park & earn and self-driven cars segment soon.
I'm sure, you liked the concept just the way I did. So why don't you try the service ? Vihik cabs is running a promotion currently wherein if you refer three friends to the platform, you would win free movie tickets ! So download the app, register and starting moving around at your will. Get the apps for your Android and Apple smartphones and start exploring !
What do you feel about Vihik Cabs ? Like it ? Dislike it ? Mention your views in the comment section below or tweet to me @Atulmaharaj. You can get in touch with folks from Vihik Cabs here: Twitter and Facebook.