I believe that there should be rules in place that issues/bugs are raised only mid week so that they can be fixed by weekend. Unlike how it was at work yesterday, have been in a firefighting mode for past couple of sprints, but everyday there's fire at some place or the other. Eventually, after spending close to 12 hours, I was like I need a break ! And what better break than meeting friends over a wonderful dinner – our so called Annual General Meeting 😉 We all decided to hit Feast, Sheraton Hotel in Gachibowli since it is quite close to where most of us work. Like always, here's a review of Feast, Sheraton Hyderabad.
Quite and Harmonious Ambiance at Feast
Sheraton Hyderabad is located in Financial District in Gachibowli with most of the prominent offices around. Being close to a major junction, surprisingly it is pretty quite inside. I didn't feel for a second that there's so much traffic outside ! The entrance is grand, but there isn't the usual huge reception. Maybe that's how they are. Once inside, you have an open bar/cafe of the right playing live TV. On the left you have Feast restaurant. There's live music performed by foreign artists and they're damn good ! That livens up the entire atmosphere there.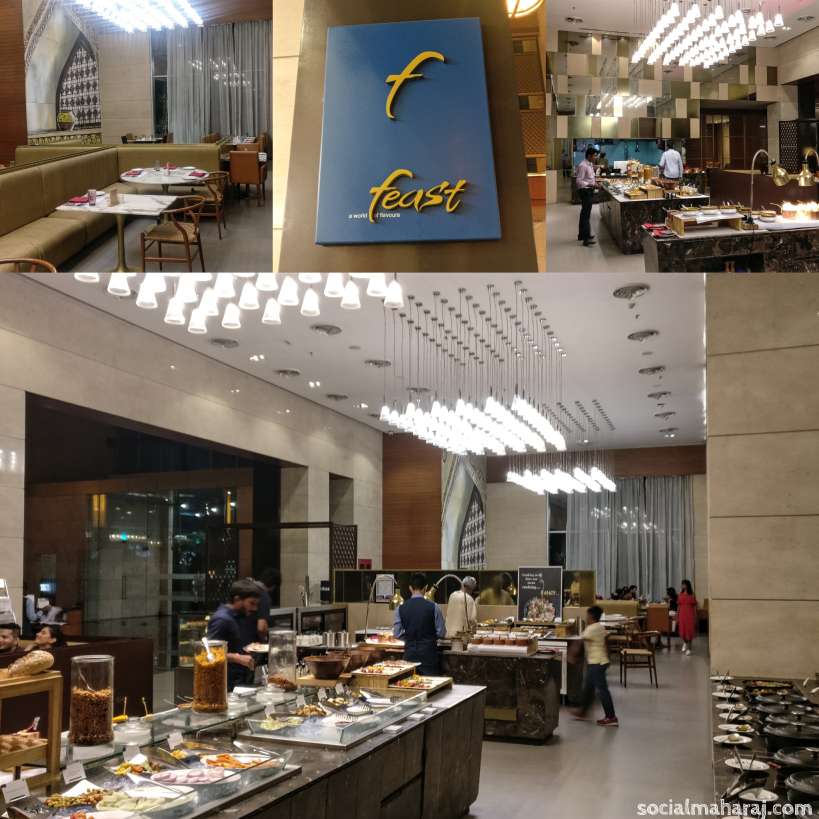 Feast is their multi-cuisine restaurant serving both buffet an a la carte. The interiors are alluring, just what you would expect from a star hotel. I however felt that the restaurant isn't quite spacious though they've tried to manage the space well. The buffet area can get crowded as everything is concentrated at one place. They do have small dessert counter and a live counter dishing out Rotis, Pizzas and Pastas. Overall, a good place with a wonderful ambiance, good lighting and harmonious music.
Garhwal Food Festival at Feast, Sheraton Hyderabad
One of the good things about these restaurants and star hotels is that they have frequent menu refresh and food festivals. This time around Feast is celebrating Garhwal Food festival and bringing the Garhwali cuisine to your plate. We had opted for a dinner buffet and the Garhwali food was a part of of it. We were utilizing our Dineout Gourmet Passport offers on 1 + 1 buffets. Read my post on Zomato Gold vs Dineout Gourmet Passport if you are confused and looking for exclusive offer on both. Anyways, let's continue with the Garhwal Food Festival at Feast, Sheraton Hyderabad Buffet review.
Desi & Videsi starters
A complete area is dedicated to starters and has a mix of both desi and videsi dishes. Last night for vegetarians there was Cheese Balls, Aloo Akhrot ki Tikki, Fermented Chilli with Cottage Cheese (Chilli Paneer), Baked Aubergine and Mexican stir fried vegetables. Along with that there was a veg Noodle Soup and a Tex Mexican non vegetarian soup.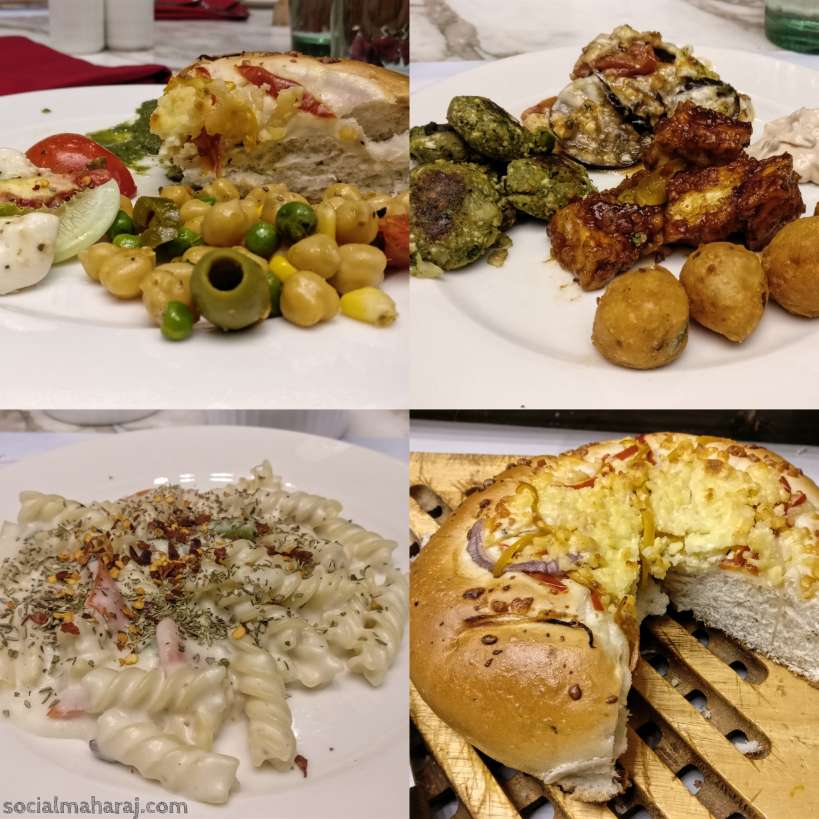 There was also a variety of bread and cheese along with make-your-own salad bar. The breads were quite soft and I had a couple of them. On to the taste, my favorite of the night was the Aloo Akhrot ki Tikki, a wonderful amalgamation of flavors with a tinge of tanginess. A perfect desi starter. I had a lot of them, they were tiny so never bothered to count 😛 The Aubergine was delicious too and so were the other items. Cheese balls could have been done better, I've had better ones at The Roastery Coffee House. There were a couple of chicken dishes for non vegetarians. The variety and taste of starters was good.
Main Course – Taste of Garhwali Cuisine
This was the first time all of us were trying out the Garhwali cuisine. We had a lot of lentils based preparations – Dal Badi ka jhol, Kandali ki Kafuli, Jangore ki khichdi and Chanso along with Mandve ki Roti. I called up Chef Sohan Singh who gave more details about the dishes and overall Garhwali cuisine. A course on what you eat, before you eat is a must ! Thanks Sohanji for this.
Like I said, it was my first time trying out the Garhwali cuisine. My favorite of the night were Chanso and Jangore ki Khichdi. I'm found of items that I can chew and these were exactly that. I initially felt these were made of daliya but they weren't. The taste was simple and subtle and gave a typical home cooked taste. Chanso is a black dal preparation which is very coarse and one may feel like you are having badi/bari (I don't what you call it in english, Bihar/UP/Odiya folks know what this is) Jangore is a type of rice eaten in the region. It's again rich on fiber and very chewy.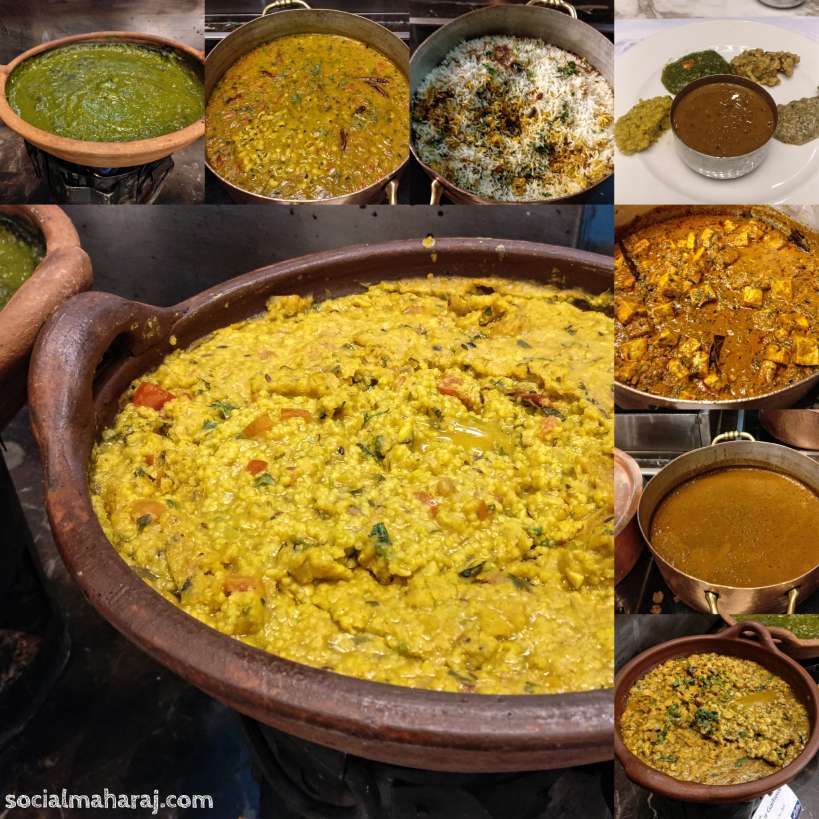 Apart from this, there were the regulars Kadhai Paneer, Dal Makhni, Subz Nizami Handi, Steamed Rice, Veg and Non Veg Dum Biryani and rotis. For non vegetarians there was a mutton and chicken curry. Kadhai Paneer could have been done better, the Paneer wasn't the freshest of all. Dal Makhni was good but lacked the Makhni Punch. The flavors were muted a bit. Nevertheless, I enjoyed my phulkas with Dal Makhni. Overall, I'd say the main course preparation is good and there's everything for everyone.
The Dessert Bay
We ate our hearts out and even then we didn't want to miss out on the desserts. The desserts bar is quite congested and there are high chances that you'd bump into someone. It's good if you are looking for someone. IYKWIM 😉 Since it was the Garhwal Food festival at Feast Sheraton Hotel, there were some delicacies from the region. There was the famous Bal Mithai, Kala Jam, Malpua, Ras Malai, Rabri(Sugarfree) and Kheer. These were accompanied by variety of pastries, cakes, chocolate brownie and ice creams.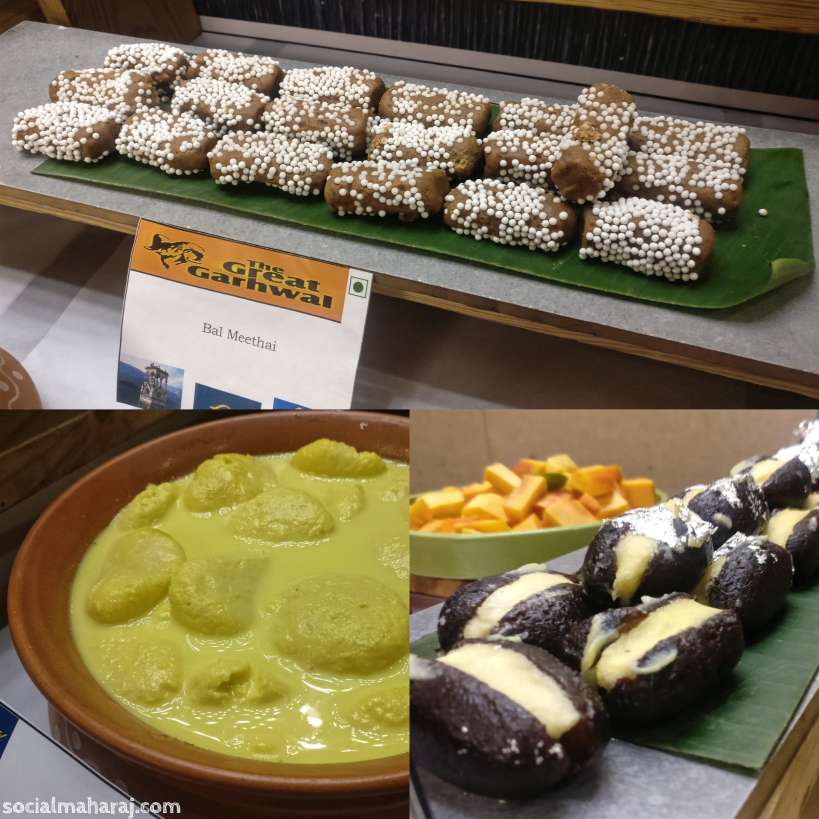 The star of the night for desserts had to by the Rabri. It had a balanced taste with less sugar just what I like. After a long time I enjoyed a dessert in a buffet. Ras malai was another item I liked, however the ras gulla in it were hard and should have been a little soft. The Kala Jam was again flavorsome but was too sweet. Unanimously we all felt the desserts were quite on the sweeter side but were flavorful.
Final Verdict: Do Try Feast Sheraton Hyderabad Buffet
This was another restaurant I had been wanting to go for a long time. The initial vibes in the hotel are very relaxing and you can spend hours there. Feast has good everything a good restaurant should have – courteous staff, good food and ambiance. The space was a constraint for me especially the buffet area. There were few hits and misses with the food, but overall a very good preparation. For Rs 1750 AI, the buffet at Feast, Sheraton is good and one should try it out sometime. A big shout out to Chef Sohan, Ajay and Alisha for ensuring we had a good time. That's it from me, time for your say. How has your experience been at Feast Sheraton hotel ? Mention in the comments below or tweet to me at @Atulmaharaj