The phrase 'Tis the season' is used predominantly for the year-end holidays in the west. However, cricket being a religion in India and the ICC Cricket World Cup being a festival I'd say 'Tis the season'. I've been playing (not now) and following cricket ever since I got into school. Back in the hostel at NEHS Panchgani, I played professional cricket. Wanted to be a batsman, but became bowling all-rounder. Right-hand bat, Right arm medium. Be it my desktop or mobile, I always have a live cricket score ticker running. With the world cup barely a few days away, I'm all geared up for it. Aren't you?
Cheering up for Team India
Though this is the youngest (in terms of world cup experience) team India is going in with, the excitement is top notch. There's a lot of expectations from the team with each and every one. And we're sure that the team will do well, though the warm-up games didn't quite go our way, we'll come back hard. And as fans, it's important to cheer for the team. For some crazy fans like me, a team jersey, a cap, snacks and cold drinks are important. This time around I also decided to buy world cup inspired cricket shoes online. Not the spikes type ones, but the regular ones. So there's going to be a complete cricket fever at home. The match schedule is already set in my mobile so that I don't miss out on any match!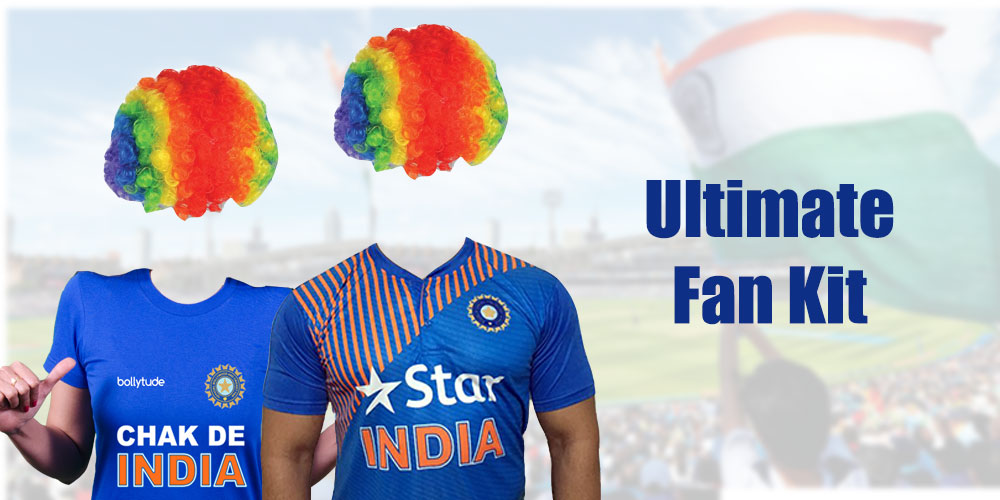 The Ultimate Cricket Fan Kit
Being a fan and supporting your team isn't just about tweeting or sharing statuses, it's about feeling the emotion. Being passionate. And that can come if you have the Ultimate Cricket Fan Kit. Yes, an ultimate Cricket fan kit contains everything a crazy fan needs to have. So what exactly an ultimate cricket fan kit consist of?
What is a kit without a team jersey? The team jersey is a must. And if it has your name on it, nothing like that. Wearing a team inspired jersey is a great way to show your support for your team.
If you've got the jersey, what about the trousers? You can not simply wear anything with your team jersey, you need some great comfortable trousers too. The World Cup 2019 matches can go long, you need to be comfortable all the time.
The ultimate cricket fan kit is incomplete without a pair of perfect cricket shoes. A comfortable pair of cricket shoes are a must. The best part is that you can buy cricket shoes online and get them delivered at your doorstep.
Also, a headgear is a must too. Whether it's a standard team inspired cap or a funky one. Even a colorful cricket wig goes well with the entire look.
Benefits of the ultimate cricket fan kit
Don't you think the excitement would skyrocket if India vs Pakistan actually happened! It has happened always, what do you think? Will it happen this time? Anyways, If you are a crazy cricket fan, you should definitely have this fan kit. The ultimate cricket fan kit comes with a whole lot of advantages. Some of them can be:
The entire kit can actually be worn wherever you go. Taking a walk in the garden, visiting the mall or even hitting the gym, the entire kit goes well.
One of the biggest additions in the fan kit is the cricket shoes. Pair them up with the fan kit or any casual kit and you're good to go. There are so many options to choose when you buy cricket shoes online.
Even if the world cup is over, you can use the fan kit to support your favorite team during any other matches too. See it as an investment 😉
So when are you getting your ultimate cricket fan kit? I've listed all the items I felt should be a part of the fan kit. If you think I've missed out anything and you'd want to add. Feel free to drop a comment below or tweet to me at @Atulmaharaj