Like last year, this year too will start with a Food blog post. Happy New Year 2020 ! The first post of the year for past few years has been the review of the New Year's dinner I've had on 31st December. For the past few years, I've been dining out with family on 31st. The restaurants we visited on 31st till now are Ohri's Jiva Imperia, Bikanervala, Tatva, Diner's Pavilion ITC Kakatiya and yesterday at Fairfield by Marriott. This post is about my experience of New Year Dinner at Fairfield by Marriott Hyderabad.
First New Year's Dinner at Farifield by Marriott Hyderabad
Fairfield by Marriott have recently opened in Hyderabad and this one was their first New Year's Dinner event. If you've been following my post, I was here for their Christmas Dinner preview a week ago. I was looking for an option for a family dinner and after going through the various quotes I got, decided to revisit Fairfield by Marriott Hyderabad. The New Year Dinner was taking place in Palms Kitchen, their all day dining restaurant. From my last visit, I knew that the place is small and might not have many people turning up for the New Year.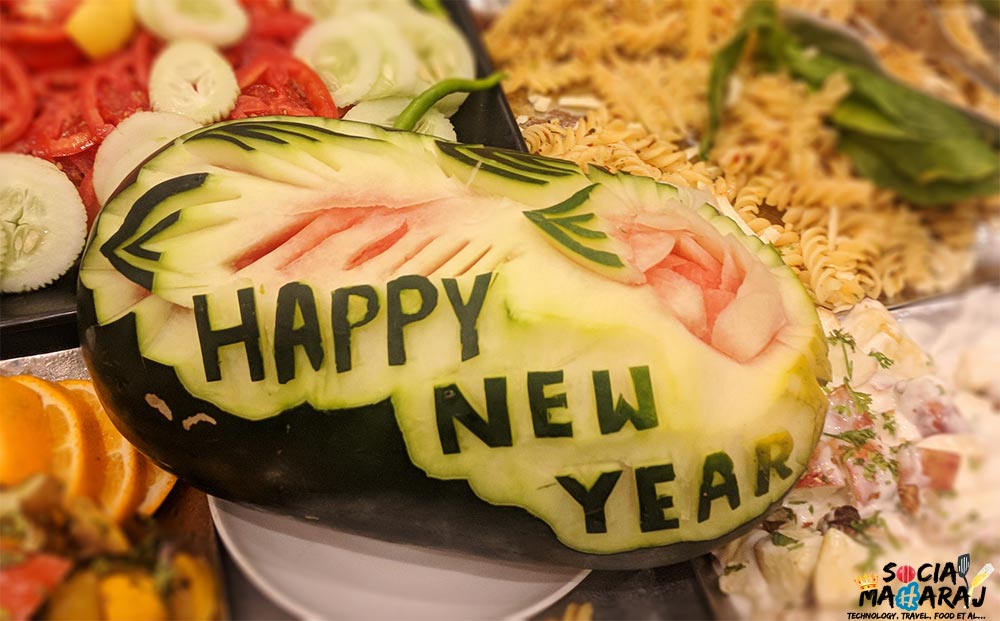 However, the crowd proved all of us wrong including the staff at the hotel. All of were overwhelmed to see the number of people pouring in. I even spoke to the Sales Head and he agreed that they had 4 times more people than they anticipated. It's a great sign. However this led to chaos. The premise is small and there were a lot of people. The table allotment was also not up to the mark as people who had prior reservations didn't have well defined places to sit. However, I'd thank the team for ensuring that I got a place to sit although I expected a better seat.
Ambiance of Palms Kitchen
It was all bling-bling at Palms Kitchen. The narrow entrance was narrower last night due to the sheer number of people pouring in. The seating area seemed small but the seats were comfortable. The buffet area was nicely laid out with salads, desserts and starters at one side with the main course on the other as you walked down the aisle to fill your plates. They also had a seating in a small garden they have outside. There was a bar setup outside along with a live DJ mashing up some good music. I was first taken to the garden area to sit, however that was too loud for my preference and hence requested for a seating inside. All their private dining rooms, conference rooms were already full and it took some time for them to find a place.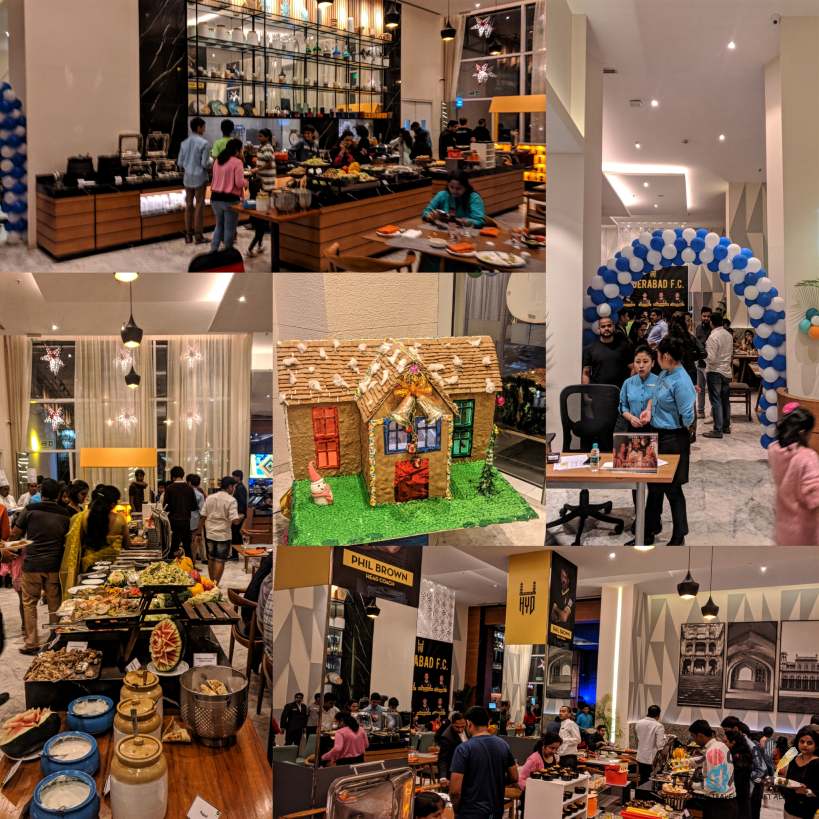 Delish New Year Dinner at Fairfield by Marriott
I had a rather muted experience after my Christmas dinner here due to the lack of vegetarian dishes on offer. The story of the New Year Dinner was far from that. It was a good mix of Indian and Asian cuisines on offer for the New Year Dinner. However, the spread was small compared to the last year's New Year dinner I had at ITC Kakatiya. There were 3 vegetarian starters along with few salads. 4 Indian main course offerings with 3 Asian and 2 rice preparations. The dessert spread was less as most items contained egg. For drinks, there were unlimited drinks on offer. However the variety of mocktail were on the lower side.
Starters – delicious way to start the dinner
The three starters that were served were Corn Arancini, Badam Kebabs and Paneer Tikka.The Kebabs were nicely done and had the perfect texture. Further it was slightly on the sweeter side. The Corn Cheese Arancini tasted like regular cheese balls that I've had at other places. But the Dal Chawal Arancini at Farzi Cafe is class apart. The Paneer Tikka was well marinated and tasted good. Huge chunks of Paneer with equally big Capsicums and Tomatoes. Overall, the starters were quite nice.
Yummylicious Main Course at Palms Kitchen
As mentioned earlier, the buffet spread wasn't too much. However, the items they served were bang on – atleast the vegetarian dishes. We had the a Paneer preparation (I'm sorry I missed taking a photo of it & hence don't remember the name) The Paneer was fresh and the tangy gravy was spiced to perfection. The next dish was Dhingri Makai Palak and it was prepared nicely too. The rich palak gravy with corn and mushrooms was good on taste. Then there was a local dish Dondakay which is my favorite. Kadhi Pakodi was a surprise as you don't see Kadhi often. The Kadhi was better than what I've had at many places. Not too sour and Pakodi were delish. The consistency could have been more thicker.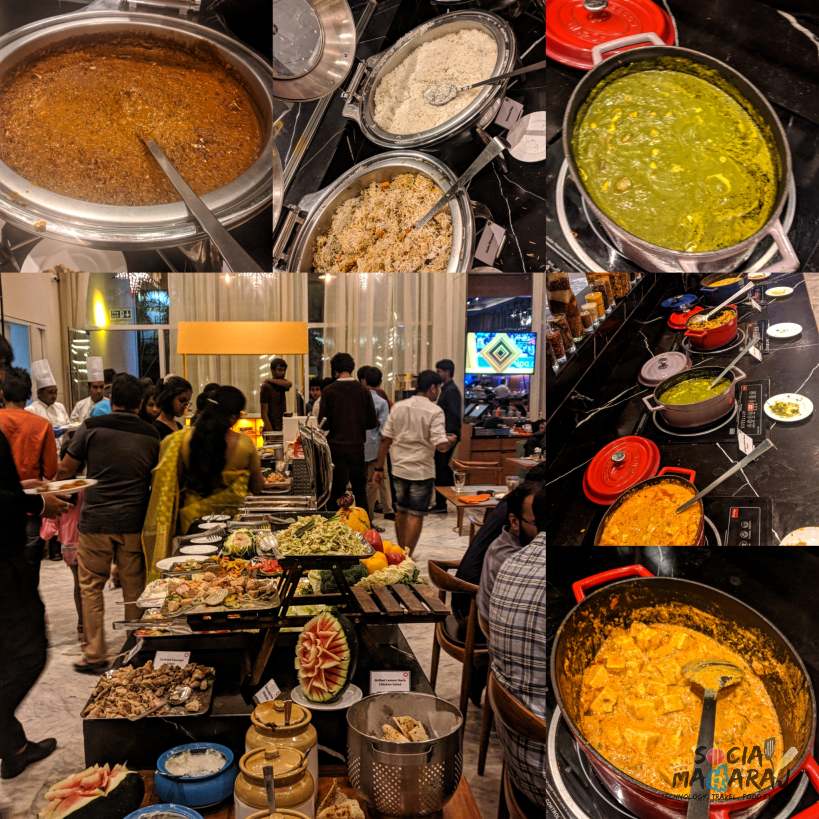 Last but not the least – Dal Makhni. I fell in love with it ! You all know the Dal Makhni fan I am, this was one of the best I've had. Can surely be in my list of best Dal Makhni in Hyderabad. Was perfectly cooked and had the right taste. Didn't have much of the Asian food offering as I gorged on Dal Makhni & Roti.
Desserts & Drinks
As the night sunk in, people grooved to the tunes. There were quite a few people dancing outside. Myself and dad shook a leg too. Only to realize that we were dancing with the Head Coach of the Hyderabad FC – Phil Brown ! Couldn't have asked for anything more. There was a variety of cakes and pastries on offer and most of the had egg in it. Gulab Jamun was there but I gave it a miss as I gulped down quite a few glasses of aerated mocktail – Virgin Mojito. The drinks were pretty good however not much for teetotalers like me.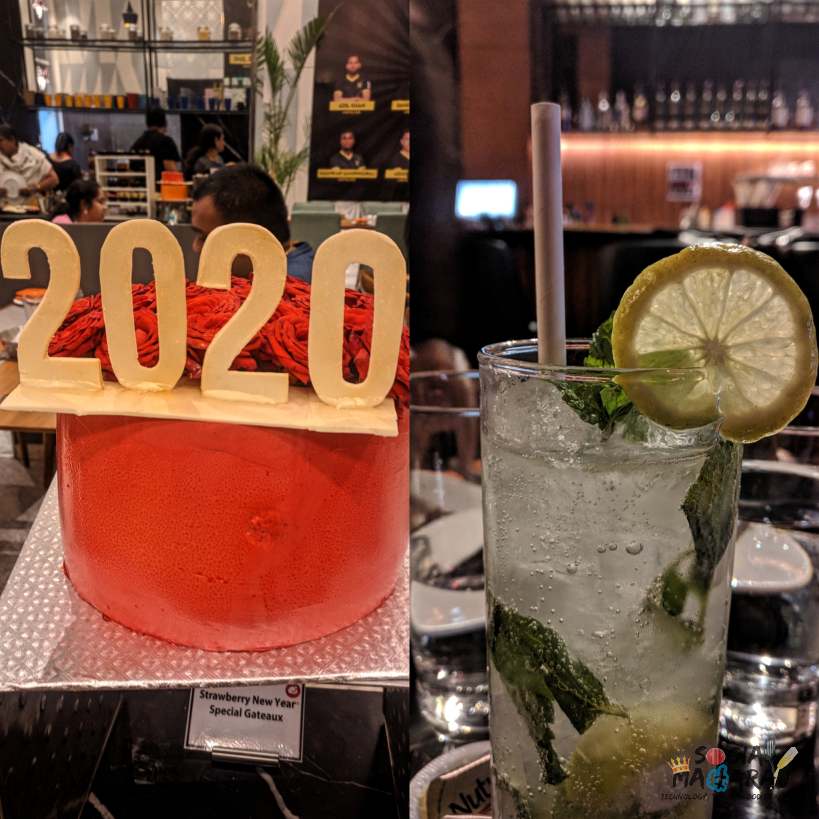 Final Verdict: Ordinary Setup with delicious Food
New Year Dinner is a special one for most of us. Many people head out to parties to ring in the new year. Likewise, I decide to go on a family dinner every 31st. This time around I decided to revisit Fairfield by Marriott Hyderabad for New Years. Since this was their first New Year event in the city, the setup was feeble because of the overwhelming response they got for the new year dinner. Lots of people coming in at a small space like Palms Kitchen meant everything took a hit. Except the food. I was happy with the vegetarian offerings and all of them were pretty good on taste. Dal Makhni was superb and so was Paneer and Kadhi.
I paid ₹5500 for 3 people for the New Year Dinner at Fairfield by Marriott and felt the buffet spread could have been better – live counters, desserts variety could have been added. However, no major complaints as this was their first event and the response would surely prepare them for the next one. That was how I rang in my New Year. How was yours ? What did you do ? Mention in the comments below or tweet to me at @Atulmaharaj and follow me on Instagram.