Calling myself a Foodie-Engineer, I've abundant love for food and gadgets. Be it Paneer Butter Masala or iPad, I'll love them equally! Though we are in tough times due to the pandemic, I had quite a joyous time last month when I won an Apple iPad. Though I have two iPad Minis at home – iPad Mini first gen and iPad Mini 4th gen, winning one is a completely different feeling.
Being a tech enthusiast, I started looking for accessories for my new iPad. And the first thing my eyes landed on was the Apple Pencil. But priced at almost ₹9000, I didn't find it justified for my casual usage. Hence started looking for Best Apple pencil alternatives and stumbled upon Case U Stylus. How is it? Here's my Case U Stylus review
Best Apple Pencil Alternative?
I'm sure there will be a lot of people who love to accessorize their gadgets. Be it as simple as a case or as swanky as a battery-powered case or Apple Pencil. Since this was the newest generation of Apple iPad that I won, I wanted to see what all I could do with it which I couldn't on my iPad mini. Apart from the screen size and the bumped up internals, there's frankly not much of a difference between the two.
However, the stand out features that the new iPad has was support for Apple Pencil. The iPad that I won supports the 1st generation of Apple Pencil. And most of the newer iPads support Apple Pencil 2. As for the difference between the two is about technology and charging. Now, I was tempted to try it. So even before the iPad was delivered to me, I had my eyes on the Apple Pencil which costs about 9k. But after spending time on reading reviews and watching youtube videos realized that maybe 9k wasn't worth the random, casual usage I might have.
Thus my hunt for the best Apple pencil alternative started. There are quite a few stylus pens available for Apple iPad, however, not all of them support all the features. So after long research, I zeroed in on the Case U stylus pen for Apple iPad. It's been over a week since I'm using this and frankly I just can't get over it!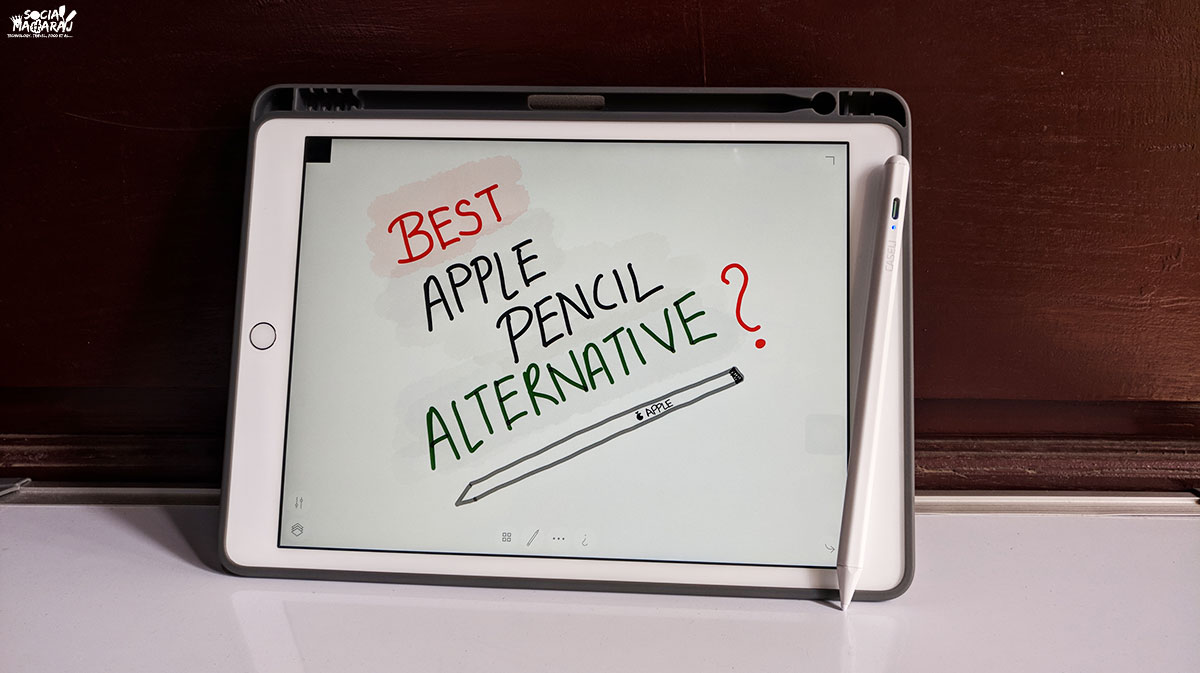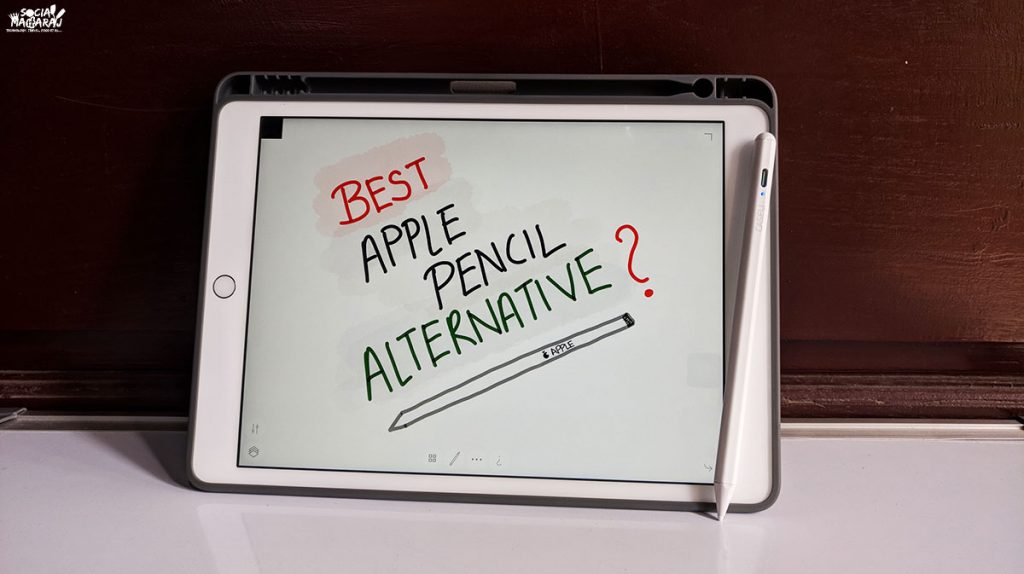 Case U Stylus Review
Before I start, let me clarify that this is a Made in China product marketed by and Indian company. Just in case if that tops your criteria, you can look for Logitech Crayon that costs about 7K. The Case U stylus was delivered in a couple of day's time as promised by Amazon. However, the product still shows Pre-Order.
Simplest Packaging ever
I was excited for the parcel to arrive and my eyes were on the main door and my phone expecting a call or a person to show up. Eventually, it was delivered at 8 PM, 1 hour before the promised time. The packaging is quite simple(cheap). It has the stylus in a cheap plastic container (similar to those cream biscuit tray). Lifting that up, you'll find a USB Type-C charging cable and two additional tips.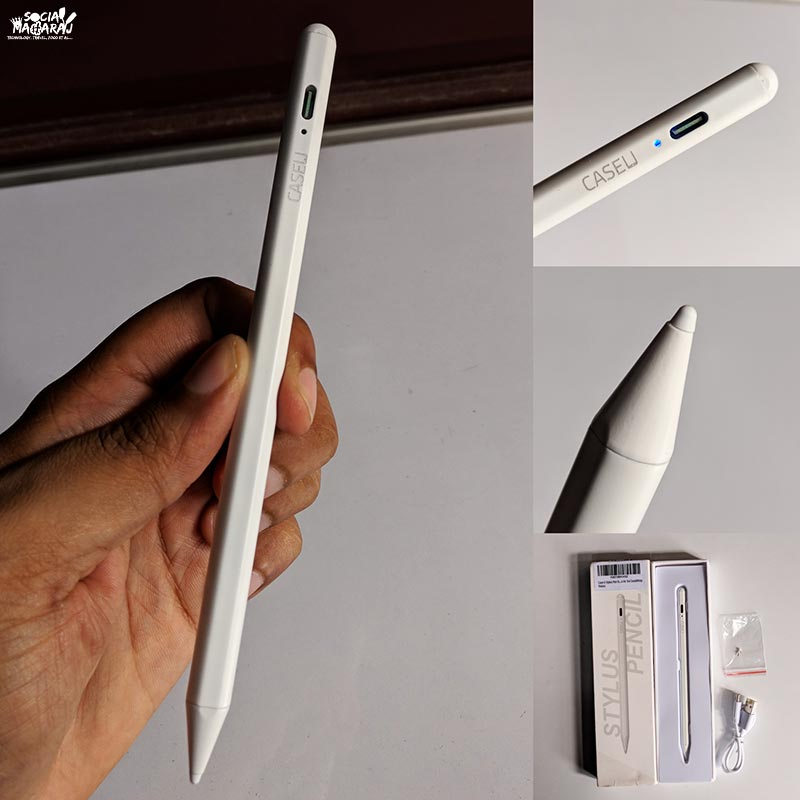 Based on my research, the Apple Pencil doesn't provide an additional tip, Logitech crayon provides just one additional tip while this Case U stylus provides 2 tips. The worst thing was there was no user manual inside. So had absolutely no idea how Case U stylus works, pairs to iPad, etc. A manual was much needed.
Build Quality of Case U Stylus
The stylus quite resembles the Apple pencil from a distance hence an Apple pencil alternative. The Case U stylus is white in color with an LED and type C charging port at the top. By default, the LED will be in an off state. To turn on the stylus, double tap on the top, (just like you would do with a pen) a blue LED will glow meaning it is in use.
The charging status LEDs are different. So once you plug in the charger (you need to push the pin harder to ensure the pencil charges) the LED turns RED indicating the pencil is charging. Once the charge is complete, it will turn green. As for the charging times, I haven't yet calculated the time, I just plug it into my laptop and pull it off once it turns green. As per battery life, they say it works 4-5 hours on a single charge, again, I haven't used it at a stretch for so long. But quite satisfied with the battery.
Case U Style Usage Review
If there was an award for the simplest setup of a gadget, this would probably be in Top few of that league. All you need to do is take the Case U stylus and double-tap. A blue LED glows and it's already paired! You don't need to go to the settings options on your iPad to pair this. Just a double-tap to connect and disconnect.
As for usage, the Case U stylus is buttery smooth. The stylus's response time is quite low, and writing on the iPad is instant. Taking notes is a breeze as the Case U stylus has palm rejection enabled meaning you can rest your palm on the iPad and use the stylus normally without any problem. Moreover, with the latest iOS update, you will be able to search your handwritten notes! iOS is able to identify your handwriting and will showcase the notes in search results, amazing isn't it?
Case U stylus works with iOS's latest scribble feature. The scribble feature allows you to write directly into a text field instead of typing and iOS will convert your handwriting into text. For example, if I want to browse Socialmaharaj, I simply open any browser, take the pencil and write socialmaharaj.com in the address bar. iOS will recognize it, convert it to text and navigate! Super cool, isn't it?
However, my favorite part with the Apple pencil alternative Case U stylus is drawing and painting. Ever since I was a kid, drawing and painting is something I always enjoyed though. Though much of it has condensed into doodling, I enjoy doing it. So when I got the pencil, the first thing I did was download a coloring app Pigment is what I downloaded, and below is one of the colorings that I've done. Hows' it? The Case U Stylus comes with Tilt and pressure detection making it a good choice for beginner artists.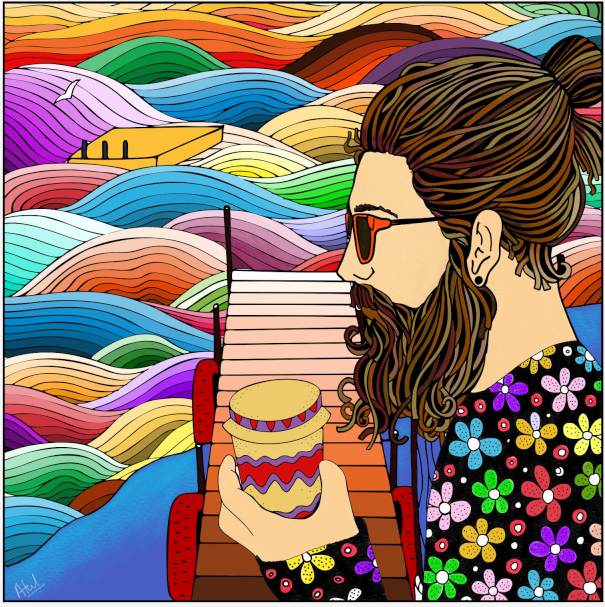 Final Verdict: Truly the best alternative to Apple Pencil
Priced at just half of the Apple Pencil, the Case U stylus is perfect for anyone who is looking for an Apple pencil alternative that works! The Case U stylus has a good build quality and amazing response time while writing. It has features like tilt and pressure detection making it good for beginners starting out to paint. I'd recommend getting a case for your iPad that allows you to have your Case U stylus with it all times. I got this one in case you're interested.
Overall, a great product at an affordable price. At ₹3600, this is probably the best accessory I've got for my iPad. Plus iOS makes it much more amazing. What are your thoughts on this pencil? What would you do if you had one? Mention in the comments below or tweet to me at @Atulmaharaj or DM me on Instagram.
I am taking my blog to the next level with Blogchatter's #MyFriendAlexa.