The hotel booking market in India is heating up and is probably at its peak now. To beat the work related stress, consumers are planning weekend getaways more often that is resulting in increased demand of hotels. Oyo has certainly changed the whole hotel booking ecosystem with its 'Uber like' approach of being a hotel aggregator. Following the immense success of Oyo, we had a lot of services coming up like Zo rooms, Stayzilla to name a few. Even the biggies like MakeMyTrip, Yatra had to come up with rock solid approach to tap the hotel boom. Amongst all these services, there was one internationally acclaimed provider stepping in the Indian market – Airbnb. Most of you would have read about Airbnb (and the fact that Oyo is a desi version on Airbnb) and probably used it if you happened to stay in a foreign country. Nevertheless this post today will talk compare the services of Airbnb and Oyo in India based on my experience – Airbnb vs Oyo – All you need to know !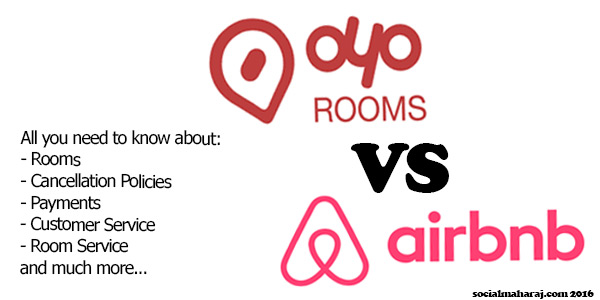 I am an avid traveler and you can guess that from the hundreds of travel posts I've written. I had first tried Oyo rooms when I visited Visakhapatnam and that probably changed the whole landscape. Ever since Oyo has been my first choice for booking hotel rooms at 'affordable' prices. From complimentary breakfast to WiFi, the services Oyo is providing is pretty good. I've stayed at Vizag, Pune and Mumbai with Oyo and have had an amazing experience always. However during my last trip to Panchgani, I was suggested to try out Airbnb for a change. I was reluctant at first for the sole reason that I didn't want my trip experience to be bitter. Nevertheless, we stayed at a bungalow in Panchgani and it was indeed a different experience. So having used both the services, here's my post – Airbnb vs Oyo – All you need to know !
Airbnb vs Oyo – all you need to know !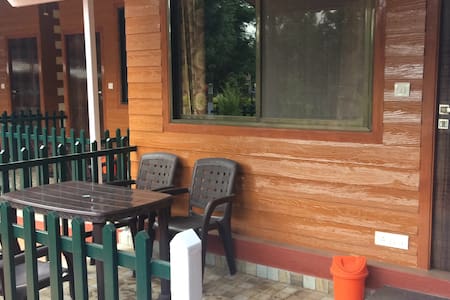 Types of properties
Both Airbnb and Oyo are hotel / room aggregator service providers. (Some might say that oyo owns many properties, but all the ones I've stayed were proper hotels providing their services to Oyo). While Oyo has more hotels under its belt, Airbnb on the other hand has more residential properties onboard. So if you are willing to stay at someone else's house (probably even in a separate room of the same house) then this should be your choice.
Airbnb lacks room service
Since Airbnb is more of a home stay service, please don't expect a hotel kindof service. There's no room service ! Many places – especially where you are provided with entire apartment – often have a kitchen setup with all the basic necessities. However, you need to have the raw materials. So if you are willing to purchase groceries and make dinner while on a holiday, Airbnb is for you. But if you are looking for a proper hotel where you can order anything you like, Oyo is for you. During my last experience with Airbnb, there was no drinking water available at the place, so we had to carry mineral water with us.
When locality is important
Since Oyo rooms have more hotels on board, you are guaranteed of a good location and surroundings (read safe) as most hotels are at prominent locations. While Airbnb allows anyone to rent out a room, you don't know how the locality would be. If you are lucky you might be staying at a posh apartment in a gated community while if you aren't you might be staying in the last bungalow of a society on a hill which doesn't even have a proper road. Because Google Maps don't exactly show the surroundings and the type of roads, you might be in for a surprise just like I did !
Flexible Check-in and Check-out
The Check–in and Checkout times are very Flexible with Airbnb I must say. Oyo has been very strict with this – I remember to have kept waiting for almost 2 hours just because I reached the hotel early. I know that Oyo has started Early check ins now, but I'm quite sure Airbnb is better in this case. Even though the Airbnb listing says a particular time, you can get in touch with the owner and decide a particular time.
Cancellation Policy
As mentioned earlier, I've been a frequent user of Oyo rooms. However I've never cancelled a booking from my end. There have been couple of instances where my booking was cancelled by Oyo but was eventually upgraded to Oyo  Premium. However Oyo's cancellation policy seems fair and is applicable across India. On the other hand, Airbnb has a couple of types of cancellation policies, and it depends on what the owner is using. Well, that's kind of confusing as you need to read cancellation policy of the home stay you are booking because all of them aren't the same.
Customer Service
Customer Service of Oyo is pretty good. Be it twitter, in app or call, they are always there to fix things up. However, based on my experience, I felt that missing in case of Airbnb. There was only person of contact and that was that owner itself. So in case of any disputes or something, I guess we have to deal with the owner first and then probably see how to get in touch with the customer care.
So this was all about Airbnb vs Oyo. Having experience both the services, I thought this might be helpful for many. If you are looking to spend a relaxed holiday with an entire bungalow for you (and if you don't mind cooking) then Airbnb should be a perfect choice. However if you are the conventional types and always dialing the number 9 for Room service, then Oyo will certainly not disappoint you. In the end the choice is yours, staying at a hotel in Goa or relaxing at a private bungalow near the beach. What would you choose ?