Maximum City, City of Seven Islands or the City of Dreams, Mumbai has a lot of nicknames and why not this is the one place in the country where you can find the best and worst of everything. People flock to Mumbai to fulfil their dreams, millions come down to the city, thousands get an opportunity while only a handful actually achieve their dreams. I had been to Mumbai earlier but that was only for a change in flight terminals, so technically I hadn't visited Mumbai. Last week, I had planned a trip to my school along with my friends and this was technically and officially my first visit to the Maximum city and it was time for exploring Mumbai !
The journey to Mumbai was a smooth one, thanks to Indigo for that. I knew that the Mumbai Airport had changed a lot so was expecting a huge change. Well, I did find a lot of change, but t couldn't compare it with the terminal at the Rajiv Gandhi Airport here in Hyderabad. (at least the domestic terminal) Even after walking out of the building, I didn't find the place that clean. Anyways, I reached Mumbai at about 7am and had about 8 hours in hand to experience the best of the city as I was travelling to Panchgani the same evening. So here's how I went about exploring Mumbai in 8 hours !
Exploring Mumbai in 8 hours – here's how
The first destination on my list was Gateway of India which is right at the tip of Mumbai. So, I was travelling from the so-called heart of the city – Andheri to the tip of Mumbai – Colaba. The distance was huge, close to 30kms and the ride time was approximately an hour and a half. Since it was morning and a week day, there wasn't much of traffic. So started the trip by grabbing a plate of Vada Pav. To save time the cab driver decided to take us through the Bandra-Worli Sea Link, so was lucky to get a glimpse of this architectural marvel too.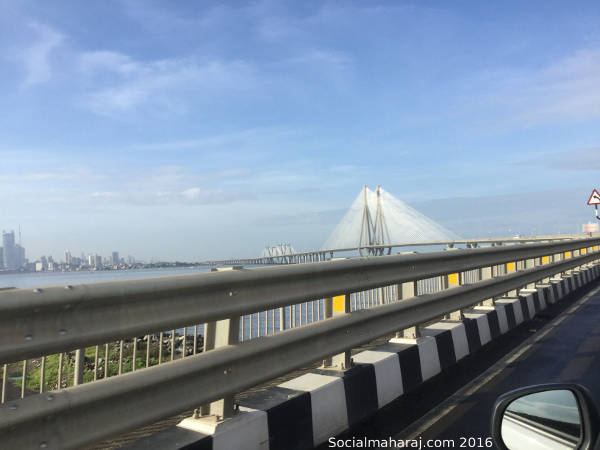 The bridge is built on the sea and gives an amazing view of the city along with saving precious minutes. The next destination on the way was Haji Ali Dargah. Since we were not scheduled to stop at the Dargah, we stopped to try some fresh fruit juice at the famous Haaji Ali juice center.
Moving forward, the cab took us through the famous Marine Lines, Chowpati towards our destination. We reached Gateway of India in about 1:45 hrs. There is strict checking of luggage at the entrance, so make sure you travel light or open everything and show them like I did. Since it was early hours, there weren't many people there. Clicked a few pictures of the mighty Gateway of India along with the legendary Taj Mahal Hotel.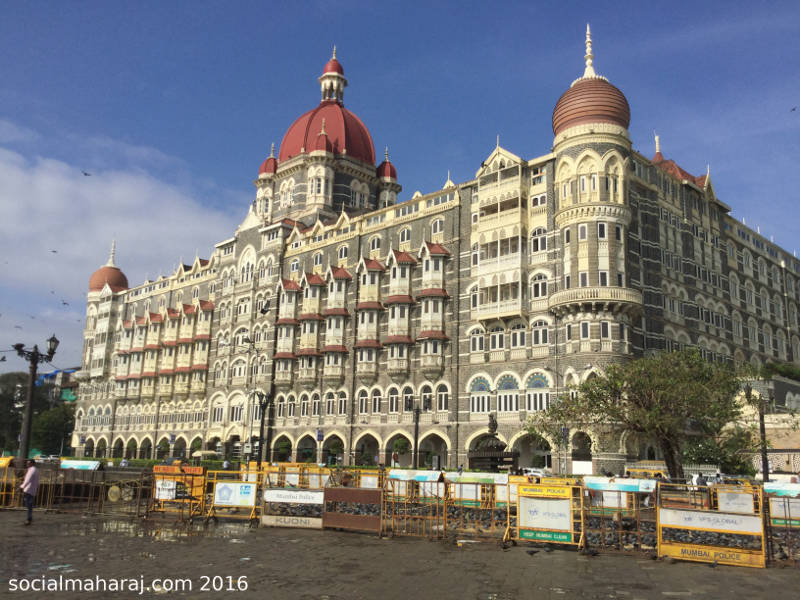 By this time I was hungry again, so walked a few steps in the lane beside the Taj Mahal hotel till we found a road side shack serving Vada Pav, Missal Pav and Kanda Pohe near the iconic Regal Cinema. Enjoyed the authentic taste of the local delicacy and then decided to take the Mumbai Local to complete the next leg of the journey.
Exploring Mumbai by the local train
Took a "Kaali-Peeli" cab (the trademark black-yellow cab) towards Churchgate station that is quite near to Colaba. This was my first experience of travelling in a Mumbai Local. I was scared as well as excited about the travel. Scared because I didn't want to miss my station and excited because I knew what I going to face ! Luckily it wasn't the peak hours and we were travelling in the wrong direction. Apparently, people travel towards Churchgate for work etc during the peak hours and hence we expected lesser rush. During our ride, we passed through the iconic Wankhede Stadium, Marine lines, Chowpati and reached Andheri crossing important places like Virar. The Mumbai local is fast – it is fast ! Barely stops for few seconds at stations.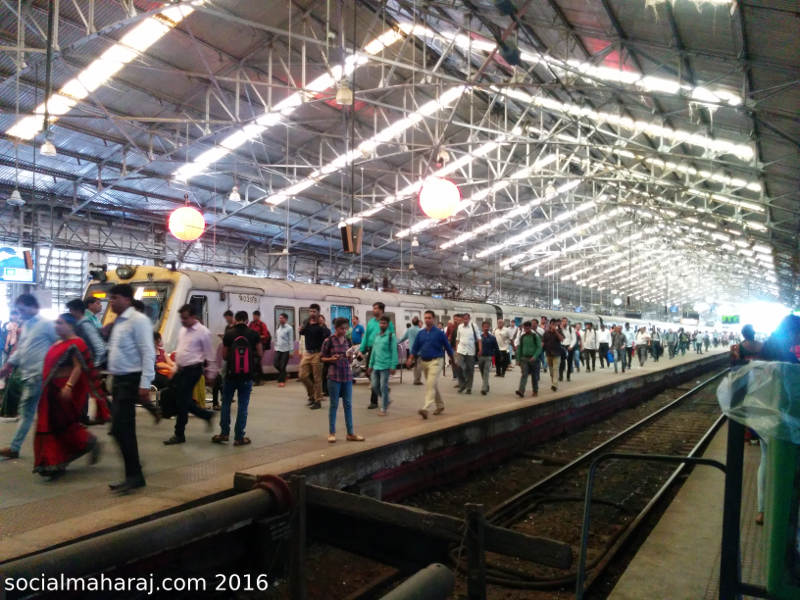 Since our car pickup was from Powai, we de-boarded at Andheri as it isn't far from there. Grabbed a Vada Pav and took a cab to one of the famous malls in Mumbai – RCity Mall in Ghatkopar. The mall is huge ! Haven't seen a mall of this size, maybe the Select City walk, Delhi can compete with this one. The mall – just like all other malls – has a lot of brands, food outlets and a lot of events happening around. After spending sometime at the mall, we travelled to Powai. Our car pickup was from the Hiranandani Gardens in Powai which apparently is the posh place. The European architecture along with the nicely done landscape makes you feel for a second that you are in a foreign country. We took our car, passed the dream institution of aspiring engineers – Indian Institute of Engineering, Bombay before hitting the Mumbai Pune expressway passing Navi Mumbai and other places to name a few.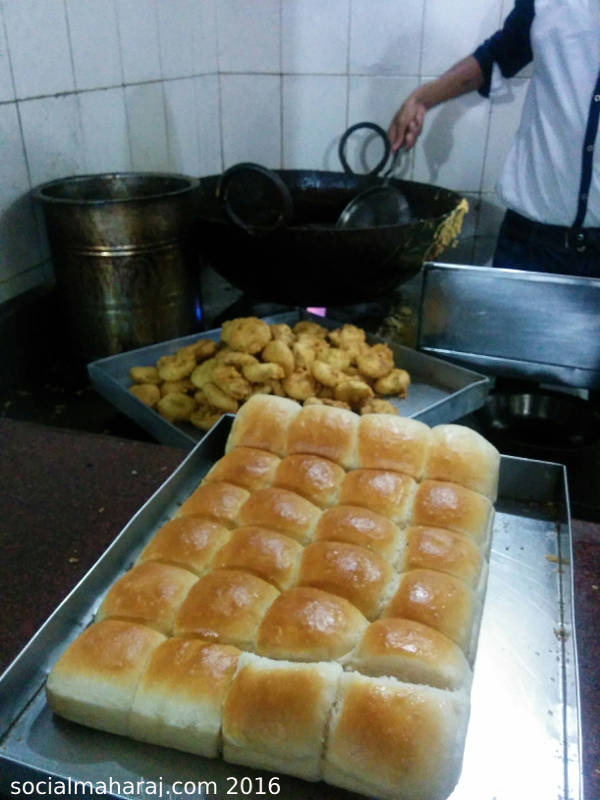 So that was how I went about exploring Mumbai in 8 hours. If you look at the map, you will realise that a lot of ground was covered during the journey. The places and the things that we covered during our close-to-8-hour ride were: Bandra-Worli Sea Link, Gateway of India, Taj Mahal Hotel, Vada Pav, Mumbai Local, Marine Lines, Wankhede Stadium, Andheri, Rcity Mall, Hiranandani and IIT Bombay. I know there's much more to Mumbai and this is just the tip of the iceberg. But this surely isn't how normal people would explore Mumbai if they were given 8 hours in hand. Nevertheless, this is how I explored Mumbai in 8 hours, how would you make the most if you were in my place ?