I always say that blogging isn't just about writing. It has got a bit(read a lot) of everything. From writing to designing images, creating marketing campaigns, managing them, striking a deal with clients, fighting with the hosting provider if the website is down and what not. If Blogging were a company, one would play the role of peon, content developer, graphic designer, marketing head, CFO and the CEO ! During my 5 year Blogging career, I've learnt a lot and met many new amazing people. I've done my best to provide help on anything I know of. Apart from all these, the one thing that I've been doing was publishing year-end Social Media Report Card
It all began in 2015 when I thought that publishing a yearly report would be a good idea. Not only I'll get a better view of how things had been that year, but also others will know about the numbers. Expect the financials, I'll share all that might be relevant to an individual or firm to work with me. You can read my previous Social Media Report Card here and here.
Best Blogger in Telangana Award by Indiblogger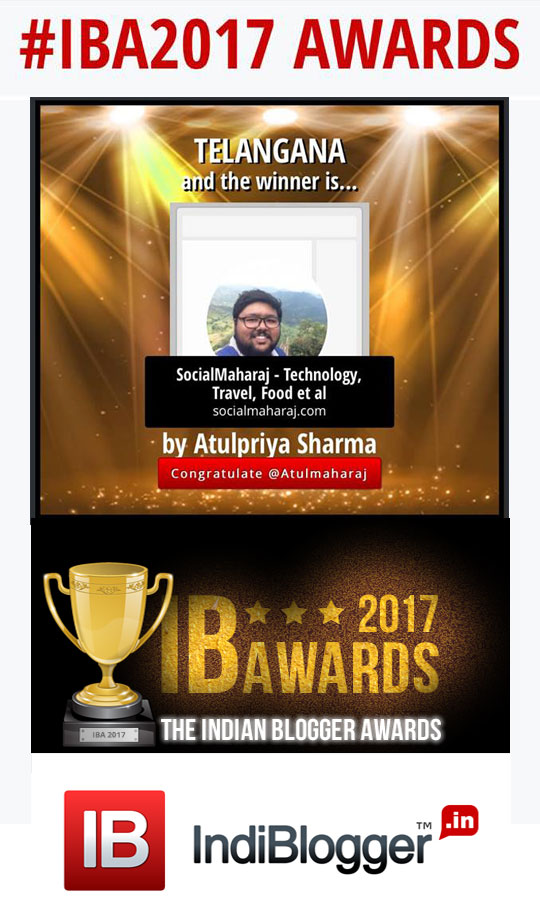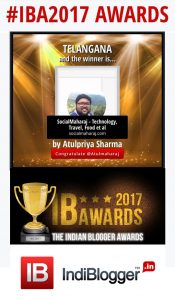 I'm super thrilled to announce that I've been awarded the Best Blogger in Telangana Award by India's leading Blogging Platform – Indiblogger. The award comes in as a recognition for my continued efforts. A big thanks to you for helping me reach here. It's the readers whom I write for and I'm glad that you have loved what I've shared. Blogging is all about the community and I'm glad to be sharing the platform with some of the best in business. Other winners in the list include Shrinidhi, Maitreni, Sid, Sahilaja, Dr. Roshan, Vikram, Bushra, Rachna, Joshi Daniel, Ragini, Divyakshi and Prerna to name a few. You can check out the entire list of winners here.
Revive 2017 – Social Media Report Card 2017
2017 as I mentioned in my last post was quite an eventful year. There was a good amount of travel involved, lots of dishes to drool upon and many strategic brand alliances took place too. I dug into the stats on Christmas eve and came up with these interesting numbers. During the course, I also learned a fair bit of Adobe Illustrator that helped be come up with the info-graphic.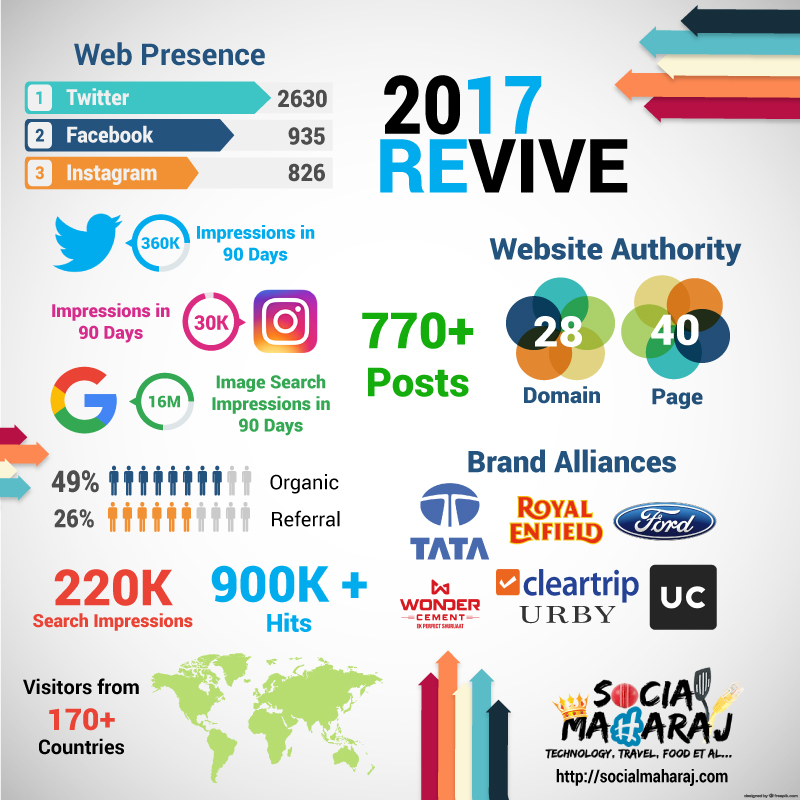 Comments on yearly performance – 2017
The year – in terms of visitors and traffic – was almost like the past year if not better. Last year there was a huge spike in the traffic thanks to the Freedom 251 mobile that got almost 20% of the entire year's traffic in a single day ! In terms of rankings, Alexa hasn't been a dear friend, but there's no one else to blame instead of myself. The number that makes me proud is the Web Authority, the domain authority is currently pegged at 28 while the page authority is at 40. Both these numbers are simply superb and will try to maintain them in 2018.
What did go well this year was the Social Media and Search Presence. Churned some great numbers in terms of Impressions on Twitter and Google Image Search. Few of the images shared are still amongst the top in the search results. Recently joined the Instagram bandwagon and have been generating some good numbers there too. 2018, will surely be better in this regards.
Final Words
Overall, 2017 was great for Socialmaharaj and the Social Media Report reflects that too. It is also the 5th blogging anniversary and it's good to see such numbers still coming in. Though the frequency of posts have reduced a little in the last year, I've been quite consistent on that front. That's about the numbers. What do you have to say ? Any suggestion to improve them ? Mention in the comments below or tweet to me at @atulmaharaj