So we are just 10 days away from the end of 2016. Another year passes in a jiffy. Lot of things happened during this year – Trump coming to power, Chaiwaala and TarkariWaali trending online to the superb show of mettle by the Indian Cricket team to rout England 4-0. A year that had its own share of joys and sorrows. On the contrary 2016 has been a great year for me. On the professional front where things have been going rather good while my personal front that includes all the traveling, foodie-ing and blogging were great too. So just like last year, here's a Blogging Report card for 2016 !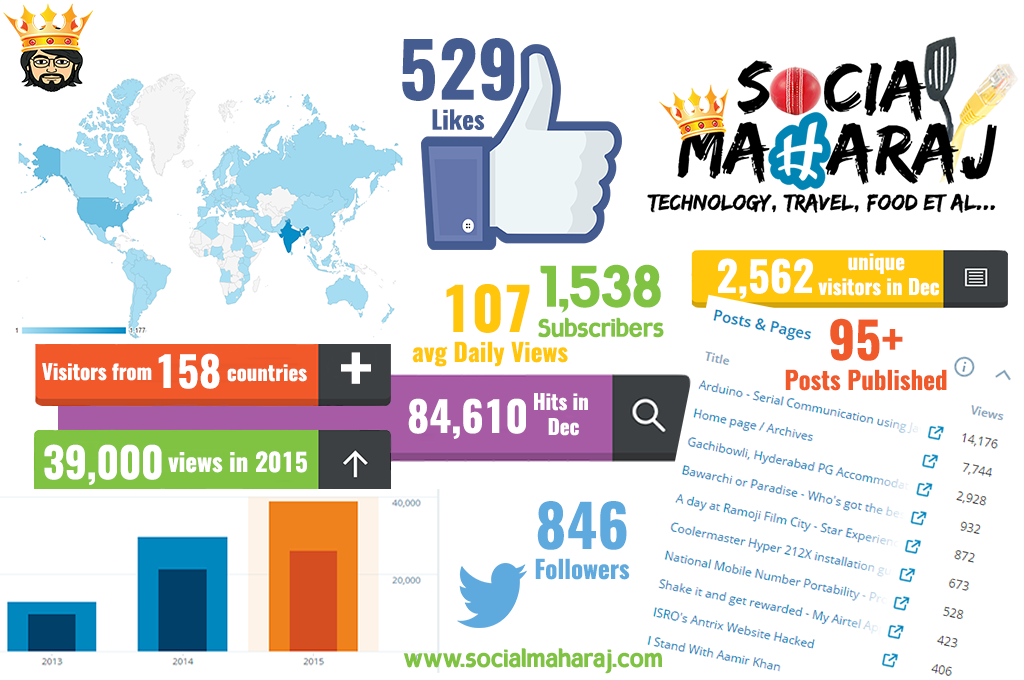 Off to a flyer – 2016
The year had started on a positive note, thanks to the Tata Tiago Blogging Marathon organized by Tata Motors and Indiblogger. It was a test of my writing skills – wasn't only about the volume, it was more about maintaining quality. Compared to posting almost 95+ posts last year, I manged to write close to 125 posts in a span of 30 days ! Today when I look back, I would say the marathon did help me a lot. The writing improved, reading was given more emphasis. The result ? In the beginning it was all about being on the leader board, but during the later stages, it was about winning the Tiago. Even though I couldn't get my hands on the car, I won my self a prize of 24,000 Rs ! No regrets for sure. And that helped me get my Nikon D5200 – my First DSLR !
Year of Networking
I later joined communities like BlogChatter, BlogAdda and ensured to be an active participant. This ensured I met a lot of like-minded and wonderful bloggers online. Since I blog about food and travel, I was contacted by several restaurants and cafes to review their hospitality. Some of the places that I checked out were Oh Bean Der, Invitation, Tea Trails. Soon I climbed the ladder on Zomato Food Bloggers list and was among the Top 10 Food Bloggers in Hyderabad.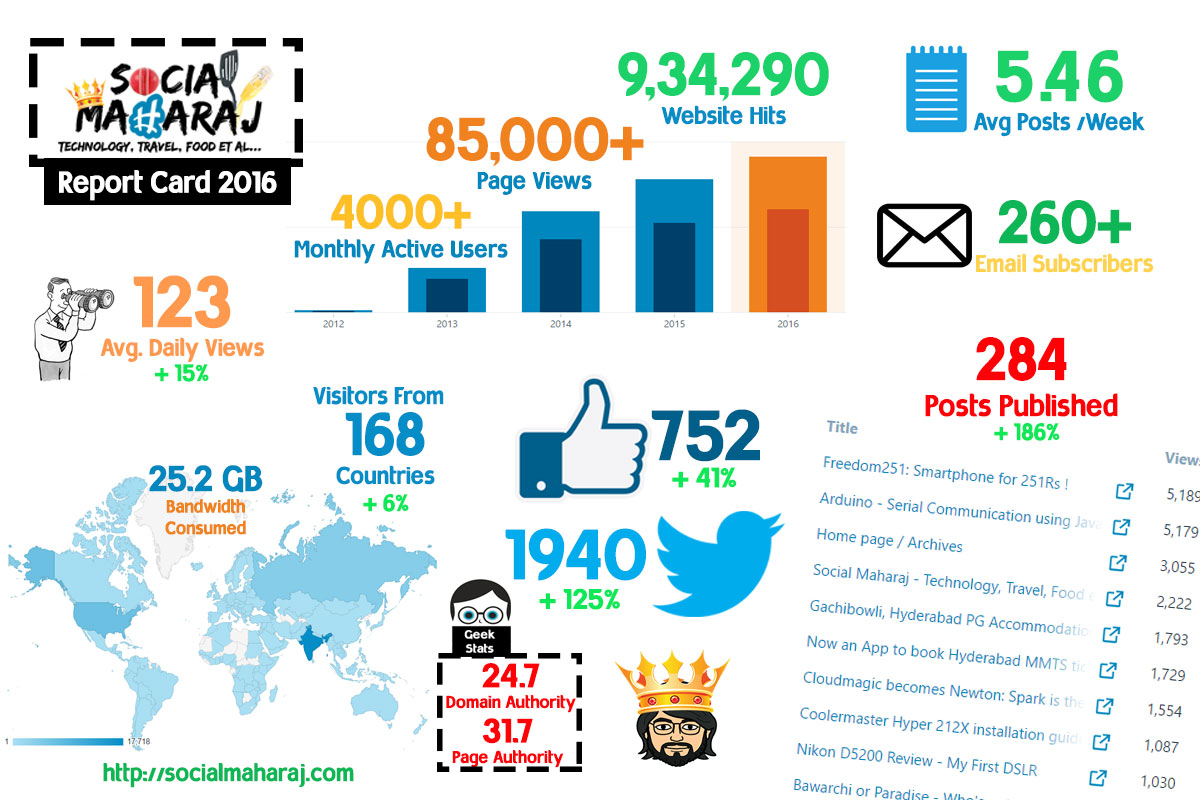 During 2016 the blog saw huge traffic in terms of website hits which stood around 9,34,546 hits and still counting. At one point the Alexa rank was below 20,000 for India. One of the highlight was the Tata Hexa Event that I was a part of. 60 bloggers from India were flown in to Hyderabad to witness the launch of Tata's latest SUV – Tata Hexa. It was my first meeting with the awesome people behind the wonderful blogs. I got to meet all of them and it was a wonderful experience. Nothing could get better and more motivating than the Digital Marketing head addressing you as the "60 Top most influential bloggers in the country (sic)"
A moment of pride for all of us ! @TataMotors @indiblogger @VikramKamboj @AnanthV9 @amibhat @docdivatraveler @theheebee #hexaexperience pic.twitter.com/yZkA1XfLkg

— Atulmaharaj (@Atulmaharaj) October 25, 2016
Being connected on Twitter and helping others was a great way to learn about the problems people face. I was glad to have helped out many people in setting up their blogs, moving to a self hosted blog, educating people about integration of Google Analytics in their blogs and also talking about setting up Facebook Ads. Being a blogger for quite sometime now, I also wrote articles about Increasing Readership of your Blogs with tips and tricks to improve the reach and have a better Blogging Report Card.
[Checkout what people had to say in the Testimonials section]
2017 at the horizon
So with close to 650 posts and 4 years of Blogging, 2016 was fun and hectic at the same time. It was also the time when I moved to a self hosted blog, so its technically the first anniversary of socialmaharaj.com 😉 For 2017 though, I want to be more consistent and blog more often. Would like to stick to my minimum 3 post per week schedule. Try to engage with more people in read and virtual life. Be a part of more brand integrations initiatives by improving the quality and increasing the engagement of the blog. The aim on the whole would be to improve the blogging report card.
In short, 2016 was a wonderful year and looking forward for an even better 2017. How was your year ? Where did you travel ? What did you do ? Would like to know about your experiences. Do share them in the comments below 🙂