One of the best part of staying and traveling in India is that you get to see a lot of variations in food. From rice and curd in the south to Macchar Jhol and Bhaat in the east, there's a lot on offer. Northern India is specially known for its simple eating habits. Be it the subtle Poori Subzi or Litti Chokha, the foods here are simple yet tasty. During my visit to Lucknow recently, just like always I was on the look out for a budget pure vegetarian restaurant. One of the best parts of being in North India is that one will find a lot of pure vegetarian restaurants. My search for some awesome homely food ended at the famous Baati Chokha restaurant in Gomtinagar. There are various outlets of the same, one in Aliganj in Lucknow and others in Telibag, Varanasi and Salt Lake in Kolkata. So without wasting much time here is review of Baati Chokha Restaurant, Lucknow.
Desi Ambiance
Theme based restaurants are getting popular now a days. Whether it's the haute, uber theme at a classy restaurant of the desi finish at a dhaba, people love eating out at theme based restaurants. Baati Chokha Restaurant too recreates the desi feel by giving a village look to the entire place. If you've visited any restaurant like Chowki Dhani or Vishala in Ahmedabad, you'll know what exactly I'm talking about. Right from the entrance to the serving area, every bit gives a "dehat" look. They serve food in "pattal" – a plate made from leaves – and "kulhads" – clay pots. The lights too are in form of lanterns so full marks for all of it. However the ceiling could have been a bit higher. Makes it tough to move about either for hand wash or otherwise. That also makes the place a bit hot at times. But overall a great ambiance.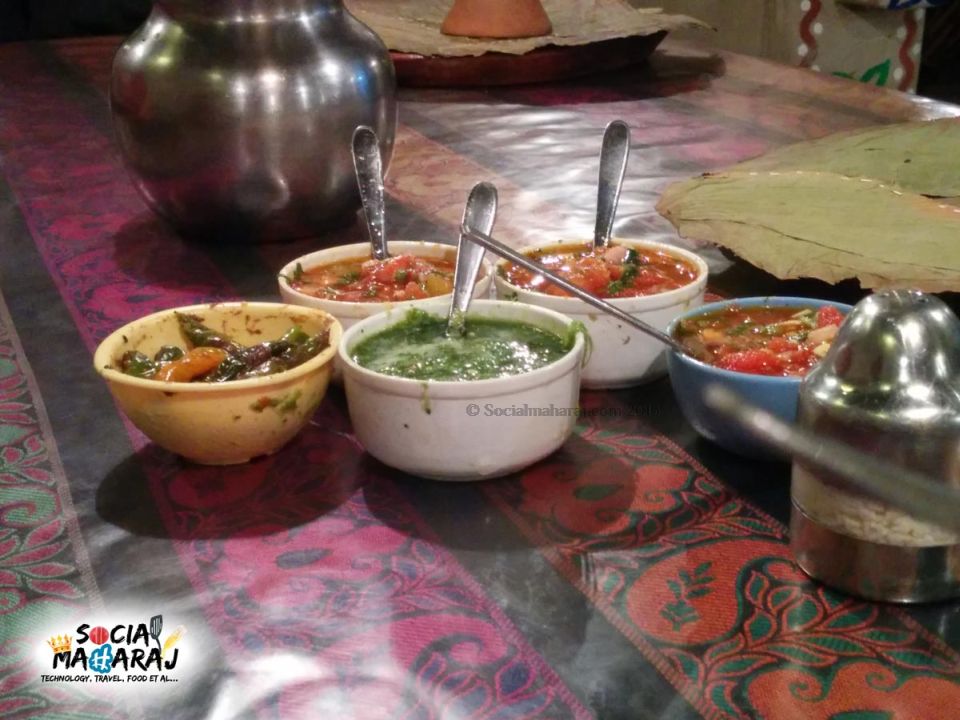 Homely Food at Baati Chokha Restaurant
Coming to the main talking point – Food. The menu at Baati Chokha isn't fancy and expansive. If you are looking for Cantonese Soup or Biryani, then this isn't the right place for you. The menu is a single page and is minimalistic. On the starters front, the restaurant does serve Paneer Kebabs and Chilly Paneer, but that isn't what you should be trying. My recommendation for starters would be Farra. An amazing dish made from rice flour. Served either steamed or fried, these are one of the best 'desi' starters I've ever had.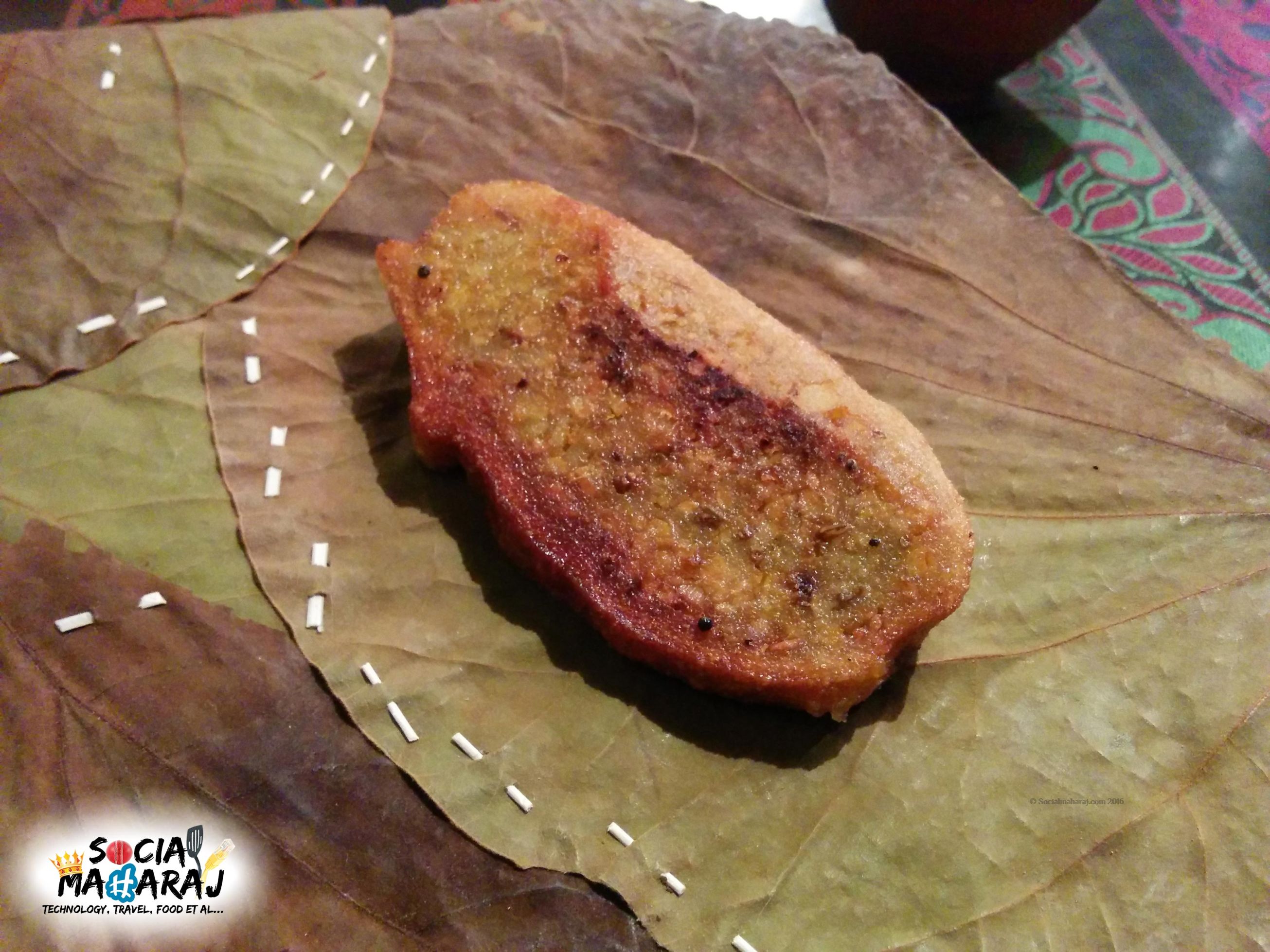 The highlight of Baati Chokha Restaurant – as the name suggests – is Baati Chokha. They serve Plain, Paneer, and Sattu Baatis along with Baigan Chokha. They also have set combos that include two baatis, chokha, rice, dal, ghee and a sweet dish. The taste is very close to how you'd make at home. Simple taste and not too oily. With the food served in "kulhads" and "pattals", the taste is different. For the sides, there are a couple of fresh chutneys served, and my favorite was the Mooli chutney – spicy and fresh. Over all, Baati Chokha Restaurant deserves an applause for the homely food that is great on taste.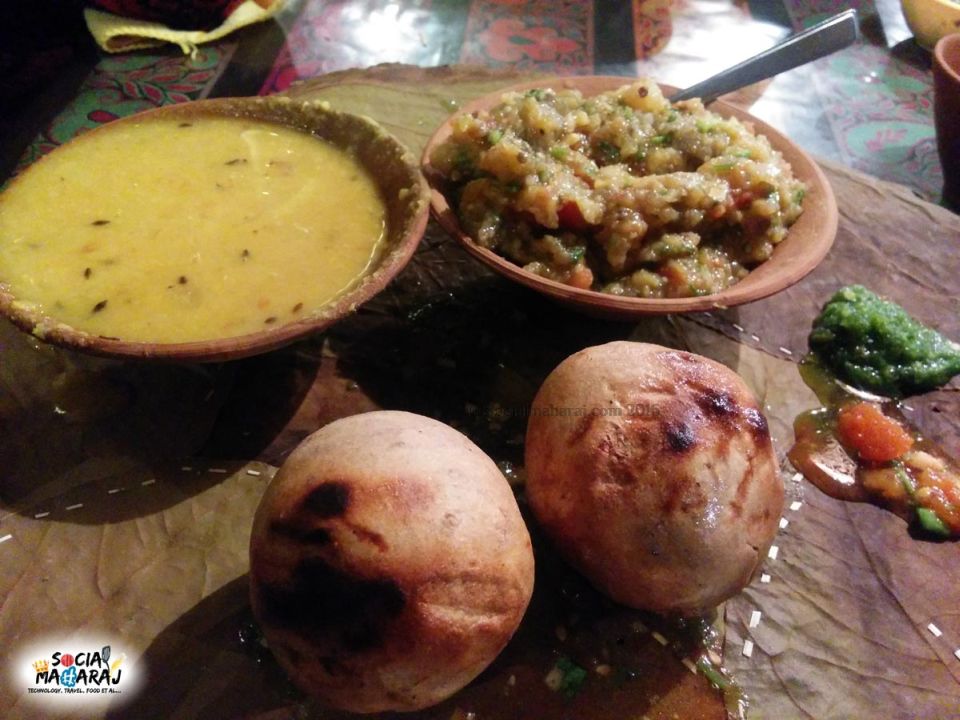 Final Verdict – Must Visit
The look and feel of the restaurant is inviting even though it's relatively small compared to some other restaurants. The service is slow, yes it's Slow and takes ages for your food to be served. So a Pro-Tip: Order all items at once. Nevertheless, the food takes care of everything else. Wholesome food that is simple yet tasty. All in all a must visit place if you are in Lucknow and are looking for a pure vegetarian restaurant. Already visited Baati Chokha ? How was your experience ? Mention in the comments below.