Though my journey on the internet started way back in the late 2000s, blogging really took off after I moved to Hyderabad. I was fortunate to be invited for restaurant reviews, product reviews, blogging panel discussions, Best blogger awards et all. However the one thing that I cherish the most is the people I've been meeting. I believe that meeting new people and networking not only helps grow your circle but moreover we get to learn a lot. Last evening was one such opportunity to meet some wonderful foodies and relish delicious food. I was invited for restaurant review at Mandil HiTech City. And like always this post is going to be all about Friends and Food – Saturday Dinner at Mandil HiTech City Review.
Mandil HiTech City Review
Aloof Outside, Bright inside – Ambiance
Mandil HiTech city is just ahead of McDs and right opposite to Trident. The restaurant is on the 4th floor of a hotel. There just this one building in that lane. One needs to get inside the hotel and take the lift to reach Mandil. Do note that the slope downhill to reach the restaurant is quite tricky and one needs to be careful. There is an empty place which is the parking area, no dedicated parking and there's no valet.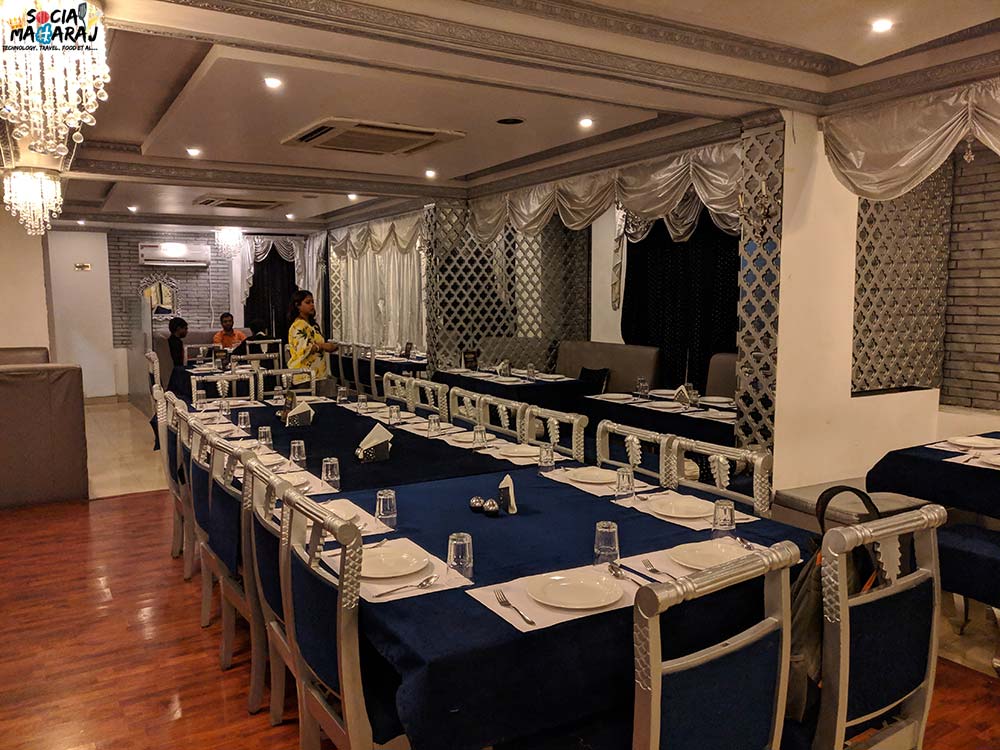 Upon reaching the restaurant, the first thing you notice is the intricate interiors. I'd compare it to a highly scaled down version of Ohri's Tansen on that front. The place is well lit – but a photographer's nightmare because of a lot of yellow light. The upholstery & chandeliers are striking and surely draw your attention. There's music and a small buffet area at one side. The restaurant is relatively small but it had no issues in accommodating us. A big table for 15 people. Overall, the restaurant is good from the inside, but they should pay attention to the outside. That'll help get more footfall in my opinion.
Food Review of Mandil Hitech City
Mandil is already an established name when it comes to casual dining. They already have an outlet in Kondapur and this is an extension of the same. They are known for their buffet lunch and dinner. But since this was a special event we had a fixed menu. Here's the Food Review of Mandil HiTech City.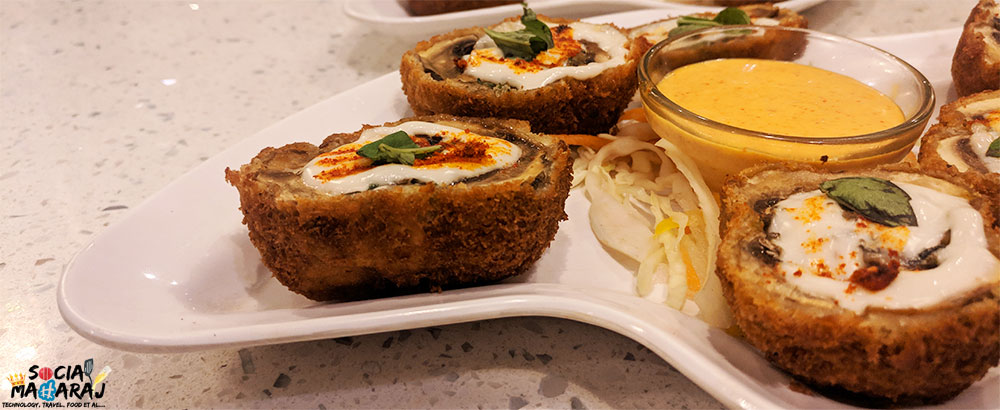 Delicious Starters
We were served a mix of vegetarian and non vegetarian starters along with one veg and one non veg soup. Being a vegetarian, I'll focus more on that front. We had Cream of Mushroom Soup which was good. It was smooth while I expected Mushroom pieces to be in there. For starters we had four items: Paneer Paprika, Malai Broccoli, Stuffed Mushroom and Babycorn Tempura. I must say that every dish looked amazing and hence our foodie friends were all over to click amazing pictures.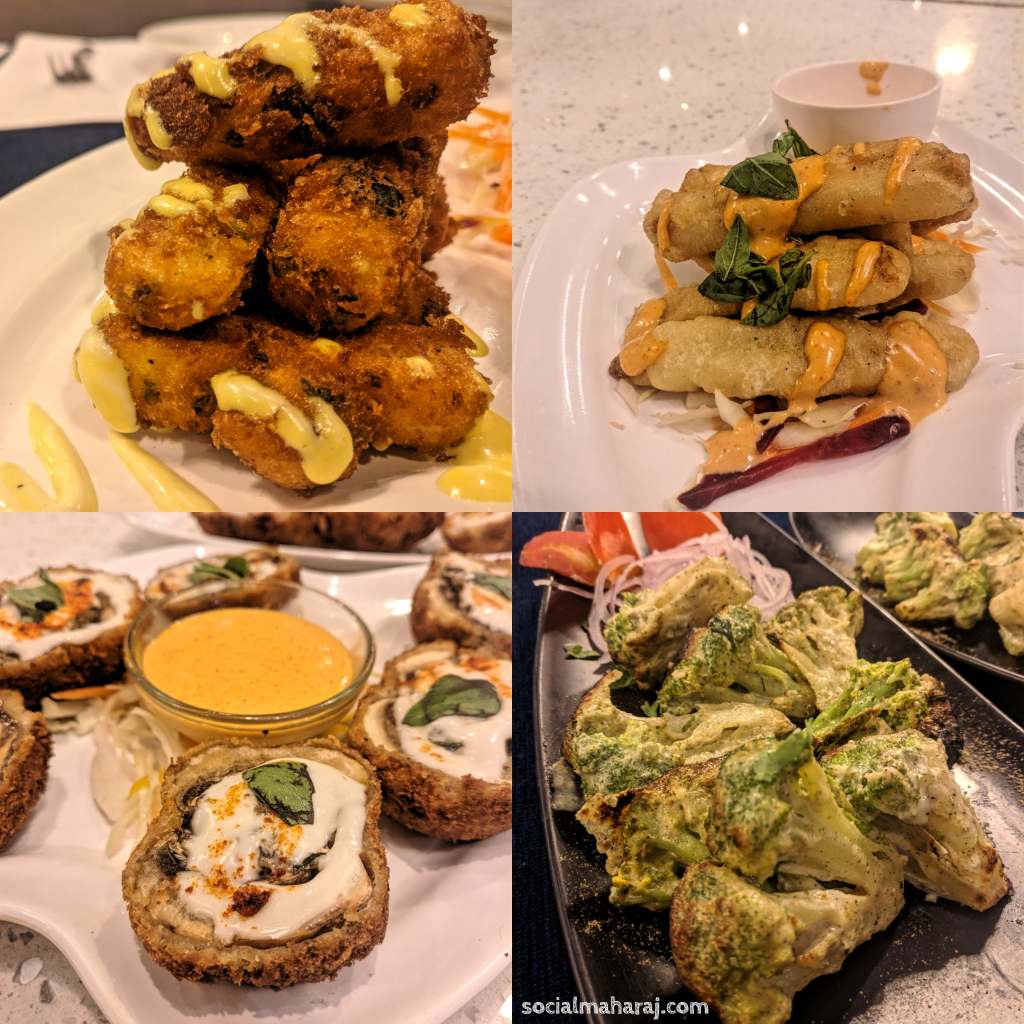 Paneer Paprika was good. It had a crunchy coating, somewhat like Mc Spicy Paneer at McDs. They served it with a sweetish-Mayo based sauce (I guess) I liked the combo. Malaci Broccoli was ok. I liked the marinate flavors but could have been cooked a little more. Babycorn Tempura was average. Star of the night was definitely the Stuffed Mushroom. I've never had Mushroom in this fashion. It was potato or besan – I guess – cups filled with mushroom stuffing. The stuffing was delicious and presentation was top notch. The sauce served with it was great. Overall, the soups at starters at Mandil HiTech City are good.
Roti, Subzi, Chawal – Main Course
For main course we had two vegetarian dishes – Nizami Handi and Paneer Nazakat. (If I'm not wrong, Nizami Handi is one dish that I've seen at almost every restaurant I've been too, especially for buffet) This one was a green gravy with beans, carrot, lots of peas and bits of Paneer. It had a good amount of spices and was garnished with fried onions.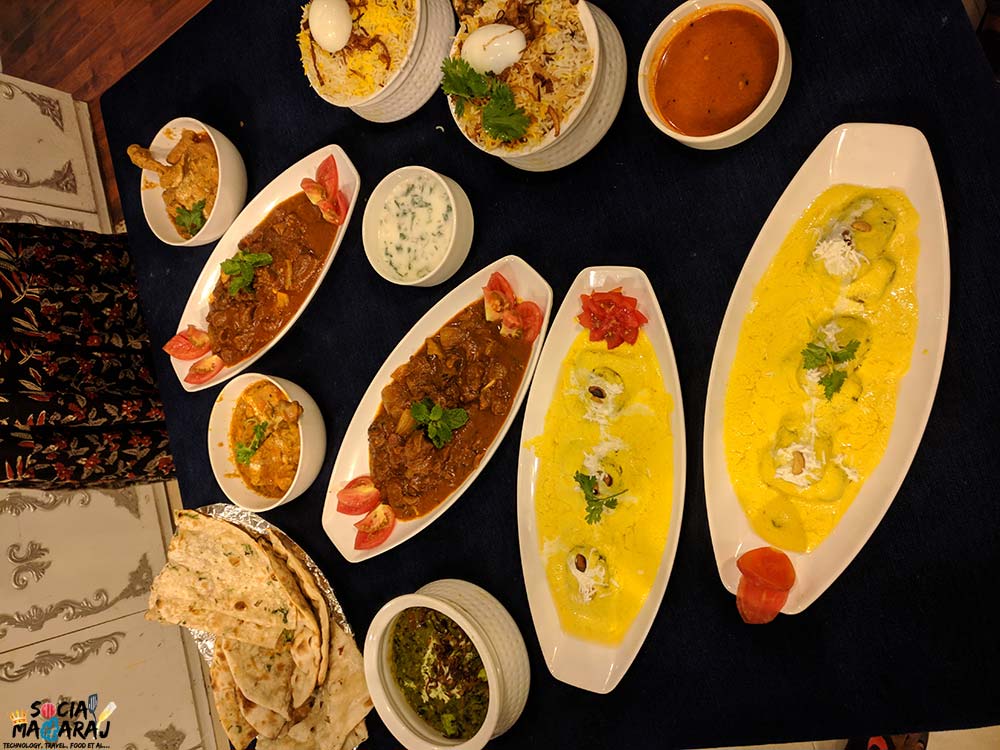 Paneer Nazakat as the name suggests, was their special dish. It was Paneer slabs stuff with rich dry fruits and simmered in sweetish yellow gravy. From what I could feel, it was a Cashew nut gravy. This one was delicious and was very heavy too. But it did go well with the naan and rotis served. Apart from these we had the Veg Biryani which I passed since I've stopped eating rice for quite some time now.
Final Verdict: Plan a casual dinner at Mandil
Most of my posts have a desserts section too, but this one doesn't. That because we had some peda/burfi along with strawberry ice cream and Gulab Jamun. So nothing special there. On the whole, Mandil is a good place for a casual meal. The food is not amazing, but worth your money. Their starters are pretty good especially the stuffed Mushrooms. The only downside about Mandil HiTech city is it's location. Though it is located in h heart of HiTech city, the surroundings aren't quite there.Have you been there already ? How was your experience ? Let me know your thoughts in the comments below or tweet to me at @Atulmaharaj