There was a huge uproar sometime back on Zomato Gold. We also saw a lot of major restaurants pull out of the program. According to the restaurants, it was causing a dent to their margins. One of the examples I saw was Farzi Cafe Hyderabad. Earlier I remember it being on Zomato Gold but now it isn't. Since then Zomato has been making lot of changes to their Zomato Gold Program. One of the key changes they had done in Zomato Gold was to put a cap on the number of unlocks per day. And I know that there were quite a few unhappy faces who decided to quit the platform too.
Zomato Gold on Delivery
Zomato and Swiggy have been fighting it out in the Food delivery space for quite some time now. When Swiggy pitched in Swiggy Super, Zomato came with Zomato Piggy Bank. In this battle of supremacy, the winner was the customer. However, with the latest update in Zomato Gold, Swiggy surely needs to do something.
One of the Biggest Changes in Zomato Gold that is just launched is Zomato Gold for Deliveries. Yes ! You can now redeem your Zomato Gold membership even on food delivery orders. Even I didn't know until I opened my Zomato app and saw this notification. This comes in as a huge surprise. I knew there were folks who wanted to leave the platform post the changes made, but with Zomato Gold on deliveries, Zomato have got them back.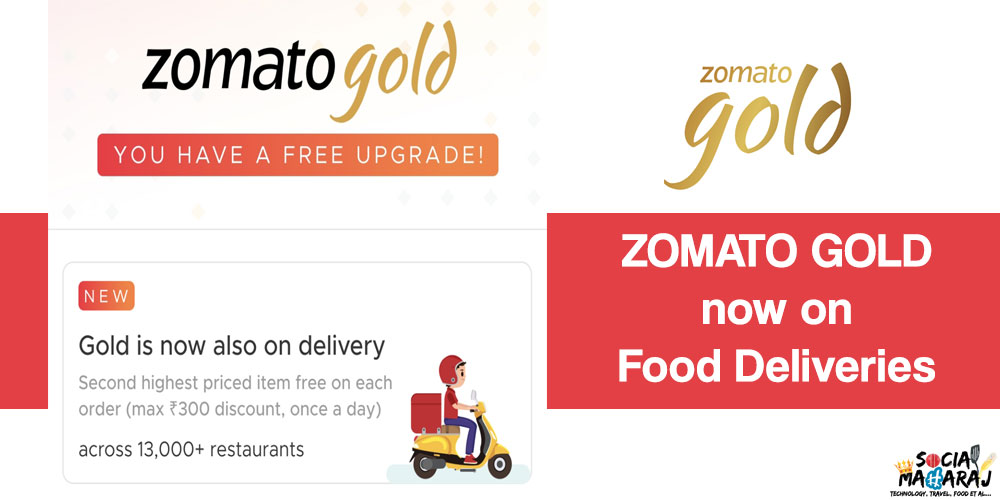 Terms and Conditions – Zomato Gold on Delivery
Zomato Gold is a membership program that is being used for various 1+1 Food, 2+2 Drinks offers. For Delivery, Zomato Gold will be valid in 16 cities starting today and more cities will be added soon. All the new and existing Zomato Gold subscribers can upgrade to Zomato Gold for Delivery for FREE. But Zomato Gold for delivery has its terms and conditions. What is that ? Let's find out:
A Maximum of 2 unlocks per day (one dine-out & one delivery)
Second highest priced item would be free
Minimum Order worth ₹300 or more
Maximum discount of ₹300
With this update, Zomato Gold is surely going to see a surge in the memberships. Many of them who were planning to ditch the platform would want to stay there. And many new people would definitely want to join it. If you are looking to get a Zomato Gold Subscription, check out my referral code – ATULMA – and get a huge discount on your Zomato Gold Membership !
Zomato Gold on Delivery – The Game Changer
With providing Gold Benefits for users, Zomato has turned the tables. The subscription based model was under pressure from the restaurant fraternity for past few months. I don't know how restaurants would welcome this. But for user Zomato Gold on Delivery is a boon. Even with the restrictions in place, I feel this is going to be much better than the Swiggy Super program. What do you say ? Zomato Gold Yaay or Naay ? Mention your views in the comments below or tweet to me at @Atulmaharaj