Navratri is that time of the year when people from all walks of life forget their worries and join in the celebrations. Be it the pandal hopping for Durga Puja or the Garba-Dandiya nights, people love all of it. It's time for colors, music and food. It's been just over 5 years for me in Hyderabad. Over the years I've seen the popularity of Navratri and Durga Puja grow. Today, I see many localities dancing to the top Garba tunes at various dandiya festivals. This is also the time when many people keep fast, I'm one of them. It's been close to 6 years now that I've been fasting for 9 days along with my mom and trust me fasting was never so easy ! In this post I'm going to talk about the moment when I tried Navratri Thali in Hyderabad.
Types of Fast during Navratri
The first and foremost thing to note is that people have different notions of fasting. And due to the cultural diversity we have in India, the ways/levels of fasting vary. Based on what I know, below are the types of fast during Navratri
Only Water Fast – This is possibly the toughest one to keep especially for 9 days. I have come across only a handful of people who take up this type of fast
Fruits, Water, Dairy Fast – This is another type of common fast which people keep. It includes eating fruits and dairy items. No food grains are taken in this type of fasting. This is the one we follow in our family
No-Onion No-Garlic Fast – This type of fast is quite common in the north, where people eat everything but sans onions and garlic
One meal a day fast – There are quite a few people who follow this type of fast where they don't eat anything the entire day. However, the last meal in the day is a lavish spread
No Non-Veg fast – this is another type of fast that you can see now a days. There are people who avoid eating non vegetarian food during the 9 days of Navratri. Everything else allowed.
These are some of the types of fast during Navratri that I know of. If you think that I've missed out on any, do mention in the comments below and I'd update this list. Amongst all these, there are restaurants that come up with special Navratri Thali in Hyderabad offerings. This time around I tried a few of them. Read on.
Who serves Navratri Thali in Hyderabad
Like I mentioned earlier, there are a lot of restaurants that are serving special Navratri thali in Hyderabad. They are coming up with combos that have all the items that one can eat during fasting – fruits, sabudana, curd etc. And with so many navratri thali offerings, fasting has become a feast rather than a fast ! This time around, I tried the Navratri Thali in Hyderabad from two restaurants: Ohri's De Thali and Faasos.
Ohri's De Thali served a lavish navratri thali. There were so many items and so much food that it never felt like fasting. The Navratri thali included dishes like Sabudana Khichdi, Sava ke Chawal, Paneer, Banana Curry, Rajgirah Kadhi, Rabri, Rasgulla and Lassi. This was a complete meal in all.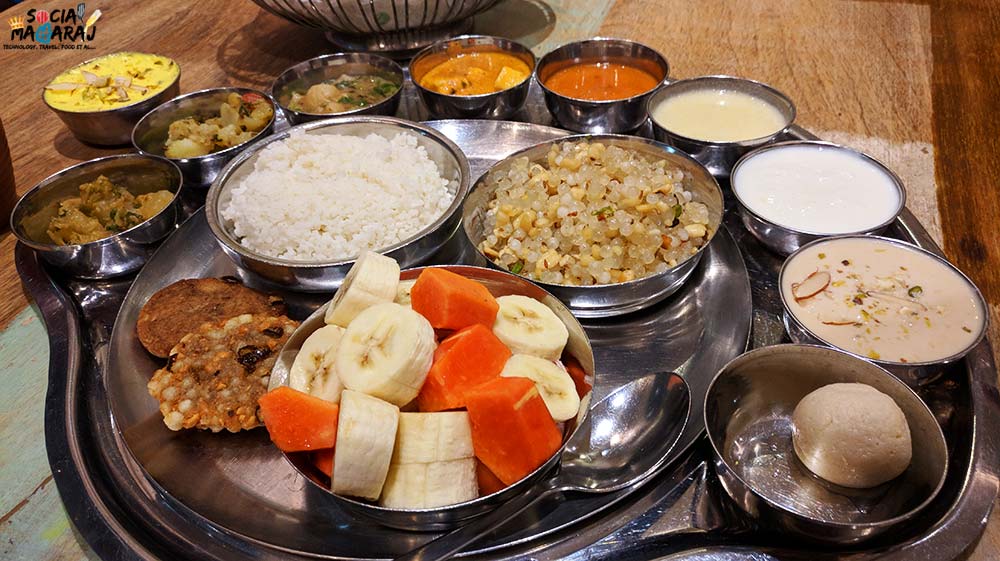 The Faasos combo was rather a smaller one but good one. Faasos serves multiple Navratri Thali in Hyderabad combos including Aloo Paratha, Sabudana Khichdi/Vada served with raita or Paneer Curry. Their combos are good, however one might feel it is priced on the higher side. Another Navratri Thali I tried yesterday was from Utsav restaurant. The thali was not a navratri thali since it had items like Chana, Sooji Halwa, Gulab Jamun and Pakoda. However they do sell it as the Navratri Thali on Swiggy.
Below is the list of restaurants that serve Navratri Thali in Hyderabad. If you feel that I'm missing out on any restaurant, please mention in the comments below and I'll update the list. Let's make this the most helpful list of Vrat Thali in Hyderabad.
Utsav – closed in Madhapur, new one in Secunderabad
Faasos
Savla's Home Food – I haven't tried this yet
That was about my list of Navratri Thali in Hyderabad. If you have not been fasting because there isn't much to eat, then you are completely unaware of delciious thalis on offer. In fact I eat dosas and idli at home which are made from Rajgirah, Kuttu flour which (according to my way of fasting) is allowed. What are your thoughts on the new age fasting ? Isn't this a feasting fast ? Share your views in the comments below or tweet to me at @Atulmaharaj