Transforming the urban commute is one of the major upcoming trends. Few years back renting a motorcycle wasn't possible at all. However, with the disposable income increasing and the itch to explore, a lot of bike rental companies are in business. Bounce Bike Rental is one of them. Apart from Royal Brothers which I often use. So how to use Bounce Bikes ? What is Bounce Bike rate ? This post is going to be my experience of using Bounce Bike in Hyderabad.
Bounce Bike Rental Hyderabad
Bounce Bike rental isn't the only company operating in Hyderabad. There are companies like Royal Brothers, Vogo, Drivezy to name a few. Bounce Bike was rather a late entrant in Hyderabad. However, it has become quite popular in a short span of time. And the reason for that is the ease of use of Bounce Bike Rental. I'll talk more about it in the next section. They have gear-less scooters available which includes mostly TVS Scooty Zest apart from Honda Activa. So how was my experience with Bounce Bike rental ? Read on.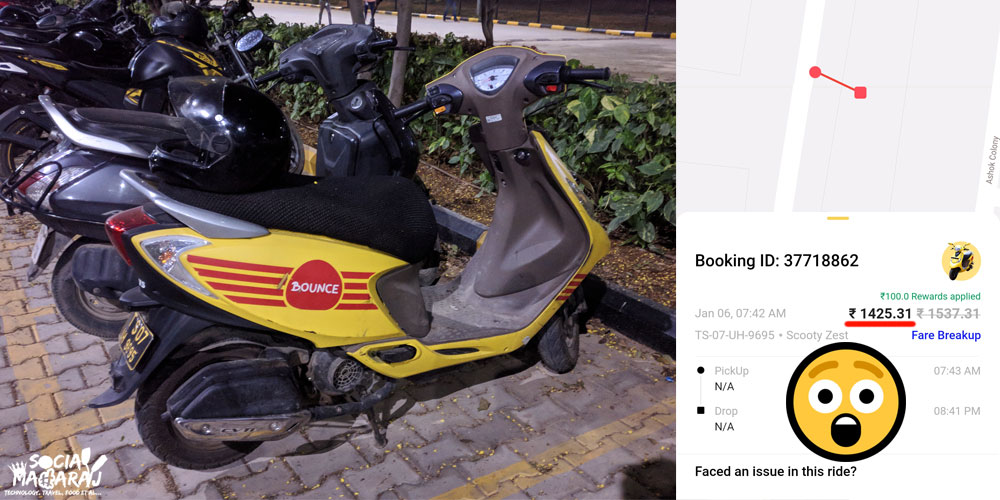 How to use Bounce Bikes ?
Using Bounce Bike Rental is very easy and simple. Further, the registration process is pretty straight forward and quick. Wondering how to use bounce bike in Hyderabad ? Below are the steps to use bounce bike in Hyderabad:
Turn on the GPS and launch the app
Enter your mobile number followed by the OTP – user my Bounce Bike referral code 75RWN to get ₹150 off !
Create your profile
Upload a photo of your driving license
Click a selfie and upload
Voila ! You've registered on Bounce Bike rental.
Once registered, the app shows you "Bounce Bike stations near me" Bounce Bike Rentals in Hyderabad is located at a lot of strategic locations. Once you see the nearest station, tap on the bike on the map. It will show details of the bounce bike and you simply hit start and reach the Bounce Bike. Once at the bike, switch on Bluetooth and Tap Unlock on the Bounce app. Your bike is unlocked and you can simply start the bike and ride ! The best part of bounce bike rental is that you can stop your ride any time and park it anywhere.
Why I paid ₹1425 to Bounce Bike Rentals Hyderabad ?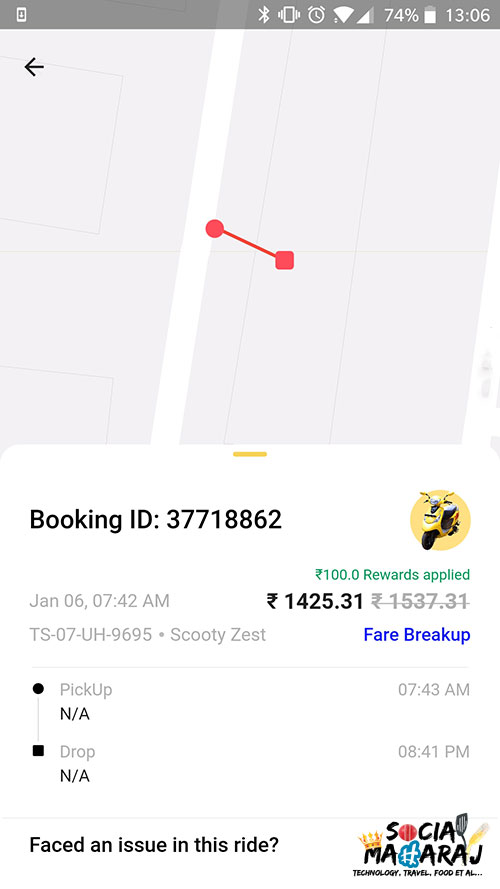 One fine day while leaving for work, I realized that my scooter had a flat tyre. My office is close to 25kms one side and there's absolutely no way to reach there except Hyderabad mmts or bus. Since it was early in the morning, I decided to give Bounce Bike rental a try. After a quick registration, I was able to pick up a TVS zest from near my house. The scooter had a helmet, however it didn't fit me, hence I took my own helmet and left this one at home (Mistake #1)
I refueled for ₹100 and drove to work. Once I reached my campus, I realized that I had to complete my ride. However I didn't have the helmet. I contacted the customer care to ask for further steps. They told me about bounce bike rate and told that I had not chosen the hourly rental (Mistake #2). This meant that the Bounce Bike Rate was 1Rs per Kilometer and 1.5Rs per minute ! Since I didn't have the helmet, I couldn't stop the ride due to the fine. Hence I had to pause the ride for entire day. Due to the minute based charge of Bounce Bike Rate card, I paid ₹1425 for the 50km ride !
Remember these things while booking Bounce Bike Rentals
I've called out the mistakes I did during my Bounce Bike Rental in Hyderabad. If you too want to avoid paying hefty charges to bounce bikes, please ensure the following:
The app by default shows the normal rental option and not hourly rental. If you are looking for a longer duration, change the mode to hourly rental.
Keep the helmet inside the scooter (if you got one) at all times
Don't drive out of the service area of Bounce Bike else they levy a heavy fine
Don't park the scooter anywhere, make sure it is parked in a public area
So that was how my Bounce Bike Rental experience was. Though it was my mistake that I had to pay that much amount, I truly loved the seamless service offered by Bounce. I will surely use it in future but with caution 😉 Have you used Bounce Bikes ? How was your Bounce Bike Rental experience ? Mention in the comments below or tweet to me at @Atulmaharaj or DM me on Instagram.