It's been more than six months since I visited a restaurant. Or rather I stepped out of my house. It was just last week that I went on a short road trip to Bidar with my family. Blame to the 8hr power cut I had that I couldn't bear anymore and decided to go to Bidar. Anyways, COVID has changed a lot of things especially for the F&B industry. For instance, people started ordering more from Zomato and Swiggy and visits to restaurants reduced drastically.
However last week I was invited to Ohri's Eatmor in Begumpet as they had opened up. I was skeptical about it, but I decided to visit it since it's close to my house and a restaurant that we visit quite often. So this is going to be my review of Ohris Eatmor Begumpet – a restaurant review after ages !
Ohri's Eatmor – You will eat more here !
Though it was a happy moment for all of us that the restaurant was finally open. The sad part is that my favorite restaurant Ohri's De Thali has been shut 🙁 Instead Ohri's Eatmor has taken that space. So we now have Ohri's Jiva Imperia and Ohri's Eatmor in Begumpet – Whitehouse building.
Apart from the people who work there, I think I know the area and the restaurant inside out. Things haven't changed much yet have changed a lot. Jiva Imperia isn't functioning yet while Eatmor started operating a week ago. Ohri's Eatmor for all of you who don't know is Ohri's restaurant that serves a variety of fast food dishes ranging from Pav Bhaji, to Pizza/Pasta and an array of desserts along with their signature dish Chole Bhature.
Safety First at Ohri's Eatmor
Blame it to COVID 19 every place has got an additional check point for ensuring safety. Ohri's too have taken this up and it's all safety first at Ohri's Eatmor.
The newly decorated lobby is refreshing as the attendant noted my details and took my temperature. There are sanitizer dispensing machines at the entrance and also outside the washrooms. The restaurant is spic and span and the recently renovated place is just amazing. Though, it'll never replace De Thali. De Thali had a special place in my heart(stomach) !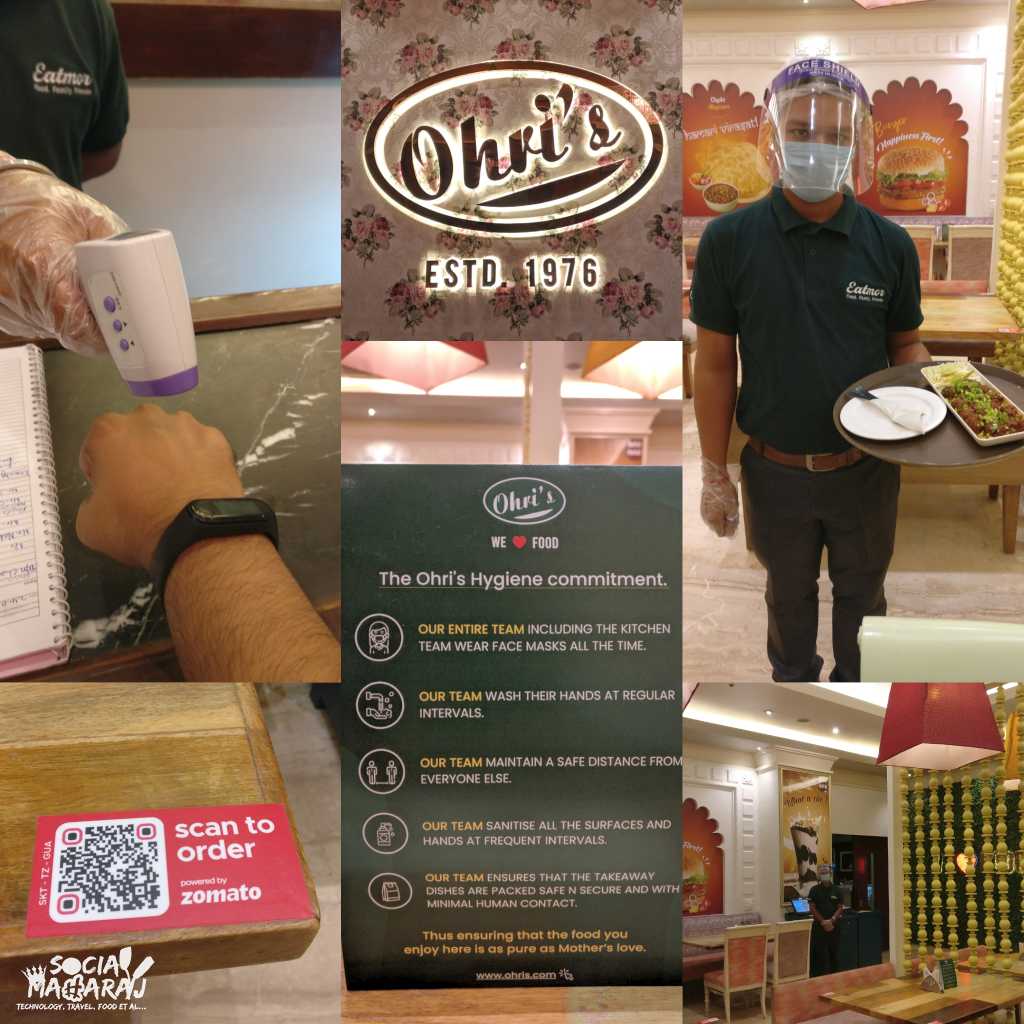 Ohri's Eatmor has tied up with Zomato for providing contact less menu. So every table has a unique QR code which one can scan using the Zomato app to view the menu. They also have a disposable menu. A single sheet of menu that is exclusively for you to use. Once you are done with your meal, it goes into the bin is what I've been told. So you're completely covered with contact-less dining in place.
Ohri's Eatmor review – We ❤️ Food
One good thing about Ohri's Eatmor at Begumpet is that it is a pure vegetarian establishment. This along with the Basheerbagh outlet are the only ones that are pure vegetarian while the other outlets in Banjara Hills and Secunderabad serve non-vegetarian as well.
I understand that the menu will be slowly and steadily expanded, the current one has some delicious items already. In fact they have a separate menu for take away and are available on Swiggy.
Outstanding starters
Since I had gone alone, I knew I couldn't eat much and hence I requested to have small portions. But aise kaise ? I was served with full portions which meant I couldn't try a lot of things and for this I'll revisit a couple of more times.
For starters, I had Veg Manchurian, Veg Cutlet and Paneer Kaathi Roll. The Manchurian is pretty good on taste having the perfect balance of taste and spice. The quantity also was sufficient. The vegetable cutlet was probably the first one I've had with so many veggies in it. A little spicy but good.
Lastly, the Paneer Kaathi Roll was pretty good. They didn't add the tomato sauce/sweet chutney to the roll and that's what I liked. Simple taste with fresh Paneer cubes.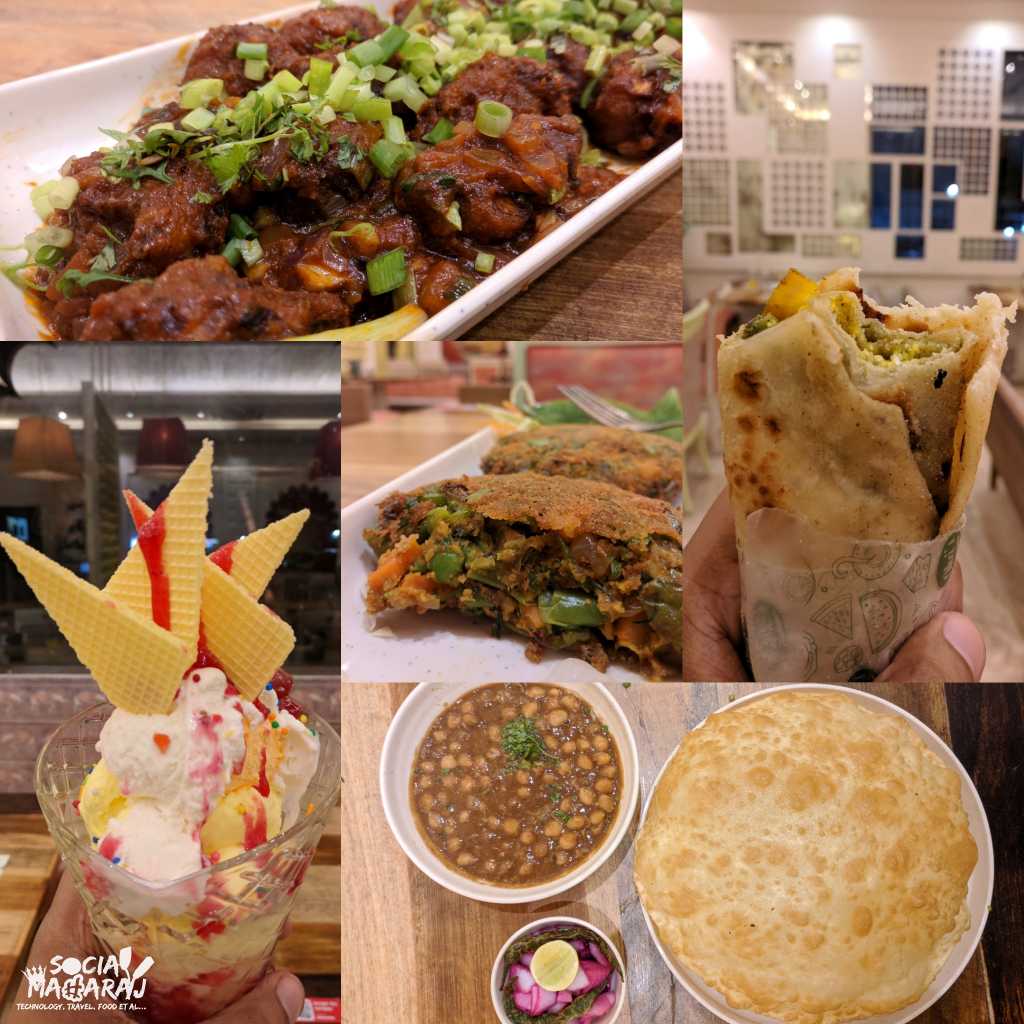 Light Mains and Desserts at Ohri's Eatmor
Like I told, the starters were too heavy that I couldn't taste much of the main course. Especially now that I've reduced my diet, it seems my appetite has gone down too. For mains, Ohri's Eatmor serves set meal combos that have roti, rice, curry and dal. There are about 4-5 variants of it.
Apart from that you can have 5-6 varieties of Pizza and 4-5 varieties of Pasta as well. However, I was told to try the Chole Bhature. A signature dish at Eatmor. After walking around the restaurant, in came a huge bhatura with a generous serving of Chole. These aren't the typical red gravy chole that you see. If you've had chole in Delhi, these looked a lot like those.
On the taste front, these were quite subtle. The chole was pressure cooked to perfection while the amalgamation of spice made the chole stand out. It's a totally ghar ke chole and no nonsense chole that you'll love with your bhature. Also, the amount is quite high hence ensure that you have someone with you to finish it ! I had to parcel more than half of it.
In terms of desserts, Ohri's Eatmor Begumpet has a lavish spread. From special sundaes to hot beverages and fudges, they have a good variety. Since I was already full, they served me a Tall Beauty Sundae. It was quite a good combination of ice creams and fruits and perfect to end such solid meal. I'll surely revisit and try something else next time.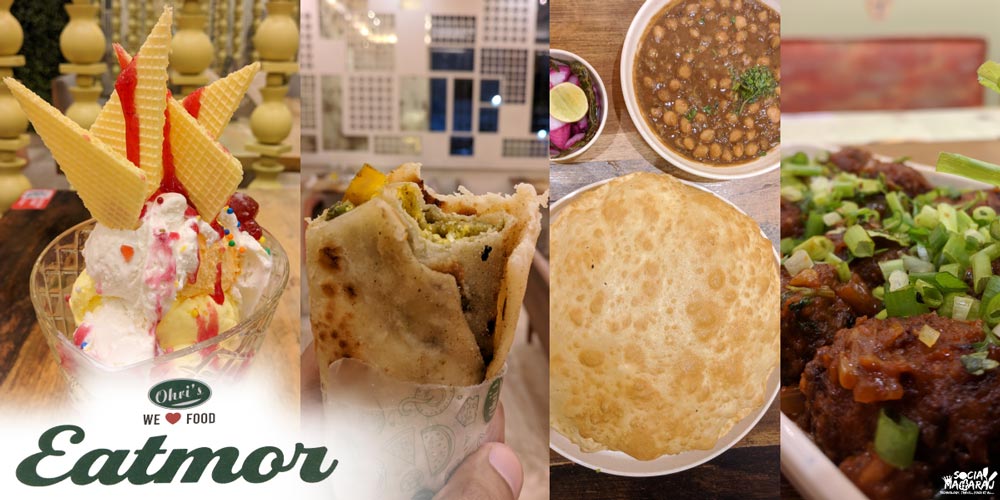 Ohri's Eatmor – new restaurant in Begumpet
Ohri's Eatmor has replaced De Thali in Begumpet and it's a good news for all the fast food lovers. They have a decent menu with a good mix of everything – North India, Chinese, Italian etc.. Their ever expanding menu just started serving some Chinese dishes and I'm ordering my next Chilly Paneer from here 😉 The restaurant is running with minimal staff with each of them taking full precaution.
Overall, I had a good experience like always. It was good to see that people are visiting the restaurant and I wasn't the only one there. I'm sure that this will pick up soon. Lastly, though the food was on the house, the review here is completely honest like always.
Further, I feel that these are tough times for restaurants and it's we who have to stand by with them. So, if you are in and around Begumpet do check Ohri's Eatmor or look them up on Zomato/Swiggy and order at home.
So, in these conditions, are you willing to visit a restaurant ? Share your thoughts in the comments below or tweet to me at @Atulmaharaj or dm me on Instagram