Before I begin let me clarify that I'm not a frequent flier. (Until unless flying once in two months on an average is considered frequent :P) Nevertheless, whenever I'm flying I try to reach the airport early to explore the place. During my 'airport exploration' trips, I stumbled upon the Plaza Premium Lounge. These are a chain of premium airport lounges with a presence around the world. If you have been following my blog, you would aware of my post on Layover at Loyalty Lounge at Chattrapati Shivaji airport, Mumbai. That was a great experience. Away from the hustle and bustle of the airport, the lounge is the place to be. But be sure to have a reminder about your flight's boarding else you might miss it !
Plaza Premium Lounge at New Delhi Airport
Anyways, again, If you are following my blog, you would aware that I was on a trip to Rohtak / Amritsar last month. During that trip, I flew from Hyderabad to Delhi and back. And that was the time I had a layover at Plaza Premium Lounge at Indira Gandhi Airport, New Delhi. (Yes, I know this is a very late post !) The domestic terminal at IGI Airport, New Delhi is pretty small when you compare to other airports in the country. The Plaza Premium Lounge is tucked away in the corner of the build on the first floor. You can easily spot this on your left hand side when you are at the security check.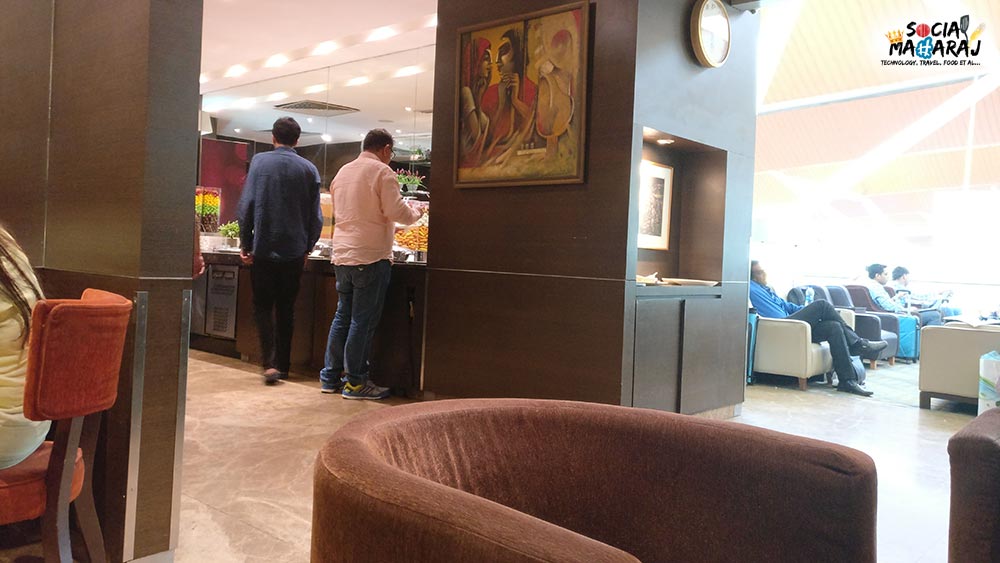 Ambiance
Plaza Premium Lounge at Indira Gandhi Airport New Delhi is very small. Congested is the word I'm looking for here. You barely have place to stand. My flight was at 7pm and I checked in to the lounge at around 5:30 and boy there was a queue at entry itself. After standing for a while, I was lucky to have gotten a seat. There are lots of fliers in the lounge which makes it look small. Even the buffet area is very small and you are bound to dash someone with your plate ! Also the buffet area was not 'that' clean. In short, it's a good place only when not many people are around.
Food
One of the best part about the lounge is food. (from a Foodie point of view :P) Plaza Premium Lounge at Indira Gandhi Airport New Delhi is not different. It had a good variety of salads and breads on offer apart from soup. The main course item included Butter Rice along with Paneer Makhni for vegetarians and a Chicken Curry for the non vegetarian. From the 'Live Counter' there was Dosa. Apart from food there is a bar counter where you need to pay extra for alcoholic beverages while soft drinks are free. The food was good and had a very balanced taste.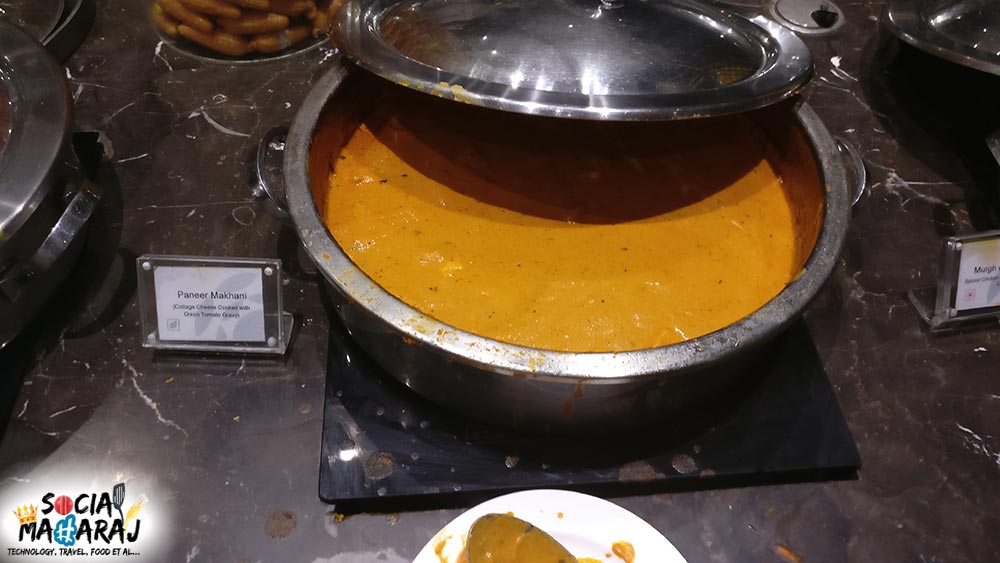 Should you try the Plaza Premium Lounge at New Delhi Airport ?
All in all, Plaza Premium Lounge at Indira Gandhi Airport, New Delhi is a good place to spend some time before boarding your flight. However the place is very small compared to others that I've visited. So sitting out might be a better idea when the place is crowded. As a precaution, do place a reminder about your flight's boarding as this is a silent airport and no announcements are made in the lounge. Already visited the Plaza Premium Lounge at Delhi Airport ? How was your experience ? Share in the comments below or tweet to me @atulmaharaj
Other Posts in Layover series: