UGC or User Generated Content is all the content that is generated by users like you and me. It includes everything from our Facebook profiles, Instagram photos and videos. And almost half of the people in the world contribute by creating and sharing content on the internet. As the technology evolved and the internet speeds increased, the quality of content shared also increased. High quality photos, 8K videos began to be shared. 
Another interesting thing that is happening over the last few years is that the attention span of users is coming down due to which more short form of content is gaining popularity. The primary reasons behind stories, fleets and reels. TikTok was the largest platform that was exclusive to such short form content, but after it was banned in India, people started to look for alternatives. Many apps from Indian developers cropped up but not all were perfect. However, an app that is loved by people is REMUSH, the TikTok alternative we are looking for.
REMUSH = TikTok + likee + mv master + instashots + uvideo
Why does one prefer a Swiss knife over an ordinary knife ? The answer is quite simple, Swiss knife has everything you'll ever need. Same is the case with REMUSH. With a flood of short video sharing apps, I thought to check it out and see what REMUSH is all about. To begin with it's a video sharing platform where anyone can share videos. All you need to do is download REMUSH on your Android phone and start shooting. The app allows for endless viewing of carefully curated interesting videos that will keep you hooked to your phones.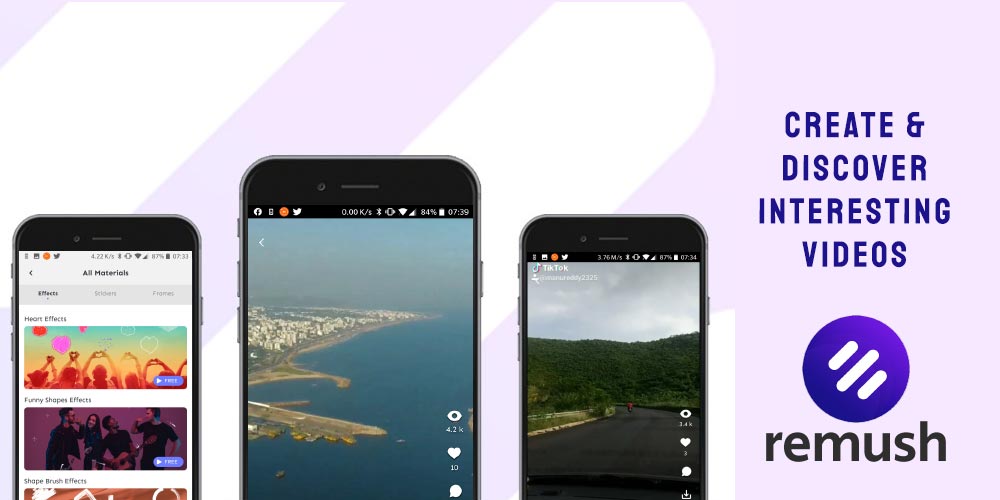 The interface of REMUSH is quite simple and easy to navigate. Post installing the app, I did face a few initial hiccups with the network, but was smooth after that. Once logged in, you are presented with curated videos for you. You have two tabs on the top "For You", "Trending" so once you start watching interesting videos, the recommendations will change for you over time. This will ensure that you get to see only the things that you like and find interesting. The effects and variety of filters available on the app make it more enjoyable especially for content creators.
What makes REMUSH special
With so many short video sharing platforms around, what makes REMUSH different from the rest ? There are quite a few features that I liked on REMUSH due to which I feel REMUSH is the tiktok alternative we are looking for.
No Registration to watch videos on REMUSH
One of the features that stand out for me is that you don't need to create an account to view videos. So when I installed the app, I was taken straight to the home screen and videos started appearing. I like this so that you don't actually need to register to view videos. However, it is recommended that you register so that the videos are only those videos that show up in your feed that might be interesting for you.
Using Audio from another video
Another interesting feature that makes REMUSH special is the ability to use the background audio from any video. For instance if there's a video on REMUSH with a dialog that you like, all you need to do is, hit the REMUSH button on the bottom right. This option first shows you a list of videos that are using the same audio along with allowing you to use that audio to create a video. No more searching for that audio clip that you heard, you like it, you use it.
Creator Studio – everything at one place
Probably the stand out feature on REMUSH is their in app creator studio. First thing you notice are the ready made templates. REMUSH offers good choices of templates, from movie templates to festivals and even invitations. So simply choose a template, record a video and audio and voila you're done ! Apart from templates, it offers some unique and intelligent tools. Face Swap is one such tool. You can choose/search any video and have your face neatly swapped in the video ! Be in a video with your favorite star 😉 Creating a slideshow or montage was never so easy. REMUSH offers seamless integration of video editing tools that will allow you to quickly create videos.
My Thoughts on REMUSH
Like all other apps, the installation was a breeze and the fact that you can view videos without registering was a good call by the team. Non intrusive screens on the app homepage was a good thing to see after a long time. The UI was refreshing and non intrusive thus providing the full screen for viewing videos.
Being a content creator, my interest was more in the creator studio. The app provides a lot of premade templates. You have simple templates or templates with dialogs, songs in them so it's just tap and share to upload videos. Also the face swap feature was good, it detects faces nicely and a good to have feature. Plus creating short videos from my photo gallery was easy.
At some point I did feel that I wouldn't need a separate video editing app, REMUSH is good enough to handle tasks of creating montage and reels. And it doesn't stop here. There is an option to add additional items to videos like stickers, frames and special effects to take your videos to a new level all together ! Each item is a pack and consists of several effects in that category. For instance if I'm looking for smoke effect, there are 12 variants of the effect that I can use.
Though most part of the app was good, there were a few things that didn't amuse me much. The moment I logged in to the app, I was presented with a lot of videos on my feed. I don't know why, but all were Telugu videos which I don't understand. I'd prefer an option to choose my interests and have videos shown accordingly. Also, there should be a stronger content moderation team to ensure only suitable content is shared on the platform. I'm aware the team is working on this already, so this should be better soon.
Are you on REMUSH yet ?
REMUSH is a fast growing short video sharing platform where you can find lots of interesting videos. Touted as the one stop app for sharing short videos, REMUSH has all that popular features that you want at your disposal. The app is available to download on Android for now and has already clocked over 100,000 downloads. As a content creator, you need to always work on increasing your reach and with REMUSH, you'll reach a lot more people. Your videos will be carefully shown to people who like such content thus growing your fanbase.
So after reading so much about REMUSH, are you on REMUSH yet ? Share your thoughts in the comments below or tweet to me at @Atulmaharaj or DM me on Instagram.