It's been over a month since I have stepped out of my house. Be it for grocery, dining out, or exploring places, everything has taken a back seat. I had planned to work from home from a different city as I needed a change desperately. But thanks to the situation now, nothing is happening.
Amidst all of this, one of my friends asked me to join her on a virtual walk in Kolkata. Do you think I would have declined that offer? The last I had been to Kolkata was in 2004 for my Bournvita Quiz Contest shoot. Ever since I've been longing to visit Kolkata.
Nonetheless, a virtual walk experience in Kolkata seemed exciting. It was hosted by Immersive trails who are known for their in-person and virtual walks. Being my first virtual walk, I thought to pen down my experience here. So join along in my first virtual walk in Kolkata.
What is a Virtual Walk?
Many of you might wonder what a virtual walk is. Virtual Walks gained popularity ever since the pandemic hit. Immersive, 360-degree views/maps were common before that as well. So you could yourself land in a city and explore it in 360-degree street view. However, in the case of a virtual walk, things are different. You are guided by a professional who will take you through a place and show you around albeit virtually.
A virtual walk can be conducted over a video call where the guide/presenter will share their screen while others act as participants. The presenter talks about a place supported by presentations, images, audio, and videos. So with leaving your favorite couch, you can travel to a different corner of the world and take a stroll. Being in Hyderabad, a virtual walk experience in Kolkata was something that I was eagerly looking forward to.
My first Virtual Walk – Single Screens of Kolkata
The virtual walk that I attended was about single screens of Kolkata. While I am not a movie buff at all (people who know me personally can vouch for it), I do have some interest in history. I love learning about places and things and how they evolved. And Kolkata being a place that I've been longing to visit, I thought this would be a good place to start with.
We talked about the start of motion pictures and the theater culture in Kolkata. I was surprised to learn that this cinema culture had started way back in the 1890s. One of the early instances of a movie was the Panorama of Calcutta that was showcased in the late 1800s. We learned about various personalities like Hira Lal Sen, Jamshed Madan who were the pioneers in making movie watching and experience. In fact, Jamshed Madam built India's first dedicated theater – Cornwallis theater.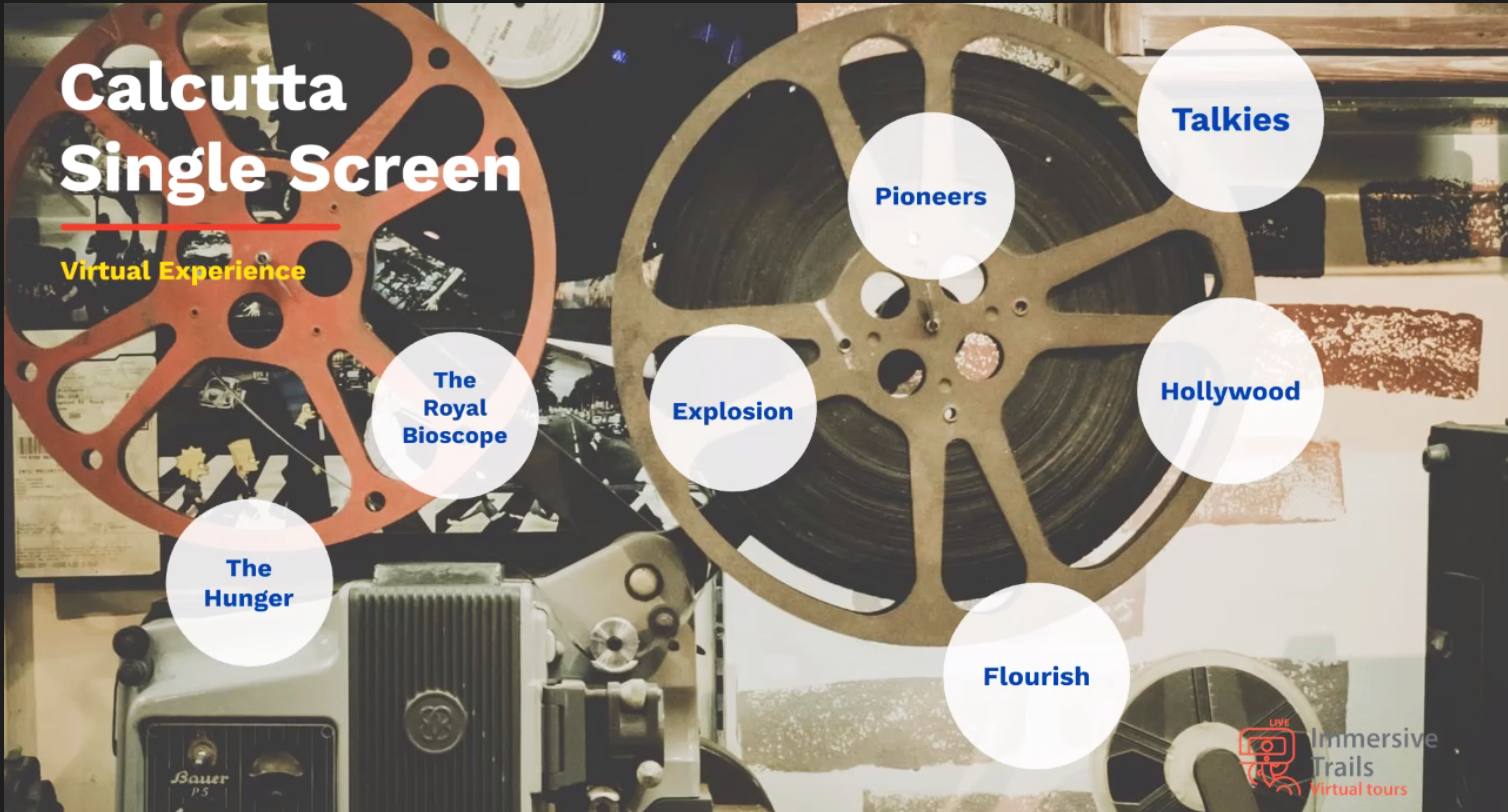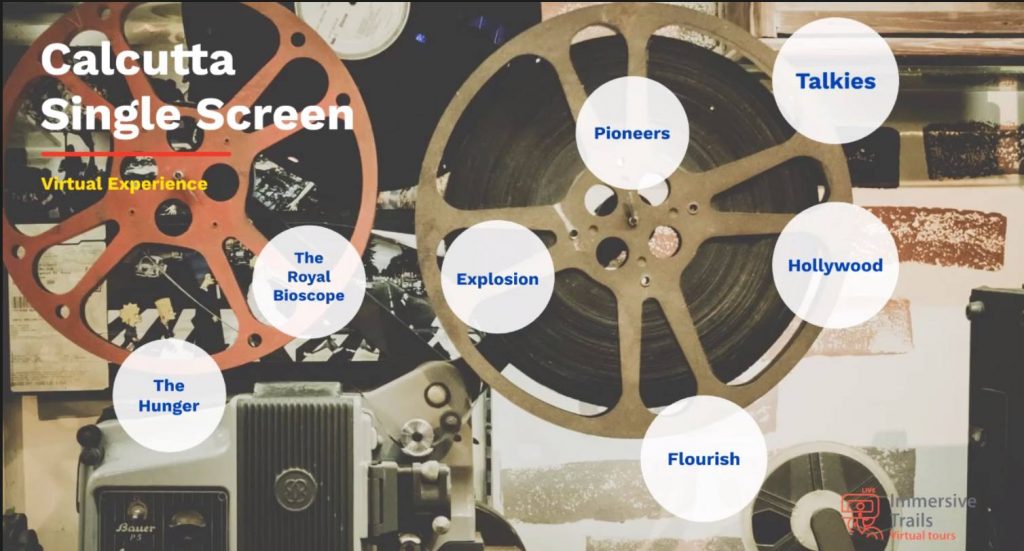 We then saw how things changed over time and many of the iconic architectural marvels of their time were lost. There are barely a few single screens left in Kolkata now. Even the families that own such theaters are no more interested in the venture. However, there are a few of them that are still functional.
If you are a movie buff and an equally passionate historian, I would recommend the Single Screens of Kolkata virtual walk by Immersive trails. They also have a lot of interesting virtual and in-person walks that you can opt for.
My Virtual Walk Experience with Immersive Trails
One of the first walks of any kind that I attended was the one by RudBuddy here in Hyderabad. It was an exciting experience as I learned more about the heritage of the city and also met interesting people, some of whom are good friends now.
This being my first virtual walk experience, I was eagerly looking forward to it. It was scheduled to start at 6 PM and we had people joining in well in advance. There were about 21 participants including the host. We started with a round of introductions only to realize that most of them were extremely passionate about movies and architecture (I was neither of them) and many of them knew each other. While the majority of the people were from Kolkata and other parts of West Bengal, there were a handful of people joining from Mumbai, Hyderabad, and even France.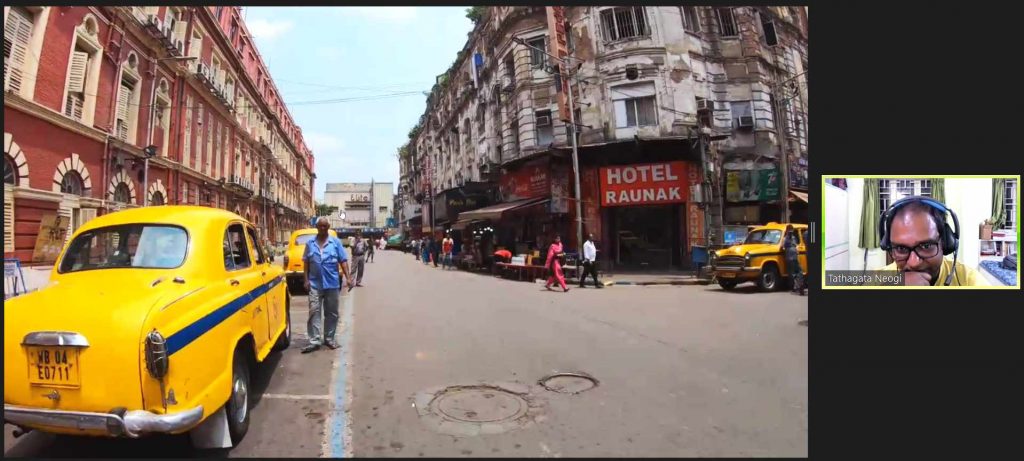 It was a zoom call, and the host was well versed with the walk. It was an extremely well-researched walk with attention given to the minutest detail. The host had also taken the effort to shoot videos of the single screens in Kolkata that we discussed. The videos even included walking from one place to another which was commendable.
The images and videos from the archives were quite interesting. In fact, the walk started with a video of Varanasi Ghats from the 1800s! The highlight however was the 360 degree captures the host had taken for the theaters he got access to. There was some exclusive footage that people like you and me would never have access to.
Should you opt for a Virtual Walk too?
The credit for my virtual walk experience in Kolkata goes to my friend. She had an extra ticket and she thought that I would be a worthy companion for the walk. Being my first ever virtual walk, I thoroughly loved it. While I would admit that I had absolutely no idea what I was getting into, this was fun. The people who attended the walk were experts and had abundant knowledge about movies, architecture, and Kolkata in general. At times, I was overwhelmed with the information the other people had. Further, I felt that making use of street view maps along with videos could make it more interesting.
So coming to the question, should you opt for a virtual walk too? Absolutely. Considering that the pandemic isn't going anywhere sooner, taking a virtual walk experience could be a great way to explore places. My only advice would be to choose one based on your interests. There are a lot of people offering virtual tours across the globe. Go to their website, read reviews, meet with people who have attended virtual walks to get feedback, and take a call. Since these virtual walk experiences are paid, the people joining would be a passionate group of individuals.
That was all about my virtual walk experience in Kolkata. If you've taken any such virtual walks or want to recommend me a walk, let me know in the comments below. Tweet to me at @Atulmaharaj, DM on Instagram, or Get In Touch.