Every city today has some iconic eateries and restaurants. Some of them may be serving age-old dishes while others are more about the legacy, ambience and service. Hyderabad has the Taj Falaknuma, which is considered to be the most luxurious place in the City of Nizams.
While places like Taj are known for their legacy, there are places like the Jewel Of Nizam, The Minar that provide you with some of the most beautiful views. Last week I decided to take my parents on a culinary experience at the Jewel of Nizam – The Minar, Golkonda resorts. This post is going to be my review of a dinner at Jewel ff Nizam, The Minar.
Royal Ambience at Jewel of Nizam, The Minar
Jewel of Nizam, Minar for the unaware is a fine dining restaurant. It's located at 100 feet above the ground providing you with amazing views of the Osman Sagar lake. Jewel of Nizam Minar is located inside the Golkonda Resorts in Hyderabad. The property is spread across a large area and has cottages to stay. There are a handful of restaurants in the resort and Jewel Of Nizam, Minar is one of them.
The walkway leading to the restaurant is surrounded by grass beds and trees and you already feel that you're in a good place. At the entrance, there's a small waiting area. The area itself gives royal vibes with intricate lamps, well-done ceilings and a decorated sofa. There's also a large portrait of the Nizam along with a beautiful chandelier.
You're greeted by the receptionist, who'll take you to the restaurant. While I thought it was located on the 10-11th floor, as per their lift it was 3rd. Once you're inside, you'll find yourself surrounded by antiques and royalty. Not to forget the mesmerising views the restaurant provides.
They have multiple seating options, right from 2 people to 10. However, you need to have prior reservations to choose your table. Also, there is a cover charge of Rs 1000 per head that will later be adjusted in the bill. I had already made the bookings earlier so the receptionist, took us to our table.
Pro Tip: The views are useless during the night as it's dark and you can barely see anything. So don't be like me, and go there for lunch if you want to enjoy the views.
Jewel Of Nizam The Minar – Review
The restaurant celebrates Nizami cuisine and had a menu that reflects that. A good, well-balanced menu that has vegetarian and non-vegetarian dishes. If you're a meat eater, I've heard that Patthar ka Ghost and Biryani are quite good here. Also, the Pyaaz ki Kheer is worth a try.
They have an A'la cart menu along with a set menu. We decided to opt for the vegetarian set menu which is priced at Rs 2800++ per head and comprises a soup, 3 starters, 5 main course dishes along with a variety of bread, Biryani and a couple of desserts. We ordered a couple of mocktails apart from the set menu.
Up to Par Soup & Starters
While we looked around at the bespoke interiors, our server got a welcome drink. It was a chilly guava drink that was nice. We were also later served a vegetable Adrak Subz Mutter Shorba. It was warm and comfortable, but surely not amongst the best I've had. Moving on to the starters we had Paneer Tikka, Kaju Malai Ki Seekh and Hara Bhara Kebab. All of us liked the Hara Bhara kebab, it was moist and flavoursome.
Paneer Tikka on the other hand was nice but fiery. The Kaju Seekh was something new that I tried, it had a sweeter taste that balanced the flavours. Starters were a little spicy, when asked the server if the spice level could be toned down, he told it was not possible. So a red flag there, maybe we should have told this earlier, but preparing something to our taste shouldn't be an issue.
Mediocre Mains
Post the starters, we had the mains coming in. Neatly plated in a semi-circular silver plate, were 5 bowls with curries and dal. We had Paneer Makkhan Masala, Subz Dum, Kofta Naram-e-dil, Nizami Tarkari Handi, Hyderabad Khatti Dal.
Along with that, we got Kukcha and Lacha Paratha, 2 pieces of each. Paneer was nice and soft. One of the better Paneer I've had off late, however, the gravy wasn't great. Subz dum and Nizami Tarkari weren't distinguishable. Kofta was okay. Hyderabad Khatti Dal was nice and liked by one and all. Post that we were served a handi of Subz Dum Biryani and I felt Bawarchi has a better veg Biryani than that.
Frankly, I expected a lot more from the mains. The flavours were quite average and nothing was wow about any of them. Disappointing and mediocre main course.
Ordinary Desserts
For desserts, we had a couple of dishes – Apricot Pudding and Kaddu ka Halwa. The halwa was nice. It was on the sweeter side, but with the elaichi and the thick consistency, I liked it. The Apricot Pudding was below average. It felt like it was taken out of a refrigerator and served. The pudding was off and the dessert turned out to be pretty average. Sometimes I wonder, why it's difficult for such places to make good desserts.
Not Worth Your Money
One of the places in Hyderabad that I was longing to go to ever since I moved here, was this. The ambience and the setup are pretty good and surely make you feel royal. While the views are amazing during the day, dinners are a waste for the view. That's probably a mistake I did.
While the starters were decent, the mains were a letdown. None of the dishes was something that I had not eaten anywhere or had different flavours. The desserts were off too. It felt like the ones you get at popular grill restaurants.
To add to it, they didn't keep a track of the cover charges I paid. I was served a bill of close to ₹12,000 and when enquired about the adjustment of cover charges, they told me to deduct the amount from this and pay the remaining. From a place like Jewel Of Nizam, I didn't expect that and that further ruined the experience. Why a place like this can keep a track of it?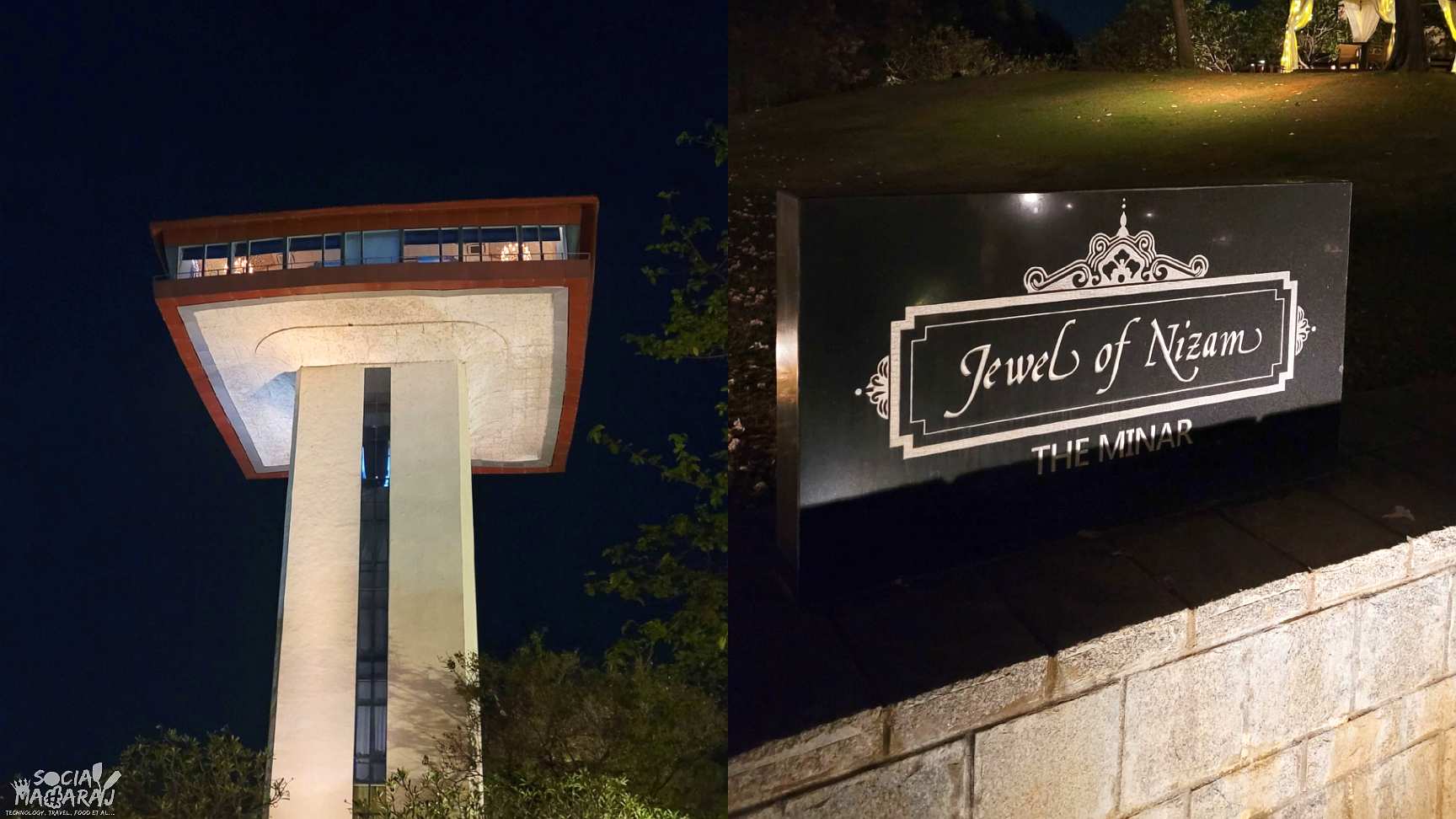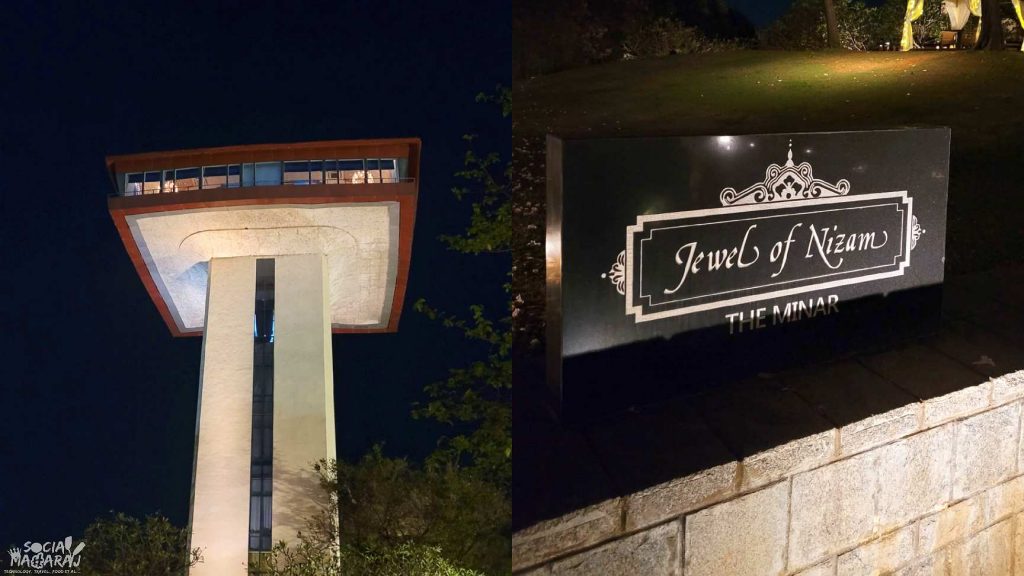 And at ₹12,000 for a meal for 3, this isn't worth, at least the vegetarian set menu. I was there to experience what's the fuss about and learnt it the hard way. My parents too resonated with the same thought, and felt the meal we had at Kangan, Westin was way better than this. The servers there were more welcoming and cordial than the folks here.
I wouldn't recommend this place for the vegetarian set menu. If you're a meat eater, you might want to give it a try, but I'd suggest avoiding it. I've visited and written about more than 150 restaurants across India and this would have been my harshest review. Very rare it has happened that I've visited a fine dining place and come out disappointed.
Let me know your thoughts about The Jewel of Nizam, The Minar in the comments below. You can also tweet me at @Atulmaharaj, DM me on Instagram or Get In Touch.