Hyderabad is famous for the iconic Charminar and the finger licking, world famous Hyderabad Biryani (Bawarchi or Paradise ? Who's got the best biryani) and no tour to Hyderabad is complete without these two. But that ain't all that one can do in Hyderabad, one can learn about the rich history of Hyderabad and India at the Salarjung Museum or have a gala family fun time at Ramoji Film City. Well, in this post I'll share my experience of Ramoji Film City.
Ramoji Film City is one of the must-visit places in Hyderabad, but if you are on a short trip, you might want to skip this one as it needs minimum one full day -to explore some parts of the film city. Yes only some parts ! Recently I visited Ramoji for the second time, probably after 7-8 years, and must say its booming and flocked by tourists from all over the world. The entry ticket to the film city is charged at Rs 900 for an adult and Rs 700 for children. They also have a Ramoji Start Experience package that cost Rs 1900 per head (1800 if you book online) You can read more about it here.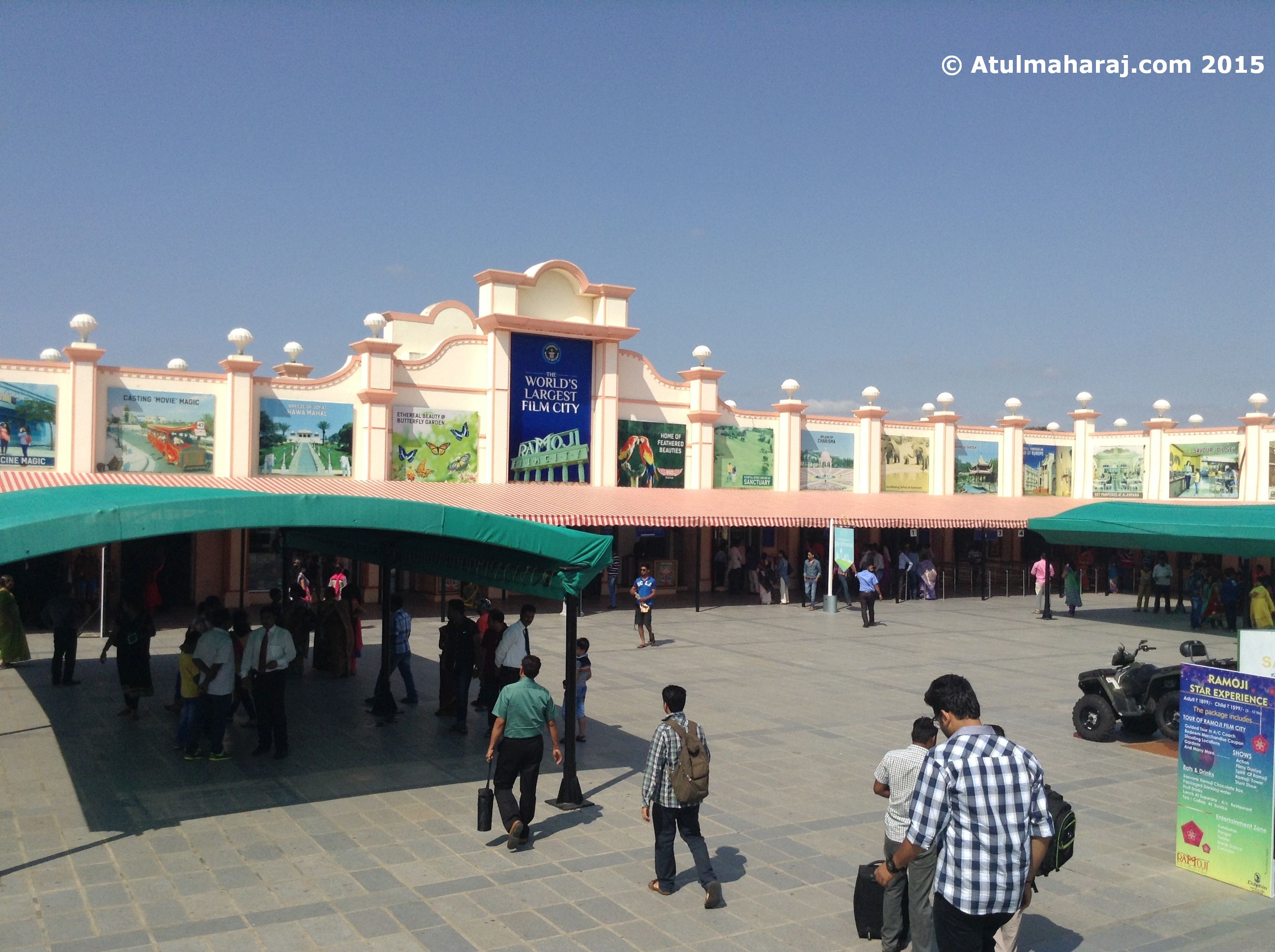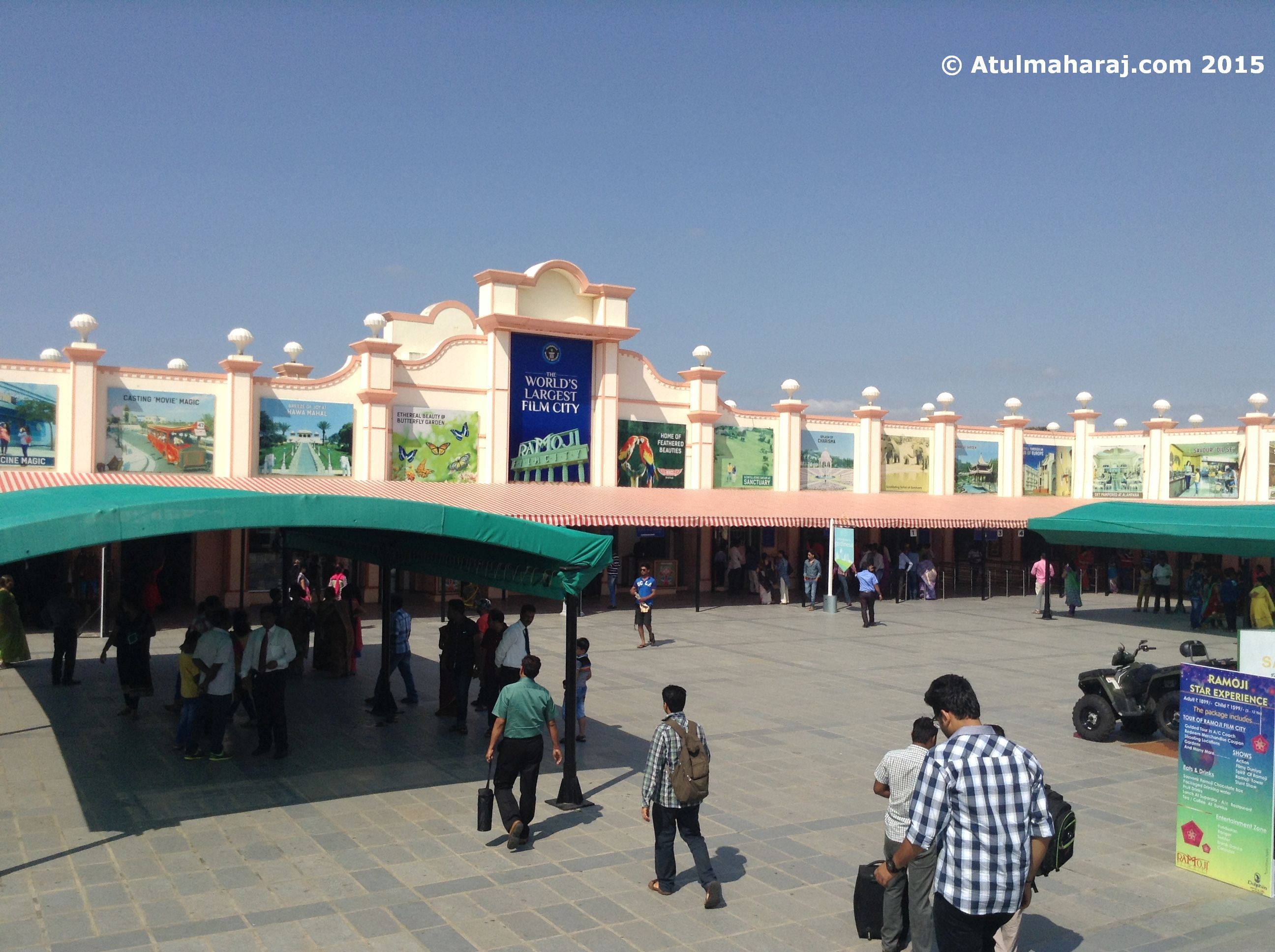 It is situated very far from the city and will take anywhere from 1-2 hrs reaching there, depends a lot on the traffic. You have the liberty to drive your own vehicle or use the bus service they have to offer. The Ramoji Film City Bus Service starts from Gachibowli and costs Rs 175 per head for pick up and drop back to your boarding point. The Bus goes through the prominent areas of the city including Kukatpally, S.R. Nagar, Begumpet, Khairatabad, Ladki ka Pul, Hyderbad (Deccan), Koti, Abids to name a few. You can simply call their toll free number and their bus conductor would call you on the day of travel. You can buy tickets online or after reaching the film city. As I took an online ticket and opted for the Star experience package, I skipped the queue and went straight into the lounge. Greeted by the staff while others in my group were made to sit in the lounge while was clean and cool. They provided some stickers (yellow stickers for star package and green for normal package) along with chocolate boxes and water bottles.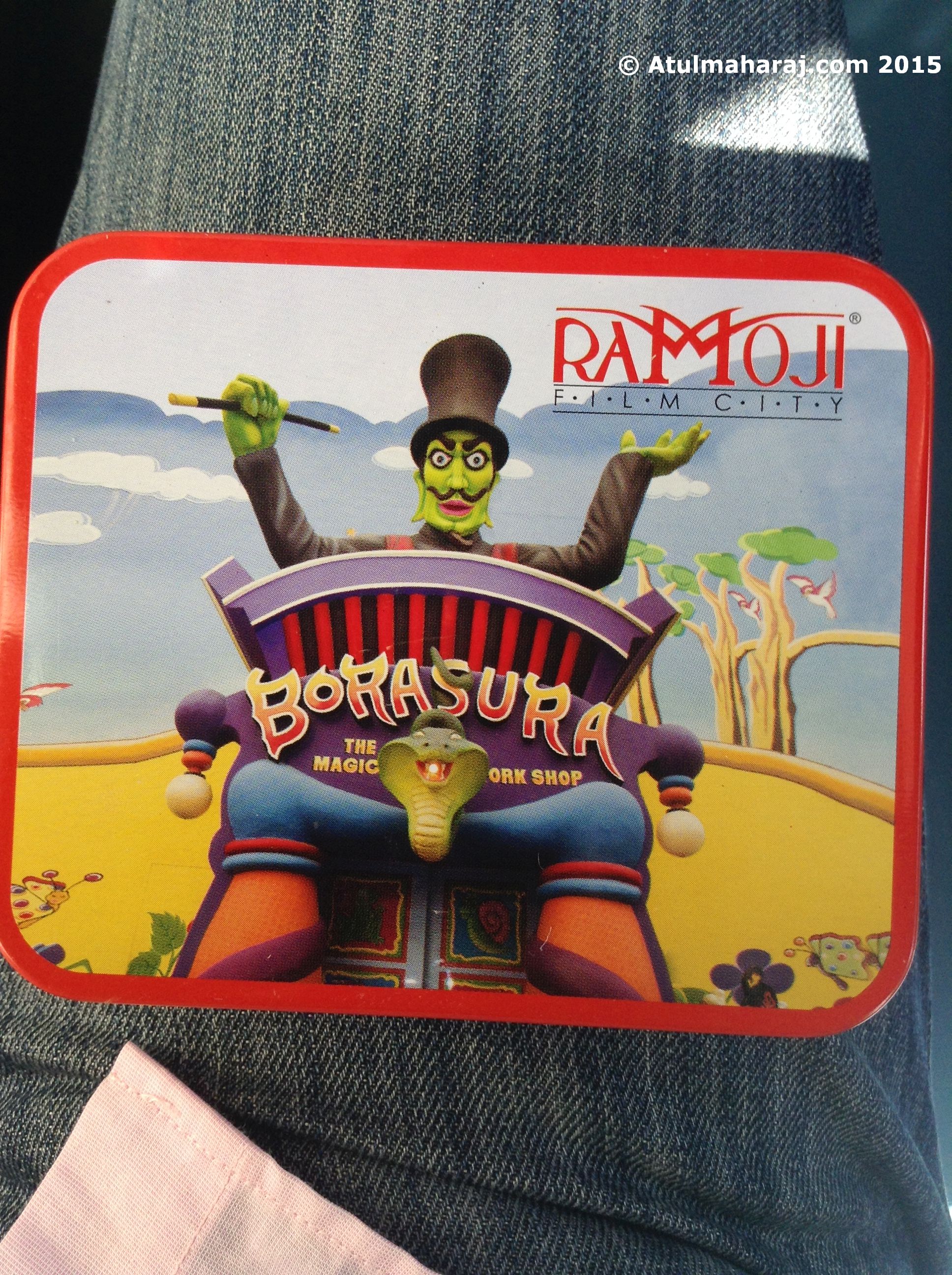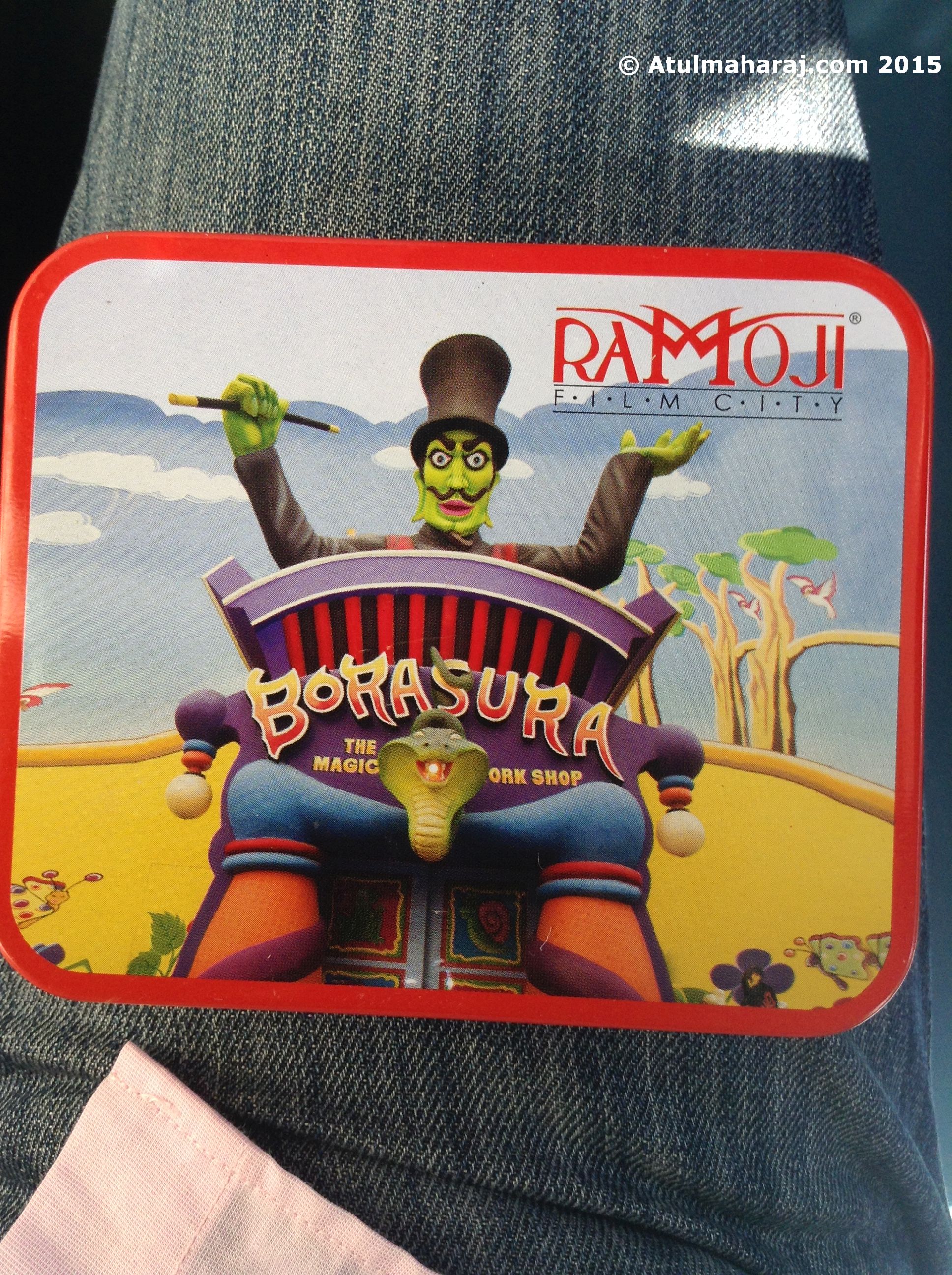 We the got on to our mini AC bus(RFC star experience includes the entire trip in AC bus) and were greeted by our guide Ramachadran. Great person, always wore a big smile 🙂 After a good 10-15mins drive we reached the real place of action, Eureaka. There was an opening ceremony that began at 10 and had dance performances on some of the great bollywood tracks. After this we went on the complementary rides that were a part of our package. There were three rides, (I dont remember their names though :P) After that we went to the play area, and visited Burasura – The Magician's kingdom. This is an amazing place, scary for a while but great visual effects. I remember I had cried last time I visited here in class 8 😛 You don't want to miss Burasura.
After this we had some snacks and moved to the guided tour of the city. From gardens to sets to real buildings, everything looked real for once. From England's busy streets to International Airport, everything was so perfect. Huge buildings that looked real from the front but were open air from the back 😛 The city gave a taste of India with famous monuments from all over the country. I won't talk much and spoil your visit, go ahead and have a look yourself ! Apart from this there was a bird and butterfly park which was amazing. One thing I liked was the ample seating spaces made available in the entire film city and the cold drinking water joints at short distances. Thumbs up for this one !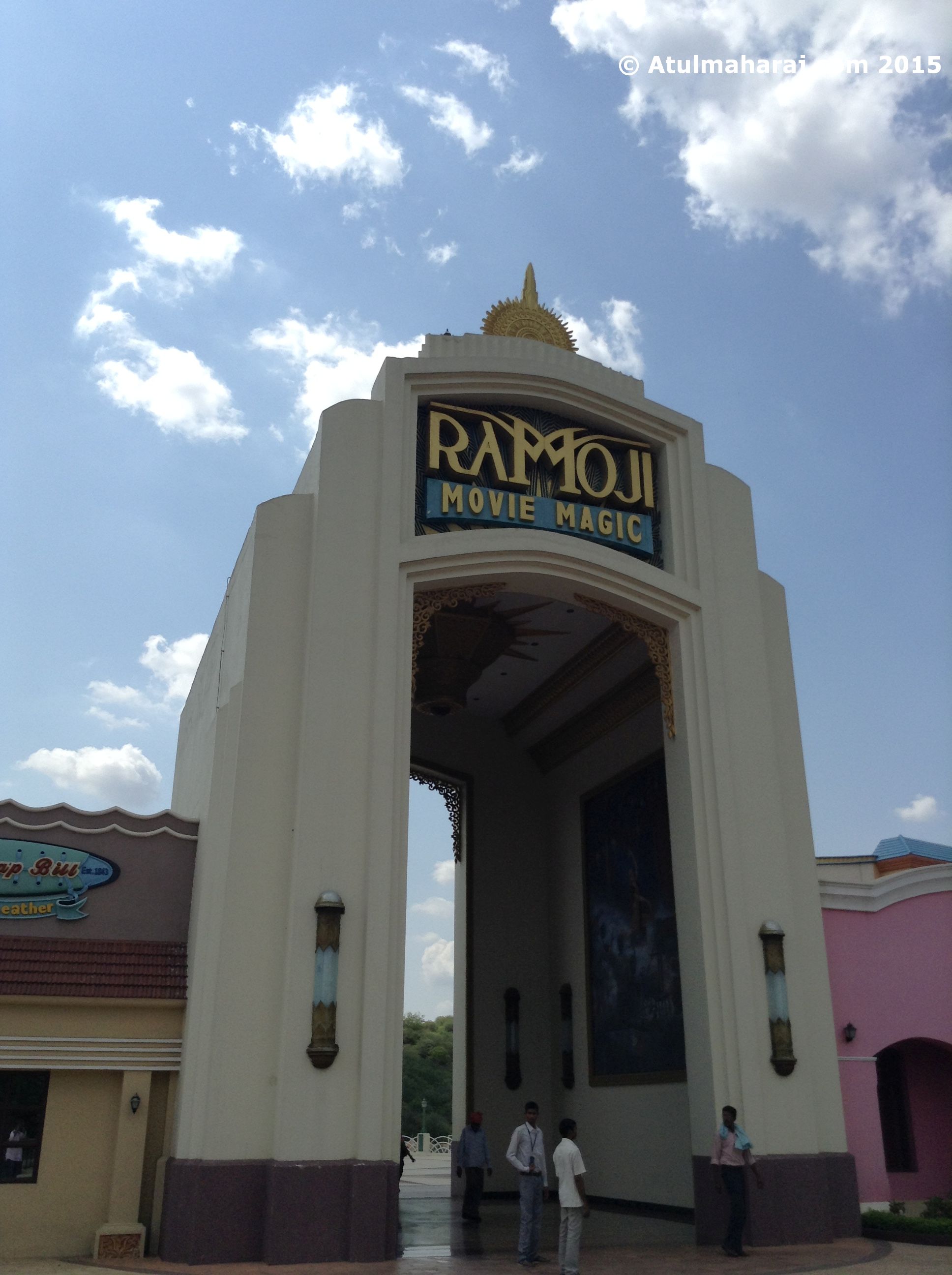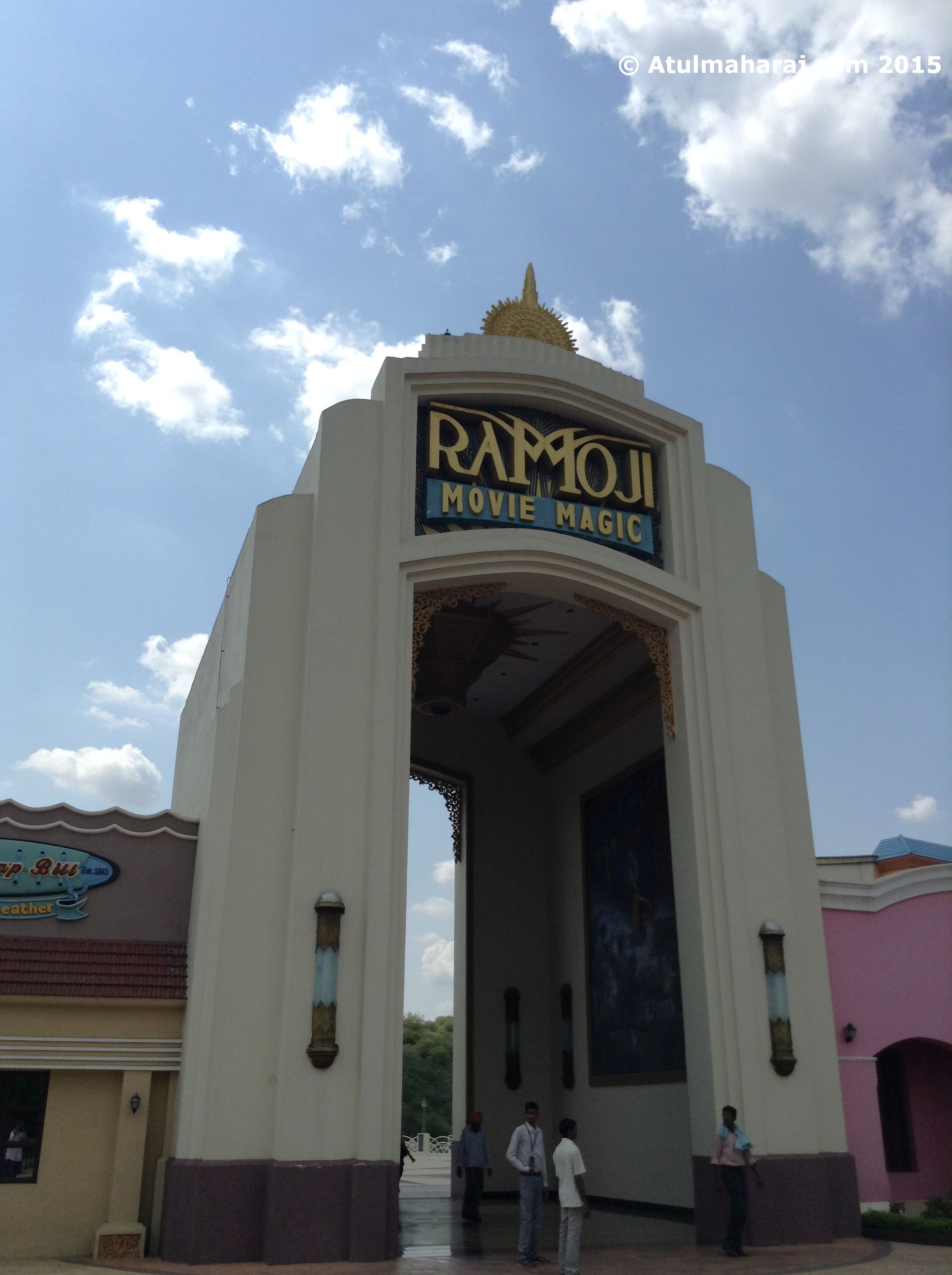 We then had our complimentary lunch at Superstar restaurant, last time I had lunch at Chanakya. The food was tasty and very balanced. North Indian, South Indian, Chinese and some mouth watering desserts were on the spread. Great food and amazing ambiance. After lunch it was time for the various shows the city has to offer – Lights Camera Action, Movie Making, Filmy Duniya, Wild West Stunt Show and Spirit of Ramoji. Out of all my favorites are all but Spirit of Ramoji, it tends to become a bit boring after a while. Rest all shows are amazing and hence won't talk about it and spoil your visit ! Make sure you don't miss Movie Making and Wild West Stunt show.
By now it was 5 and day was coming to an end and still we hadn't seen many places. Most places were just drive through, so if you want to visit each and every place, you need atleast 2-3 days. They don't have packages for this, but if you are staying at their hotel inside the film city, you might get some tailor made packages. Further, there are many merchandise stores which have some great items for sale, so do look out for them. Also you can redeem the coupons you get in the tickets (Star Experince Package) here, multiple coupons CAN be applied on a single bill.
All in all, the whole experience was truly a Star Experience. Expensive but definitely worth. It's definitely a place to be if you are on a long trip to Hyderabad. You'll get to see many new things that will you awestruck. The entire trip might be tiring as you do have to walk a lot, but if you are backpacker, you wouldn't mind this, I guess.
So, the next time you are here, make sure to visit the Ramoji Film City.