"It's better late than never" – this saying stands true in the case of the Hyderabad Metro Rail Project. The Hyderabad metro rail project has hit a lot of road blocks firstly due to the Andhra Pradesh Telangana state bifurcation due to which L&T was stranded as to which state would fund the project now. Later there were a lot of issues related the route near the old city and there were lot of suggestions to divert the route. The Hyderabad Metro Rail project is stretches from Begumpet via Ameerpet, Erragada, Moosapet towards Kukatpally. Since this is the route I use to travel to work, I've seen many sign boards which said work end day as Jul 31, 2015, but that hasn't happened yet !
Nonetheless, it was finally a great sight to see the Hyerabad Metro at the Moosapet Station. The work of the station doesn't seem to be complete yet with the escalators and other station related facilities still not done. The power cables were put up a couple of months back and not much work was done since then. But one good thing that happened was that at least they cleared the debris from the roads that was causing traffic jams.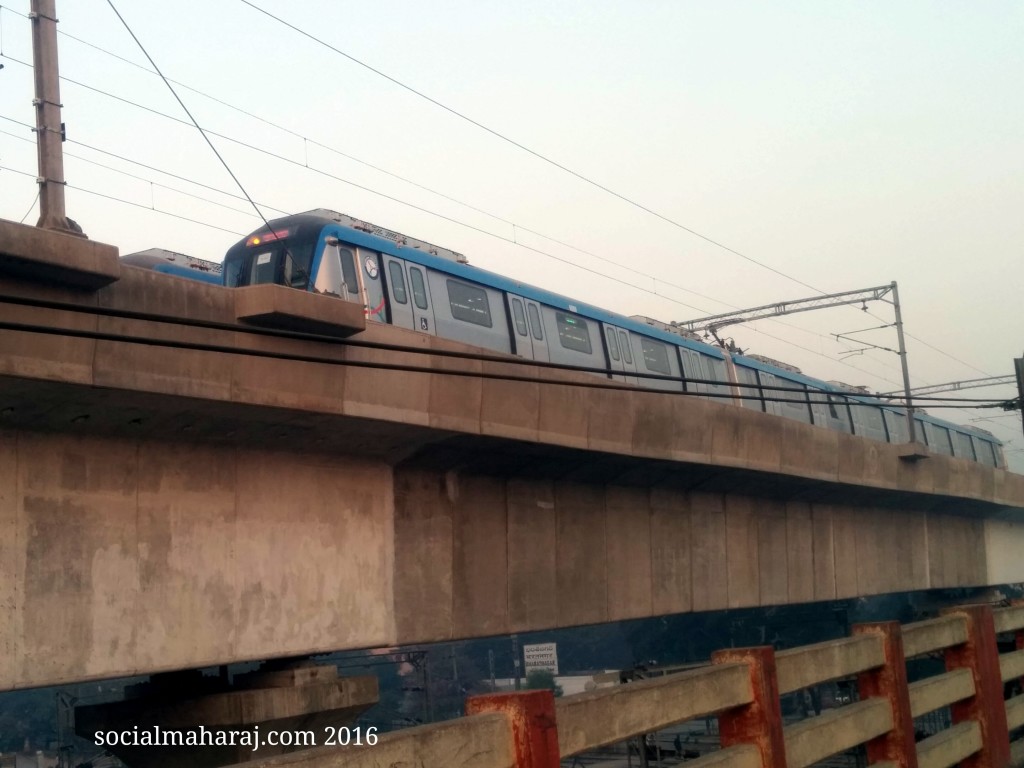 The Hyderabad Metro train which you see in the picture has only 3 coaches, unlike the 6 and 8 coaches as seen on the Delhi Metro. I guess maybe that's because this is just for trial basis. The coaches look much similar to the Delhi Metro based on the design. It was announced in 2014 that the Hyderabad Metro Rail Project would be a gift to public on Ugadi 2015 but that didn't seem to happen.
Well, maybe its a conincidence that all the cities that I've stayed in are either getting the Metro Rail or already had the Metro Rail. For instance Delhi NCR where the Metro was already established on Bengaluru where the work had started and now a good portion of the Metro is operational.
I hope that even the Hyderabad Metro Rail project completes well before I jump to another city so that I get to experience the Metro again 😉