Holi is one of the festivals which is enjoyed by everyone especially kids and the youth. It's a festival of colors and is celebrated with great enthusiasm everywhere. I remember during my childhood, we used to have Holi holiday in schools and we used to enjoy a lot with our friends. However thanks to the busy work schedule now a days that most of us don't enjoy the festival as much as we did while we were young. Maybe due to no leaves at workplace or the increased work load, there are a lot of hurdles that don't allow us to play Holi like we did earlier. Also for many going to work the next day with stains of color on their nails, hair etc. is a strict no and for that very reason many of them avoid celebrating it. Well "aaj kal ki bhaag daud waali zindagi mein" we don't have time to enjoy the festival, but it wasn't the same in my childhood days. Here's my Holi Memoir – Me and My "Rang Army"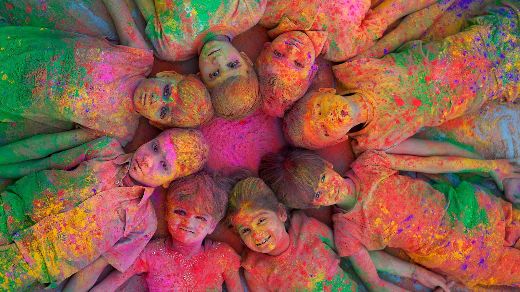 For all of you who haven't understood the title, it means me and my color army. Well yes, during my childhood days in Ahmedabad, I had a big circle of friends and relatives. And we used to plan it well in advance as to what would we do on the festival day. If you are laughing wondering what would kids have to plan then this is for you. The planning involved getting our armory ready – how many water balloons, how many pichkaris, how many bicycles etc. And we had people assigned for every task. I remember taking care of the water balloons one time. At that time all we used to play with was gulal or the dry color. And build up to Holi was exciting and deciding on a pichkari was the toughest decision. Initially I used to opt for the Gun type pichkari but later switched to the one with a water tank hung on my back. With everything set, it was time to play Holi !
On the festival day, the first thing was applying oil over hair and face and stuff and it used to be the narial tel aka Parachute oil. I never realized why was that necessary. Anyways after that all my friends would gather at one place and then start with throwing water balloons from the terrace of our buildings at people on the road and then hide. We were caught at times, but let off kyunki bura na maano Holi hai ! Post this we all used to take our pichkaris and ride in the lanes and visiting other friends who weren't on roads. Riding a bicycle and spraying water at others felt like a cop shooting at someone while driving 😉 Dragging friends out of their houses if they didn't come out, throwing bucket full of water, enjoying being drenched in the middle of the road with people watching were some of the things that we enjoyed carefree. 
Now a days walking with color all over you on the road with people staring at you might be the worst nightmare anyone could have ! With our busy lives and water crisis around, I guess there's no harm in having a 'dry' and 'tasty' Holi. Little bit of color here and there coupled with the delicious Gujhia will be the perfect way to celebrate Holi. So this time make sure you play holi KhulKe !
"I'm pledging to #KhulKeKheloHoli this year by sharing my Holi memories atBlogAdda in association with Parachute Advansed."