I'm quite sure that most of you reading this would have completed your schooling few years ago. Some of you would have had some great memories while others wouldn't want to look back at their schooling days. But here's one such 'School' that you'll love to go again and again. If you are in Connaught Place, New Delhi and wish to visit a 'hatke' school then  Odeon Social  is the perfect place for you. Odeon Social  in Connaught Place is situated in D Block and is right above the Croma store. I got a chance to visit this wonderful place last week thanks to my friend for suggesting this place ! Wondering why the title "Get back to school" ? Read on to find out more.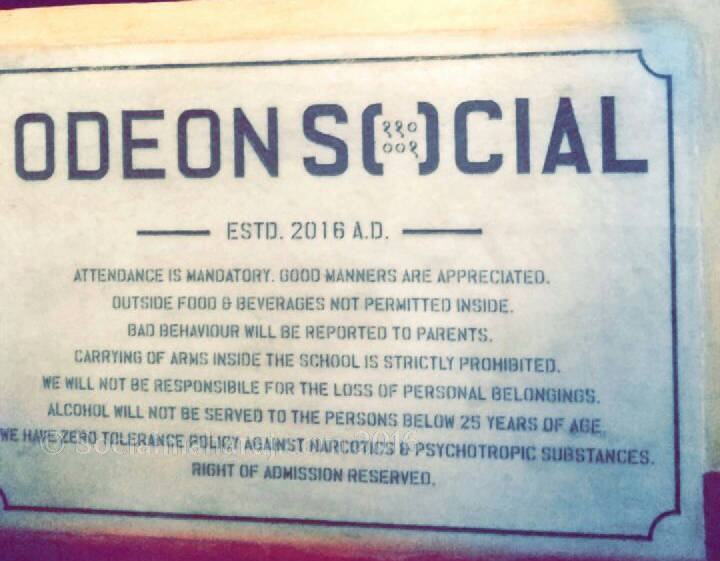 Odeon Social  is one of the most famous lounge in New Delhi with its most famous outlet located in the posh HKV (Haus Khaas Village – even I didn't know this a week ago 😛) This is Social's third outlet in the city and is right in the heart of Delhi at Connaught Place. The lounge is "School-themed" with everything from the furniture to lights, glassware to waiters everyone and everything will remind you of your school. Waiters dressed in trousers and shirts while the waitresses dress in shirt and skirts will surely remind you of school. Their glassware and silverware was unique in its own way. Beakers instead of glasses, flasks instead of water jugs, glasses with the hashtag #पानी were few of the things that caught my attention. Everything was perfect, wish even the seating was top-notch too. Tend to become tiring if you sit for long hours.
Moving on to the food. They have two separate menus for food and drinks. The place serves alcohol, so make sure you order the correct drink 😉 We were a group of 10 people and had ordered few alcoholic beverages while I had the Lemon and Lime Iced Tea. This was surely one of the best drinks I've ever had. It's presentation was simply superb – served in a mini bath tub I should say 😉
For food we had the vegetarian platter which was served with a variety of dips. The dips itself were unique and tasted perfect with the pizza breads. Apart from this we had a cabbage salad, Chilly Paneer, Chicken Noodles, Chicken Burger and Egg Sandwich. Overall I enjoyed the vegetarian food along with the non-alcoholic beverages I had.
Even the other members I the group enjoyed the meal with some amazing drinks. One of the drinks that caught my attention was schizophrenia, for its serving style. Placed behind a mirror and served with an incense stick and a flower this was something had seen for the first time.
So if you are in Connaught Place, New Delhi and looking for a good place to hangout then this is surely a great place to be. The school themed  Odeon Social  will surely enhance your overall dining experience. The lounge pays attention to the details and every aspect from food to ambiance which is just perfect. From price point of view it is slightly on the higher side but it totally depends on what you order. We spent about 7.5k for 8 people including alcoholic beverages.
Already visited the Odeon Social Lounge ? Share your experiences below and let us know how it was to get #BackToSchool 😉