Just like the famous jingle said "Sunday ho ya Monday roz khao Anday", my foodie philosophy says "Anytime is Ice Cream time". Whether it's hot or cold, whether you are happy or sad, there's an ice cream waiting for you ! As you would be aware from my previous posts, I'm on a food trail in Lucknow – the City of Nawabs. There was another restaurant that I was suggested to try. This time a dessert joint. I had already visited various outlets of Dezzerts earlier but this joint was different. Tucked away in a small corner of a shopping complex in Gomtinagar is Frozen Factory. Frozen Factory Lucknow, is an ice cream joint popular among the youth and college goers.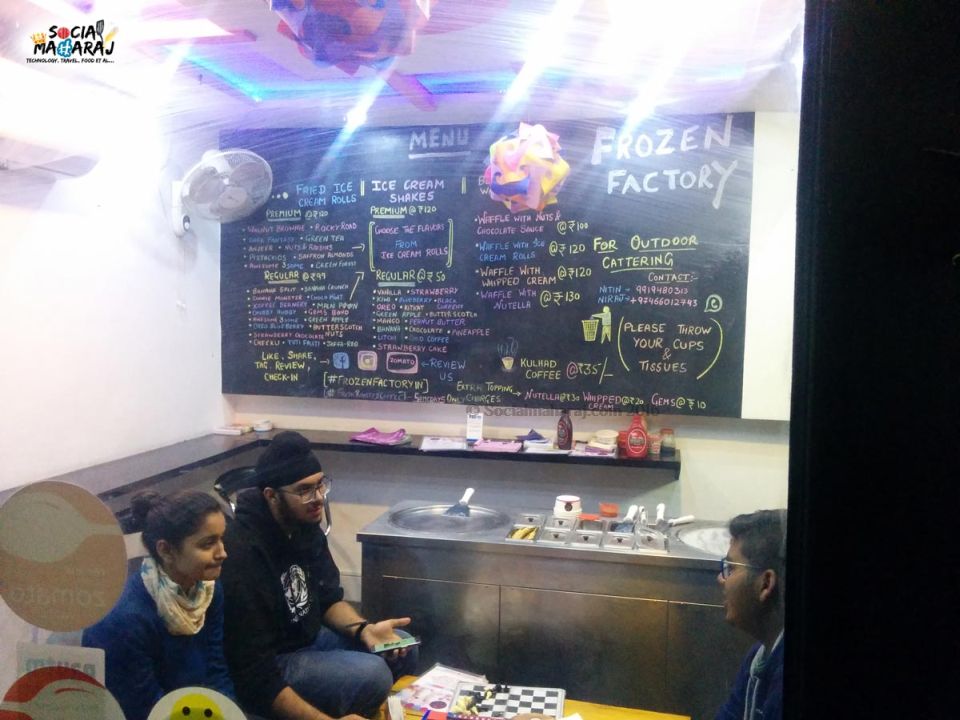 Small is the new Big
Frozen Factory is a small, tiny little outlet in Gomtinagar. The place barely has place to house more than 5 people, but that surely doesn't stop people from visiting the joint. The cafe puts a lot of emphasis on social media too, and that is pretty evident by the hashtags and social media handles of the cafe all over the place. The ice cream parlor has a small seating area with a small Foosball table and an ice cream making area. The owner, a young guy in his twenties is very cheerful and ensures to bring about a smile on your face. There is a common area for outside the shop where you can eat. So if you are more than 5 people, I suggest you to take a seat outside and wait for the yummy ice creams to reach you.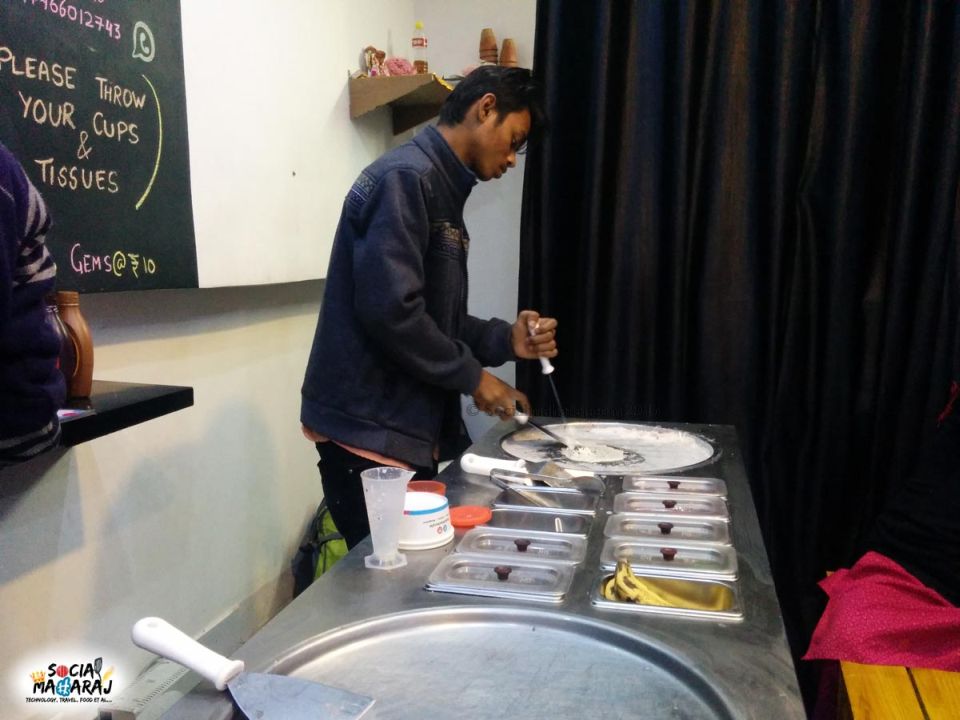 Yummy Ice Cream Rolls at Frozen Factory
The menu at Frozen Factory is neat and simple. Has some simple ice creams, variety of ice cream rolls and waffle preparations. The highlight of the ice cream parlor is that they actually mix and prepare the ice cream in front of you. So it's like choose your flavor, choose your toppings and see how they mix it up and serve you a delicious ice cream. If you've been to Hyderabad and have tried ice cream at Cream Stone, you would know what I'm talking about.
The ice creams rolls are something new so I tried something called as Awesome Threesome and Walnut Brownie Ice Cream Roll. Initially I thought it was the waffle that would make up the roll in 'ice cream roll'. However that wasn't the case, it was the ice cream itself served in a roll form. Priced at 120 Rs, both the ice creams were good. The amount was generous and was full on taste. They have perfectly matched the toppings with the ice cream flavors. So even if you are going in for set toppings, you're in for a treat.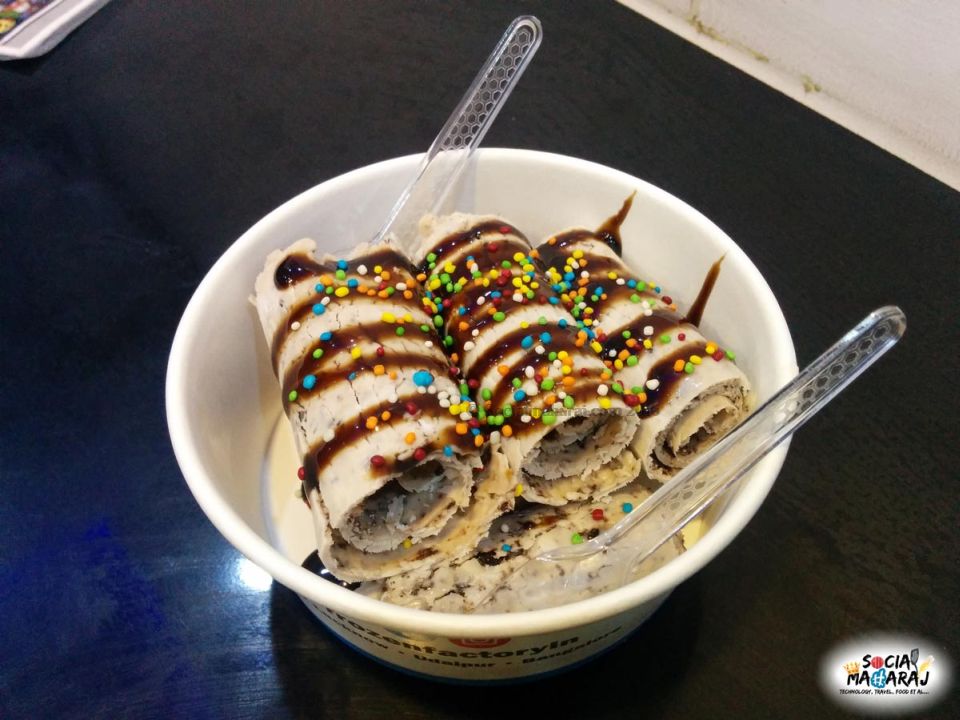 Final Verdict – Worth a Visit
So if you are in Lucknow and shopping in Gomtinagar, make sure to pay a visit to Frozen Factory. The 10 x 10 ice cream parlor might be small to house more people, but is surely big on taste. The prices are quite apt and fits well in budget. So you get a tasty ice cream without burning a hole in your pocket ! What more, Frozen Factory Lucknow accepts PayTM (at the time of publishing this post), so whether you have cash or not, do check this place out. Already tried Frozen Factory ? How was your experience ? What flavor did you try ? Let us know in the comments section below.