If you started to try video editing on a Windows PC, odds are one of the first editors that you ever used was Windows Movie Maker. As a free video editor that (until recently) was pre-installed on Windows. It seemed like the most convenient way to edit videos. Unfortunately as much as Windows Movie Maker had several benefits, the fact of the matter is that it also had numerous limitations. Because of that at some point or other most users eventually ended up looking for Movie Maker Alternative – which is probably what you're doing right now !
One of the more popular options to surface as a Windows Movie Maker alternative over the years is Movavi Video Editor Plus. A powerful video editor which provides you with more features and fewer limitations. While at the same time retaining many of the benefits that you enjoyed with Windows Movie Maker. In this post today, I talk about the features that Movavi Video Editor has and how you can leverage them to make wonderful videos.
Movavi Video Editor Plus – The Windows Movie Maker Alternative
User interface and experience
Both Movavi Video Editor Plus and Windows Movie Maker are designed with simple and clean user interfaces. One of the main benefits of Windows Movie Maker is the fact that it is easy to navigate through its features, and that is something that Movavi Video Editor Plus shares with it. Movavi Video Editor Plus makes it very easy to use so that you spend more time on doing what is important – editing videos !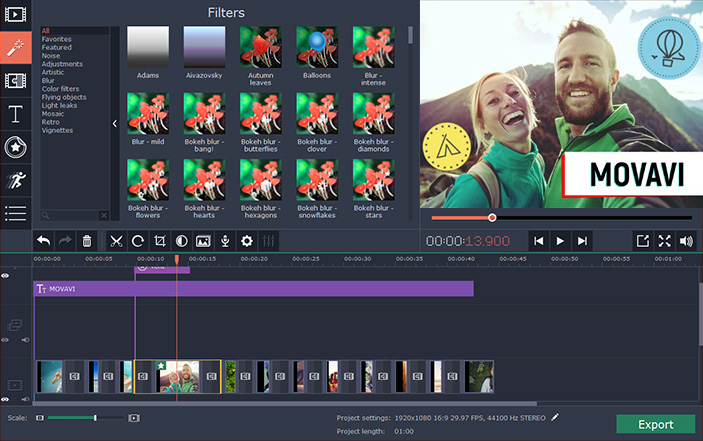 Input and output support
When it comes to support for input and output formats, Windows Movie Maker has several limitations. It can only save files in two types of video and audio formats, does not support 4K videos, and cannot utilise Intel Media acceleration. On the other hand Movavi Video Editor Plus has no such limitations, and supports a very wide range of input and output formats, along with 4K video and Intel Media acceleration. This makes Movavi a great Movie Maker Alternative.
Capture features
Aside from loading videos, Windows Movie Maker will let you capture video footage from a webcam or audio from a microphone. In contrast, Movavi Video Editor Plus can do that, and it can also record from a range of other devices including VHS players, TV tuners, HD cameras, and much more. This allows you to capture all your memories from any device you have !
Editing tools and features
As far as the basic editing tools and features are concerned, Windows Movie Maker fares quite well. You can use it to split and trim videos, merge clips together, transform the frame and orientation, pan and zoom, add and edit audio, enhance the video quality, and more. It even has a few transitions and effects as well as captions that you can use.
That being said Movavi Video Editor Plus goes far beyond that with its extended scope of features. Not only does it have more effects and filters, animated transitions, and caption presets, but it also includes callouts, stickers, automated adjustment tools, mask and highlight features, and more. Now that's a professional video editing software.
Support and assistance
At some point or other you may run into difficulty or have a problem you can't seem to solve, and if you do it is important that you can quickly get the support and assistance that you need. That can be tricky with Windows Movie Maker, as although it has a wide community of users and active forums – the only other support option is email. That isn't the case with Movavi Video Editor Plus, as it has live chat support, video guides and manuals, how-to tutorials, and more.
Make no mistake considering Windows Movie Maker is free, it really isn't shabby – but it can't compare to a more robust video editor like Movavi Video Editor Plus. Based on the comparison above you should see that it will make a great alternative, especially if you're looking for an editor that can do more – without forcing you to break the bank. If you are a Youtuber or a video editing professional, do give Movavi Video Editor Plus a try and share your views in the comments below.